Instagram is the main income source and a platform for building relationships and significant collaborations for many content creators and influencers. You have a great audience with high activity and engagement rate, and you probably want to monetize it, don't you? Brand collaborations are one of the most effective ways content creators and influencers use to make money on Instagram and reach a wider audience. In fact, 93% of brands use Instagram for influencer marketing.
Brand collaboration means finding a brand in your niche that is suitable for your Instagram page and will make a deal to promote their products or services. As a brand ambassador, you need to post content on your Instagram page using their products or posing with them.
---
FYI: Embed Instagram widget automatically with the social media aggregator and UGC platform by EmbedSocial. Click below to try it for free: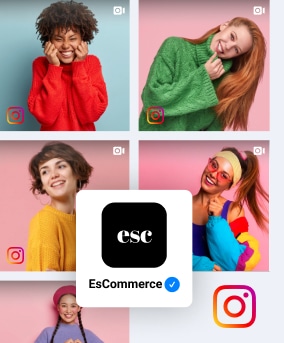 Embed Instagram widget on your website automatically!
Try EmbedFeed and display Instagram content from your feed, mentions, or hashtags on your website.
All PRO features | Cancel any time.
Your goal is to bring new potential customers to a specific brand and get paid for it.
In today's blog post, you will find concrete real-life examples of effective brand collaborations. Also, you'll find tips and tricks on how to establish brand collaborations on Instagram. Let's walk through the whole process from start to finish together.
Benefits of successful brand collaboration
As an influencer or content creator with a decent audience on Instagram, collaborating with a brand will bring you more benefits than you can imagine.
You will get noticed
Brand collaborations can increase your popularity and help more people hear about you. Imagine that you collaborate with a big brand in your niche and promote their products on your Instagram profile.
When they feature you on their Instagram page and show their followers that you use and recommend their products, a bunch of new people will hear about you and probably enter your Instagram profile. It will also bring you many new followers and increased engagement rates, making your content and profile way more noticed than before.
Build trust and strong relationships in the social media community
When you start a new collaboration with a brand on Instagram and start promoting their products to your followers, you will instantly build more trust than usual. Moreover, they will look at you from another angle.
If your followers see that a popular (or a new) brand from your niche trusts you and deals with you for brand collaboration, they will feel better about your work and trust your efforts.
That's how a brand collaboration can help you build trustworthy relationships with your Instagram followers. In fact, it is crucial for higher-profile growth and higher earnings.
---
FYI: Embed Instagram widget automatically with the social media aggregator and UGC platform by EmbedSocial. Click below to try it for free: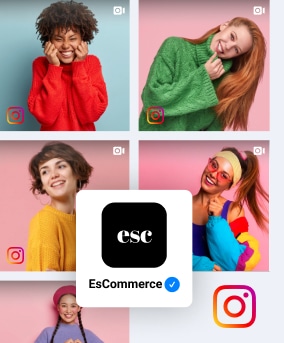 Embed Instagram widget on your website automatically!
Try EmbedFeed and display Instagram content from your feed, mentions, or hashtags on your website.
All PRO features | Cancel any time.
New content ideas and experience
As an Instagram influencer, you have probably accustomed your followers to a certain type of content on your page. There is a risk of your monotonous pace and straight line because they can easily get bored of that and will not engage with you anymore.
Brand collaborations can give you an idea of placing new types of content in front of your followers. They will have a chance to engage with something new and fresh. This is a huge step in converting them into customers.
Maybe your brand will require you to post more video content like reels or more daily IG stories of you using their products. This can bring different content to your Instagram page and get your audience more interested than you can imagine.
Opportunity to be face-to-face with your followers
Instagram is a social media platform where people love to find additional information about certain products, ask questions about them, or take a consultation with other people in the niche or Instagram community.
Content creators and influencers who collaborate with brands in a certain niche are mostly susceptible to countless DMs and comments where people ask different questions, tell their experiences, or want a product recommendation.
This situation will allow you to be face-to-face with your interested followers and communicate with them directly. Also, it would be beneficial to build customer relationships by showing efforts to help your followers and give useful information about the products.
Source user-generated content
User-generated content created by your audience is an amazing asset every social media content creator dreams to have under his belt. It helps build trust and brand awareness, increased engagement rates, profile growth, and so on.
For example, ask your customers to use your unique hashtag on their posts so that they can be featured on your page for free. Everyone wants to be featured by an influencer, so they will probably love the idea.
Another example is reposting testimonials and product reviews your followers make for the products you promote. Repost every Instagram story you are tagged on, and comment on every post your followers create with a certain product.
Show real-life experiences on your Instagram page to motivate other people to become your customers and build trustworthy relationships with you.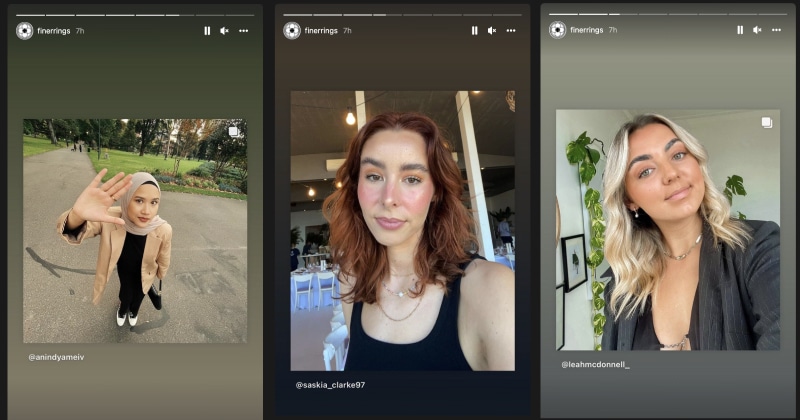 Examples of effective brand collaborations and cross-brand collaborations
We are witnesses to how popular brands collaborate with celebrities and big influencers with millions of followers on Instagram. But, not just famous people are included in the brand collaborations game.
Many big brands collaborate with micro-influencers and take advantage of their small but super-hyped audience in a certain niche. Let's see some concrete, real-life examples of effective brand collaborations:
Nike and Cristiano Ronaldo
One of the biggest sportswear brands on the planet, Nike, has collaborated with the famous footballer Cristiano Ronaldo for a long time. Cristiano Ronaldo has over 400 million followers on Instagram, making him the most popular person on the platform.
If you go to his profile, you can notice that he has a bunch of photos and videos with Nike footwear and sports clothes. On the whole, he is promoting their sportswear as their brand ambassador. Also, we can notice Ronaldo in many Nike ad commercials on TV and on social media. This is amazing proof of how big influencers collaborate with popular brands and promote their products worldwide.
HP and Elle Magazine
Another example of cross-brand collaboration is between HP, one of the biggest technology companies for device manufacturing, and a fashion-related Instagram page, @elleusa.
This is a great example of how Instagram theme pages in a specific niche can collaborate with big brands too, and not just influencers. HP and Elle Magazine collaborated for the "Women in Hollywood" event for a series of magazine photos, showing them on HP devices.
They have a mutual benefit because the customers from different industries are in touch with different products, subsequently leading to a bigger reach and new market share for both sides. If you have a page on Instagram in a specific niche without showing your face, you can establish a brand collaboration easily and take advantage of it. See the latest collab that allows Elle US to deliver the world's first sustainably printed fashion magazine.
Coca-cola and hundreds of micro-influencers
Coca-Cola uses a marketing strategy supported by many micro-influencers from around the world. They collaborate with hundreds of smaller influencers to promote their product on social media, like eating food, dancing, and doing sports together with Coca-Cola.
During the Christmas period, for example, we can notice different social media ads and promotions on Instagram with specific hashtags for Coca-Cola and different dancing trends on TikTok supported and sponsored by this brand.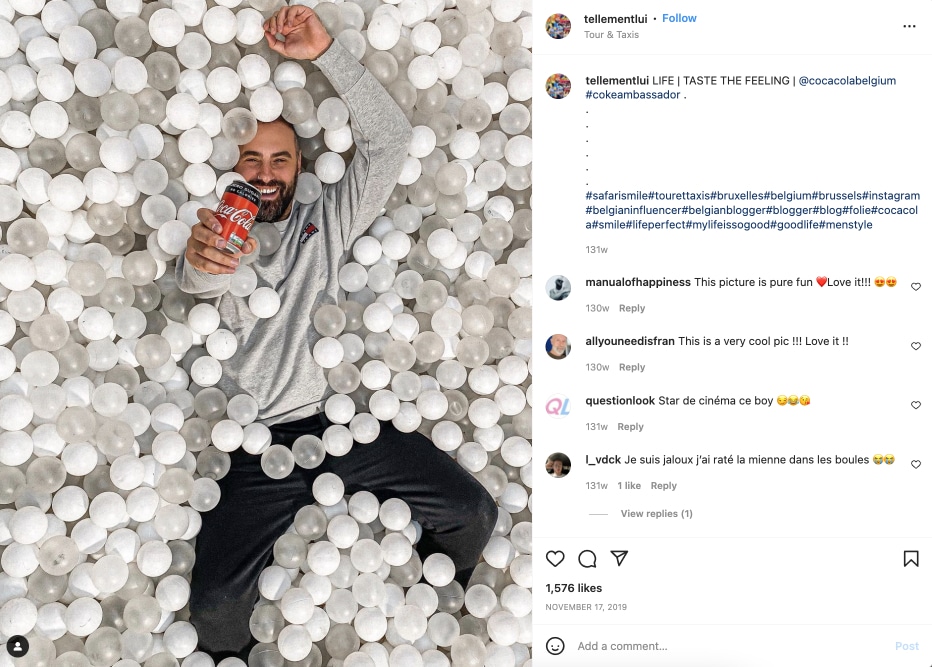 5 ways to find Instagram brand collaborations
1. Do in-depth research on brands
Do you want to collaborate with brands on Instagram, but you don't know which brands are suitable for your Instagram profile? You can do regular research on Instagram as your preferred platform for content creation and look for brands in your niche with a product interesting to your audience.
In the search tab on Instagram, type any specific keyword, search for different hashtags (like #ad, #collab or #sponsored), and check more significant business profiles that best fit brand collaborations. As an alternative, you can go on Google and directly search for certain names in your niche, so you can contact the most interesting ones and start a conversation about future collaborations.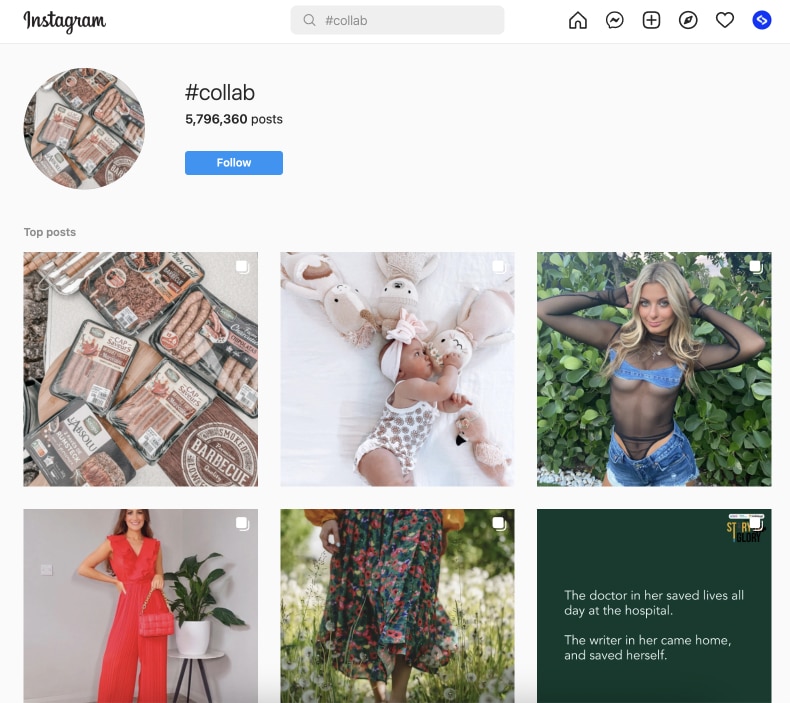 Once you find the best hashtag to explore for collaborations, look for a particular user who might offer collaborations in your niche.
And once you discover the user, look for their email or send them a DM to offer your collaboration opportunity.
2. Check your competition
Obviously, you are not the only content creator in your chosen niche, and there are a bunch of other bigger and smaller Instagram profiles creating similar content like you. One of the easiest ways to find relevant brands for collaboration is to check your competitors' profiles and find the brands they collaborate with.
Look for sponsored photos and videos and content with certain products and tagged profiles in the description. You will find brands that deal with that content creator and take advantage of their audience. You can reach out to them on Instagram or by email and offer a brand collaboration with better and more engaging content ideas for promoting their products to your audience.
So if you are a hotel on Mykonos you might want to look for hashtags that possibly your competitors use when promoting their offering with collaborations. For example, we used the hashtag #miconoshotel: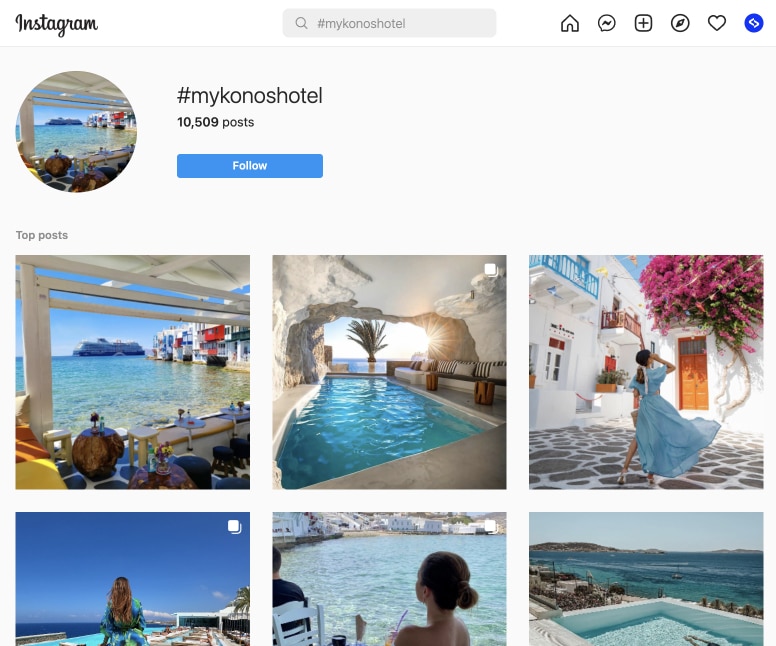 In just a few minutes we found a travel creator who promotes certain hotels and spas in Mykonos. So if we are a hotel that is a competitor, we can see how they use collaborations to spread brand awareness.
3. Check influencer marketing platforms
Influencer marketing platforms are an amazing opportunity for both brands and influencers to start a collaboration. Brands are looking for influencers to join their marketing campaigns and promote their products, so here you can search for brands in your niche and reach out to them. You can get gifted or paid brand collaborations and gain a decent experience when it comes to creating sponsored content on your Instagram profile.
4. Reach out to brands that engage with you
No matter how many followers you have or what type of content you prefer, some brands will still be interested in your Instagram work. Find out which brands interact with you and engage with your content. Afterward, reach out to them and offer a collaboration. It's most likely that such brands will respond positively instead of brands that have never heard about you.
Also, you can check your followers' list and check your DMs and comments to select relevant business profiles. Contact them via DM or email and offer interesting ideas for promoting their products or services. Even if you have a lower number of followers, keep in mind that brands love to collaborate with micro-influencers in certain niches.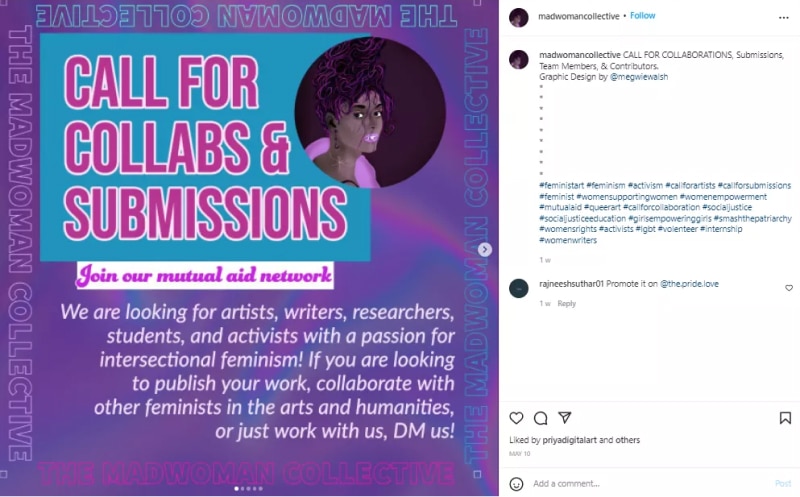 5. Check the brands that use Instagram paid ads
Scrolling up through your Instagram feed or stories, you will come across different ads and promotions brands post to reach their target audience in a specific niche. Open up their profiles and check their content. If you think that their products are suitable for your audience, first reach out to them and offer them a free feature and a brand collaboration later.
Paid ads become more and more expensive. Therefore, you can make a deal with them for a gifted collaboration or a price they are comfortable paying for a series of posts on your Instagram profile with their products. This will be a win-win situation for both of you with many mutual benefits.
Instagram features to improve your brand collaborations
To make your brand collaborations more effective and get the most out of your potential customers, you can use different Instagram features to collaborate with your brands:
Instagram Live
Going live on Instagram means being face-to-face with your interested followers and interacting with them in real time. Instagram Live is a free feature every content creator can use to promote different products directly to the audience and also start communication.
As a content creator, you can stream a live broadcast on Instagram to show your audience how to use a specific product and give them a chance to learn more about it and ask questions. Answer their questions in person and resolve their misunderstandings. Give special offers and discounts to live viewers. Moreover, don't forget to schedule your broadcast before, so your interested followers can set a reminder for it.
Instagram carousels
Instagram allows content creators to use up to 10 pictures in 1 post. This is a great feature to let your followers spend more time on your post and see all the pictures. It helps you to get bigger engagement rates and easily get noticed by the Instagram algorithm.
Also, you can use carousels as a call-to-action and present a certain product in 10 different ways using 10 different photos in a single post. You can create a mix of photos and videos as well. The latest example of Instagram carousel posts that showcase a strong brand relationship is the collaboration between Dolce & Gabbana and the Kardashians.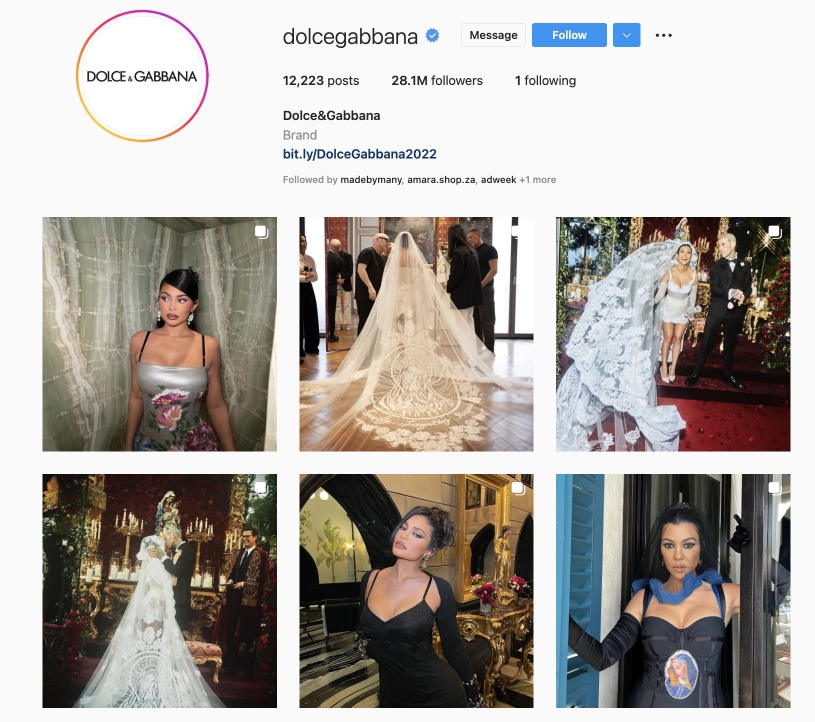 Instagram reels
Instagram reels are a powerful weapon every content creator needs to use to skyrocket engagement rates. Brand collaborations will be more effective if you implement reels in your video strategy and post them frequently.
The chances are high that your reels will catch the audience's attention and reach many non-followers who can check your content. Create catchy reels to promote products relevant to your audience and convert them into trustworthy customers.
Here is an example of a real created by Louise as an ad collaboration with SnugSofa
Instagram stories and stickers
Want to be active on your profile 24/7, even if you don't have daily content? Instagram stories are the right solution for it. Consistently posting IG stories will increase your profile activity. Therefore, your followers will have a chance to interact with your content daily. All of this can help build trustworthy relationships and get insights into your audience's interests using some stickers.
When it comes to stickers, you can use them on your Instagram stories for different purposes. Use the poll sticker to let your followers vote about any product or decision. The link sticker redirects the viewers to the product page, website, or online store. Use the quiz sticker to collect people's opinions. Additionally, use the countdown sticker to put some pressure or announce a promotion of a new product launch.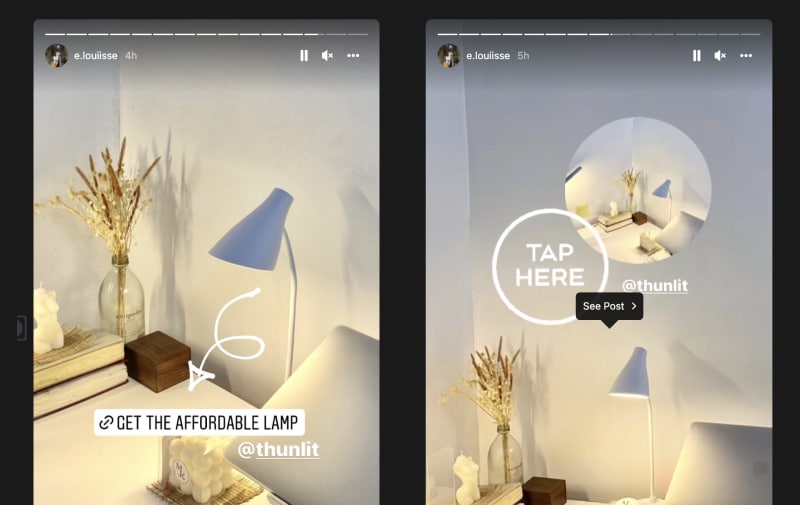 FAQ about brand collaborations
How do brand collaborations work?
When a brand pays a content creator to create content related to any product for marketing purposes, it is called a brand collaboration. Brands often hire influencers to post content with certain products on their profiles and promote them to their audience for bigger product reach and revenue.
Q: How to ask for a brand collaboration on Instagram?
A: Before you jump into a brand's DM, do regular research for regular brands that fit your niche. Select the most relevant ones and check their products. If you think that their products are suitable for your audience, contact them. Introduce yourself and offer interesting content ideas for promoting their products on your profile.
How to spot a fake collaboration on Instagram?
Scammers give their efforts to manipulate some influencers in many different ways. You can receive an offer in the comments below your picture to DM them. Also, you can receive a message from an account with 0 followers offering you money for collaboration and similar scenarios. You will also notice profiles with copied profile pictures from a real brand. All of this is a huge alarm to block these users and don't bite their hook.
Do you get paid for Instagram collaborations?
There are paid and gifted brand collaborations on Instagram, and it all depends on your mutual deal. Many influencers do get paid for brand promotion they collaborate with, so the prices are between $100 – $250 per post if the influencer has under 50,000 followers; and $1000+ per post for 100,000 followers or more. Brand collaborations with famous people and celebrities are much higher, and millions of dollars are on the table.
How do you respond to a brand that wants to collaborate?
When a brand reaches out to you for a collaboration, check their profile first and see their products or website. If it seems like a legit brand and not a scam, reply to their message with gratitude, and let them explain their collaboration purposes. Be kind and honest and always tend to have a professional conversation.
Key takeaways
Brand collaborations on Instagram are an important asset. They build a relationship between a brand and the influencers, and they mutually grow and benefit. Often brands are looking for influencers to join their Instagram marketing campaign and help them promote certain products. Even if you have a smaller audience but still create content in a certain niche, you can find a brand for collaboration. In fact, micro-influencers are very important in many aspects. There are many different ways to find relevant brand collaborations suitable to your audience. Also, there are different Instagram features you can use to get the most out of it.
Here are 5 key takeaways you should be aware of related to this blog post:
Brand collaboration is when a brand pays a content creator to promote certain products and create content about it. Not just big influencers can collaborate with brands, but theme pages in certain niches and micro-influencers too.
There are huge benefits from starting a collaboration with a brand, like getting noticed by more new people, significant profile growth and increased engagement rates, new content ideas, and building trust with potential customers.
Instagram allows you to use different features to make brand collaboration more effective. Features like Instagram live, link in bio option, Instagram Stories link sticker, audience insights, Instagram reels, etc.
Before you reach out to a brand, do regular research and see if their products are relevant to your page and your audience. Start by introducing yourself and showing them a clear plan on how you can help in product promotion and increasing their revenue.
To find potential brand collaborations in your niche, you can use influencer marketing platforms and contact interested brands. Also, check your competitors and find the brands they collaborate with, do Google research for branded campaigns you are a good fit for, etc.
---
FYI: Embed Instagram widget automatically with the social media aggregator and UGC platform by EmbedSocial. Click below to try it for free: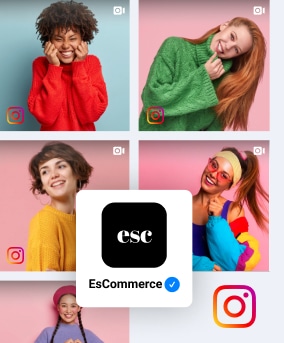 Embed Instagram widget on your website automatically!
Try EmbedFeed and display Instagram content from your feed, mentions, or hashtags on your website.
All PRO features | Cancel any time.