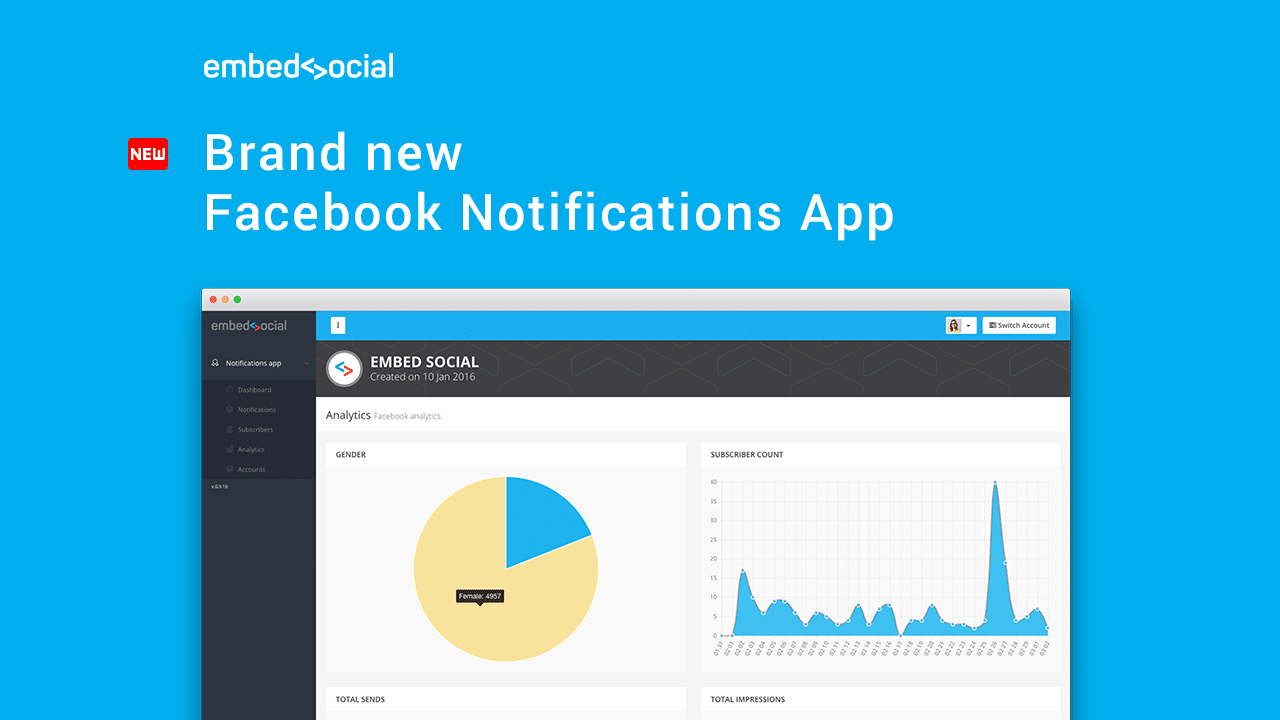 Brand New EmbedSocial – Facebook Notifications App
You know that feeling when you un-box a pair of brand new shoes, the excitement, the opportunities…the smell?! Well that "smell" I felt the moment we unwrapped the brand new EmbedSocial – Facebook Notifications App.
Yes, we've built the first Facebook notifications app, helping you have a direct and most importantly, meaningful communication with your Facebook subscribers. And yes, this is our second version, upgraded and better looking.
Ok, so what's new?! Below, I've outlined the most important changes and features:
1. Brand New UI (friendly user interface)
We hope you like our new colors, fresh and simple. We rearranged few menus, ditched the messy elements and focused on making the easiest platform you will ever use for your marketing efforts.
Let me just try to describe how we imagine for you to use our platform:
We want you to spend as less time as possible! Just log in, go to the "Send notification" form, enter a 180 character of cool and engaging message and press one big green button. That's it.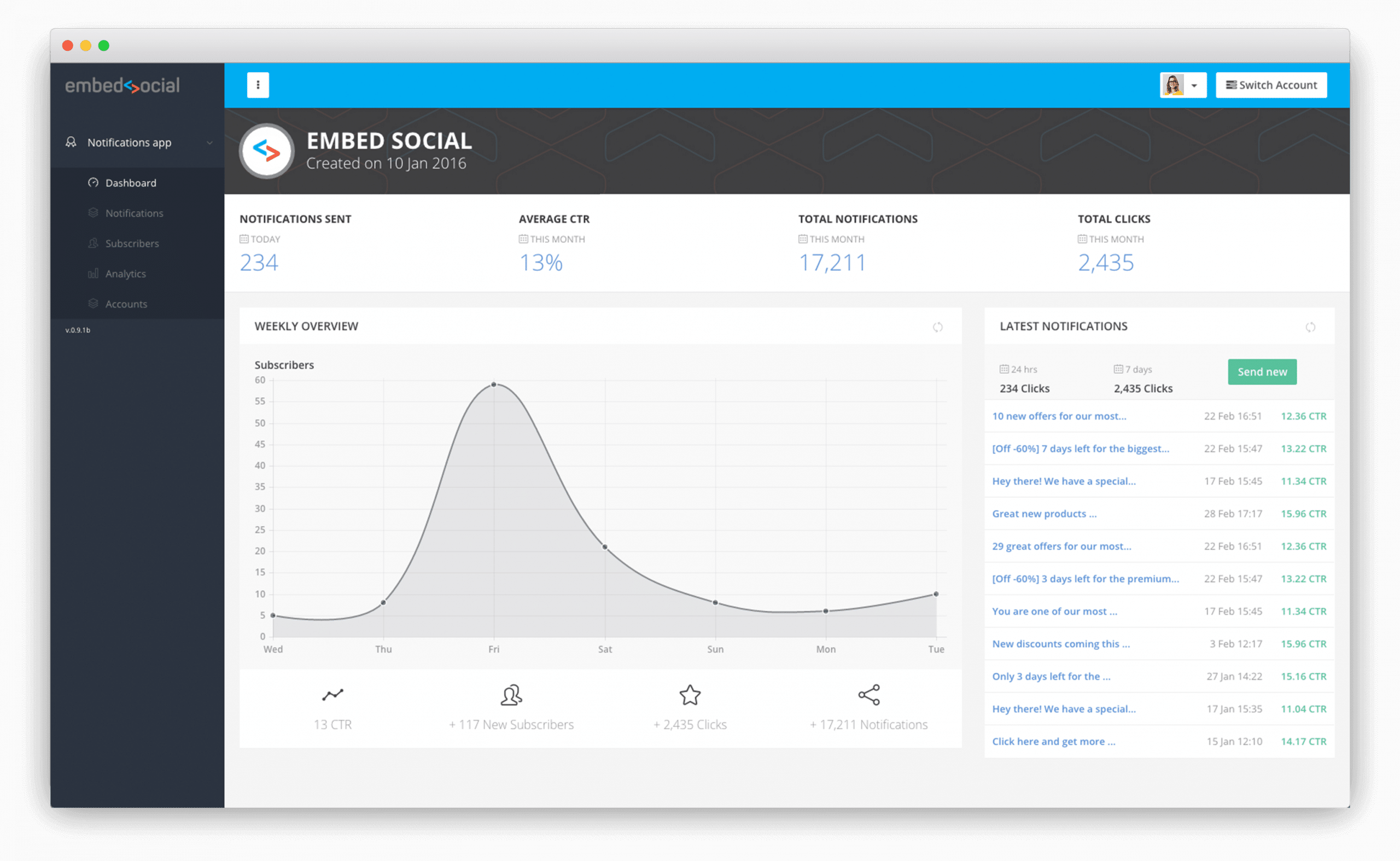 2. New account management (simpler use of invoices, upgrades, accounts, users)
Again, our focus was to make your registration experience and account management very, very simple. We believe that we've achieved this and made it very easy for you to:
Upgrade your account to a better plan
Buy additional accounts for more websites or website categories
Cancel account
If you still have not created your account, get started today and register for a plan.
3. Invite unlimited number of moderators
Yes, this means that you can invite colleagues to have access in order to send notifications from your account.
In this version the assignment of the moderators is related to their email addresses. In simple words, you will be able to invite some of your colleagues by simply submitting their email address and sending them instructions on how to register in order to become a moderator to your account.
4. New user role – Test users
Test user is a new role developed in this version of the system. The test users do not have access to the system but solely receive test Facebook notifications, that are send from the moderators or administrators of the system.
This means, that you can assign other subscribers to become test users. This functionality is used in the moments when you want to send a Facebook notification only as a test to particular subscribers, for example, to your colleagues who do not have access to your company's EmbedSocial accounts.
If you are a moderator or administrator and you want to receive the test notification, you will still need to assign yourself as a test user in ordered to receive the test notification.
5. New analytics
We improved the interface and also enhanced the analytics section with the following detailed KPIs:
Subscribers count and gender demographic
Notifications count
Impressions and clicks
Spam rates and reports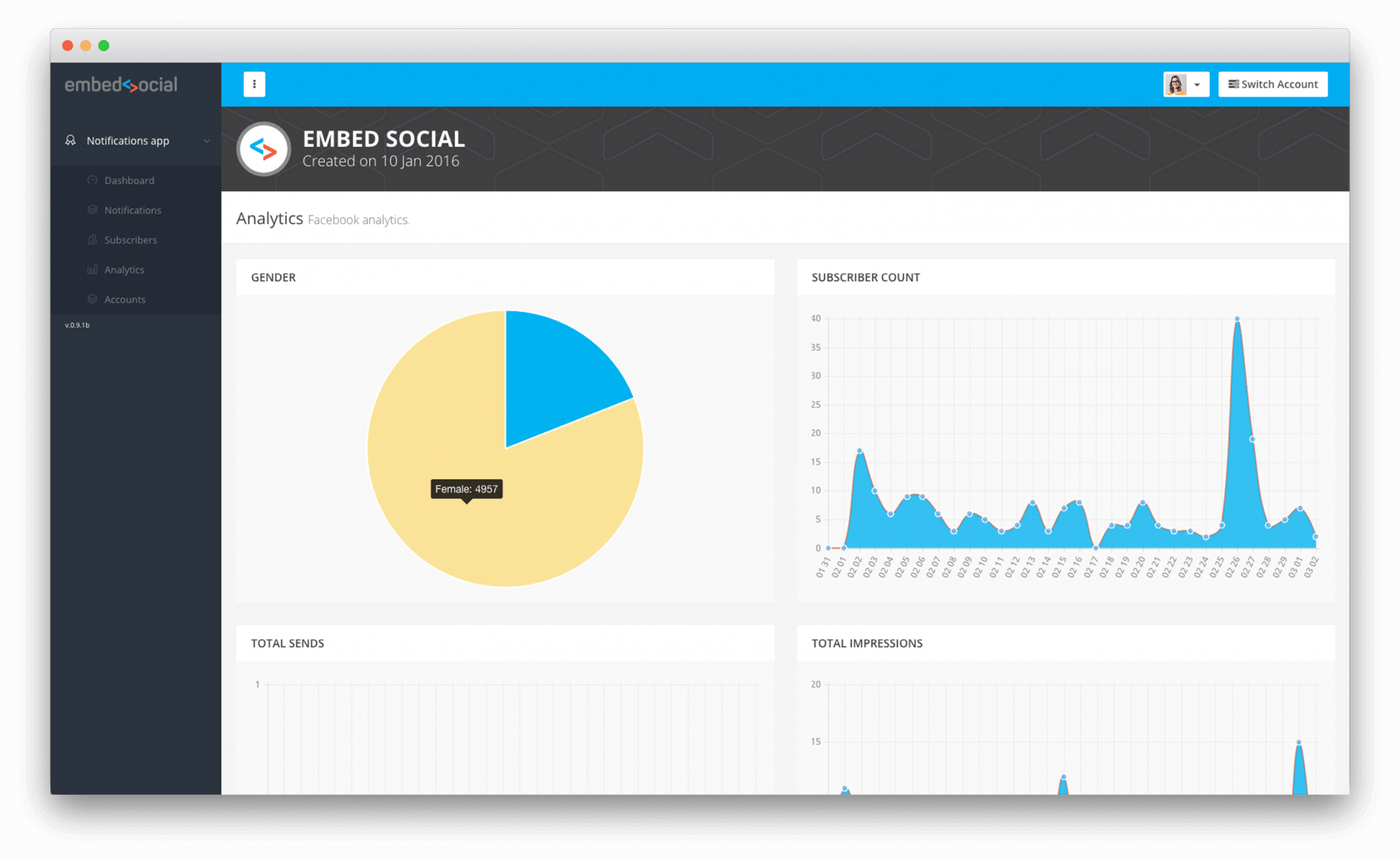 6. New unique subscribe button
Did you know that once you register for an account, you will receive a unique, embeddable code, that will display a subscribe button on your website? This one below is ours, and we have proven that the only way for you to achieve double digit CTR or engage bigger subscriber base is to provide them with valuable notifications that will positively surprise them or make them eager to receive the next one.
Please note: if you are urging to have a custom button you will have to contact our team directly.
7. Coming soon – Mobile app
We want to provide our users with the experience that will make their operational activities very efficient. That is why we've built the EmbedSocial mobile app that is solely dedicated to our users and will help you to send notifications from your mobile phone, on the go.