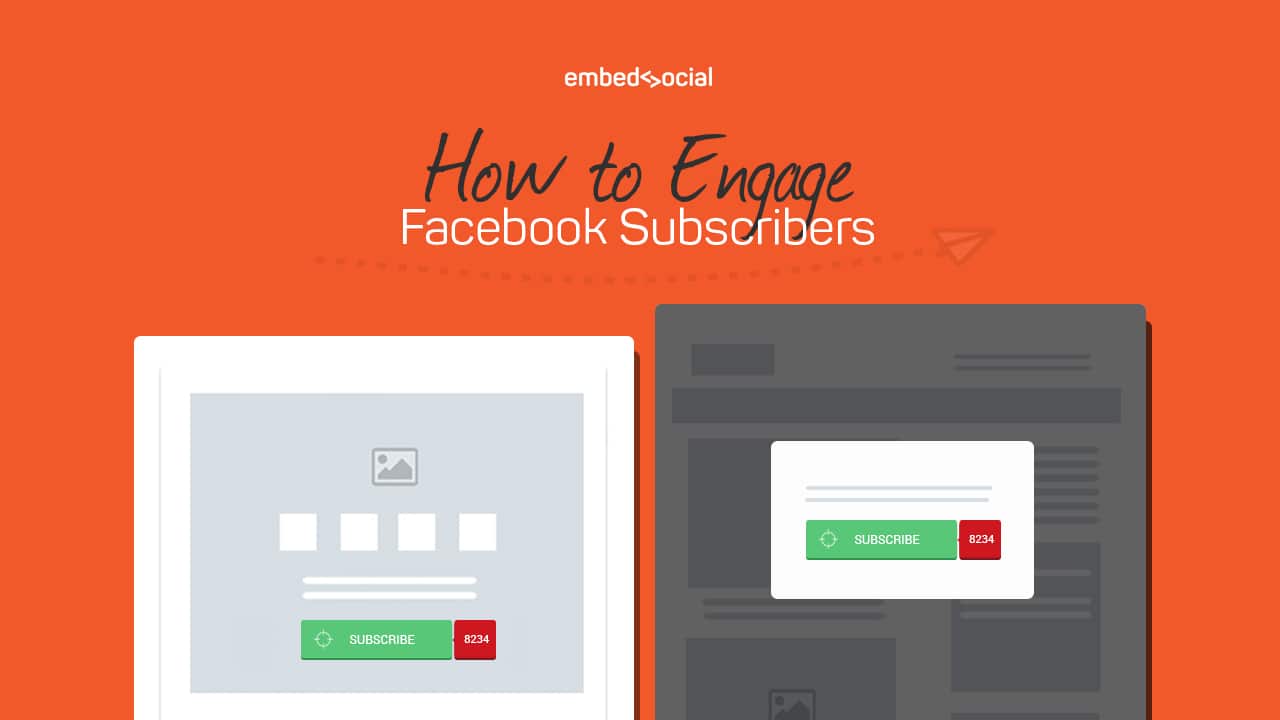 Need more Facebook subscribers? You have come to the right article.
Before starting the development of our Facebook notifications app, the first challenge we had was to find a solution for the question: How will this app engage with visitors on a website? And how to generate Facebook users who will want to receive a notification?
We mapped the email subscription process and decided to basically offer a similar opt-in solution.
The challenge was to build a solution that :
Will NOT require any programming skills for implementation
Will have the flexibility for placement on different positions on the website;
Will lower the time and costs for design or copywriting;
Will be engaging, attractive with a call to action appeal.
Facebook subscription v.s email subscription form
The solution!
A simple green button that has a super power: Once a user clicks on it, he/she will need to approve his/hers identity by allowing Facebook permissions and with that he/she is immediately subscribed for receiving Facebook notifications. The backend of the button is "attached" with a Facebook app that is unique for every different account.
The anatomy of the super powered Subscribe button
Below are listed more details for the main elements that are part of the EmbedSocial "Subscribe" button:
Counter
If you are asking yourself why we've included a subscriber count along the super "Subscribe button" that is because the counter makes the button look more alive and dynamic. In relation to this, it also makes other potential subscribers more attracted to click the button by knowing that other people are already subscribed. No worries if you do not want to display the number of your Facebook subscribers, you can always disable the counter from your admin panel.
Unsubscribe
Additionally, the idea is to allow the users to have the freedom to opt-out anytime they want. The easiest way is to hide a notification but they can also unsubscribe by simply clicking the x icon on the button.
Call to action/change button text
We commonly use the wording "Subscribe" but other use cases suggest words such as:
Subscribe with Facebook
Subscribe
Get notifications
Become a friend
Be notified
Customize the button color
At this point, we do not offer a self-service option to change the color of the button. But, we do make this possible for free if a client insists on a color change.
For major design customizations, our team will make a price proposal and talk closely with the client to make it fit for his/her need.
So, where to place the Facebook subscribe button on your website and start generating Facebook subscribers?
Place your super Subscribe button in the most visible position possible. The EmbedSocial "Subscribe" button with the superpower for generating Facebook subscribers can be placed in every position imaginable on your website. Below are great examples that our clients mostly use and have proven it with great subscriber count results.:
Counтdown page or a landing page
Launching your new website and planning to use some of the services for email opt-in *such as* "subscribe and receive an email once we are live"? Instead, we urge you to start building your Facebook subscription list with a Facebook subscribe button. Click here for a real example of how we use the "Subscribe" button to engage with visitors on the landing page.
In a blog post
For WordPress or any other content editor, you CAN include the iframe of your "Subscribe" button by copy/pasting the iframe code in the WordPress editor, along with your blog post text.
By doing this you can engage with your readers directly in a blog post.
In a pop-up
The most common email subscription happens in a pop-up window. The subscription of Facebook users can also occur with the help of a pop-up window. You can include the iframe of the "Subscribe" button in a pop-up window and ask your website visitors to subscribe to special content.
Please remember: Avoid pop-up content that is annoying by offering real value to your website visitors.
In a floating banner
Floating banners can be really engaging if you do not want to use pop-up windows and still have the "Subscribe" button visible on every single page on your website. Click here for a real example of how one of our clients use the "Subscribe" button to engage with website visitors.
I hope these examples and use cases will help you to start building your first Facebook subscriber base. Feel free to share your thoughts in the comments below: