By using the EmbedSocial reviews app for Shopify you can display a reviews widget on each product page by just embedding one line of code in your theme.
To do this follow the steps below:
Click 'Widgets' in the top main menu
In the left-hand settings panel, click 'Embed Code'
From the popup, copy the provided code
Once you copy your widget code you will need to embed it in your theme code. Here is how to do this:
Go to your Shopify Admin and follow Themes > Actions > Edit Code

Go to 'Sections' and open the file product-template.liquid to paste the code where you want the widget to appear

Once finished, click the top right 'Save' button.
Additionally, the app provides an option to control the widget display although the code is embedded in the theme.
Here is how to make sure the widget is published or not on your website:
Publish the widget
Once you embed the code in your theme, you can control it when it shows live on the product pages. To find this option follow the steps:
Choose 'Widget' from the top main menu
In the left-hand settings, panel find the option 'Publish widget' and switch it an option ON
Once finished, click 'Save'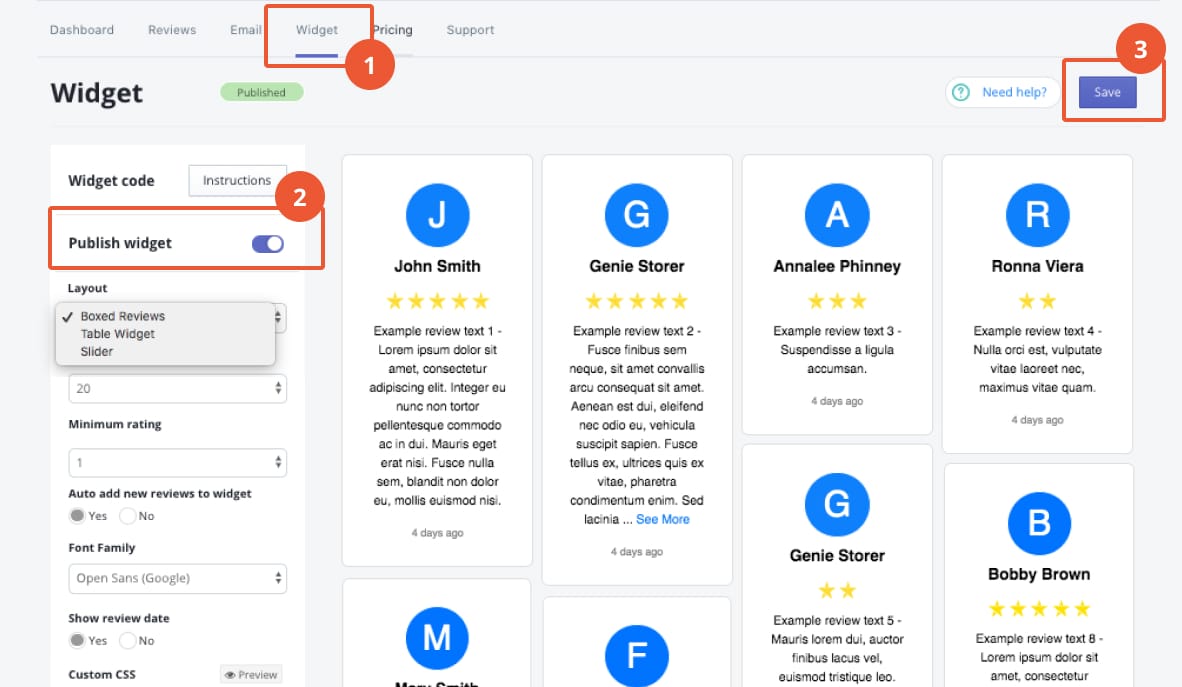 In the Widget section, you can always come back and change the widget layout or unpublish it while making the customizations.
Customize the widget
Above we quickly explained how to publish the widget with the default settings. But, if you need to make additional customizations here are some of the main options available in the app:
Use the variety of customization settings to change the widget layout, and make it fit your website design and brand.
1. Choose Layout: You can select one from 3 templates, the one that best suits your store's design:
Boxed Reviews
Table Widget
Slider
2. Moderate: You can first moderate your reviews if you don't want them to automatically appear on your store. Set the "Auto add new reviews to widget" option to "No".
3. Apply Custom CSS: You can further adjust the layout by using custom CSS to add your unique style and flair. We are always happy to help you with the CSS, just let us know.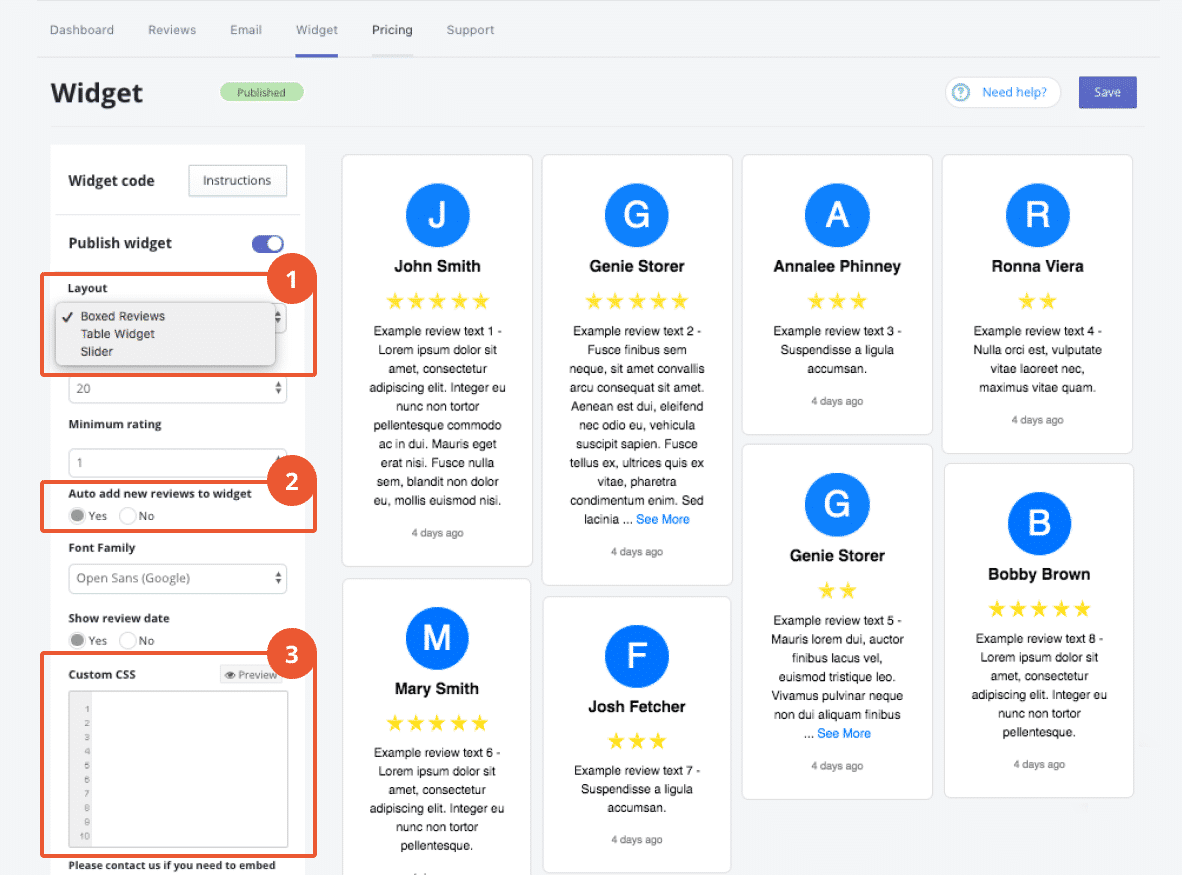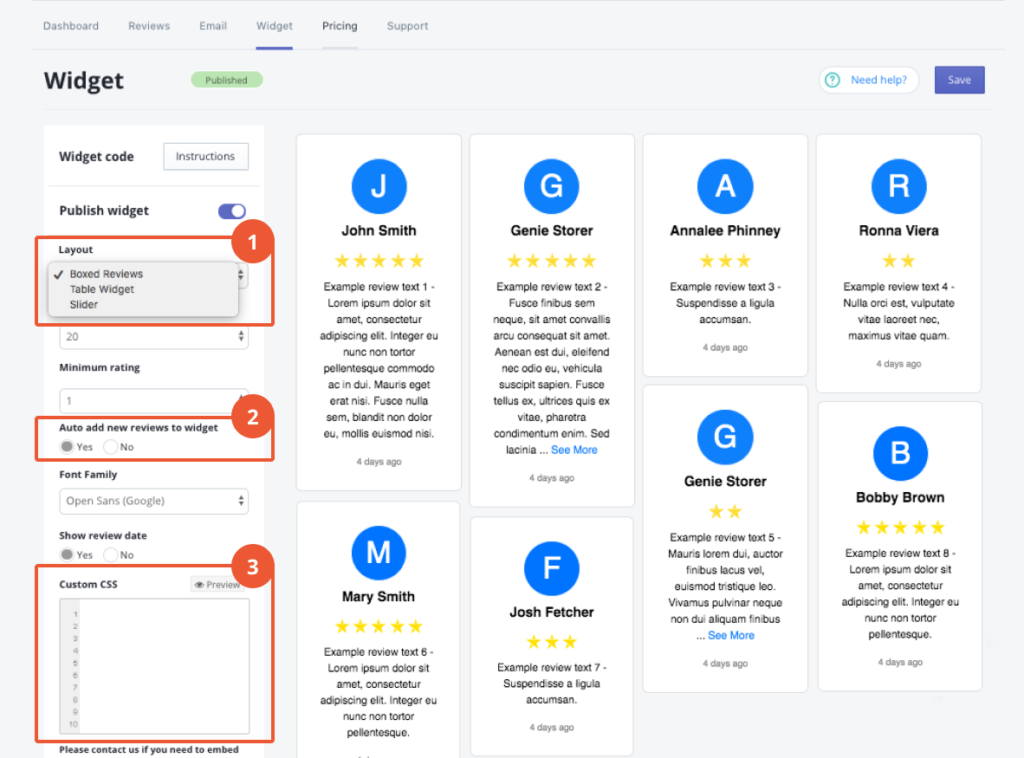 Let us know if we can help you customize the widget in the chat, we are always happy to help.
Install the app
Here is a link where you can install and start using the reviews app for Shopify: