In this tutorial, we will show you how to use the EmbedReviews embeddable codes in WordPress without installing the plugin.
Please note that the official plugin enables the usage of shortcodes and also more functionalities to customize the schema codes.
Once you have generated your reviews and created a feed you can get the provided code and embed it in your WordPress.
So, here are the steps on how to embed the Facebook reviews widget in your WordPress without a plugin:
Go to 'Reviews feed' and open the feed you want to display in your WordPress
Copy the code in the top-right Settings bar
Paste the code in the WordPress HTML editor (please note that you can use different versions of the WordPress, so below you can see screenshots of the new and the old WordPress post-editors)
If you are using the new WordPress post editor, you will need to:
Click on the plus icon to add a block
Choose 'Custom HTML' block

Paste the reviews feed code in the HTML block
If you are using the old WordPress post editor, you will need to:
Click on 'Text' in the top right corner of the post editor
Paste the code in the text area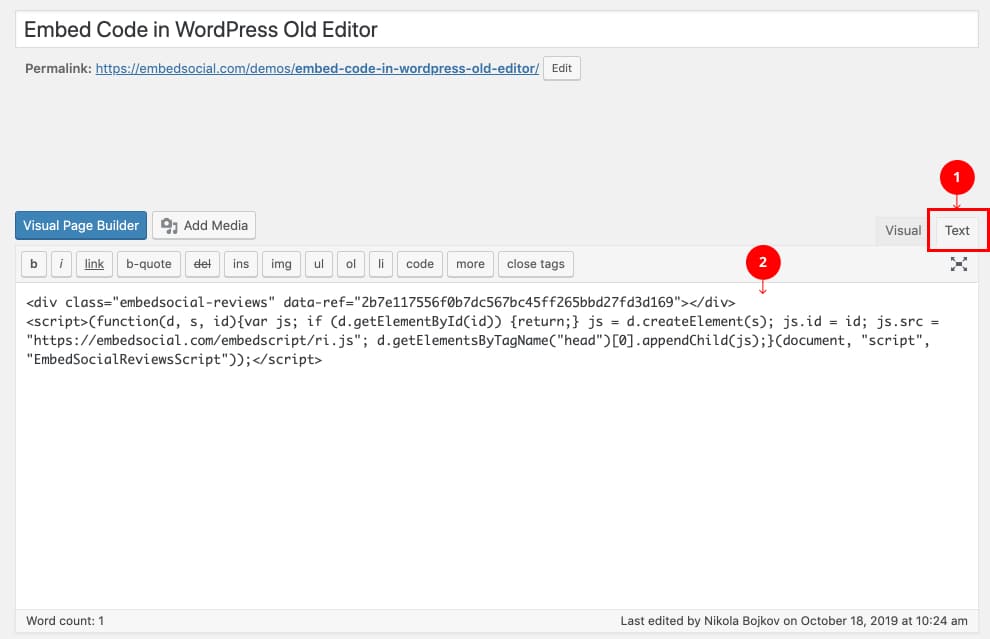 Once you are done, save your WordPress page and the reviews widget will show on your website.
Check the demo of the reviews widget in WordPress.