In this quick tutorial, we will show you how to display Facebook, Yelp and Google reviews on your Squarespace website. This means that you can use EmbedReviews as a reviews widget for Squarespace or any similar web builder that allows embedding code.
In the case of Squarespace, you will just need to add a Code content block that allows you to embed entire HTML or javascript codes in your Squarespace website.
For this guide, we've chosen to show you how to display the reviews generated with EmbedReviews to an entire new Testimonials page. You can also do the same for displaying the reviews section on any part of your Squarespace website.
Let's create the Testimonials page.
First, log in to your Squarespace account, navigate to My sites and click on the website where you want to display the reviews. Here are the steps how to create the Testimonials page:
Once the config screen opens, on the left side menu click Pages
In the pages list, browse at the bottom and than click the option Add Section;
Write the title of the page (in our case Testimonials) and click Start editing

Next, we will add the code block and just paste the embeddable code from EmbedReviews.

Once your page is created a section block will be created where you can add the code block. At the top right in the dark header of the block section, just click the plus + button.

A popup will appear where you will need to click Code

In the blank HTML code space just paste your EmbedReviews feed code* and click 'Apply'

To view the result, just click the 'Save' button in the top left corner of the page header bar.
That's it. Your Facebook, Google or Yelp reviews feed will look like this: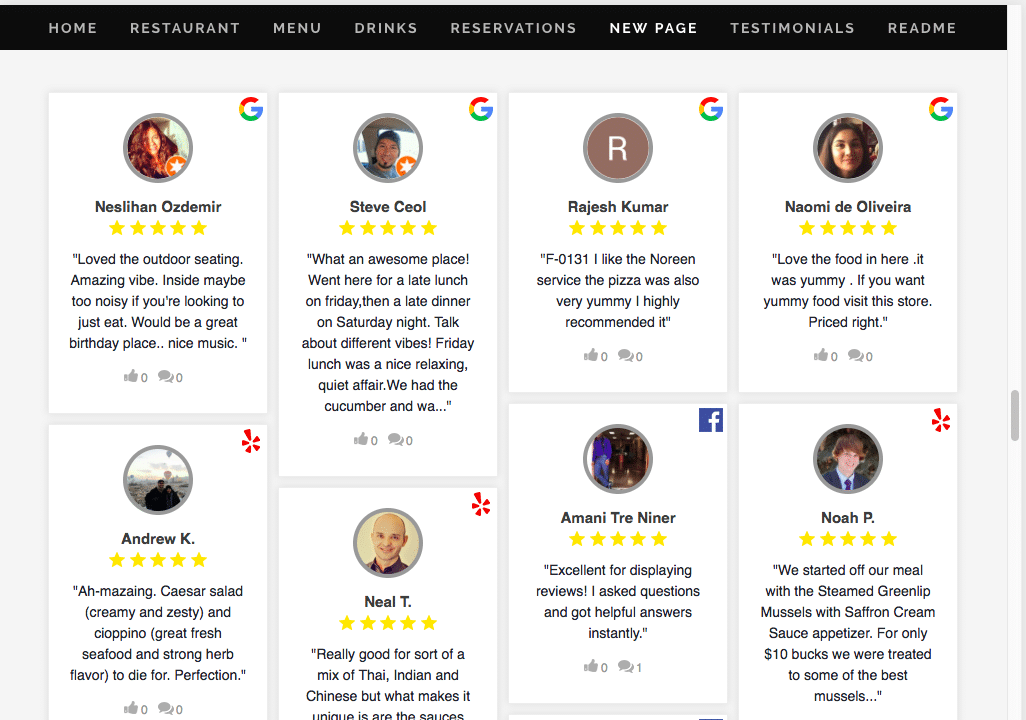 If you have any questions, feel free to talk with us.
Please note: Some of the Squarespace templates do not refresh the pages in the browser so you might have a situation when your reviews do not show up. If you are experiencing his situation, please contact us so we can send you a custom code for your template.
* Your EmbedReviews code is located at the top right settings bar in each review feed you've created in the EmbedReviews platform.