The EmbedFeed platform offers a unique possibility to create an entire feed from multiple social media sources.
In this tutorial, we will show you how to create an Instagram feed with posts from multiple hashtags.
Please note that your Instagram account needs to be a business account, which means your Instagram needs to be connected with your Facebook Page. If you need help with this, please click here.
Once you make sure you have an Instagram business account you will be able to connect it with the EmbedFeed platform and create feeds with Instagram hashtags.
1. Add hashtag sources and generate posts
The first step is to specify the hashtags that contain the Instagram posts you want to generate.
First, you will need to log in to your account. Once you do this, follow these steps:
1. Click 'Sources' in the main menu
2. Click the top right 'Add new source' button


Once you do this you will be redirected to the page where you will need to specify the hashtags or the sources from where you want to pull the posts in your feed. So, here are the steps:
2. Choose Instagram, click 'Next' and allow the permissions to connect your Facebook account with EmbedFeed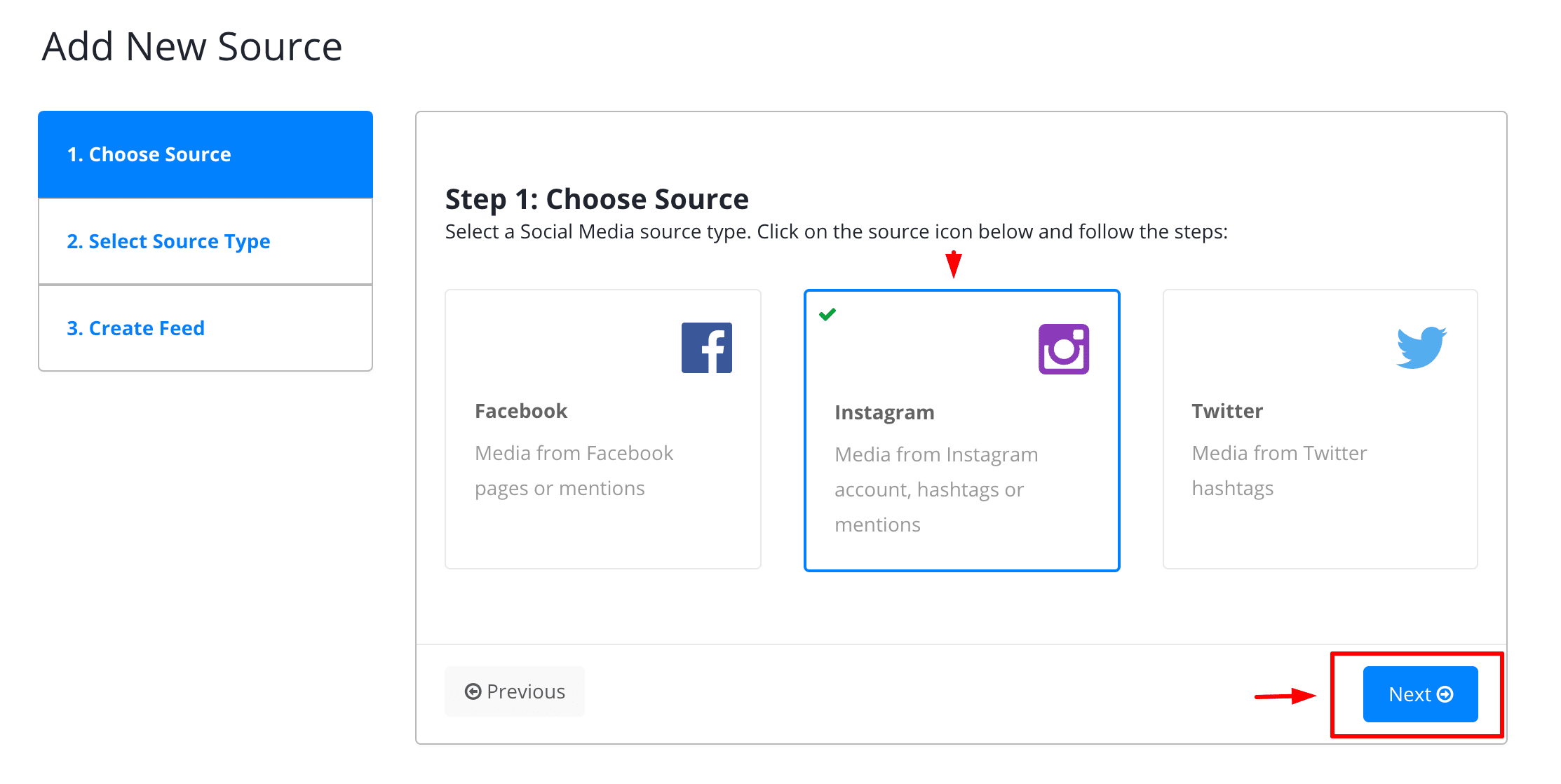 3. Next, select 'Instagram Hashtags' option, enter the hashtags separated by a comma and click  'Create feed'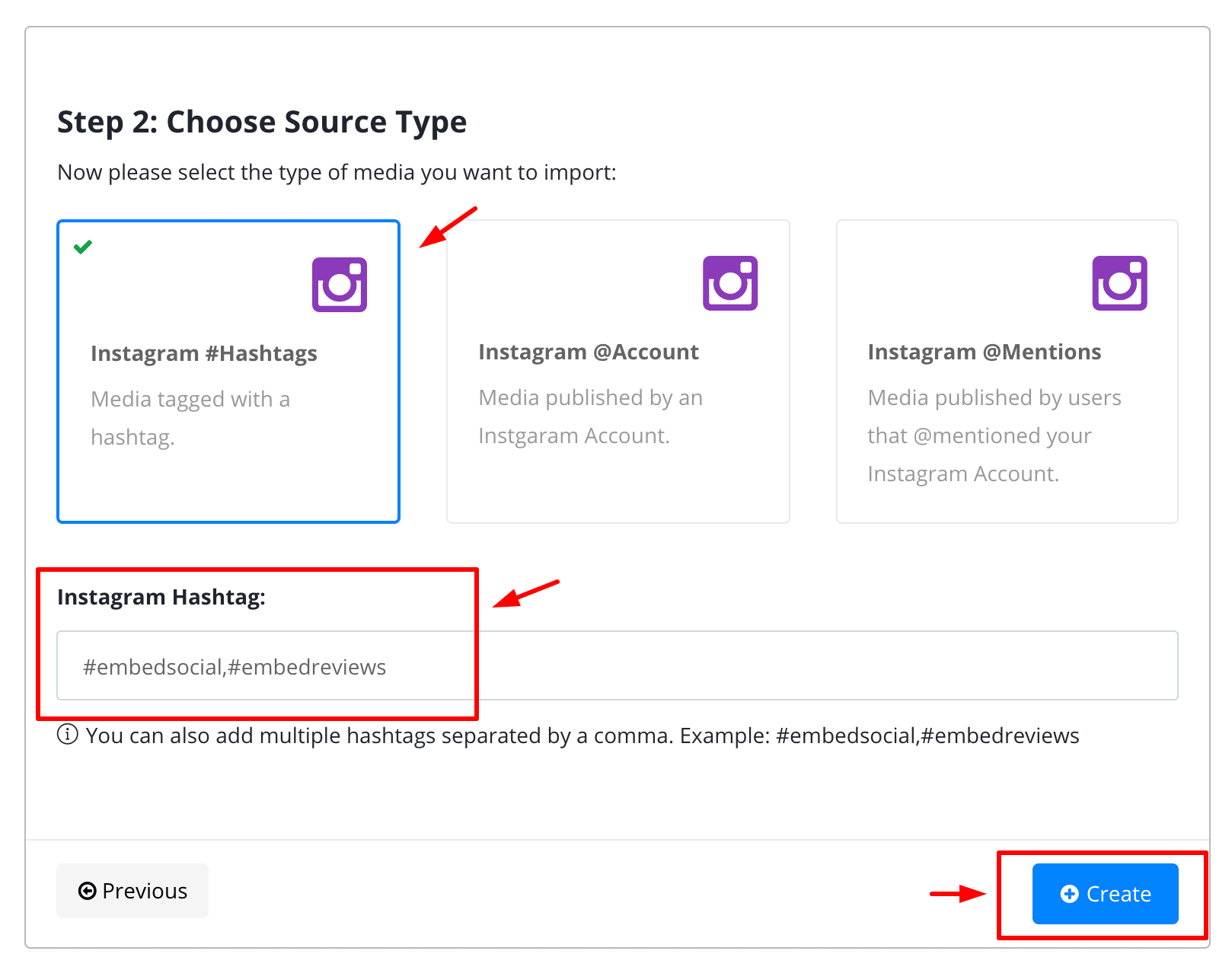 4. Now the system will generate the feed, and in the final step just click 'Create feed'

2. Customize your Instagram Feed
After submitting the hashtags, our system will pre-generate your feed and you will be navigated to the edit screen of your hashtag feed. In this screen, you will be able to edit the layouts, add custom CSS to fit its design to your website branding or use the moderation option to choose which photos or posts to be published in the feed.
Here are some of the available customizations and settings: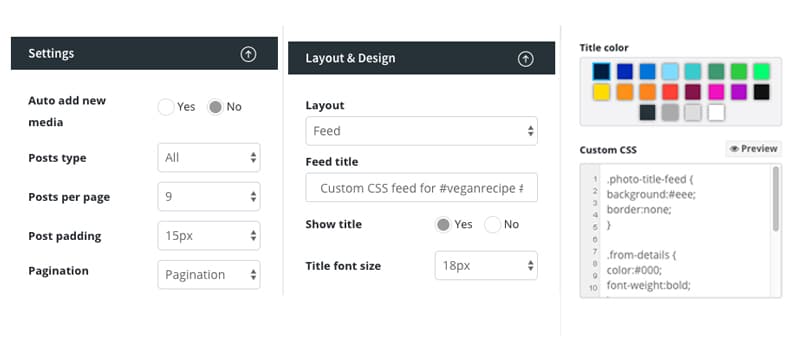 Once you are ready with the editing of the feed make sure to click the top-right blue button 'Save' in order to make sure all changes are saved.
3. Embed your Instagram Feed on your website
After the customization step, you can use the provided code to embed the feed on your website. These steps are very simple:
Copy the provided code (located at the top right corner, as shown below)
Paste the code in your website code where you want the feed to display

That's it, now your Instagram hashtags feed is displayed on your website.
Click this link to check the demo: Multiple Instagram Hashtags Feed – Demo
If you need any further help, feel free to chat with us.
RELATED POSTS:
Latest Updates – Instagram Hashtags Search for Marketers