Get the Free Facebook Album Plugin

If you frequently need to sync all your Facebook photos with your website content this plugin is perfect for you.
The Facebook album plugin allows you to easily create a web gallery from a Facebook album.
Only works with public Facebook page albums. Does not work with country/age restricted albums.
Facebook Group and Facebook Personal Profile Albums are available in the PRO version
How to embed Facebook photo album on my website?
Here is how you can embed Facebook photo album on your website
Enter your Facebook page URL in the input field below
Follow the steps to register for a free account
Copy the embeddable code and paste it in your website
Do you want a 'logo free' album? A slideshow Facebook album layout? A Twitter and Instagram Feed Albums? And some cool customization features? Try the PRO version, it includes a direct support and access to all new updates.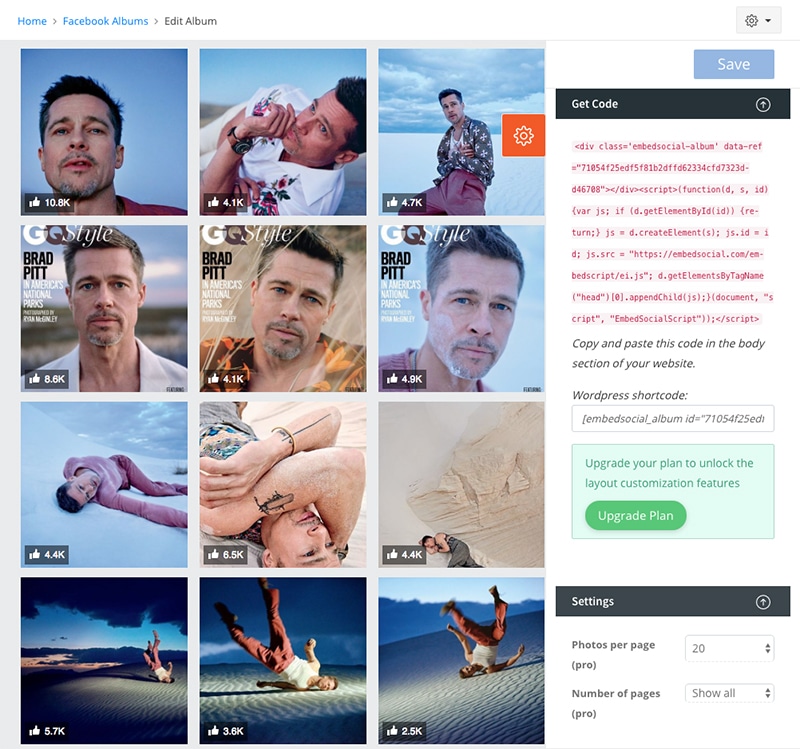 Get the PRO version
Start a trial and see the power of the EmbedAlbum PRO version. Include Instagram feeds from hashtags, embed an entire Facebook gallery from Facebook albums, embed personal Facebook albums, albums from Facebook groups and lots of options to customize the layouts.
Facebook photo album plugin demo:
In action 👇
All Features You'll Ever Need
Whether you're displaying your customer's Facebook Page photos or building
a beautiful photography portfolio, this Facebook album plugin is all you will ever need.
AUTO IMPORT
[PRO]
Import all Facebook albums in a single click and create an entire gallery that you can embed on any website.
INSTAGRAM & FACEBOOK SHOP
[PRO]
Add clickable buttons on every photo on your Facebook or Instagram album and embed it as a shop feed on your website.[DEMO]
TWITTER AND INSTAGRAM ALBUMS
[PRO]
You can use the PRO version to generate and embed albums from your Instagram account or from an Instagram and Twitter hashtag.[DEMO]
LIGHTBOX
[PRO]
Allow your website visitors to click on a photo and view it in Lightbox mode, without leaving your website.
UNLIMITED
[AGENCY]
That's right! With one account you can generate unlimited Facebook photo albums from unlimited Facebook accounts.
SHORTCODES
All your Facebook web galleries have WordPress shortcodes. Change settings without the need to alter the WordPress shortcode already embedded on your website.
SIDESHOW LAYOUTS
[PRO]
Display the Facebook photo album in a masonry or grid layout. Even better, create a dynamic slideshow with your Facebook photos.[DEMO]
CUSTOMIZATION
[PRO]
Change title size and color, adjust padding, size, change thumbnail size, edit album title text, size, color and more great design settings.
SYNC
You won't need to crop, upload and host photos. The EmbedAlbum plugin will do this for you.
FACEBOOK GROUPS 
[PRO]
Generate and embed photos from a Facebook Group on any website.
FACEBOOK USER ALBUMS 
[PRO]
Generate photos from personal Facebook profiles and embed these photos in an album on any website.
FACEBOOK GALLERIES
[PRO]
Automatically import all albums from a Facebook Page and create an entire web gallery. [DEMO]
Offical Facebook Gallery Plugin for WordPress

Make the most out of your Facebook gallery plugin by installing the official WordPress plugin. This plugin enables you to display your Facebook albums with a simple shortcode.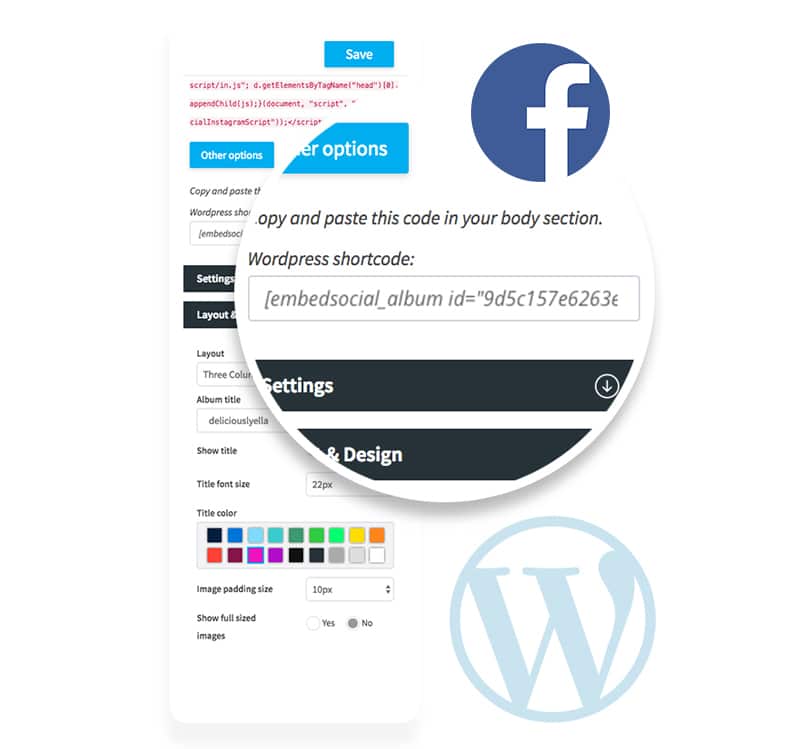 Seamless integration with the apps you love to use.
Just copy-paste and you are ready to go.
Ready? Enter Facebook Album URL And
Get The Free Facebook Gallery Plugin
Do you have the free Instagram widget?