Get a Unique Subscribe Button
You remember the email subscription forms, right? Well, the Facebook subscribe button has the same function but with special superpowers. Once you've created your account you will get your own Facebook app and a unique subscribe button that you can embed anywhere on your website.
Authenticity: Generate Facebook Subscribers
The most special feature of the subscription process that the platform offers is the possibility to generate real Facebook subscribers which is very different than receiving only an email from users you will never really know.
Customize the subscribe button
You can customize the button text or label for any state. Additionally, if you want a button re-design than you can to contact our team.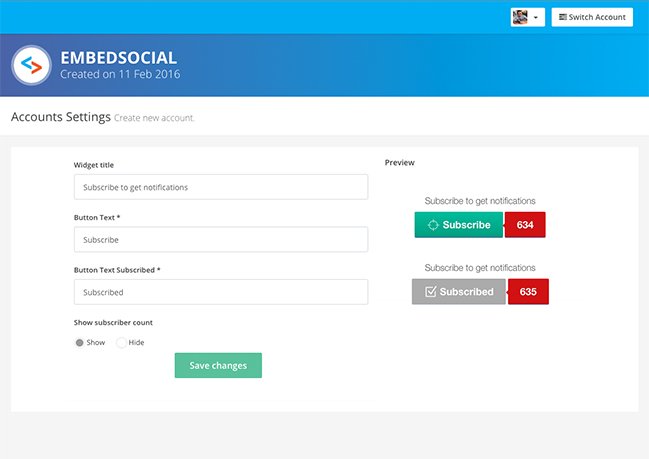 This is our subscribe button in action. Click it and see how it works.
You, as an account creator, can invite other team members by sending them invitation emails in order to assign them a moderator status in your account. They will have access to view analytics, view subscribers and send notifications.
The platform allows you to create multiple accounts. This means you can have multiple buttons, that are all different and unique for a different website or different purpose on the same website.
The notification composer allows you to send notification as a test to moderators only, before sending it to all subscribers. This option allows you to edit and create the notification message without any typos.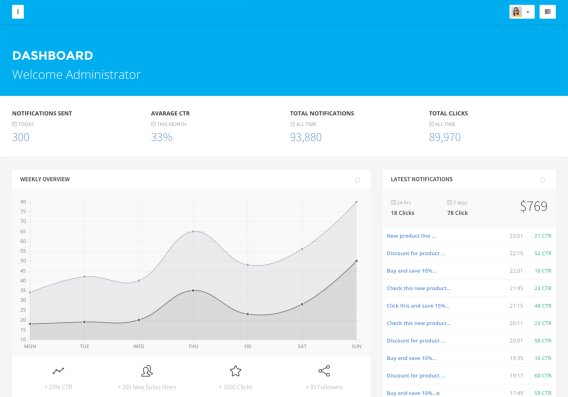 The Facebook notifications app offers a dashboard with clear information about the recent performance of your notifications. The dashboard will list the top notifications, the weekly CTR, the notifications sent that week and similar.
Track notifications success
We recommend that you track the CTRs of the sent notifications and note that the expected CTRs need to be a double-digit percentage.
Top performing notifications
Learn from the top performing notifications. The direct, special and unique messages that are specific to your loyal subscribers will perform better than the generic ones.
It's time to disrupt the email newsletters and the low open rates, the technical setup costs or the expensive services for email delivery. Meet the future of direct communication. Yes, it's true. As you've already read above, this app contains an option to submit a message with a link, that will be sent to subscribers via a Facebook notification. Similar to sending emails to your subscribers, but much more effective, easy and cost saving.
Redirect link
Submit a link that you want your subscriber to lend to after he or she clicks on the Facebook notification.
Notification text
Just compose 180 characters of a highly engaging, short and direct message, that will be delivered in a Facebook notification.
Try the Facebook notification composer now. Just enter a text and click "Send notification". Go to your Facebook profile and look top right, you should notice a red number attached to the notification icon.
Get started with
Facebook notifications
Choose a monthly plan you prefer and start sending Facebook notifications, right now