Upload your customers' email list and use EmbedSocial to ask for reviews via email.
The email template contains your own link to a collect form provided by EmbedSocial, which will collect and archive the reviews in your EmbedSocial account for later use.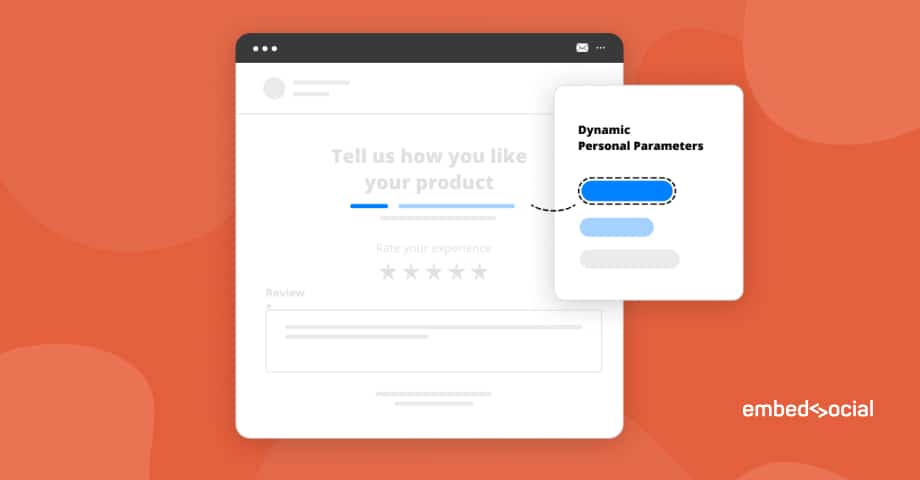 Embed your email reviews on any website
Similar to your social reviews, once you connect Email as an aggregator source, you are able to create a specific widget with the reviews that you've collected by sending emails to your customers.
All this by just embedding one line of code on your website, with options to choose layouts or customize the design of the web widgets.
Customize email reviews template
Use the email editor to edit the efault email and change the text for asking your customer's to
Each email contains must have structure, such as email subject and unsubscribe option that you should have in mind when creating the email template.
How to generate and embed Email reviews?
Follow these steps to start collecting reviews via email by using the EmbedSocial platform:
Start a trial and register to EmbedSocial
Choose Email as reviews source
Setup email template
Add customers' emails
Send the emails
Create reviews feed by choosing Emails as a source
Copy/paste the provided code to embed the widget containing the email reviews
Send personal reviews request emails at scale
EmbedSocial's email editor provides dynamic parameters that can be used in the email template that will create a personal voice of the email text.
For example, one of the parameters can replace the customer's email and the same template will be sent to multiple people replacing the parameter with the actual email of the specific customer.
The current email parameters include the following data: your company name, customer name, source name, unsubscribe link and link to review form.
Reminder emails and notifications
As additional settings to your email review requests, the EmbedSocila platform provides you with options to send reminder emails to the customers who have not replied to the email. This setting is just one click, and you no longer need to do this check manually and lose time to prepare the reminder emails.
Additionally, you can set notifications for you, to get a reminder each time a customer responds to the emails and leave a review.
Need help?
Frequently asked questions about Facebook reviews
Have a specific question about Facebook reviews and recommendations? Click the bottom right chat icon and talk with us.
Yes the system supports more Facebook pages. You can check the pricing plans and choose which plan suits the number of Facebook pages you have.

Yes, you can use multiple templates or a custom css editor to make your testimonials fit your brand and website design.

Yes, you can use EmbedSocial to repond to a Facebook recommendation directly from one console. If you manage mutliple Facebook pages you will not need to go to a different page in order to write the review. You can respond to all these reviews from one place, thus saving tons of time.

The best way is to send emails to your customers and include a link with the Facebook reviews page in the email. Use the Email request option in EmbedSocial to start sending these emails.
At the moment, the Facebook platform does not have a direct option to delete a recommendation submitted by a Facebook user. The best way is to report it and submit the reason. The Facebook team will review your request and respond accordingly. If you use the EmbedSocial platform to display the Facebook recommendations on your website, you can filter the reviews that you do not want to show on your website.

Yes! The system checks for new reviews regullary and send you a notification shortly after you get a new review, so you can be alerted to respond on time.

Yes. The EmbedSocial platform gennerates reviews from other networks, and allows you to make a widget with combinations from all reviews and recommendations you receive.

Yes, the widget will stop showing on your website but you will be able to export all your reviews in a CSV format.
See all widget templates in action