The web feedback forms are part of the EmbedReviews platform and are available for free and paid users.
It provides you with the functionality to create feedback forms and display them on your website, with one line of code and in seconds.
With the feedback forms, you can collect reviews on your website or send a unique link of the created form via email to your customers.
The result is a closed-loop of an entire review management process that includes collecting, analysis, curation, reply, and display, all in one platform.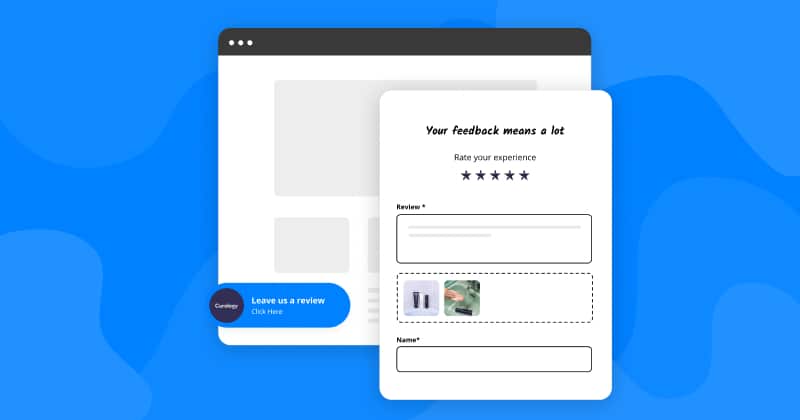 Buttons, popups, and embeddable forms
You can choose from a few types of widgets that best fit your website layout.
Form web page with a unique link
Embeddable form in any web content
Floating popover
A button that, when clicked, opens the form
Each of these widgets has additional settings that you can set up to customize them best for your needs.
Additionally, the forms provide two authentication options: One via email and one via Facebook, allowing customers to click a button and verify their profile while submitting the feedback.
Localize feedback forms with multiple languages
The current settings provide options to choose the language that translates all the text in your form.
You can choose from the following: English, Japanese, German, Dutch, French, Polish, Swedish, Russian, Indonesian, Spanish, Czech, Finnish, Portuguese, or Arabic.
Upon request, we can do additional translations.
How to create feedback forms?
Follow these steps to create your first web form with EmbedReviews
Start a trial for EmbedReviews
In Sources, choose Web Forms
Define privacy link and name of your form
Choose the type of your widget
Copy/paste the code to display the feedback form on your website
Multiple forms on multiple websites
There are no limitations. Both for the free and paid users, you will be able to create as many forms you need and embed them on multiple website domains.
The code works on most CMS and eCommerce platforms, such as WordPress, Shopify, Squarespace, and similar, so you will not need any coding skills to implement the code.
Get notifications and respond to reviews
In the settings panel, you can switch on an alert option and define the recipient. By doing this, you will receive a notification each time a customer submits the form.
And the best, you can reply to this feedback from the platform or select it to display it on a widget on your website.
Need help?
Frequently asked questions about Feedback forms
Have a specific question about our form widgets? Click the bottom right chat icon and talk with us.
Yes, the system supports more creation of multiple forms that you can use in emails as links or embed them on your website where customers can submit their reviews or feedback.

Yes, you can set up the language, redirect links, or if you use the button widget you can customize the button label, color, style, and similar.

This option is available in the All Reviews section where you can click individually for each feedback and reply. The submitted response will be sent to the customer on their email they've included in the form.

Yes. The embeddable codes work with the most popular platforms that support embedding HTML or JavaScript. This includes, Wix, Weebly, Squarespace, PageCloud, WordPress, Shopify, Magento, BigCommerce and similar platforms.
Yes. By default, the forms redirect users on a thank you screen, but if you need an additional landing page, you can change the redirect link with the URL of that page.

Yes! The system checks for new responses and you can set up a recipient email where the notification will be sent.

Yes. The EmbedReviews platform generates reviews from other social media networks such as Google, Facebook or Yelp, and you are able to select all the sources together with the received feedback from your forms in one testimonials widget.

Yes, the feedback forms will stop showing on your website but you will be able to export all your reviews in a CSV format.
See all widget templates in action