As Instagram Stories have a 24 hours life span, you need something that will help your photos remain to live as long as you need to.
The good news is that collecting your favorite product or service photos and embedding them on your website can be easier than it seems.
A simple tool like EmbedStories can help you select your preferred product or service photos and craft a unique Photo Stories gallery to revive your website with visual marketing.
Easily upload, manage, and embed your photos in the familiar Story format using 5 customizable widgets and have them live on your site in less than a few minutes.
You can re-use the stories you share on your Facebook, Instagram or Pinterest and upload them in EmbedStories, creating an eye-catching Photo Story widget.
Optimize your website performance and grow your business with an astonishing variety of Photo Stories widgets that can be embedded on any website.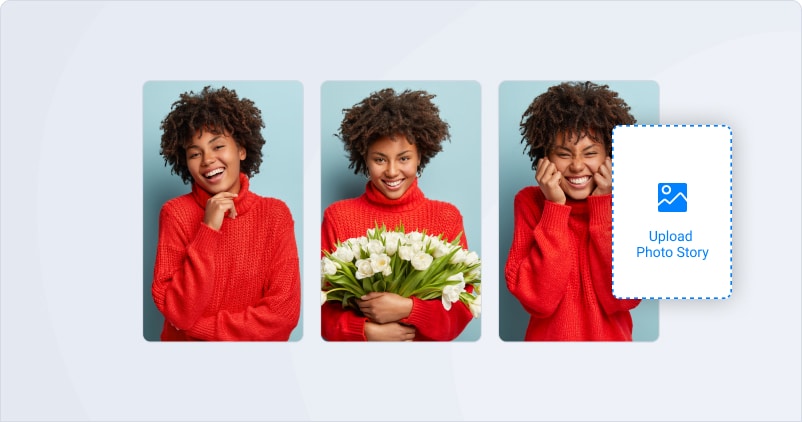 Benefits of Photo Stories widgets
Improves the user experience and average time on page
Improves the conversion rate with shoppable Photo Stories
Organizes your photo content and helps you present it in an engaging story format
Lends a modern website look with a dose of color and liveliness
Saves you time to manage and build modern widgets without any coding skills
Variety of Photo Stories widgets
Every website has its own look and feel, so our team made sure to design widgets that will fit every website branding, and at the same time, be desktop and mobile-friendly, too.
Check out the trendy AMP carousel layout, try the Slider or Lightbox widget. Use 5 column (grid) type of designs or just test all templates and see what works best for you!
Custom CSS editor for your Photo Story widget
But don't stop with the default templates.
We made every widget to be so flexible and customizable that you can completely change the entire look with a simple CSS code.
It has never been easier to create a fully unique look and the perfect visualization and engaging user experience you always dreamed of.
How to embed Photo Stories on your website?
Follow these 4 easy steps to create your Photo Stories widget:
Start your free trial for EmbedStories
Go to Stories and click 'Upload story' and upload (or drag and drop) as many photos you want
Choose the layout that fits best for your brand, moderate the widget and add CTA buttons
Copy/paste the provided code to showcase the Photo Story widget on your website
Create multiple Photo Story widgets for every website you have
Whether you are a marketing agency, business owner, photographer or designer, EmbedStories allows you to tell your story in an organized manner.
The number of websites you can use to display your Photo widget is not limited, so feel free to embrace your creativity on any website you have.
How to embed Photo Stories in WordPress websites?
Our code works for every website builder, and WordPress is one of the most used one.
All you need to do is to copy and paste the code we provide you with into the HTML section of your WordPress website. Next, just relax and notice the boost in user engagement and conversions.
Need help?
Frequently asked questions about Photo stories widgets
Have a specific question about the Photo stories widgets? Check the FAQ section below or click the bottom right chat icon and talk with us.
Images size must be under 8MB and 9:16 aspect ratio, portrait, 1080×1920, 900×1600
Acceptable formats are jpeg, jpg, png, webp images

Currently, you can try 5 Photo Story widgets. Please note that all of them are fully customizable.

Slider
Lightbox
AMP
Popup
5 Column

Yes! We encourage you to create your own unique look with the variety of widgets, moderation options, and our custom CSS editor.

Yes! WordPress, Squarespace, PageCloud, Joomla, Wix, Weebly, Shopify, Magento, OpenCart are just some of the major CMS and web builders we integrate with. We also support all the platforms that allow embedding third-party iframes or javascript codes.
Yes! With the moderation option, you have full control over the photos you want to be displayed in your widget.

Absolutely. Feel free to add custom 'Buy' buttons on every photo you need in order to boost your website conversion rates. When your visitor will click the button, they will be directed to the checkout page to complete the buying process.

Yes! Instagram is among the major social media platforms we are integrated with. This means that you can use EmbedStories to generate stories from Instagram and also upload Story Pins from Pinterest.

We will go above and beyond for you to be satisfied with our EmbedStories tool, but if you decide to cancel, have in mind that the widget will be removed from your website. However, you can always change your mind and we will welcome you again with open arms.
Browse all stories widgets