The EmbedSocial platform allows you to generate up to 3 Yelp reviews and combine them in widgets with other social media reviews.
We provide this option in a bigger platform where non-developers or SME owners can simply and easily manage their online reputation in one place and with a simple line of code display testimonials on their websites.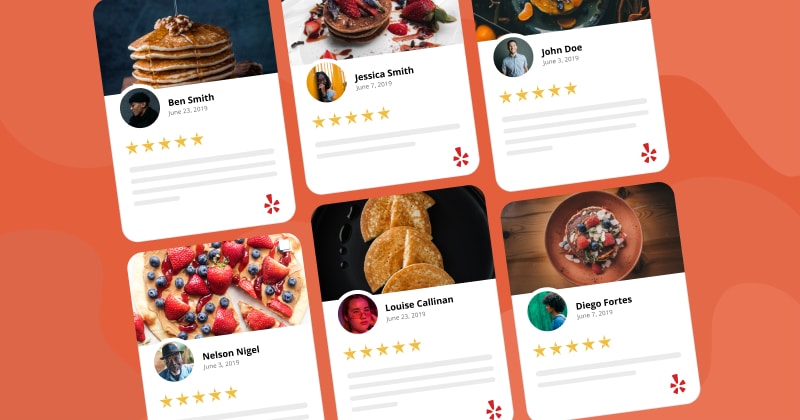 Add Yelp reviews in modern web widgets
Whilst the Yelp platform currently limits the generation of more than 3 reviews, we urge you to combine your Yelp reviews with other reviews that you can generate through the EmbedSocial platform
The current reviews widgets that you can use to showcase the Yelp reviews inlude sliders, grids, masonry, carousels and table layouts.
How to generate and embed Yelp reviews?
Follow these steps to start collecting Yelp reviews with EmbedSocial:
Start a trial and register to EmbedSocial
Enter the URL of your Yelp business page
Select your Yelp page
Customize the widget layout and moderate the reviews if needed
Copy/paste the code to display the Yelp reviews on your website
Show authentic people, not stock photos
All EmbedSocial widgets provide user-generated content that includes specific details about real people who shared their feedback about a specific company on their social media profiles.
The API integration of EmbvedSocial gives the possibility to generate this data and give you tools to show it on your website, such as user profile photos, user name, date of review, link to the original source of the reviews and similar.
Show social proof, increase web sales
Having your Yelp reviews on your website will directly impact the decision making of your new prospects.
The social reviews have the power of authenticity, which becomes your digital word-of-mouth tool of convincing more customers to buy on your website.
Need help?
Frequently asked questions about Yelp reviews
Have a specific question about Yelp reviews? Click the bottom right chat icon and talk with us.
Yes, the system supports more Yelp accounts. We do not limit the number of Yelp accounts in the plans due to the limitations of the number of reviews that are allowed to generate from Yelp. Currently, their platform allows up to 3 reviews per account. If this changes, we will make sure to reflect in our system as well.

Yes, you can use multiple templates or a custom css editor to make your testimonials fit your brand and website design.

At the moment the official API provided by Yelp offers only 3 reviews to be generated from their platform. If this changes, our system will apply the update.

The best way is to send emails to your customers and include a link with the Yelp reviews page in the email. Use the Email request option in EmbedSocial to start sending these emails.
You can not directly delete a bad review on your Yelp page. But, you can flag a certain review and request to be removed by the Yelp moderators. To do this, go to the review that you want to remove and click on the "flag" icon at the bottom of the review to choose the reason for removal. Once the moderators evaluate your request, the bad Yelp review can be removed. Although, you need to know that reporting doesn't always result in removal.

Yes! The system checks for new reviews regullary and send you a notification shortly after you get a new review, so you can be alerted to respond on time.

Yes. The EmbedSocial platform generates reviews from other networks and allows you to make a widget with combinations from all reviews and recommendations you receive.

Yes, the Yelp widget will stop showing on your website but you will be able to export all your reviews in a CSV format.
See all widget templates in action