Re-create your YouTube channel for your website.
With a simple code, you can display an entire YouTube feed on any webpage that will sync each time you post a video on your YouTube channel.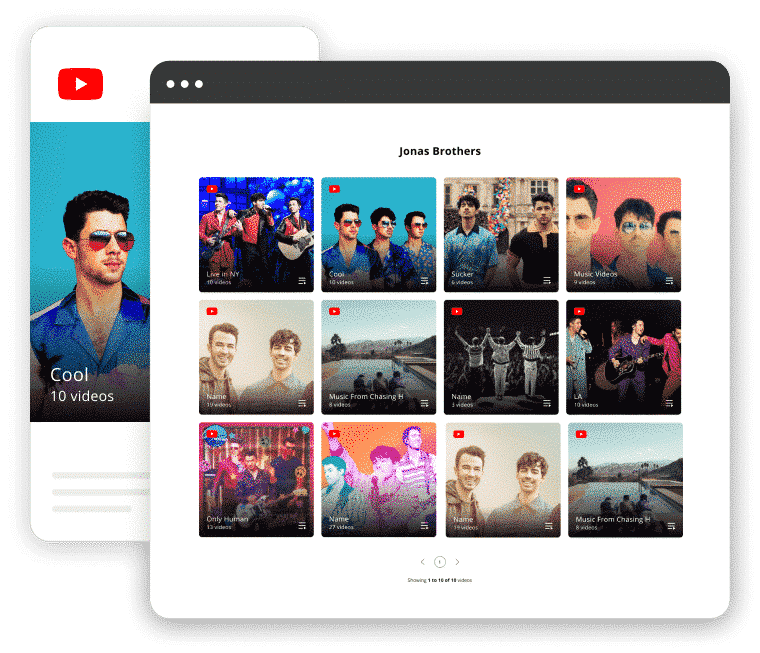 Embed YouTube videos in a variety of sliders, feeds or masonry layouts
With the ready-made templates, you can display a YouTube channel in seconds. The professionally designed widgets are mobile-friendly and uniquely designed to fit your video content.
They load fast, provide a lightbox experience and give additional options to redirect the user to continue watching the videos on your YouTube channel.
And bonus, you can combine your YouTube videos in feeds with any other social media network you connect with EmbedSocial.
Custom feed builder for YouTube videos
EmbedSocial provides a CSS editor that will enable you to apply a custom tyle which overwrites the default design of the video channel.
Fell free to reach out to our team if you need help in designing the layout of your YouTube feed.
How to generate and embed YouTube videos?
Follow these steps to start aggregating YouTube videos and playlists with EmbedSocial:
Start a trial and register to EmbedSocial
Choose YouTube as a source
Paste the link of your YouTube channel
Customize the layout and moderate the YouTube videos if needed
Copy/paste the code to embed the YouTube channel on your website
Variety of YouTube video feeds, channels or playlists
Playlists widgets, YouTube hashtag widgets or channels, EmbedSocial gives you the two options.
With YouTube playlists, you are able to create a video widget that will embed an entire video playlist form your YouTube channels.
Or, you can just create one widget containing all videos from your entire video channel having all your YouTube video content sync with your website,
Create multiple video feeds for multiple websites
Want to use the same EmbedSocial account for more websites or more widgets? No problem!
The system is flexible and allows you to create as many widgets you need without limitations where you want to embed them, or on how many websites.
This is perfect for agencies or multi-location brands that might have different YouTube channels or hashtags that want to follow and generate YouTube widgets accordingly.
Auto-sync or curate your web video gallery
With a simple switch on/off, you can make the video feed update manually or use the options to handpick which videos to show on your website.
Need help?
Frequently asked questions about YouTube video feed
Have a specific question about YouTube channel or playlist feeds? Check the FAQ section below or click the bottom right chat icon and talk with us.
Yes, the system is designed to support multiple YouTube channels. You will only need the channel URL and our system will do the rest of connecting with YouTube's API and generating the videos.  Check our pricing plans and choose which plan suits the number of sources you want to connect.

We currently provide more than 10 widgets and we regularly increase the widget library. At the moment you can use:

YouTube carousel widget
YouTube slider widget
YouTube slideshow widget
YouTube slideshow widget without thumbnails
YouTube slideshow widget with vertical thumbnails
YouTube Feed (4 different widgets)
YouTube masonry widget
YouTube grid widget

Yes, you can use multiple templates or a custom CSS editor to make your YouTube widgets to fit your brand and website design.

EmbedSocial integrates and works with all major content management platforms and web builders, such as WordPress, Squarespace, PageCloud, Joomla, Wix, Weebly, Shopify, Magento, Open Cart and all platforms that provide an option to embed third-party iframes or javascript codes.
Yes, you can litteraly handpick which videos to show in your feed published on your website. The moderation options are various, which means you can filter only posts posted after certain dates or posts that include certain words.

Yes! EmbedSocial provides options to add custom 'Buy' buttons in the YouTube feed posts that when clicked can navigate the web visitors to the checkout page where they can buy the selected product.

Yes. The EmbedSocial platform is integrated with all major social media networks, such as Facebook, Twitter, Instagram and Vimeo and provides you with the options to choose more social media sources of the posts for your web feed.

Yes, the widget will stop showing on your website but you can come back and activate your account any time.