The EmbedAlbum users have the option to embed an entire Instagram feed from a specific hashtag on their websites.
This is an interesting functionality for organizing campaigns or contests that have the goal to engage Instagram users by inspiring them to post photos or videos using a specific hashtag.
The option to display this content on a brand's website helps companies to broaden the reach and also provide a transparent view of the engagement on particular photos if a winner needs to be selected.
Related to this, sometimes a moderation is required in order to display only the content that complies with the campaign rules.
Here are the steps how to create and moderate Instagram hashtag feeds:
First, you need to create the feed. Log in to your account and do the following:
1. Go to 'Instagram albums'
2. Click 'Add new'
3. Select Instagram hashtag album, type the hashtag and click 'Continue'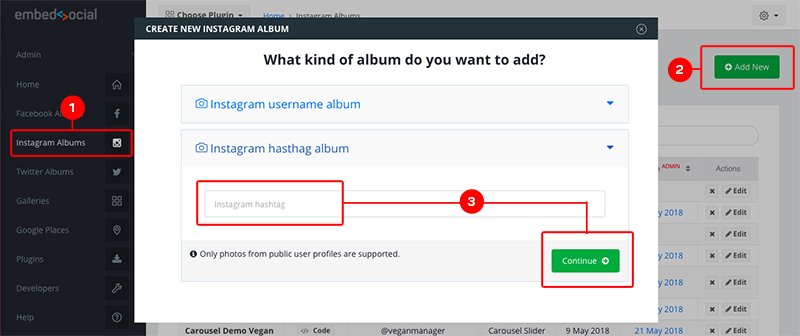 Once you've created your Instagram hashtag feed, now you can activate the moderation mode.
To do this follow the steps below:
1. Click on the 'Moderation' tab and select the option 'Enable moderation'
2. Check the box on the right corner of each of the photos that you want to appear in the feed
3. Once you are done selecting, click 'Save'