Show new web visitors your Facebook reviews in an interactive widget provided by EmbedSocial. Not a developer? No budget for maintaining your website? No worries, just use our Facebook reviews generator and embed a simple line of code, that updates automatically.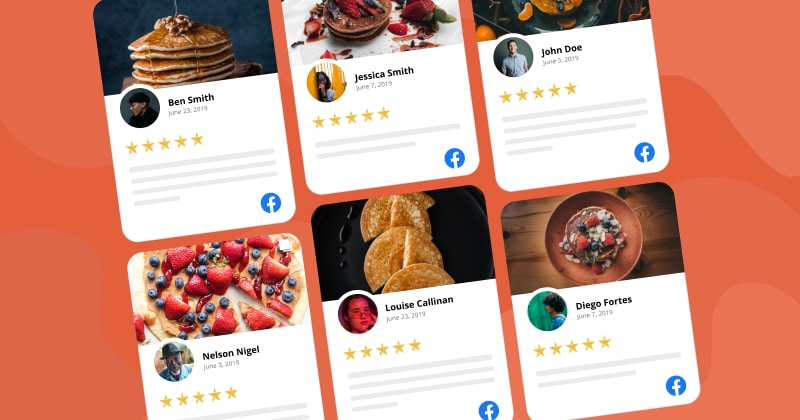 More than 10+ widgets available
Our professional front-end team has designed a reviews page builder with ready to use widget Templates. The template library is constantly updated, so you will receive new designs on a regular basis.
You can use the layouts for any web purpose. Landing pages, full testimonial pages or eye-catching sliders for your homepage.
Custom template builder
If by any chance you need to make sure your widget is completely on brand, you can use the Custom CSS builder that will provide you with full flexibility entirely customizing your widgets.
This option is perfect for agencies who constantly need to make the web widgets for their clients based on their brand requirements.
How to generate and embed Facebook recommendations?
Follow these steps to start collecting Facebook reviews with EmbedSocial:
Start a trial and register to EmbedSocial
Connect your Facebook profile
Choose Facebook Page
Customize the widget and moderate the reviews if needed
Copy/paste the provided code to display the reviews on your website
Fast sync and automatic updates
Once you embed your widget you can set it up to update each time you receive a new review . on your Facebook page.
Note, that you can choose to show only the 'YES' recommended reviews that will auto show on your website. So, no more manual updates and losing time in finding reviews for your testimonial page. All of that now is hands-free with EmbedSocial.
Advance moderation and filters
Did we tell you that you can handpick what shows on your website? Yes, for sure. You can choose which reviews to display in the widget, filter them by specific keyword and even create widgets based on a specific tag.
For example, you can create widgets that are tagged based on a specific product that the customer's mentioned on Facebook, giving you great flexibility in specifically managing your Facebook recommendations for your website purposes.
Need help?
Frequently asked questions about Facebook reviews
Have a specific question about Facebook reviews and recommendations? Click the bottom right chat icon and talk with us.
Yes the system supports more Facebook pages. You can check the pricing plans and choose which plan suits the number of Facebook pages you have.

Yes, you can use multiple templates or a custom css editor to make your testimonials fit your brand and website design.

Yes, you can use EmbedSocial to repond to a Facebook recommendation directly from one console. If you manage mutliple Facebook pages you will not need to go to a different page in order to write the review. You can respond to all these reviews from one place, thus saving tons of time.

The best way is to send emails to your customers and include a link with the Facebook reviews page in the email. Use the Email request option in EmbedSocial to start sending these emails.
At the moment, the Facebook platform does not have a direct option to delete a recommendation submitted by a Facebook user. The best way is to report it and submit the reason. The Facebook team will review your request and respond accordingly. If you use the EmbedSocial platform to display the Facebook recommendations on your website, you can filter the reviews that you do not want to show on your website.

Yes! The system checks for new reviews regullary and send you a notification shortly after you get a new review, so you can be alerted to respond on time.

Yes. The EmbedSocial platform gennerates reviews from other networks, and allows you to make a widget with combinations from all reviews and recommendations you receive.

Yes, the widget will stop showing on your website but you will be able to export all your reviews in a CSV format.
See all widget templates in action