SEO Stars Snippet
Drive Google traffic with simple SEO snippets
Get aggregated star ratings for your product's Google search results.

Embed one line, simple schema code, and see the number of web visitors increase due to the higher click-through rate.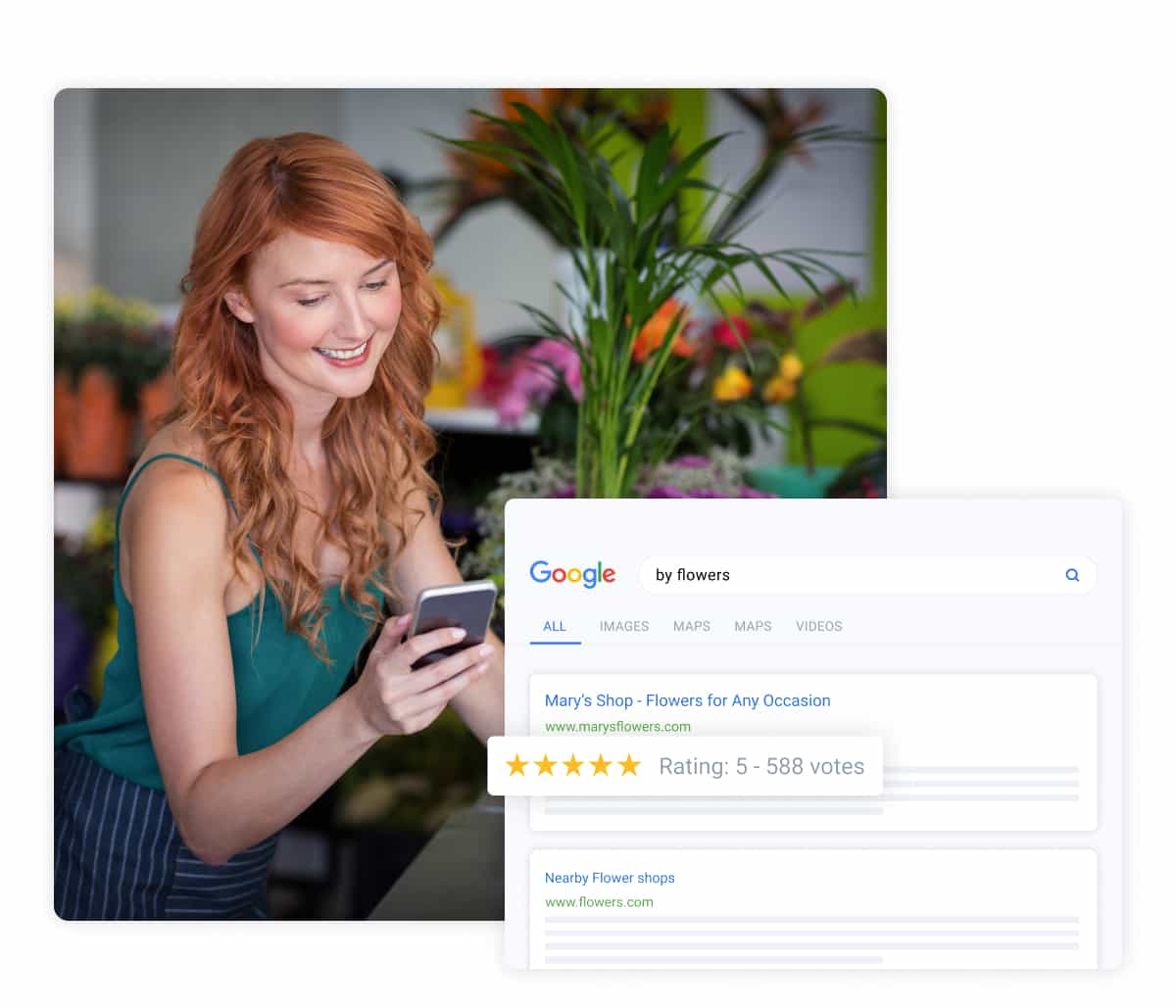 AI summarizer
Help potential customers make faster buying decisions with AI reviews summary.
Using artificial intelligence, this Google reviews widget will show a summarized text of all the reviews.

This gives potential customers a better way to understand your current customers' experiences to make faster purchasing decisions.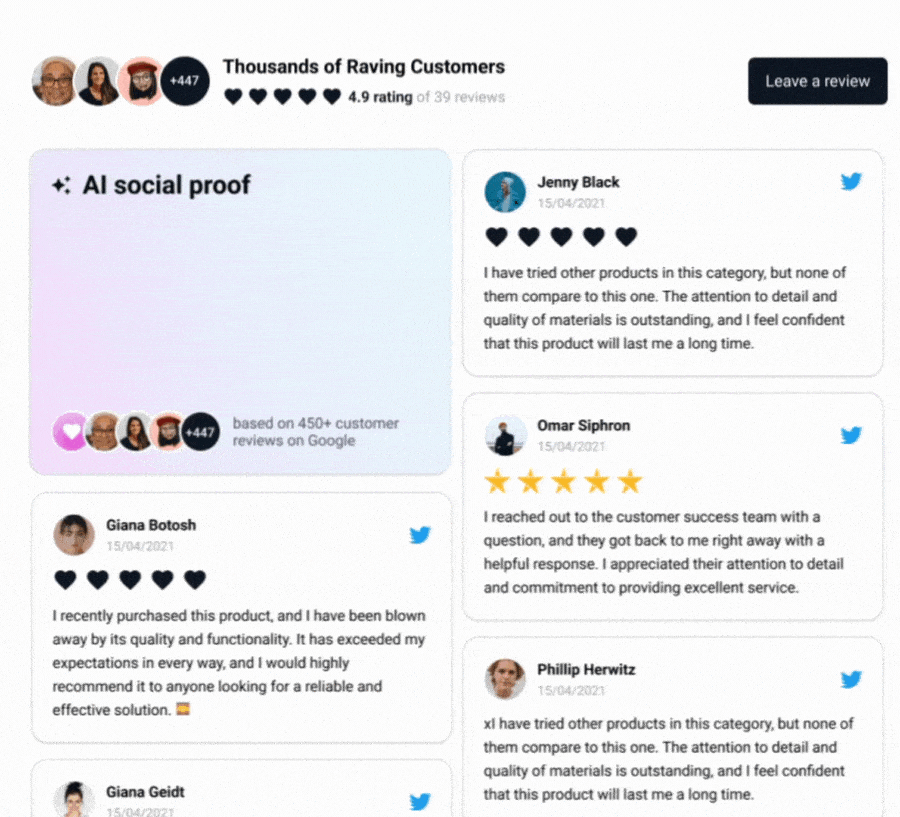 Customizations


Engage potential customers with unique reviews widget design

Use advanced customization options to ensure your Google widgets fit your website layout.

Change colors, layouts, ordering, remove or show parts of the widgets such as dates, Google logo, and similar.

For more inspiration, visit the templates library and pick your slider, grid, or Google reviews feed layout.

See widgets demos >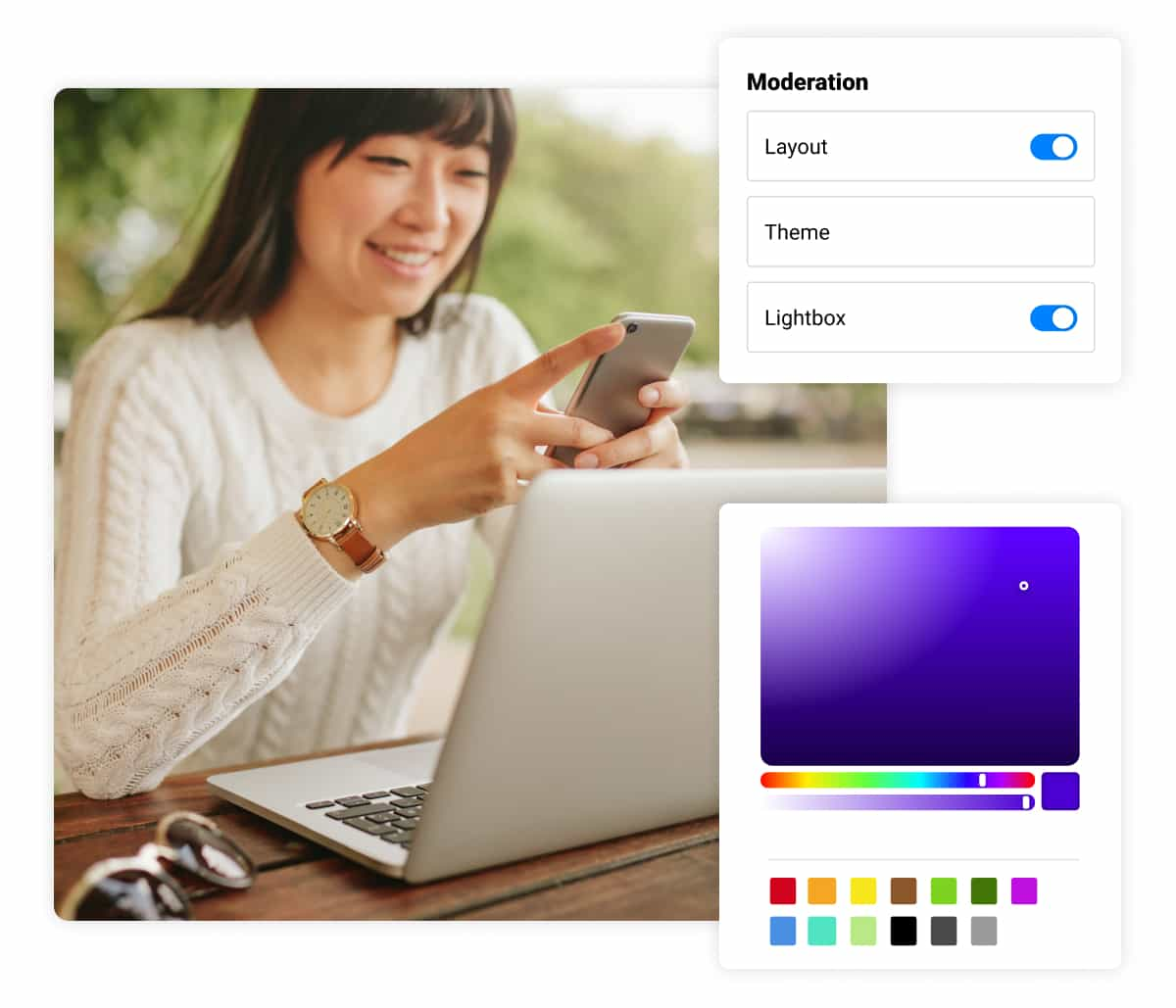 Multiple sources
Add multiple sources in one powerful testimonial widget
With just a few clicks, you can expand your Google reviews widget with more review sources.

Include testimonials from satisfied customers you've collected manually, or activate your Facebook reviews page to add more sources. You can also import reviews from Trustpilot, Tripadvisor, Yelp, and similar review sites.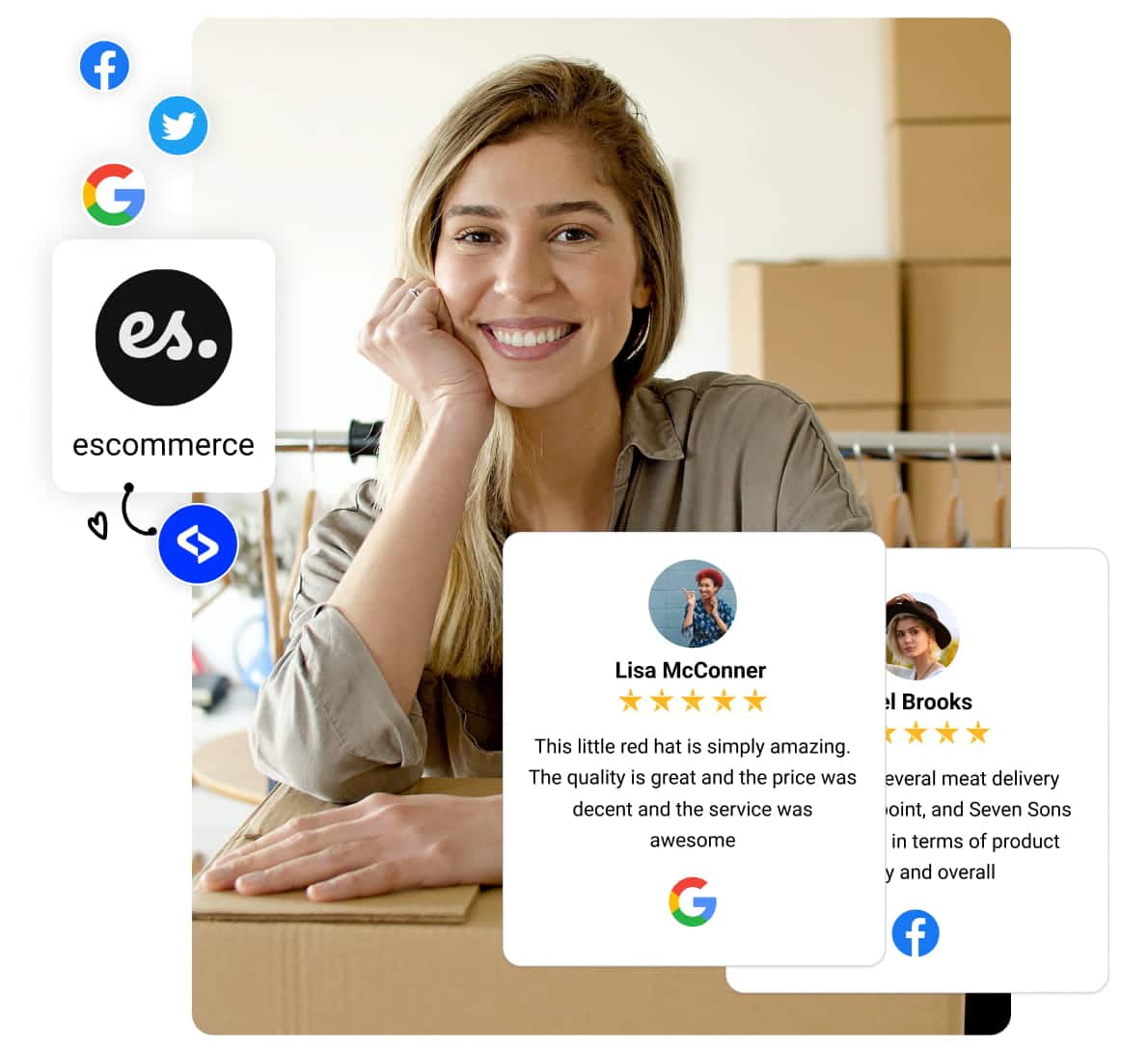 40+ Google reviews widgets




for

any website theme
Create multiple widgets from multiple sources. No additional costs.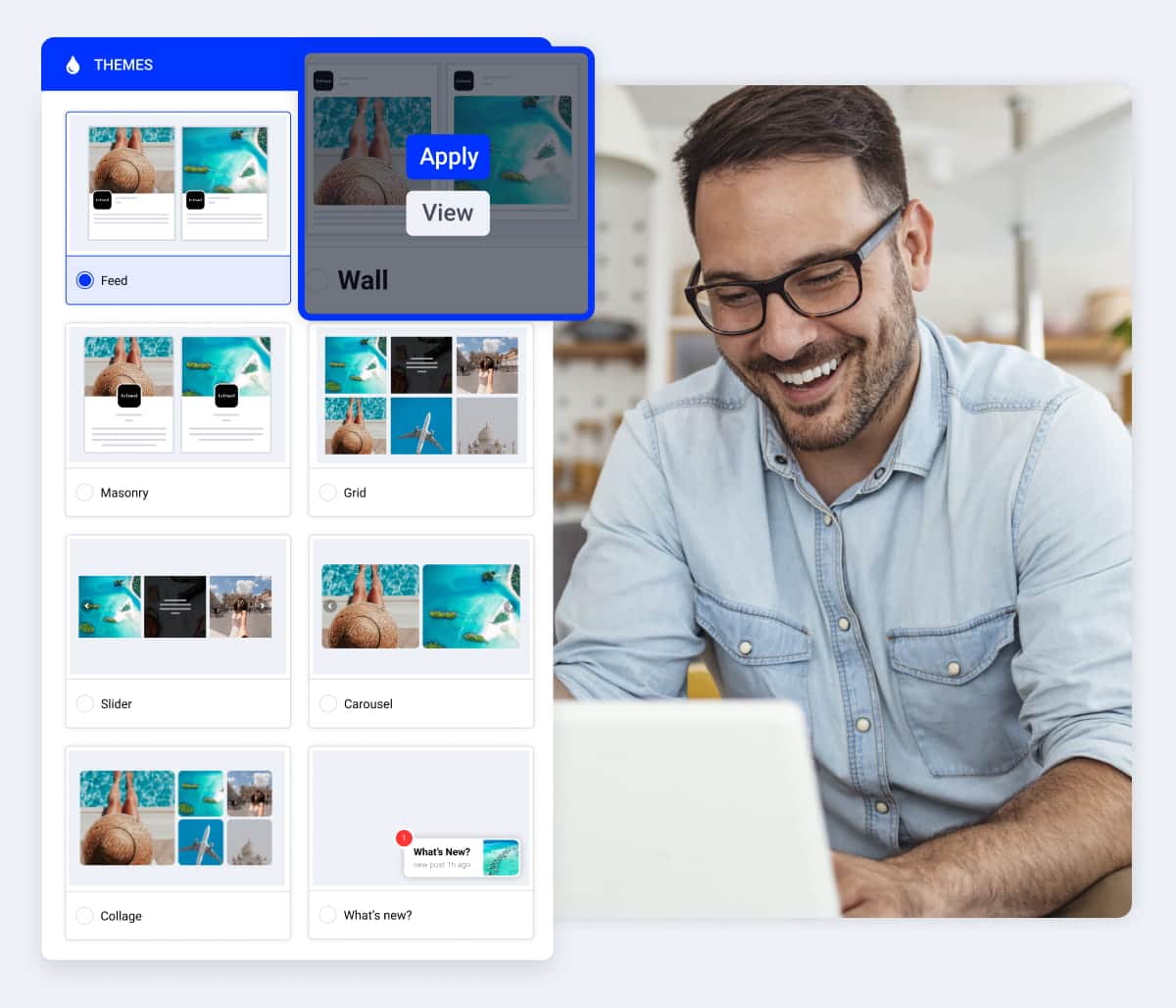 Embeddable code
Code that works on any web platform that supports Javascript.
Mobile responsive
Mobile-friendly widgets that fit any device size.
One widget, multiple sources
Construct a combo widget that will include reviews from various sources.
Custom CSS
Popular
Stay on brand and make your own style and design for unique widgets.
Browse Google reviews widgets
M

oderation


Filter by keywords or hand-pick which reviews to show

Use variety of filtering and moderation options to show reviews based on different criteria. For example, you can use Tags to organize reviews by certain categories and select to create a widget only with the specified tag.

Additionally, you can do more manual moderation or use filters to show only reviews by a certain rating number.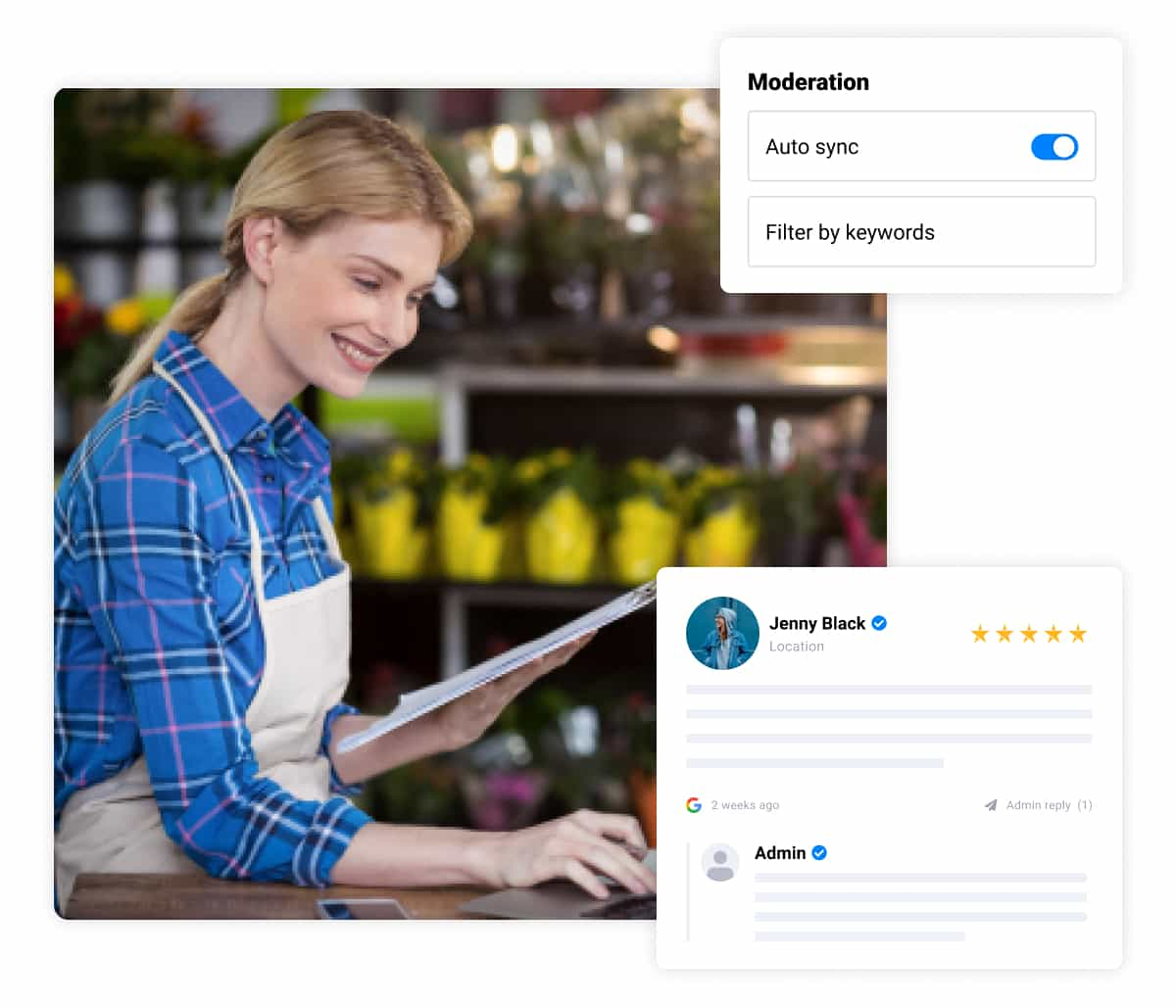 Reviews page
Rank higher with a dedicated Reviews listing page
Show all your reviews and testimonials from all sources on one webpage that can rank higher in Google searches. Get a unique URL to share with customers and collect more reviews on your business listing page.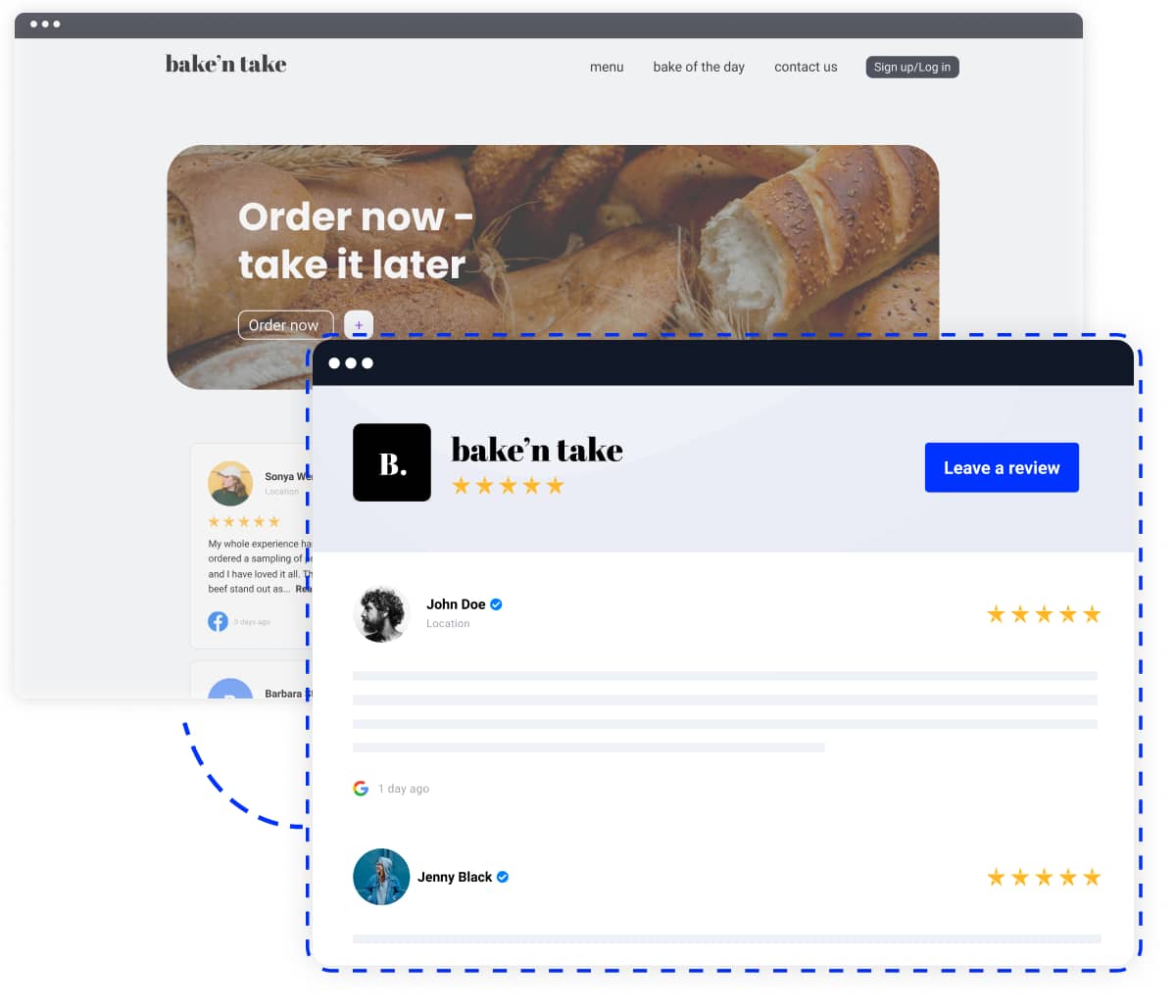 AI review responder
Use an AI to help you reply to Google reviews faster
No inspiration? Lack of time to reply to all customer reviews you receive on Google? No problem; this powerful tool reads the customer review and, with one click of a Write AI review' button, will show you a customized reply message that you can approve and click reply.

Save tons of time with AI and make your reviewers happier by replying with reach messages on time.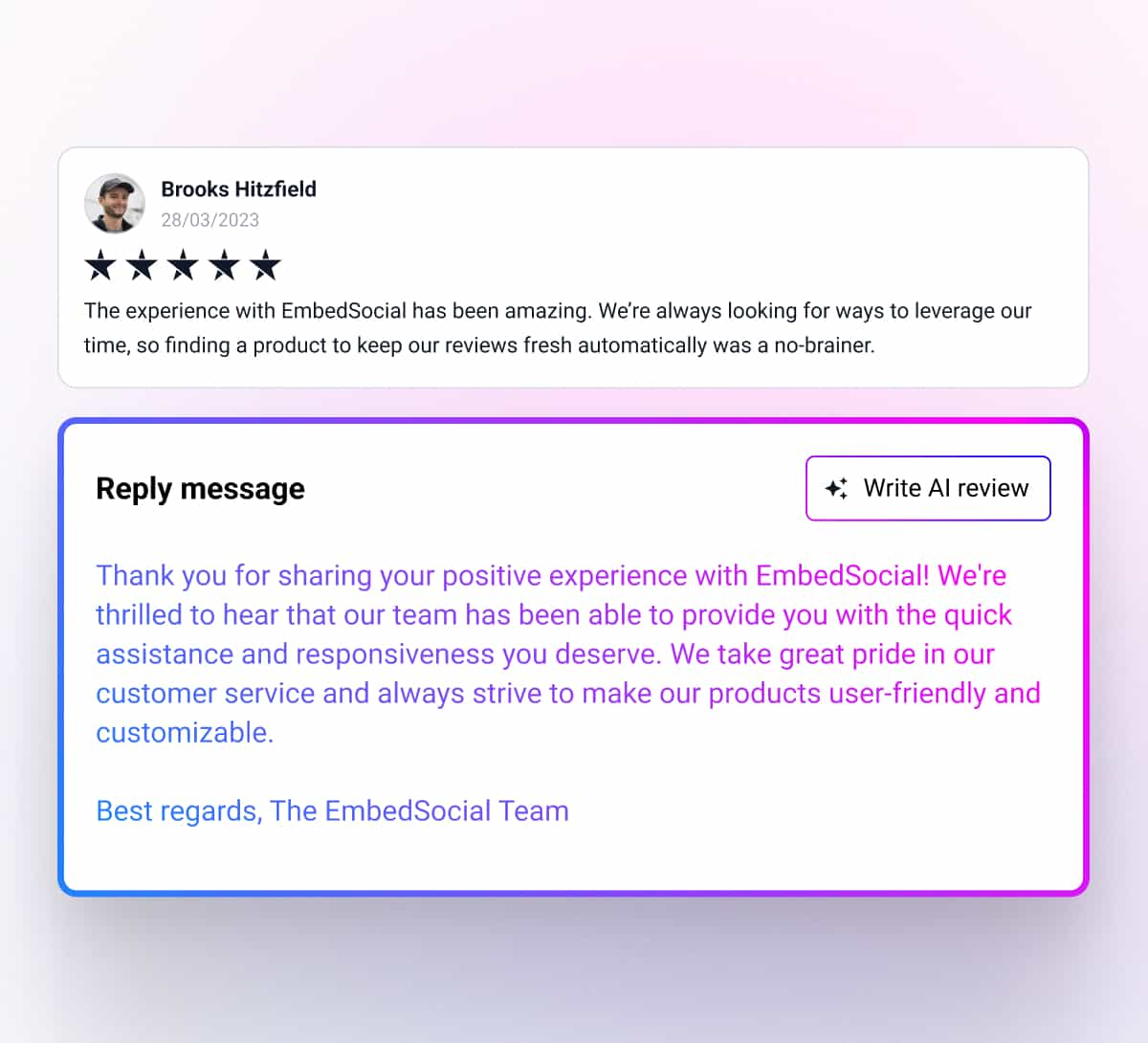 reviews badges library
Explore Reviews Badges Templates
Want more Google reviews widgets and badges? Click below to explore more templates.
more features
More than a widget. All-in-one solution for online reviews
Multiple sources + Import
Auto-Sync
Reviews badges
Reviews Forms
Localization
Filters & Tags
Analytics & Reports
Customization
Moderation
Embed Google reviews on any web platform in seconds
Here is how to generate and embed Google reviews
Collecting Google reviews with EmbedSocial is fast and easy. With the official and direct integration, the platform allows you to connect multiple Google My Business accounts and generate all your Google reviews in one place and in seconds. Follow the steps below to generate and embed your Google reviews on any website.
Create an account
Connect Google profile
Create widget
Choose Google as a source
Once you log in to EmbedReviews, go to Sources and choose Google as a source for your new Google reviews feed. Here you have options to add more sources like a Facebook page, Yelp, or manually import a CSV from other review sites. Finally, you will be able to create a complete testimonials page with reviews from all your sources.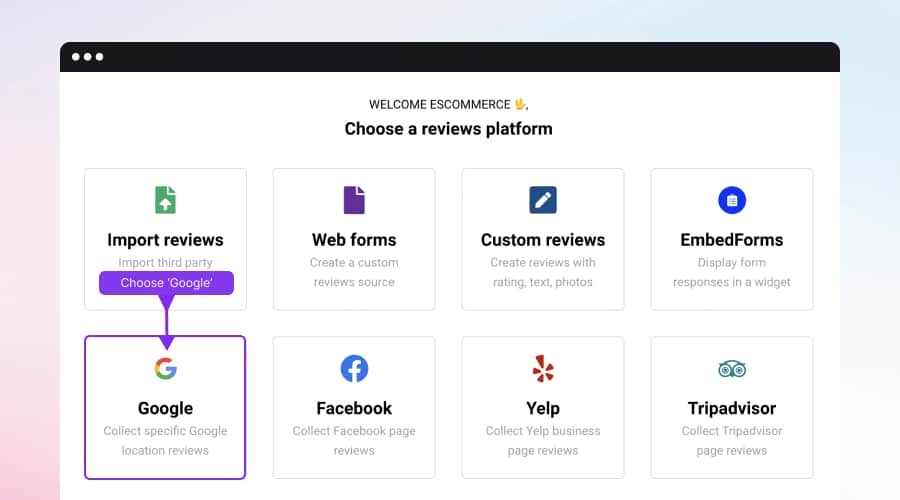 Connect your Google account connect with your Google business location
Due to direct Google integration for seamless reviews generation, you must connect your Google account with your Google location from where you want to get Google reviews. Once you do this, you can pull all your content automatically.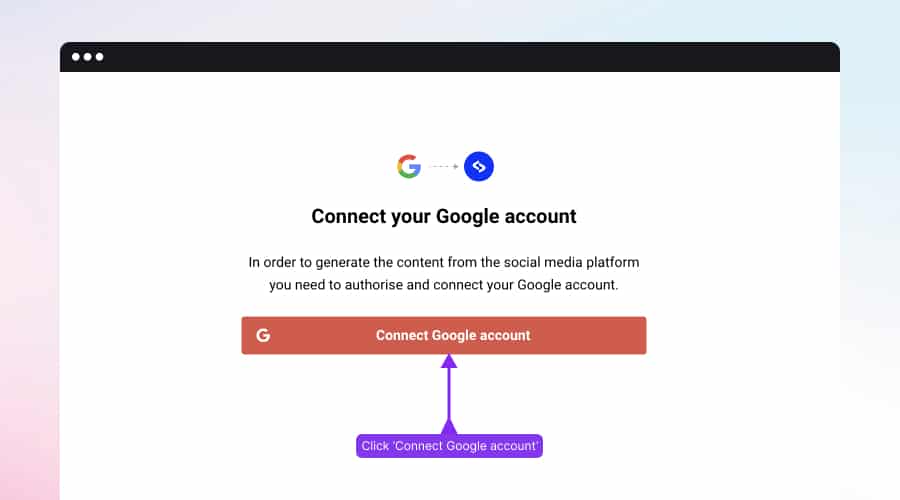 Create а widget for Google reviews display
Use tons of customization options to make your Google reviews show the best on your website. Use settings such as layouts, Custom CSS, lightbox mode or not, create badges, and many more.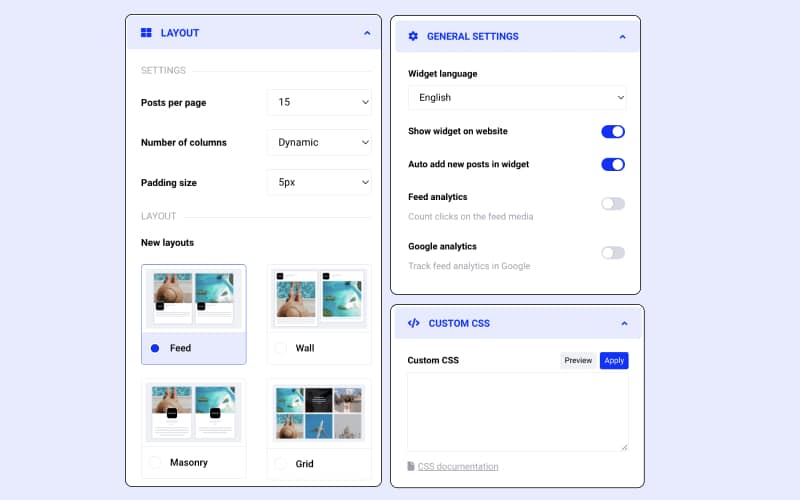 Copy/paste the JavaScript code into your website
After you customize the Google review widget for your website, you will only need to copy the provided JavaScript code or use iframe code to embed it in the HTML code of your website. The widget will appear immediately on your website.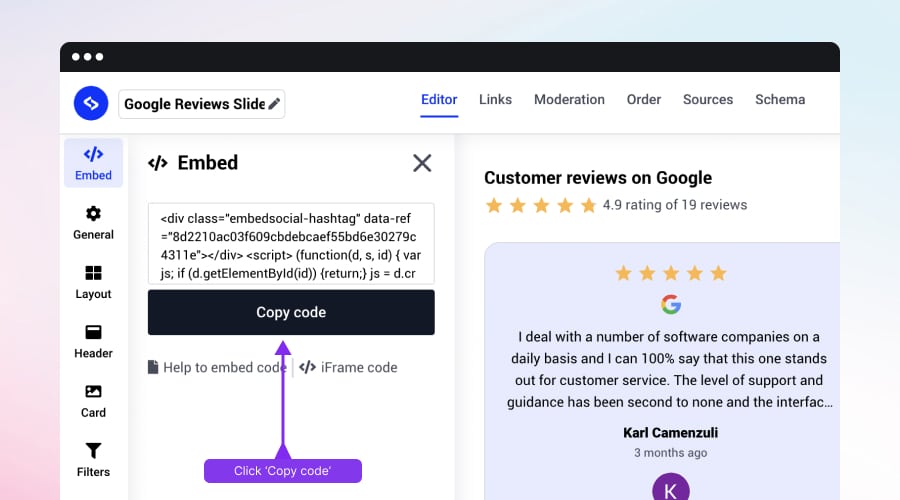 Collect & embed social media reviews today
Start your EmbedReviews free trial today.
Official API integrations
Reviews widgets
Cancel anytime
Money back
What our users are saying:

TrovaTrip increased booking conversion rates by 12% with customer testimonials in just 4 weeks
Nick Poggi
TrovaTrip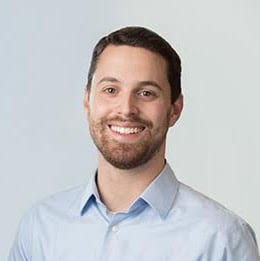 The team at Embed Social is so easy to work with. They are very quick to respond to any special requests and fast to implement account changes. Aside from the great customer service, their products are also very easy to use and offer a lot of freedom that you can't get with other similar products. Definitely recommend.
Ryan Hazlewood
Developer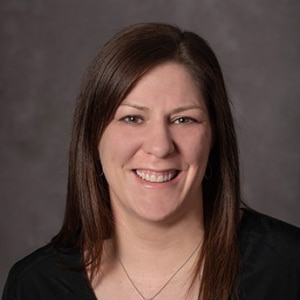 EmbedSocial allows us to showcase social media content on our web pages in a way that's both functional and vibrant. Their library of social feed designs integrates seamlessly with our existing components and is easy to use for page editors of all skill levels.
Zanna Ollove
Boston College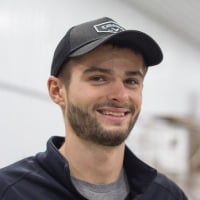 The experience with EmbedSocial has been amazing. We're always looking for ways to leverage our time, so finding a product to keep our reviews fresh automatically was a no-brainer.
Brooks Hitzfield
Seven Sons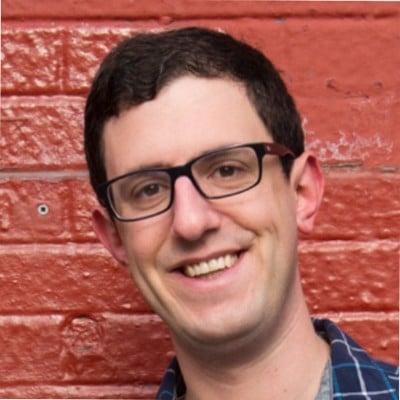 It has been pretty simple to display social proof with EmbedReviews, and their team has been great in assisting with technical implementation.
Eric Hnatov
Industrios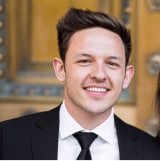 We are spending half of what we previously did for our last review manager, and getting 100x more out of it! I honestly am amazed at what we are getting for the price. I wish we had switched to EmbedReviews years ago.
Kodi Duncan
3 Key Elements
Trusted by 200,000+ big and small brands. World-famous and local

FAQs about Google reviews
Have a specific question about the Google review widget?
Click the bottom right chat icon and talk with us.
Features & Customization
EmbedSocial provides few review request features. The most basic one is the option for users to display a 'Leave a review' button with link to their Google reviews form that encourages users to leave a review on Google. Additionaly, the platform provides SMS review requests and review requests by email.

Yes, you can use multiple templates or a custom css editor to make your testimonials fit your brand and website design.
See widget templates library >
Yes. The EmbedSocial platform provides few filtering options, such as:

1. Option to manually moderate and filter the reviews.
2. Option for bulk filtering by usining specific keywords.
3. Option to filter keywords by defined categories called Tags.
Yes, you can use EmbedSocial to respond to Google reviews directly from one console. If you manage multiple Google locations you will not need to go to a log in to different location page in order to write the review.
You can respond to all these reviews from one place, thus saving tons of time. And as a bonus, you can use the
AI-powered responder
to reply with the help of artificial intelligence and save extra time.
---
Google Reviews Benefits
Yes, Google Reviews can help with your SEO. Reviews generate fresh, user-generated content which search engines like.

They also provide social proof, which can increase your click-through rate, a factor that search engines consider.

Moreover, positive reviews can enhance your online reputation and increase the likelihood of people visiting your site.
Google Reviews are generally considered trustworthy as they are created by real users who have interacted with the business.

However, like any online review system, they are not immune to manipulation or fake reviews.

It's always a good idea to read multiple reviews and look for consistent themes in the feedback.
Displaying Google Reviews on your website is crucial for several reasons:

Building Trust: Google Reviews are generated by real customers who have interacted with your business. By displaying these reviews, you're showing potential customers that you have a track record of satisfying customers, which can help build trust and credibility.

Increasing Conversion Rates: Reviews can significantly influence a customer's decision-making process. Seeing positive feedback from other customers can reassure potential customers about the quality of your products or services, leading to higher conversion rates.

Improving SEO: Google Reviews can contribute to your website's SEO. The fresh, user-generated content in reviews can help improve your search engine rankings.

Gaining Customer Insights: Reviews can provide valuable insights into what your customers like and dislike about your products or services. This can help you make improvements and address any issues.

Encouraging Customer Engagement: Displaying reviews on your website provides a platform for customers to engage with your business. This can foster a sense of community and encourage more customers to leave reviews.

In summary, Google Reviews are a powerful tool for building trust, driving conversions, and improving your online presence. By displaying them on your website, you're leveraging the power of social proof to benefit your business.
Anim pariatur cliche reprehenderit, enim eiusmod high life accusamus terry richardson ad squid. 3 wolf moon officia aute, non cupidatat skateboard dolor brunch. Food truck quinoa nesciunt laborum eiusmod. Brunch 3 wolf moon tempor, sunt aliqua put a bird on it squid single-origin coffee nulla assumenda shoreditch et. Nihil anim keffiyeh helvetica, craft beer labore wes anderson cred nesciunt sapiente ea proident. Ad vegan excepteur butcher vice lomo. Leggings occaecat craft beer farm-to-table, raw denim aesthetic synth nesciunt you probably haven't heard of them accusamus labore sustainable VHS.
---
Policy
Yes, the widget with Google reviews will stop showing on your website but you will be able to export all your reviews in a CSV format.
Yes. You can combine your reviews widget with more reviews sources such as Facebook page reviews, or Yelp plus you are able to connect multiple Google locations and create one single widget with all locations' reviews.
The initial pricing plan for using all features in the EmbedReviews platform including AI features, moderation and display of widgets is $29/month for the PRO plan that allows automatic connection of one Google location. To sync more Google locations please refer to other plans listed in our
pricing plans page.
Yes, we provide live support and demos, for users that require help to customize and embed the widget on their website. To talk with our team on a live chat, just click the bottom right chat icon.
Browse more reviews widgets
Reviews widgets with other social media sources