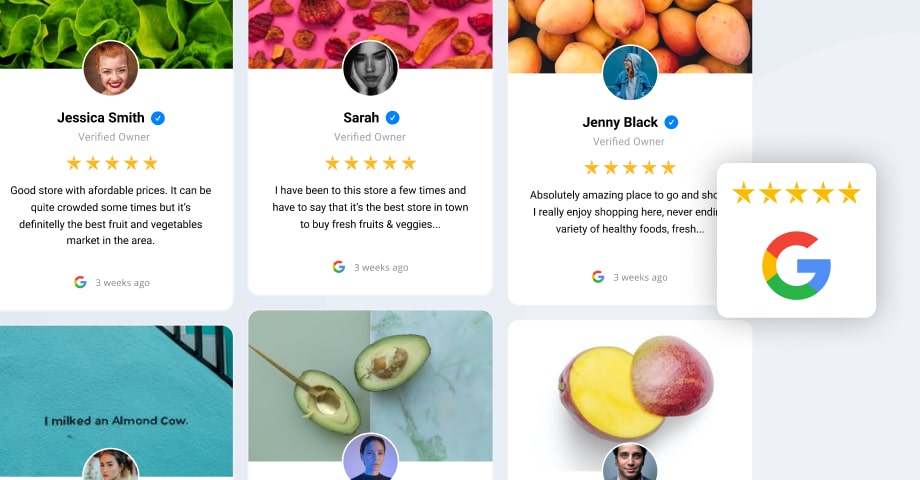 The process to generate and display Google reviews on your website is simple and easy with the EmbedReviews platform.
Here are the steps on how to embed Google reviews widget on your website:
Create EmbedReviews account
Add Google as a source to connect your Google My Business location
Once the reviews feed is generated, copy the provided code
Paste this code into your website body section.
Like what you see? Try EmbedReviews to generate and embed Google reviews on your website, in seconds.
In the following text, we provide more details in a step by step process on how to add Google reviews to a website and to understand why every business needs to pay attention to Google My Business reviews.
Why are Google Reviews important for your business?
Let me ask you a question?
How do you look for a nearby place or a restaurant that you want to visit?
You use Google it, right?
Well, most people do the same and Google is working hard to provide the best user experience and give business tools to enhance their online presence.
Google launched Google My Business, which is the former Google Places, that aims to give businesses tools to submit and maintain their presence across multiple Google products.
Google My Business is free to use and every business can provide its location and create a listing.
Once you've created your listing, every user can submit customer reviews and post photos related to your location.
And people truly read reviews.
It's all about social proof.
It gives the user the confidence that they will make the right decision if they choose to go to the place that has many positive over negative reviews.
So, why add Google reviews to website? Your answer is right bellow!
According to the findings in the annual Local Consumer Review Survey by BrightLocal, 91% of consumers trust a local business more if they have positive reviews.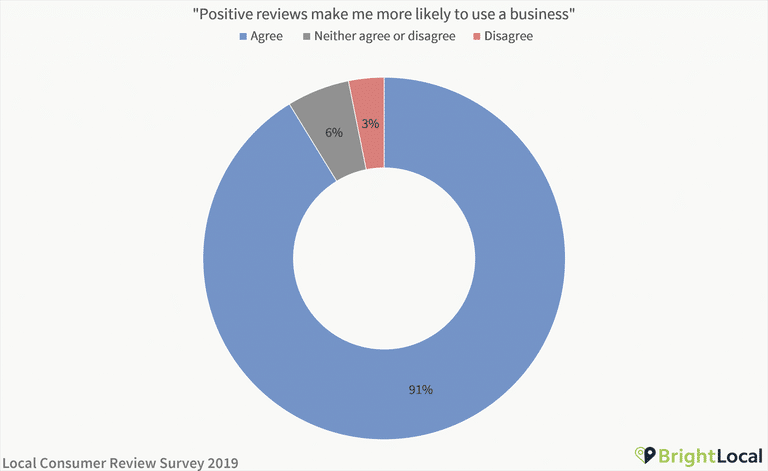 To extend this functionality, Google allows third-party companies such as EmbedSocial, to connect with the Google API and generate Google reviews for a specific business.
And here comes the importance of these reviews:
Google makes sure everybody sees the reviews section every time your business is Googled or looked for in Google Maps.
Therefore, if you own a business, you will always want to make sure that these reviews are positive and want to monitor what will display in the Google search results when potential customers look for your location or look for a product that you sell.
A bad or negative number of reviews can directly impact the user's confidence and influence on their decision whether to choose your product or go to the competition.
That is why, business owners must always pay attention, aggregate, monitor and respond to their customers' online, Facebook and Google reviews.
Well, almost always (if you receive a review like the one below, then your options for responding might be limited) ?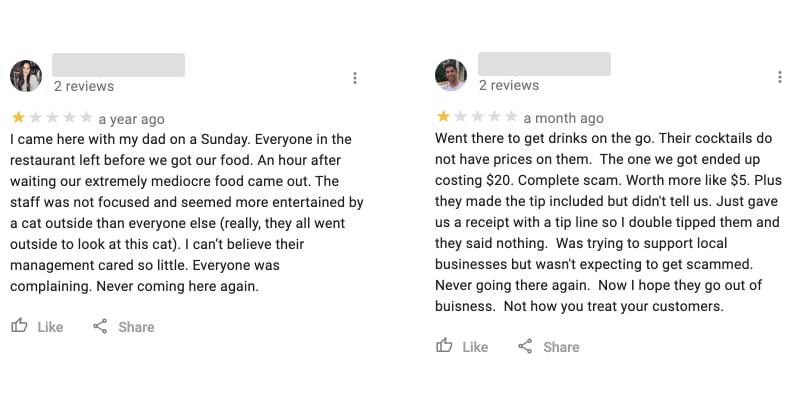 Ok, ok let's get back to the serious stuff!
Google Reviews impact your SEO
It is not a secret that Google Reviews increase your SEO and gives the Google algorithm a positive signal about your company and website.
According to the official Google local search support page:
"Google review count and score are factored into local search ranking: more reviews and positive ratings will probably improve a business's local ranking. Your position in web results is also a factor, so SEO best practices also apply to local search optimization" – Google support.
Another benefit of the SEO performance and the option to increase the CTR of your search results is that Google uses the star ratings and shows them as a snippet alongside your website search result.
They also showcase the rating snippet from other review sources such as Booking, Trip Advisor, Facebook and similar.
This star snippet, makes you click more on the search result, right?!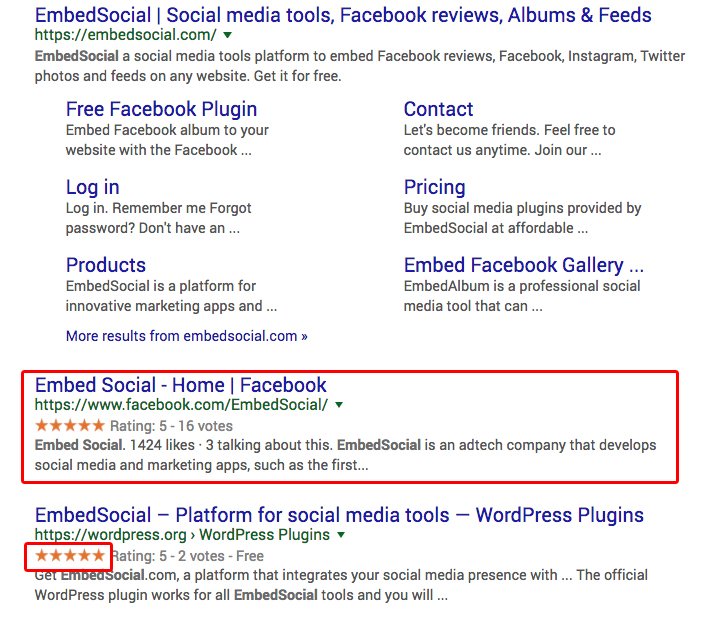 This star snippet, makes you click more on the search result, right?!
Increase Google reviews with Google Reviews widget
Once we all understand the impact of the Google Reviews testimonials, it is time to increase their number and make sure these reviews are positive.
To start, you must provide the ultimate service/product and exceed your customer's expectations.
If you manage to do this, getting positive Google reviews is a piece of cake.
The strategy: Just ask!
If you have an online business you can simply send a link to your customers and ask them to directly add the reviews on your Google business listing.
To find this link, follow the steps below:
First, search for your business on Google
Once Google shows you your business listing snippet on the right of the search results, click the button Write Review

A popup with a review submission form will appear, and you just need to copy the URL

That's it.
Make sure your URL is shorter with bit.ly so you can easily send it to your clients
Here is ours – http://bit.ly/ESGoogleReviews . Feel free to give us a Google Review ?
The next step is to broadcast your review testimonials process on every single communication channel.
The main channels where you can share the link online are:
All your social media profiles
Email
Create a button with the link on your website
For offline businesses the 'ask for review' placements can include all your marketing collateral such as flyers, menus, posters where you can write the steps so your customers can easily navigate to the link.
To connect the offline to the online review form you should use a QR code that can instantly redirect your customers to your Google review link.
Check out our blog post on how to create a Google review link.
Next, make these reviews boost your web presence and utilize the words of your current customers to land new customers.
So you are probably guessing! You need to embed the Google reviews on your website.
Let's learn how!
Generate & display your Google reviews
Show social reviews, boost trust on your website and increase conversions.
How to embed Google Reviews on your WordPress website?
You have generated your beautiful and positive Google My Business reviews and now its time to these reviews on your website.
At the beginning of this post, we've outlined the easy steps on how to use EmbedReviews to add Google reviews to your website.
In the next section, we present you the detailed steps on how to use our WordPress to do this.
First, you need to get an EmbedReviews account.
We filmed a tutorial with walkthrough instructions that will help you to generate and embed Google reviews on your WordPress website, in seconds.
As you've seen in the tutorial, to start using EmbedReviews you will only need to connect your Google My business location and our system will generate the Google Reviews for that account.
If you do not own a Google My Business account or simply do not have access to, EmbedReviews has an option you to get 5 reviews from a specific Google location by just typing the location in a search field: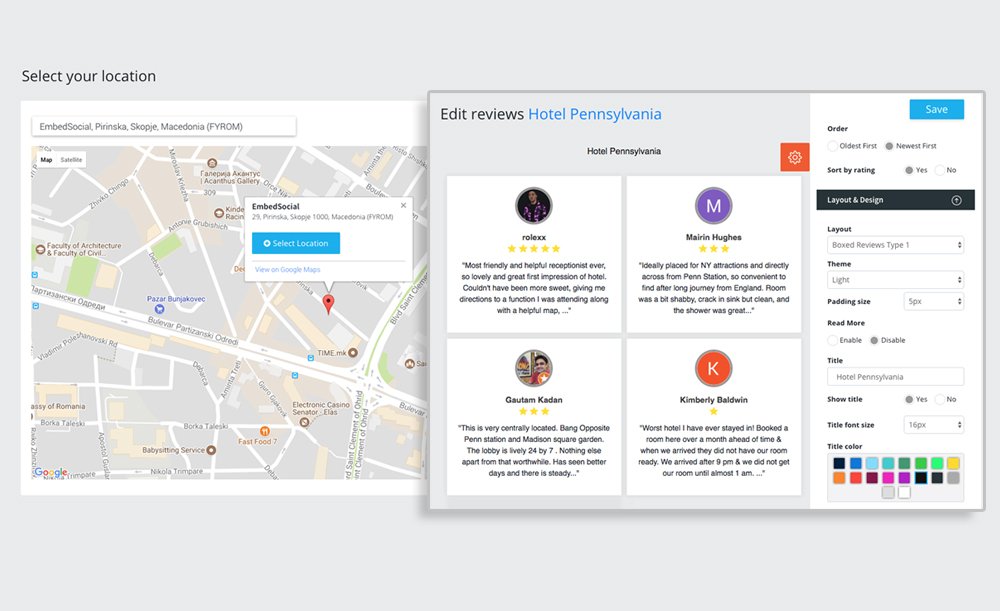 Furthermore, you can use various styling options and display your reviews in a web widget.
Use the grid, carousel, slider, dark or light options and make your widget fit the best with your website design.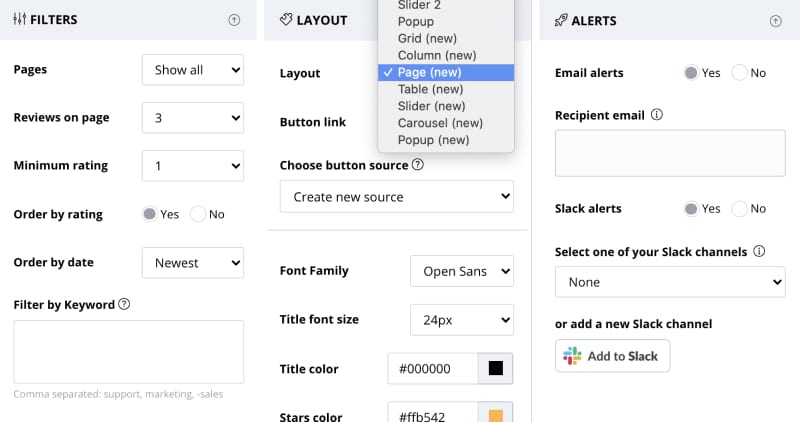 Here is an example of how a Pizza business in New York uses a review plugin for their Google business reviews embedded in this post.
For this example, we used the slider option and limit the ratings to show only the 4 and 5-star reviews.
Also, we customized the widget title and the star color to fit our design:
Why not try our WordPress Plugin?
There is an option to get your Google reviews from all the Google My Business location you manage and embed it on your WordPress website in just a few clicks.
The official WordPress plugin works for all EmbedSocial tools, so you will never need to install or maintain multiple plugins.
The best part is that no JavaScript or HTML knowledge is required.
The platform will generate you a simple shortcode that you need to copy-paste and you are ready to display reviews on your website.
To start using this plugin you need to have an account on EmbedSocial.com.
Combine Yelp and Google reviews
Using the EmbedSocial platform, you can generate up to 3 Yelp reviews and combine them in widgets with other social media reviews.
Please note that the Yelp platform currently limits the generation of more than 3 reviews, so we suggest you combine your Yelp reviews with other Google or Facebook reviews that you can generate through the EmbedSocial platform.
How to display Google reviews aggregated rating?
No worries we got you covered on this, as well.
EmbedReviews gives a gallery of badges that you can use to showcase an aggregated rating on your website.
The badges vary in their style, so you can choose the one that fits the most with your website design:
Here are the badges in action, check the Facebook and Google review badges demo page: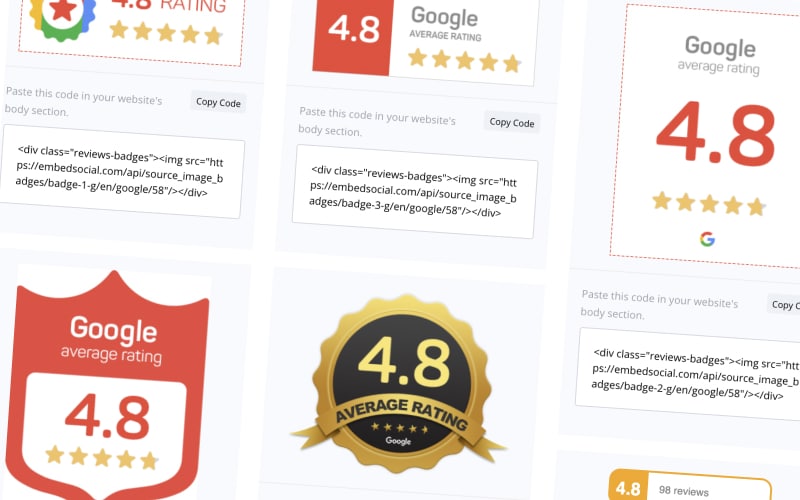 EmbedReviews is just getting started with Google Reviews, and we urge you to try it.
Feel free to contact us if you have any feature requests.
Happy embedding!
Ready to embed your Google Reviews now?
Try EmbedReviews and embed Google, Facebook or Yelp reviews, forms and badges.
7 days free trial · Easy setup · Cancel any time