How to Embed Instagram Feed on Your Website for Free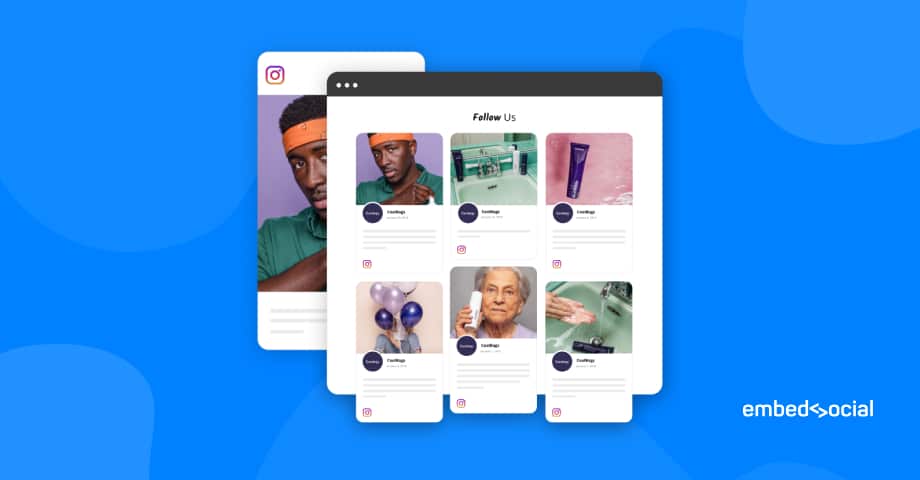 Everyone is on Instagram nowadays.
So, one of the smart tactics for marketers is to benefit from this social platform by using it as an extremely useful source of content that attracts customers.
They are on the right track: user engagement from Instagram followers is the highest on Instagram compared to other social media platforms. 
From showcase and update your Instagram users on new products or services and build interest in your brand, it makes your content stand out from the crowd.
Imagine the boost that will happen if you embed that Instagram photo feed on your website. 
You can utilize Instagram's marketing potential in no time. And I am not just talking about the number of people that will click the 'follow' button.
Okay, let's get down to business.
In this article, we will show you step-by-step how you can use free tools to add your Instagram feed on your WordPress website.
You can do that manually or using a professional free version of WordPress plugin to do that instead of you.
Let's get started!
What's inside?
Options to Embed Instagram Feed – free and third party
Steps to Embed Instagram Feed with EmbedFeed
Customize your Instagram Feed
Instagram feed on other web platforms
Do more: Embed Instagram feed like a PRO
How to embed Instagram feed on your WordPress Page for free
WordPress makes it even easier to integrate Instagram content on your website. 
Here are 2 free options on how to add your Instagram feed in WordPress:
1. Instagram's official embedding option
Instagram offers an easy embed feature that lets you add an Instagram post on WordPress.
To start, open your Instagram business app in the browser 
Open the image you want to embed and choose the 3 dots menu in the upper right corner
Choose the option 'Embed' and copy the embed code that will be provided to you below
Open your WordPress editor and go to the page where you want that post to appear
Select the area of the editor where you want to add the code and click on the + icon
Select the 'Embed' block and paste the image URL in the input field
Click 'Update' (or 'Preview') to see your embedded Instagram feed
Check the full Instagram's official embedding guide.
Although these are simple ways to embed your Instagram feed, they come with many limitations:
You can attach only one post at a time
No option for customizations, content moderation, performance analytics, live content updates, multiple posts, etc.
2. 3rd-party Instagram Feed Plugins for WordPress
Important: On March 31, 2020, Instagram will stop using the old API ("Basic Permission") to display photos from personal Instagram accounts to widgets. This means that 3rd party apps that use the current API can no longer display photos from your account if they don't switch to the new API. To do so, you will need to convert your Instagram Personal account to Instagram Business Account or an Instagram Creator Account. You can find more details here.
On the other hand, there are professional free Instagram plugins that offer more advanced solutions when it comes to generating your Instagram photos on a WordPress platform.
Another easy way to add an Instagram feed on your website is by using the EmbedFeed plugin.
EmbedFeed helps in curating quality web-based Instagram feed using hashtags, mentions and media published by an Instagram account. 
Additionally, it gives you the opportunity to apply your brand voice by customizing your feed with different colors and fonts, layout options, backgrounds, CTA's, auto adding new media and many more.
You can also use the Moderation option and choose the content that you want to see displayed on your website.
Real-time auto content updates, feed performance analytics and amazing customer support team come as a part of the package.
Steps to Embed your Instagram Feed
Follow the steps to see how you can embed your Instagram feed on any WordPress using the EmbedFeed plugin.
Before you start, make sure you already have a free EmbedFeed account. 
If not, click here to create your free account, and then follow the steps below:
Once you are on the platform navigate to 'Instagram albums'
Note: If you have several accounts that you manage, the system will display all of them. Select the account for where you want to generate posts and proceed to the feed.
4. Once you choose your Instagram account, the platform will display your feed edit screen. Copy the provided code at the top right sidebar.
Note: You can also use the shortcode below the code.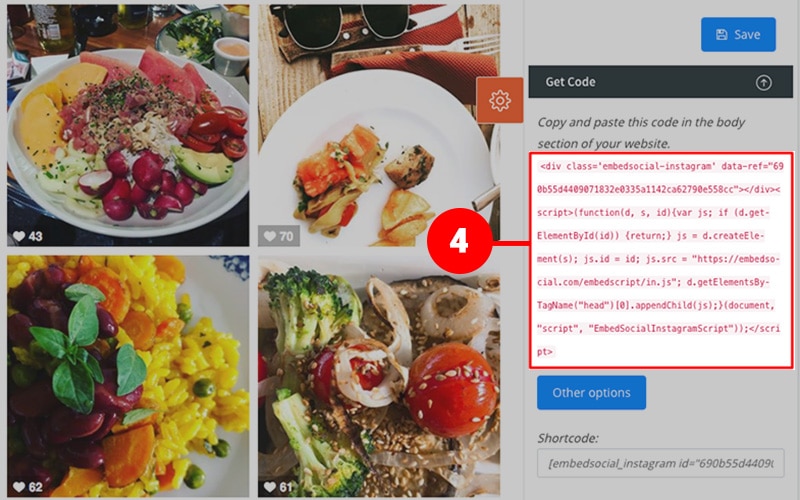 5. Paste the code into the body section of your WordPress website.
That's it.
Note: Visit the demos section to check all possible options that you can do with EmbedAlbum.
Customize your Instagram Feed
To stay creative and make your Instagram feed truly impressive, navigate to the Settings, Layout and Design boxes below the code and feel free to play around with the following options:
Order your media and create captions for them
Customize the size of your image and they should be shown
Link images to Instagram
Change the album title
Change the font and color of the title
Change the layout of the feed
Use CSS editor to design a custom feed style
Embed your Instagram feed on other web platforms
In the text so far we explained how to show your Instagram feed by copy/pasting a javascript code in your website's body section.
And you probably wonder how to do this if you use a specific e-commerce platform or a web builder.
So here are the respected tutorials on how to use the EmbedFeed platform's code for Instagram feeds:
Show Instagram Feed in WordPress
Open your WordPress Page where you want to show the feed, and click on the Visual tab in the page's text editor. Paste the code and click 'Save'/'Publish' of that page. 
Check the full Instagram Feed WordPress tutorial.
Show Instagram Feed in SquareSpace
Navigate to the Squarespace Page where you want to show the Instagram feed. Navigate to the top right in the dark header of the block section and click the + button.
When the popover shows, click the content blog 'Embed'. Once you see a pop-up, click the code icon.
Paste the code in the blank code space, click on 'Set' and finalize the process by clicking the 'Save' button on the top left corner.
Check the full Instagram Feed for Squarespace tutorial. 
Show Instagram Feed in Shopify
Log in to your Shopify account and go to Store > Options > Pages and open the page where you want to show the widget.
Click on the HTML/code icon in the right-hand corner of the text editor and paste the code. 
Check how you can display Instagram stories for Shopify tutorial.
Do more: Embed Instagram feed like a PRO
If you need professional settings or more options to customize or change the layouts of your feed, make your Instagram feeds shoppable with custom 'Buy' buttons, have control which Instagram posts are published, have multiple Instagram feed widgets on multiple websites, and much more, you can check EmbedAlbum PRO version features.
If you want to check all this option in action, follow the links below of the live demos:
With these exclusive Instagram widget options, you will definitely stand out from the crowd!
Well, congratulations on learning how you can extend the reach of your Instagram activity beyond Instagram's mobile app! 
We hope that this Instagram widget will help you offer a more unique experience for your website visitors.
Feel free to contact us for any additional help. We are always here for you!
Happy embedding! 🙂
Embed Instagram Album [PRO]
Tool for all your social media photos.