Imagine the reach that you will get if you have the opportunity to extend your Instagram content beyond the Instagram app.
On top of that, this ability to embed Instagram feed on your website pages will result in an instant boost to your brand's social proof, a benefit that makes the social media feeds the main component of any website layout.
And yes, it is possible to do this!
The free Instagram feed widget by EmbedFeed can generate, utilize, and sync your Instagram's marketing potential on your website right away.
It works like a charm. Just follow the steps below, and you can sync your entire Instagram feed with your website in seconds.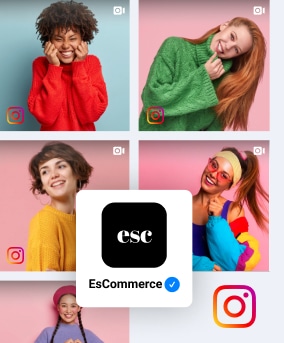 Show Instagram wall on your website, automatically!
Try EmbedFeed and add Instagram content from your feed, mentions or hashtags on your website, with just a few clicks.
All features included | Live support available
Here is how to embed an Instagram feed on a website for free:
Create your free account in the EmbedFeed platform
Pick Instagram as 'Source' and connect your Instagram account
Generate your Instagram feed in an Instagram widget
And copy/paste the provided code on your website
Easy right?
Here's what the embedded Instagram feed looks like in action: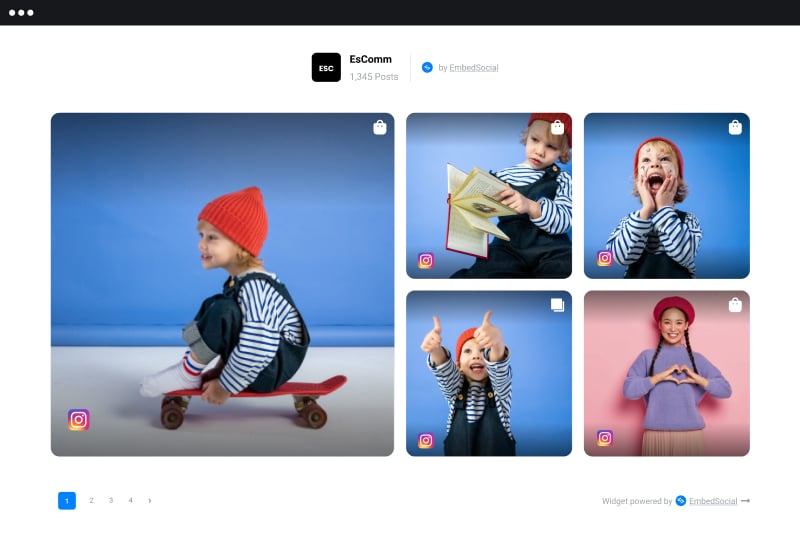 Like what you see? Create and embed your first Instagram feed for free!
Feel free to continue to read for more details on how to embed your Instagram feed for free on the most used CMS and website builders. Here are quick and simple steps with screenshot explanations are below.
Steps to embed Instagram Feed with social media aggregator
Follow the step by step guide to see how you can embed your Instagram profile feed on any WordPress website or any other web platform with a professional social media aggregator. You don't need to be tech savvy. Everybody can do it.
The EmbedFeed free Instagram feed widget works with any website builder that allows embedding JavaScript or iframe code.
So, if you use any of the popular web platforms, then you are ready to go.
Step 1: Create a free EmbedFeed account
Before you start, make sure you already have a free EmbedFeed account.
If not, create your free account, and then follow the steps below.
Once you are logged in, you will notice a popup window with the first steps instructions. So just click 'Let's Get Started' which will navigate you to the Sources section to add Instagram as a source.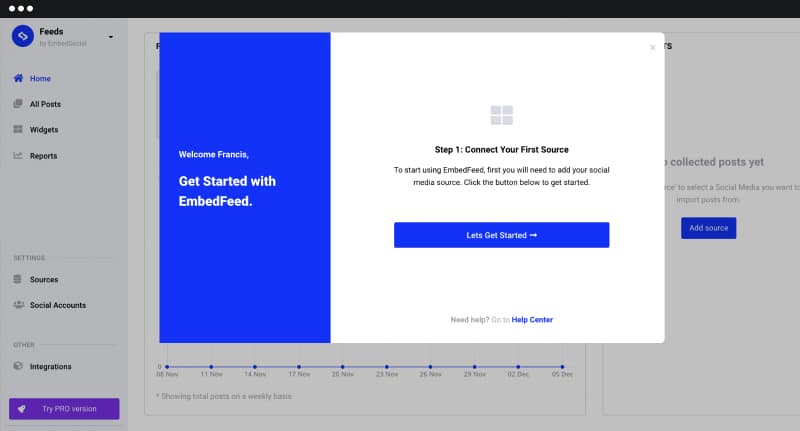 Step 2: Choose Instagram as a 'source'
From the main screen with social platforms, choose Instagram as 'Source'.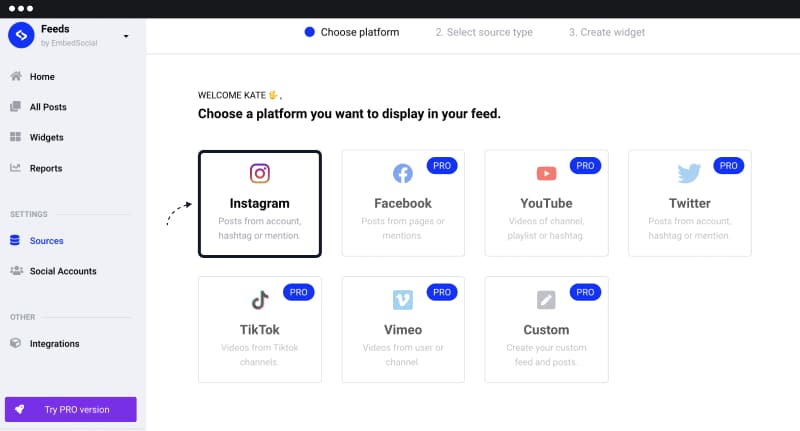 Step 3: Connect your Instagram account
A pop-up box will show where you will need to connect to Instagram. Click 'Connect Facebook Account' and there you should connect the Facebook account associated with your Instagram account.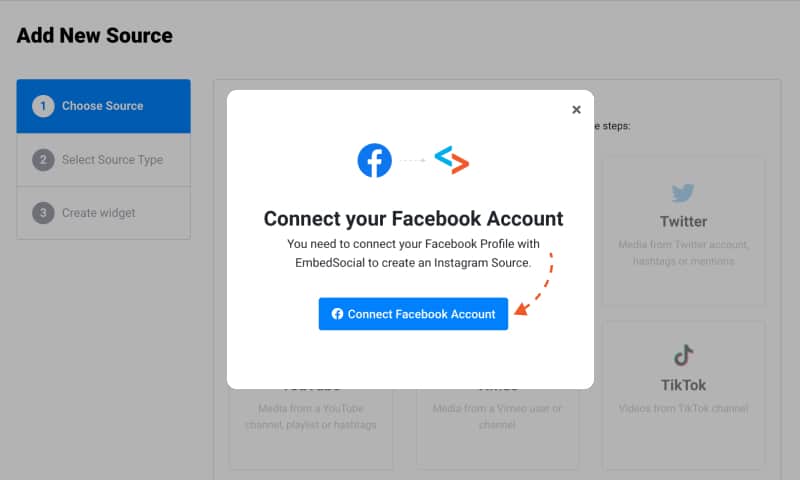 Note: If you have several Instagram profiles that you manage, the system will display all of them. Select the account for where you want to generate posts and proceed to create the widget.
Step 4: Choose Instagram source type – Instagram hashtags or Instagram account
Choose what kind of Instagram feed would you like to create, from Instagram hashtags or an Instagram account.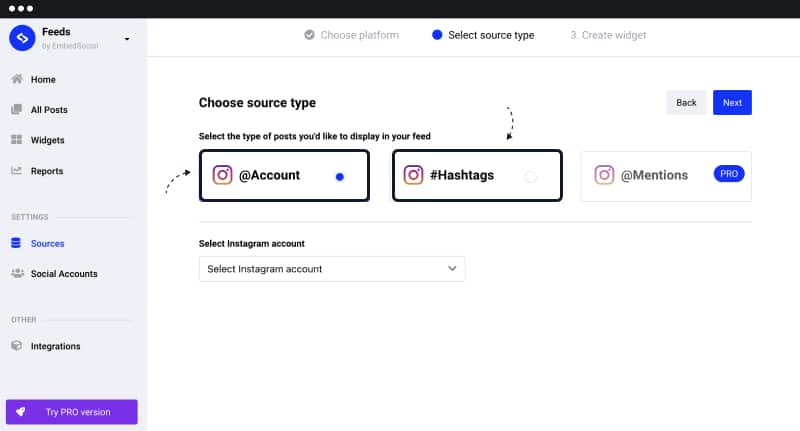 After that, if you choose #Hashtags, you will need to enter the desired hashtag or if you choose @Account, you will need to enter the name of the account. You will be redirected to the next screen to have a sneak peek of the posts that EmbedFeed will generate for you.
Step 5: Create your Instagram widget
The next step is to click on the 'Create widget' button where you will be redirected to the final screen where you can view the code that should be embedded on your website.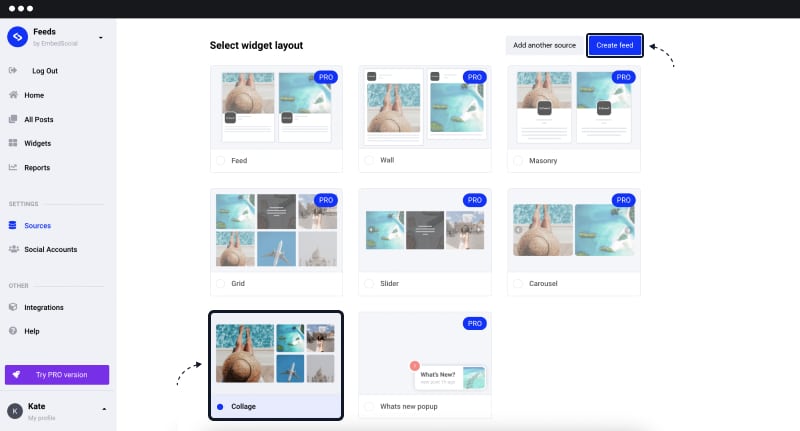 Step 6: Copy the provided code
So once you are on this page, you can see the code displayed in the top-right section of the Settings panel.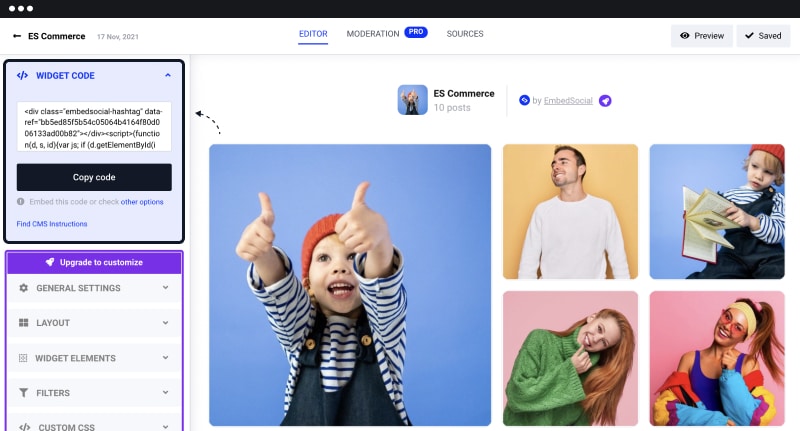 Note: You will also notice CMS platforms Instructions just below the JavaScript code. Click on this link to find more instructions and a shortcode for your WordPress website. But before that, please install our official WordPress plugin, which will enable you to use the widgets' shortcodes.
Step 7: Paste the provided code into your website
If you are using a platform that allows editing of the page's code, you can paste the code into the body section of its HTML structure at the position where you want the Instagram feed widget to appear. To embed the code in WordPress just click the 'add block' icon and paste the code in the HTML block as shown below: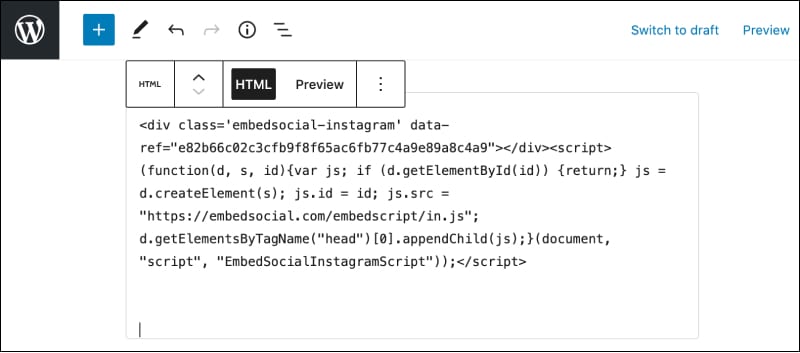 And if you use other web platforms such as WordPress, Squarespace, Wix, or similar, navigate below in the text to find the actual tutorials for these platforms.
It is really easy as that.
Here is how one of our clients is using the free Instagram widget on their website.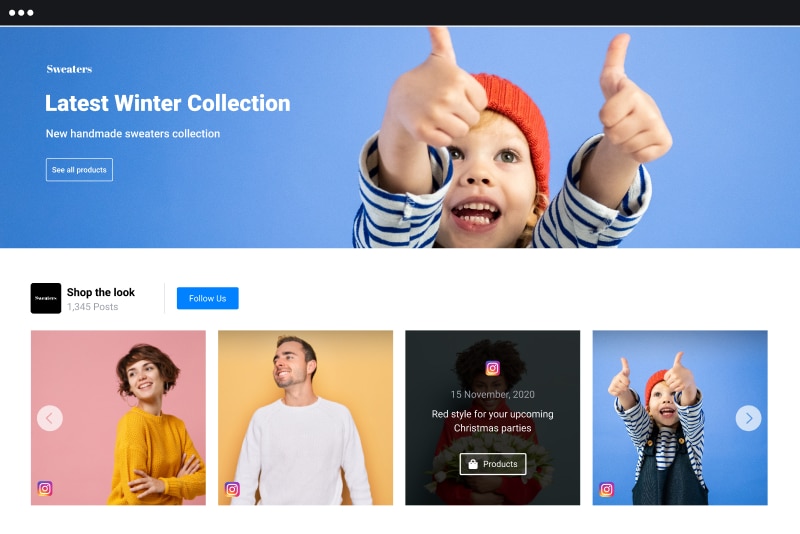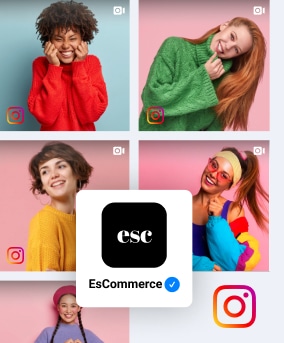 Show Instagram wall on your website, automatically!
Try EmbedFeed and add Instagram content from your feed, mentions or hashtags on your website, with just a few clicks.
All features included | Live support available
Embed Instagram Feed in WordPress
Before you start, please note that you can use the EmbedSocial platform with or without a WordPress plugin to embed the Instagram feed.
It is directly integrated with the Instagram API so you won't need to configure your user id or update access tokens. You will only need to click a button and give your permission to our platform to sync your posts on your WordPress website.
Additionally, EmbedSocial provides two options, a javascript code for direct embed in the WordPress post and a plugin for embedding Instagram feeds with a shortcode. The choice is yours on how you want to do this. And below are the instructions for both available options on how to start.
Option 1: Instagram Feed Plugin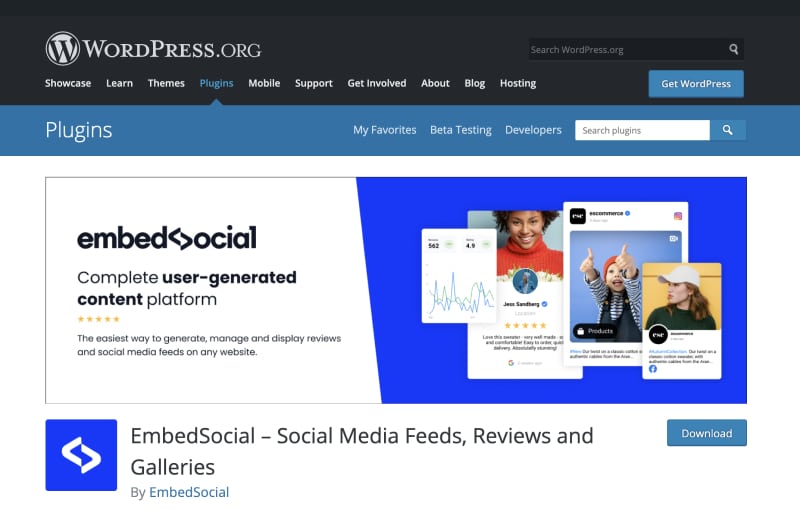 As mentioned, EmbedSocial provides a free Instagram feed WordPress plugin as part of the social media aggregator EmbedFeed, and it works for any WordPress theme. You can create a full posts feed or simple photo feed with your Instagram images.
Before you start you will need to connect first your Instagram user account with the EmbedSocial platform.
Once you do that, follow these steps, and you will need to activate the Instagram plugin on your WordPress website.
Here are the steps on how to activate the EmbedSocial plugin and embed Instagram feed in WordPress:
Open your WordPress admin and navigate to Plugins
In Search type EmbedSocial and in the search results click to Install it
Once it's installed, in the Plugins list, click Activate.
Now, open your WordPress Page, where you want to show the feed
Click on the + button to add a block and choose custom HTML block (or you can use the shortcode block and use the shortcode provided also in the code options in your widget editor in EmbedFeed.)
Paste the provided HTML code
Click 'Save'/'Publish 'on that page.
That's it, once you open the front-end of your WordPress site you will see the latest Instagram posts on your website.
Using EmbedFeed will help you to choose the layouts, and a number of columns, add a follow button and even include a Facebook feed or TikTok feed in one social media widget.
Option 2: Instagram Feed Javascript
This option is usually recommended use for one-time embeds like showing an Instagram widget in the website's sidebar.
To do this, you will need to get the code from your EmbedSocial account and paste the code in the Widgets area where you have your sidebar.
For more details, feel free to ask us for help or check the full Instagram Feed WordPress tutorial.
###
Embed Instagram Feed on other CMS platforms
So far, in the text, we explained how to show your Instagram feed by copy/pasting a javascript code in your website's body section.
And you probably wonder how to do this if you use a specific e-commerce platform, a CMS (content management system), or a web builder. The EmbedFeed platform provides an Instagram feed code that works for your Squarespace website, Weebly website, or Shopify online store.
Here are the respected tutorials on how to use the EmbedFeed platform's code for Instagram feeds:
Show Instagram Feed in SquareSpace
The code provided by the EmbedFeed free Instagram widget works also with the Squarespace CMS platform.
First, go to your Squarespace account, and from the home page, navigate to the website where you want to show the widget:
Now follow the steps below to learn how to paste the embeddable code of your Instagram widget:
Step 1: Point to the section of the page where you want to add the widget and add a new content block by clicking on the plus button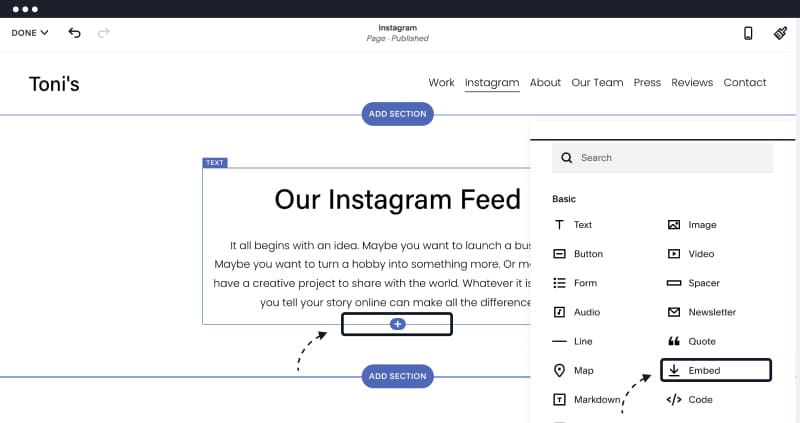 Step 2: Select the 'Embed' block and click on the "Embed Data" code icon.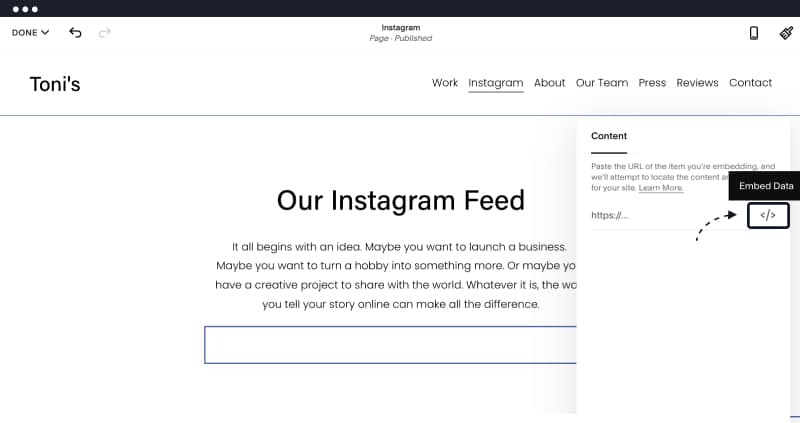 Step 3: Paste the code into the insert point and click 'Set'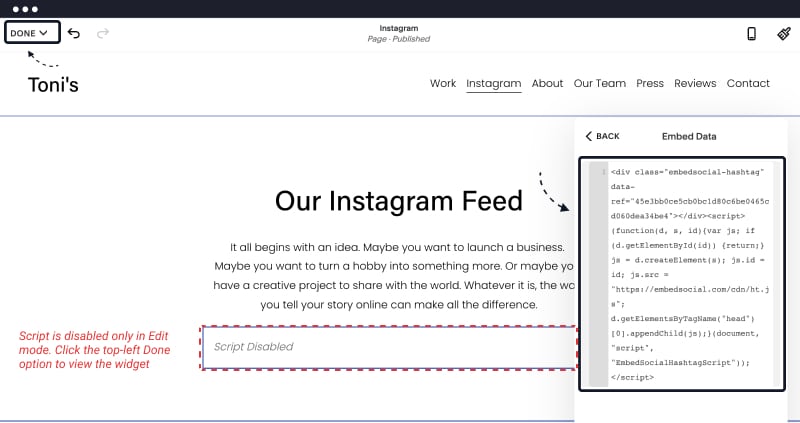 Check the Instagram Feed for Squarespace full tutorial.
Show Instagram Feed in Shopify website
There are a few options on how to embed the Instagram widget by EmbedSocial code in Shopify.
In the tutorial below we will show you how to embed the JavaScript code in a choosen page.
Log in to your Shopify account, go to Store > Options > Pages, and open the page where you want to show the widget. Than follow these steps:
Step 1: In the page editor click the top-right code icon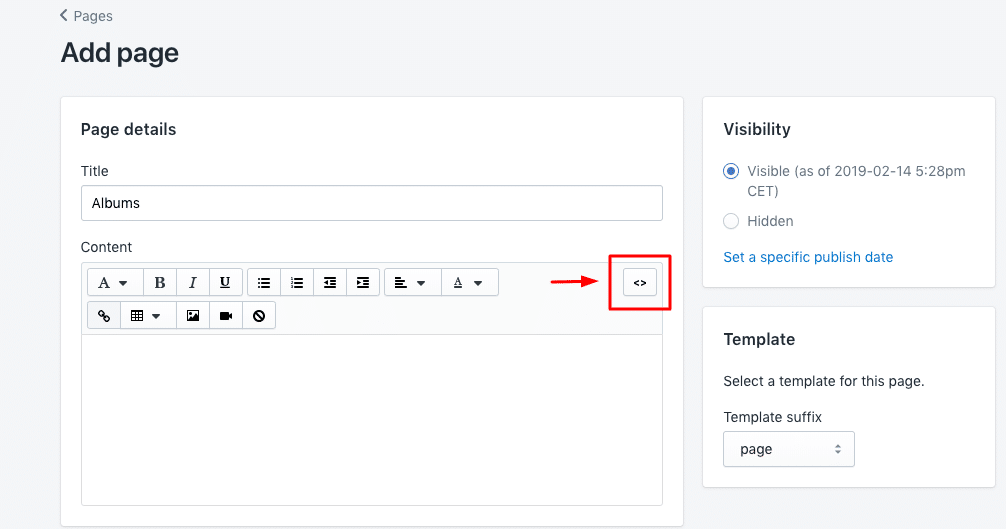 Step 2: Click on the HTML/code icon in the top right corner of the text editor and paste the provided code.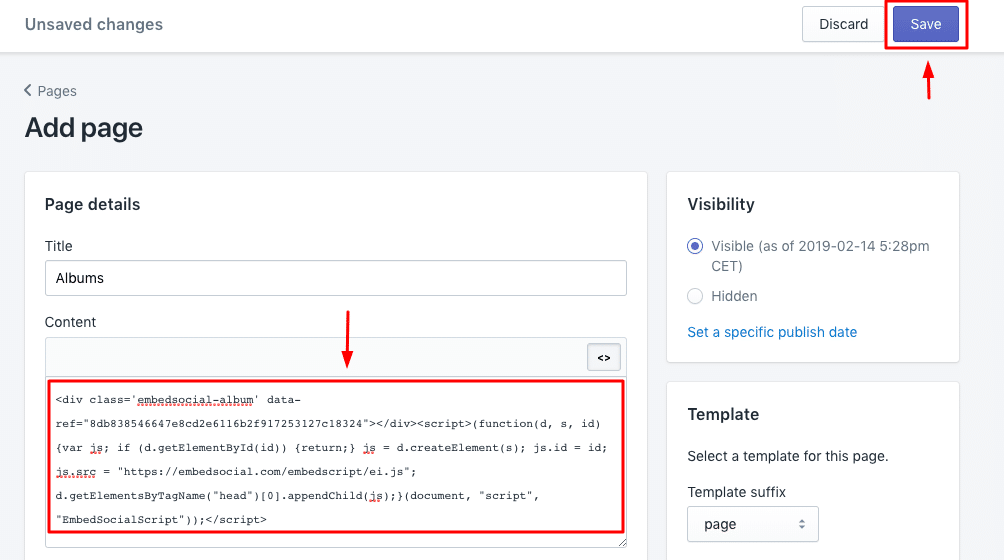 Finaly, click 'Save' and the instagram feed will appear on the selected page.
Add an Instagram feed to Shopify full tutorial.
Embed Instagram Feed on other web platforms
Here are additional tutorials to help you display the Instagram photos on other web platforms:
Other Options to Embed Instagram Feed for Free
Here are 2 free options on how to add your Instagram feed in WordPress or any other web platform:
1. Instagram's official embedding option
Instagram offers an easy embed feature that lets you add an Instagram post on WordPress.
To start, open your Instagram business app in the browser
Open the image you want to embed and choose the 3 dots menu in the upper right corner
Choose the option 'Embed' and copy the code
Open your WordPress editor and go to the page where you want that post to appear
Select the area of the editor where you want to add the code and click on the + icon
Select the 'Embed' block and paste the image URL in the input field
Click 'Update '(or 'Preview') to see your embedded Instagram feed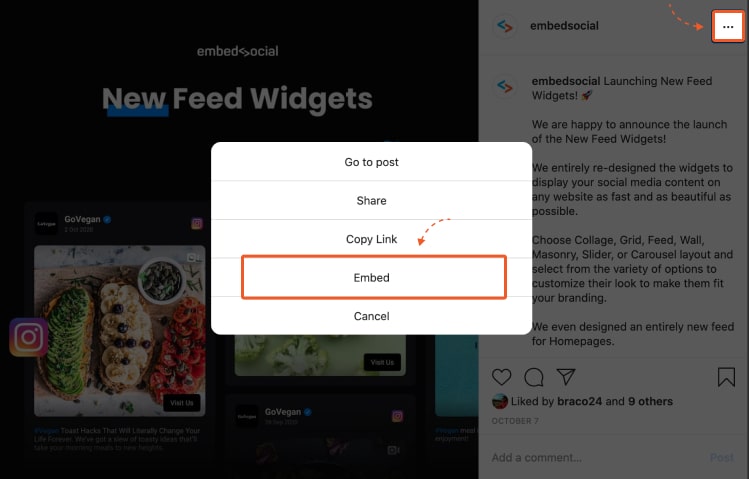 Check the full Instagram's official embedding guide.
Although these are simple ways to embed your Instagram feed, they come with many limitations:
You can attach only one post at a time
No option for customizations, Instagram content moderation, performance analytics, live Instagram feed content updates, multiple posts, etc.
2. 3rd-party Instagram feed plugins for WordPress or any website
EmbedFeed is not the only platform that provides a free version for embedding Instagram feeds.
There are plenty of other tools that can help you do a similar task.
Before using the final tool, we suggest checking the WordPress plugin directory or the Shopify apps store for relevant apps like Smash Balloon that might provide similar functionality.
Note: Instagram is continuously changing the API, and you will need a professional tool built by developers that have API access to the Instagram platform. In June 2020, Instagram stopped using the old API ("Basic Permission") to display photos from personal Instagram accounts to widgets. This means that 3rd party apps that use the current API can no longer display pictures from your account if they don't switch to the new API. You will need to convert your Instagram Personal account to Instagram Business Account or an Instagram Creator Account. EmbedSocial can provide this, and it is already compliant with the latest API changes.

Learn more about the new significant Instagram API changes
Do more: Embed Instagram feed on website like a Pro
We explained how to use the free version of the EmbedFeed platform for embedding Instagram feeds on any website.
If you need professional settings and many other features to customize or change your feed's layouts, make your Instagram feeds shoppable with custom 'Buy' buttons, and much more, you can check the EmbedFeed PRO version.
In the PRO version, EmbedFeed provides the option to curate the Instagram hashtag walls generated by hashtags and also has the option to generate posts that are published by other users and mention your Instagram account.
Additionally, it is a full social media aggregator that generates social media content from all major social media networks has moderation options to have full control over which Instagram posts are published and gives options to embed multiple Instagram feed widgets on numerous websites,
It is one of the most professional Instagram tools or plugins for websites that offer more advanced solutions to display your Instagram photos on WordPress, Wix, Squarespace, HTML websites, or other web platforms.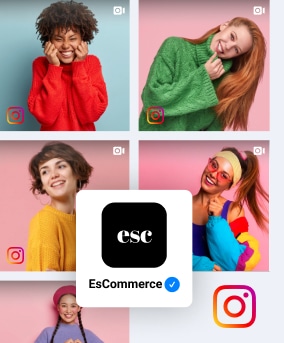 Show Instagram wall on your website, automatically!
Try EmbedFeed and add Instagram content from your feed, mentions or hashtags on your website, with just a few clicks.
All features included | Live support available
If you want to check all its features in action, follow the links below of the live demos:
With these exclusive Instagram widget options, you will stand out from the crowd!
Visit the demos section to check all possible layouts and what you can do more with EmbedFeed.
Customize your Instagram feed
To stay creative and make your Instagram feed truly impressive, navigate to the Settings, Layout, and Design boxes below the code, and feel free to play around with the following options:
Order your media and create captions for them
Customize the size of your images
Link images to Instagram
Change the widget title
Change the font and color of the title
Change the layout of the feed
Use CSS editor to design a custom feed style
Customization options of Instagram widgets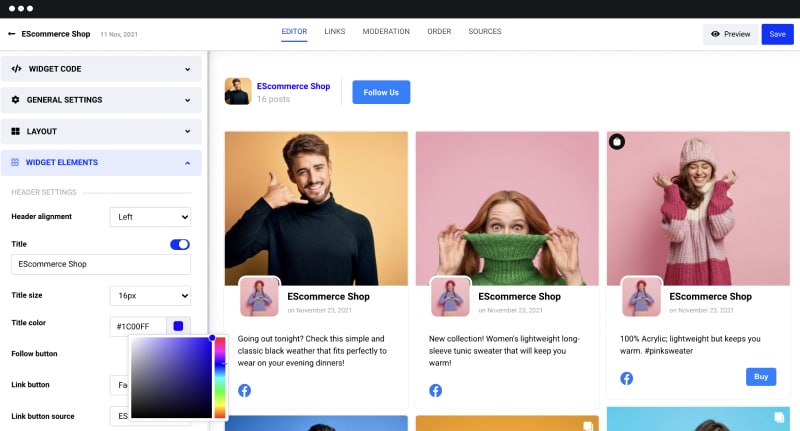 Please note: Customization is not available in the free EmbedFeed version.
Do even more: Embed Instagram hashtag feeds like a PRO
As mentioned above, use the EmbedFeed PRO version for more advanced features, including using other social networks, embedding Instagram feeds from hashtags, and moderating these Instagram feeds,
Additionally, this social media aggregator allows you to apply your brand voice by customizing your feed with different colors and fonts, layout options, backgrounds, CTA's, auto-adding new media, and many more.
You can also use the moderation option and choose the content you want to see displayed on your website.
This is especially important when organizing hashtag giveaways or contests that you display on your website. Usually, these posts are from numerous Instagram users and need additional curation before posting on your website.
Also, note that real-time auto-updates, analytics, and a fantastic customer support team come as a part of the PRO package. All active users get constant updates like Custom CSS functionalities and great templates that fit any webpage.
The best option it provides is integrating with all major social media platforms and creating social feeds with all your user-generated content.
Social media aggregator is a tool that generates posts published on social media networks and help analyze, moderate, and display on your website.

Definition
Benefits of adding Instagram feed on your website
So, why should you display the Instagram feed on your website?
From showing and keeping your Instagram users up to date with your new products to directly selling your inventory, Instagram and your content become a central point of your business success.
Displaying an excellent Instagram feed of all super authentic photos created from your account will increase user engagement and time-on-site, turning visitors into followers.
So, here are some of the main benefits of embedding Instagram feeds:
Expand social presence
Provide real-time, fresh, and beautiful content for your website
A perfect way to display social proof of the quality of your business
Opportunity to store and analyze user-generated content
Extend the reach of your brands content beyond the Instagram app
Save time and resources to produce content for your website
Increase engagement and the possibility to gain more Instagram followers
Build brand trust on your website and boost conversions.
From the list above, probably the most valuable benefit for e-Commerce brands is the ability to showcase user-generated content in social proof forms. This means that having the opportunity to auto-sync content produced by real people about their actual usage of a particular product is priceless proof that helps build trust in e-Commerce websites and drive prospective customers' purchasing decisions.
Examples of Instagram Feeds on website
There is almost no website that doesn't display Instagram feeds, either creating a Instagram gallery of their Instagram posts or a user-generated content widget with posts from an Instagram hashtag that display their customers photos.
Here is an example of the Stranger Things Instagram feed: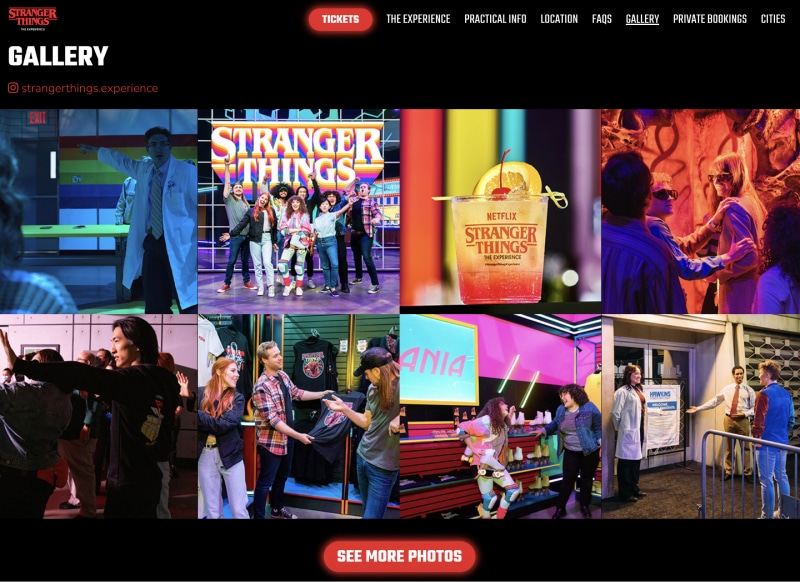 See more Instagram feeds examples to inspire and learn how others embed their Instagram photos or create entire social media feeds with other peoples posts that mention their brand.
Frequently asked questions and key takeaways
As you've read, we showed you step-by-step tutorials on using free tools to add your Instagram feed on your website and websites built with other platforms such as WordPress.
You can manually do that or use a free version of our WordPress Instagram plugin to embed Instagram content automatically.
As a summary, here are some key takeaways:
What does embed Instagram mean? 
To embed means to display something on a website. In a more technical definition, embed Instagram refers to 'PASTE a code' that will show an interface of Instagram posts, usually in an iframe as a widget, on a web page's position where the code was placed. To that, embedding Instagram means displaying an Instagram feed on a website. 
How do I get the embed code from my Instagram post?
To embed a single Instagram post, open the post on a PC, click the top-right 3 dots icon, and click Embed. A pop-up will display the embed code.
How do I embed Instagram feed code? 
​To embed a code usually, you will need to send the code to the website developer, or if you use WordPress, you can just copy and paste the code into an HTML block in your WordPress page.
How do I put my Instagram feed in Shopify?
To do this, you can use an app from the Shopify store or navigate to the Shopify Page. In the page editor, click on the HTML to embed the code from third-party apps for Instagram feeds EmbedSocial or paste the code from an individual Instagram post.
—
Well, congratulations on learning how you can extend the reach of your Instagram activity beyond Instagram's mobile app! Using a user-generated content platform can be a valuable tool to attract potential customers with your Instagram content on your website.
We hope that these Instagram widgets will help you offer a unique experience for your website visitors.
Feel free to contact us for any additional help. We are always here for you!
Happy embedding!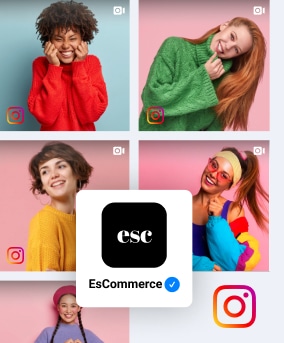 Show Instagram wall on your website, automatically!
Try EmbedFeed and add Instagram content from your feed, mentions or hashtags on your website, with just a few clicks.
All features included | Live support available
EmbedFeed currently integrates with all the major social media platforms and all the integrations are through an official API. These integrations allow you to do more than just the option to embed Facebook feeds. You can:
For any additional inquiries, you can always contact our support team with a click on the bottom right chat icon.