Please note that currently, the Instagram API platform does not allow automatic sync with the Instagram Highlights and your website. If the API changes, we will make sure to enable it for all users. but currently, we offer only a manual upload for Enterprise users. In the meantime, you can use the mimic option available in EmbedStories that organizes stories in galleries that mimic the Highlights on your website.
Mimic Instagram Highlights – for all users
As mentioned above, you can use the EmbedStories Highlights feature that will help you to organize the generated stories in the system in separate groups and create Highlight widgets that you can embed on your website.
To learn how to do this follow the link:
Embed Instagram Highlights with mimic feature >>
Manual Highlights upload – for Enterprise only
If you are an Enterprise user of the EmbedStories platform you can follow the steps below to send us your highlight and we will upload it in our platform.
Please note that if you already use the EmbedStories platform and already have all the stories in the platform that you can create the Highlights by following this tutorial. The steps below are for the archived stories that you had before you signed up for EmbedStories.
Although it is manual still the EmbedStories platform will store the help you to get the Highlights on your website.
First, to embed Highlights on your website you will need to create an EmbedStories account.
Once you set up your account and sync your Facebook page with your EmbedStories account, the system will automatically start to generate all the stories you post on Instagram.
To add the Highlights that you already have in your Instagram profile page, follow the instructions below:
Click on the Highlight
Click on the 3 dots icon on the bottom right corner
Click 'Copy Highlight Link'
Send us this link with your account login email at support@embedsocial.com
Once we receive your Highlights links, we will add the Highlights in your account in a period of 24 hours.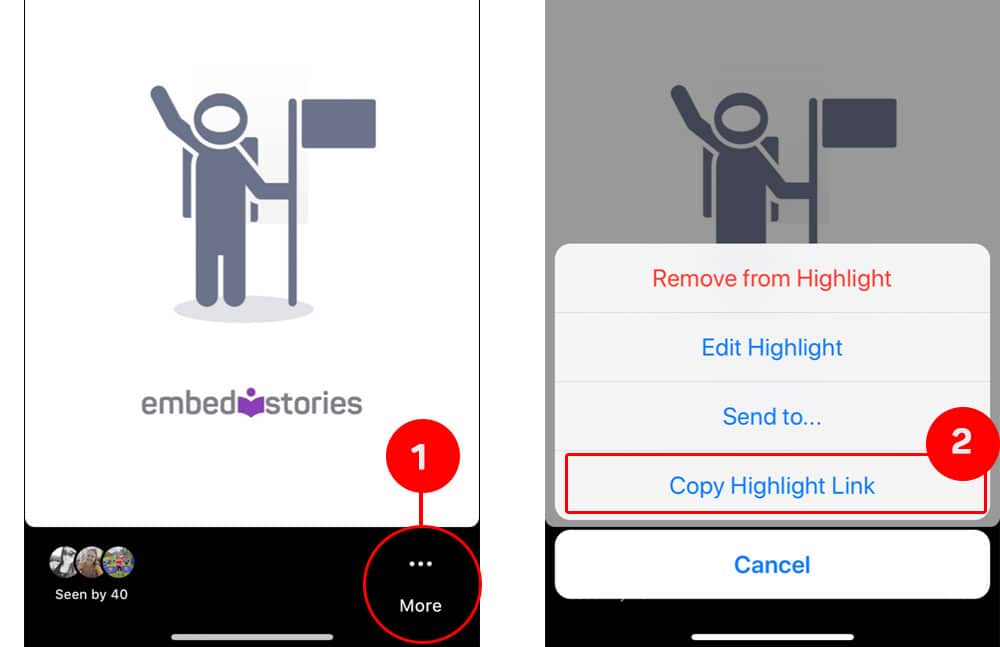 Please note, that as long as you continue using the EmbedStories platform you will not need to do this manual operation again.
All your stories will be already saved in your account and you will be able to create Highlights with the Gallery option in EmbedStories that will help you to display the Highlights on your website.