In this post, we will show you a step by step guide on how to link an Instagram account to a Facebook page.
The Instagram API requires you to add an Instagram account to a Facebook Page you are an admin or editor on, in order to use third-party platforms to generate your Instagram stories.
In order to allow the EmbedStories platform to collect your Instagram stories, you will need to connect your Instagram profile with a Facebook page. This is an official API requirement of the Facebook/Instagram platform.
To fetch Instagram stories you will need to provide permissions to a Facebook account that is an admin to a Facebook page that is connected with the Instagram profile from where you want to generate Instagram stories.
Depending on the Facebook page interface you as a user has at this moment (old or new), below are two tutorials.
Important: Your Facebook account need to have the admin role to manage the Facebook page that you want to connect with an Instagram profile.
Option 1: Link Instagram account through the new Facebook Page interface
Here are the steps on how to connect an Instagram profile with a Facebook page for users who have the old Facebook interface:
Step 1: Open your Facebook page and click 'Page Settings' in the bottom left corner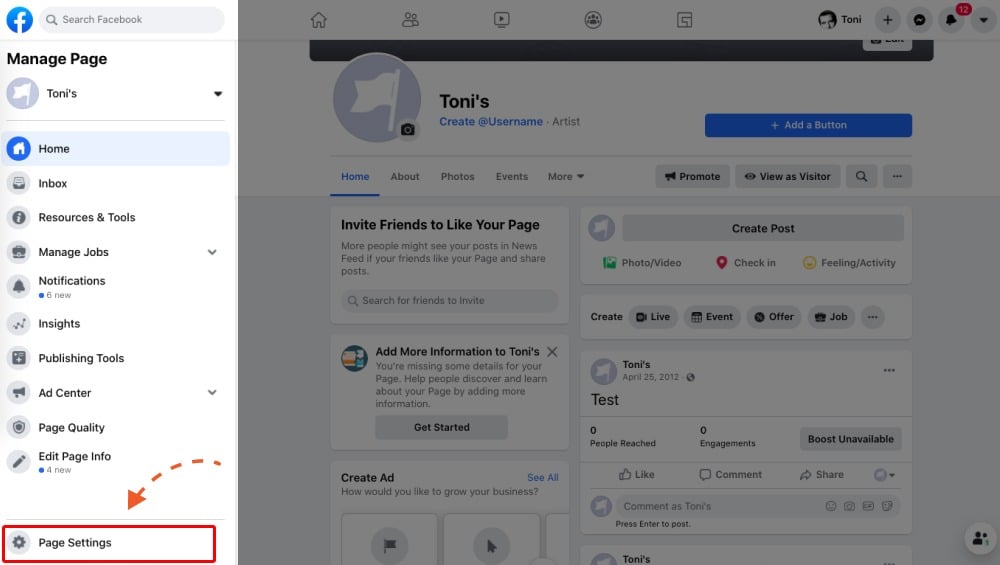 Step 2: In the left-hand menu choose Instagram and click 'Connect Account'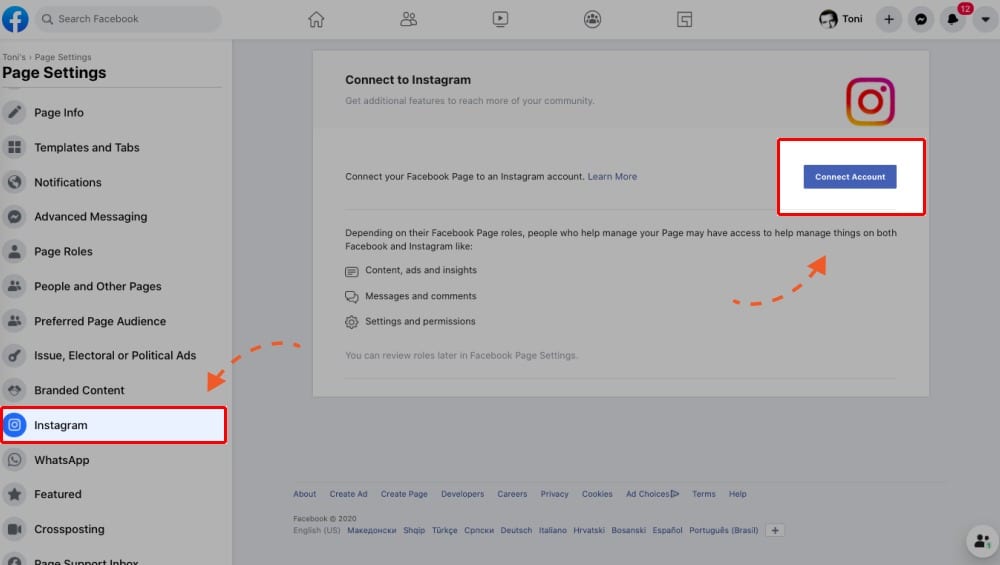 Step 3: A popup will appear where you need to login to your Instagram profile and once you log in, follow the steps to convert the Instagram profile to a Business / professional profile.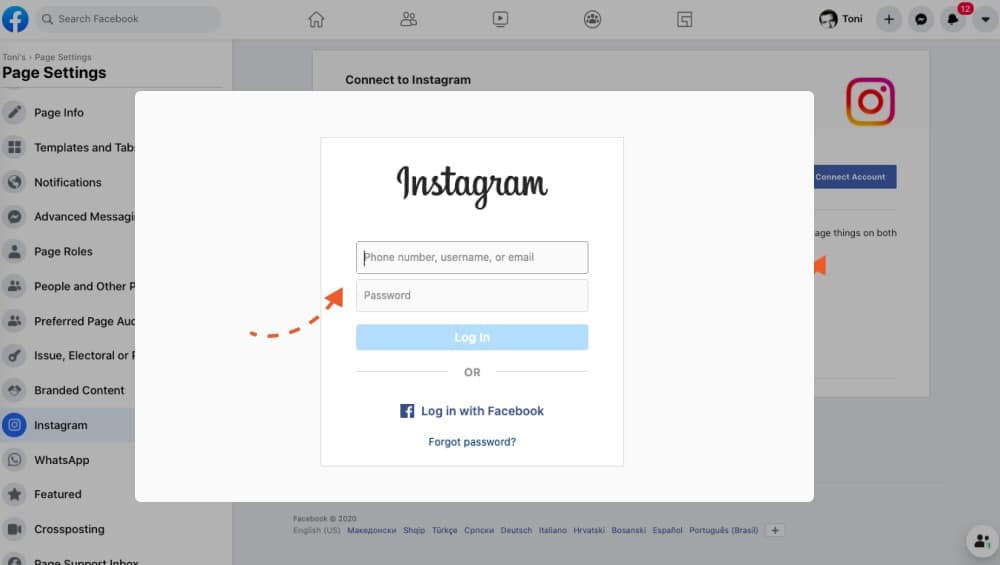 Once finished you will receive a success message 'You've switched to a business account on Instagram'.
If you still do not see the Instagram accounts on the list, contact us for additional help.
That's it, now you have linked accounts.
Step 4: Go back to EmbedStories, and in the Accounts page and click 'Refresh' (if you've just created an account in the setup process then you can click 'Refresh Accounts' in the Select Source page, as shown below.)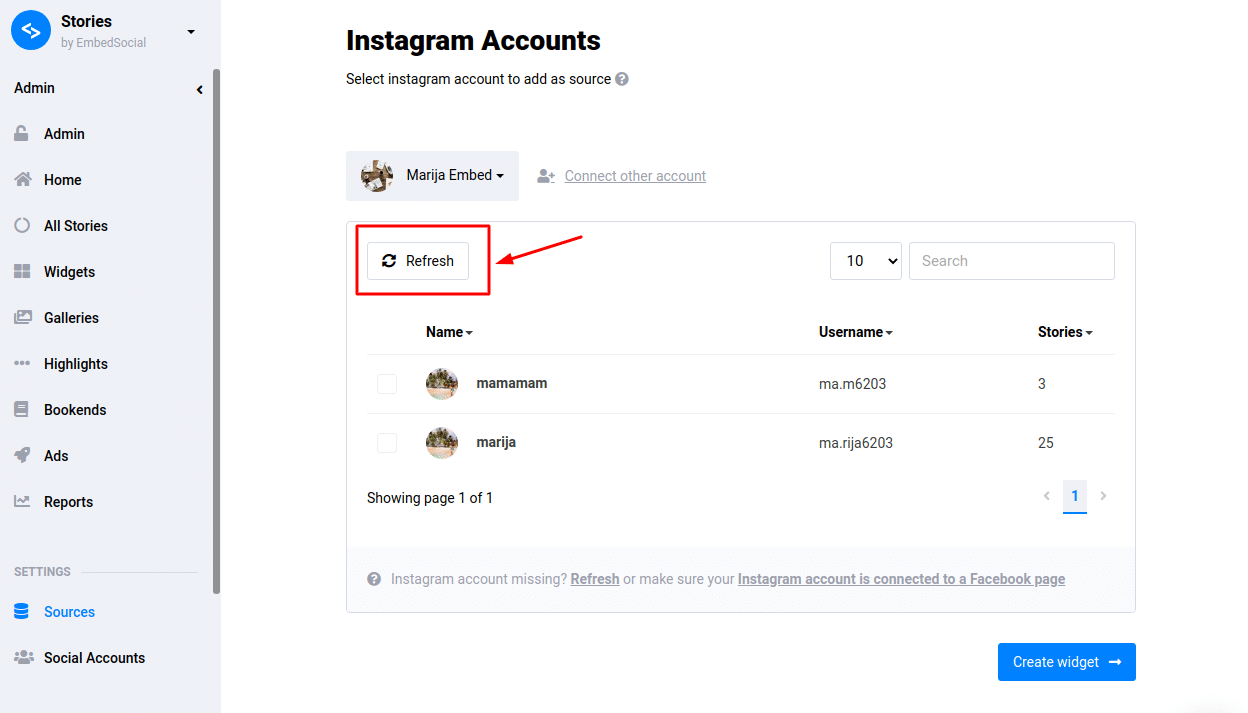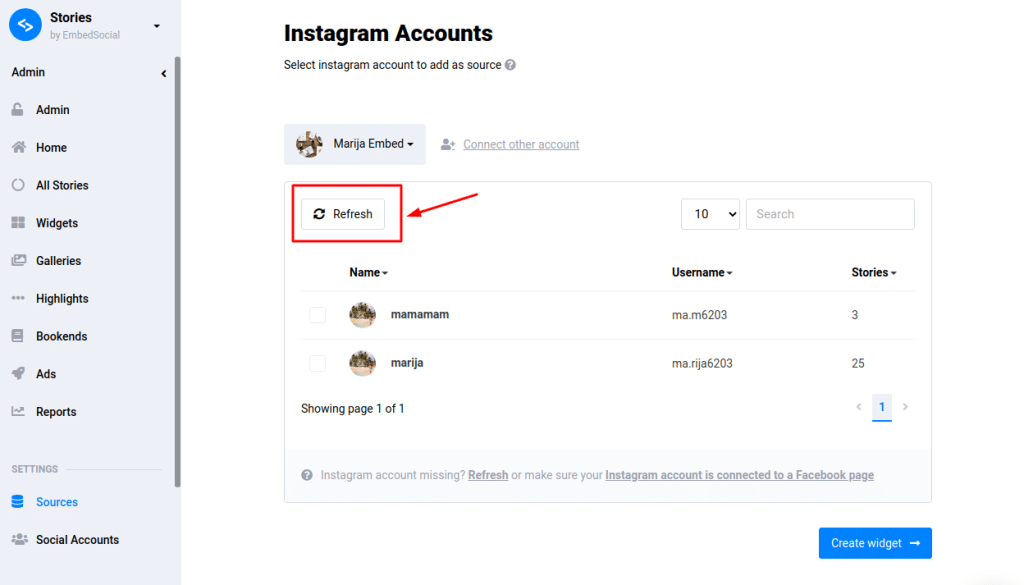 Once the page refreshes, it will show your Instagram account in the table.
Step 5: To create your Instagram stories widget and start generating the stories just select the profile and click 'Create widget'.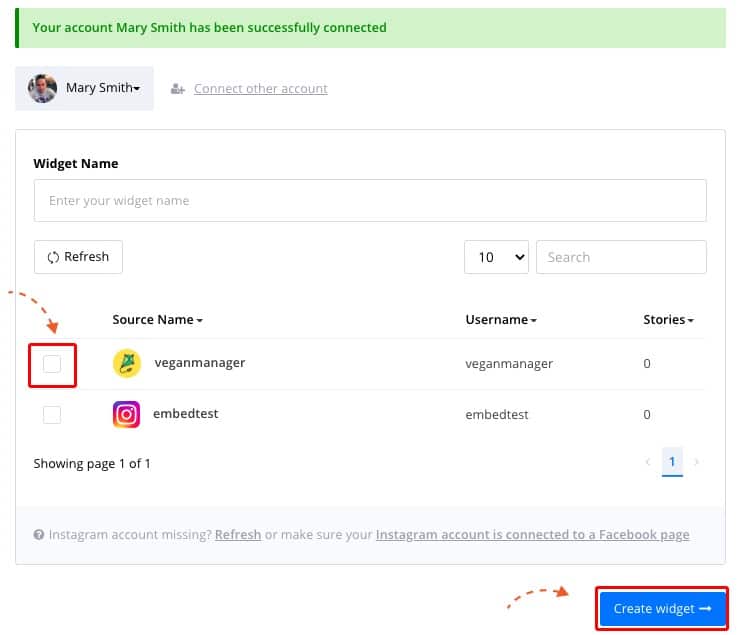 Please note: that you can have multiple Facebook pages connected to different Instagram accounts, that EmbedStories can sync and generate the related Instagram stories.
Option 2: Link Instagram account to Facebook page through the old Facebook Page interface
If you use an old Facebook Page interface, then the steps are all similar, only the navigation to the settings section defined in Step 1 is on a different position – top-right corner, as shown below: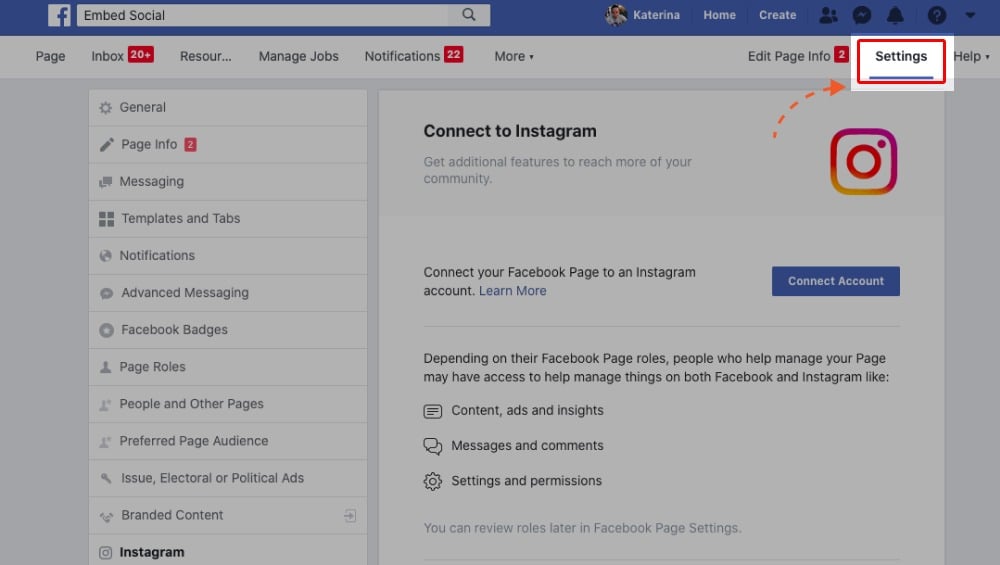 All other steps are the same as in Option 1.
Option 3: Link Instagram account to Facebook page through the Instagram app
You can switch your Instagram account to a professional or link it to a Facebook page, by using the Instagram app interface. Here are the official tutorials:
Set Up a Business Account on Instagram
How do I link or unlink my Instagram account to my Facebook profile?
—
For any additional help, feel free to chat with us.
Change the Linked Facebook Business Page in your Instagram Account
If for some reason you need to connect your Instagram business account to another Facebook page managed with the same Facebook profile, or unlink account, just follow the steps below:
Open the Instagram app, go to your Instagram profile and tap 'Edit profile'
In 'Public Business information' section tap on Page
In the list just select different Facebook page and tap Done in the top-right corner
Share Instagram photos and stories on Facebook Page
This is the same step by step if you ever want to link Facebook with an Instagram account in order to share Instagram posts to a Facebook Page directly.
This way you will publish the same content from the Instagram mobile app (for both iPhone or Android) directly on your Facebook Page as a Facebook post at the same time.
Just follow the instructions outlined above that will help you to basically convert a personal account to post directly on a Facebook page for business purposes.
Once this is connected to share new posts you will get an option to select the Facebook Page before you tap Share on the last screen in the Instagram sharing flow.