A new visual marketing aid for your website
You've worked hard to create a beautiful Instagram story but it disappears in 24 hours. No worries, use our story saver for Instagram to bring them to life on your website.
Web-wide popover

Display stories on a fixed position so it showcases on every page that gives the feel of a living & breathing website.

Instagram stories Highlights

Mimics the same functionality of the Instagram Highlights on your website with a flexibility to combine and rearange stories per Highlight.

Inline slideshow

Make your story enriched images or videos to display in a full slideshow layout that catches your visitors' attention.

Stories galleries

Create one widget with multiple stories and embed them as a full story gallery on your website.
No more re-purposing, re-cropping or re-uploading the same content from your Instagram stories to your website.
Never miss to save a story
Every time you post a new story on Instagram, it is automatically saved in your account.
Enhance the visual showcase of your products with unique content making visitors convert to buyers.
Success Story
Learn how EmbedStories help the LA NACION reporters use Instagram as a fast, easy way to tell a story that adds to the text+photo+graphic routine
Click below to read their full success story:
"Our experience with EmbedStories is very good, very solid, loads fast, looks good"
Boost Instagram Story Ads
Boost your Instagram stories with few clicks
A unique feature that will help you create Instagram Story Ads in just a few clicks. This functionality is enabled with the ability of the EmbedStories platform to archive Instagram Stories and help you re-use the Instagram stories for Ads. This is an option that is not available in the Facebook Ads Manager.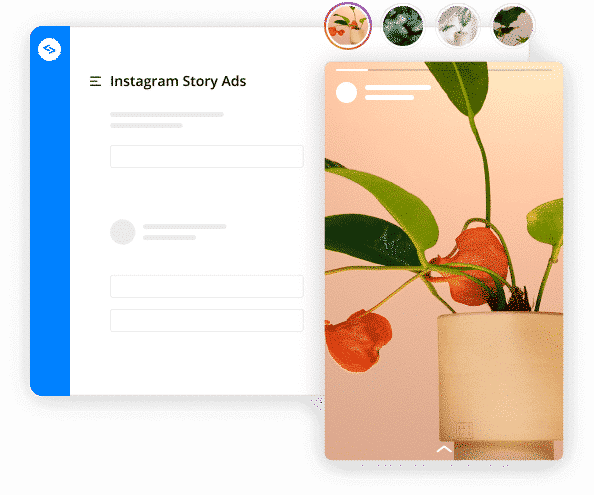 Make your Instagram Stories, Shoppable
Use the Call to Acton feature and add buy links to the Instagram stories that allow your web visitors to interact and directly buy the product showcased in the Instagram story.
Choose from the available CTAs: Buy, Learn more, Sign up, Contact us or add a custom button label.
Use variety of customization options
EmbedStories gives you flexibility in managing the display and looks of the Instagram Stories on your website. You can customize the following attributes:
show latest story show story from specific date order by date autoplay autoplay Interval title color show title show pagination show navigation show story date show username show profile photo
An option to create Instagram Highlights widget that mimics the same look on your website.
Continue the story by creating the last screen with a list of 'read more' links.
Combine multiple stories into a Gallery format that you can embed on your website as one widget.
Get all the analytics for each story and its performance on Instagram.
Custom analytics for premium users that show the performance of the story widget on your website.
Each Instagram story you generate has a separate embeddable code so you can create unlimited Story widgets with a variety of layouts.
Please note: In order to use EmbedStories you will need to connect your Instagram account to your Facebook page to allow our system to fetch your Instagram stories. Learn more
Don't wait
Do more with your
Instagram Stories, right now
* Instagram accounts
The number of Instagram accounts indicates the total number of Instagram profiles connected to the platform as a source for stories. For example: 1 Instagram account = 1 source.
Request Enterprise Plan
Need to get and manage Instagram stories from more Instagram accounts? Request access to an Enterprise Plan for a custom number of Instagram sources and custom pricing.