You probably know how time-consuming it is to upload your Facebook photo albums twice. The first time on Facebook. The second time on your website. We feel you.
This is why we created the EmbedAlbum tool!
It can automatically aggregate all of your Facebook albums in just a few seconds.
From there you can even sync this social media activity and display it on your website with zero coding skills.
Additionally, you can transform your Facebook albums into a stunning gallery widget that will take visitors' breath away.
No matter the occasion, you can craft a Facebook gallery from all of your Facebook albums or photo albums from multiple Facebook Pages.
Whatever you decide, get ready to witness the attraction the widget will receive in no time!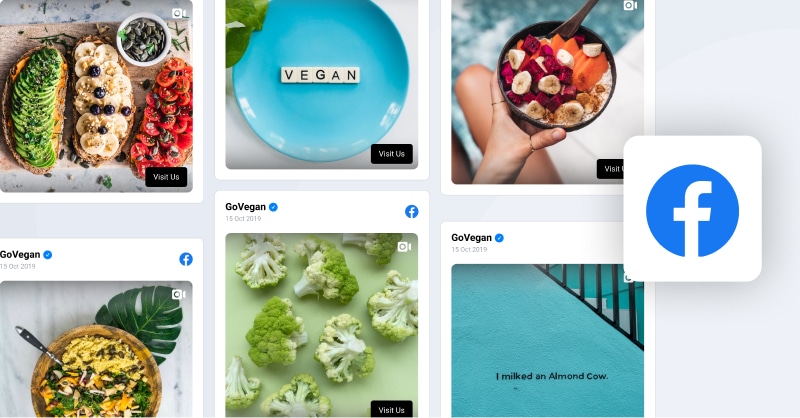 The benefits of showing Facebook photo gallery on your website
Saves a lot of time of managing photo albums on both, Facebook and your website
Improves the user experience and average time on page
Shows your marketing campaigns in an innovative way
Promotes your products in a familiar format that encourages scrolling
Organizes your Facebook albums in a more efficient way
Promotes your Facebook page and boosts your followers base
Embed Facebook page galleries in eye-catching layouts
You are in full control of the widget look and feel, as well.
Choose from a variety of customizable and interactive layouts available. They are fully mobile and desktop responsive and can adjust to every website you have.
Include your personal brand touch. Play around with the setting options. Change the name of the gallery, the title, and its color. Order albums by date or randomly.
Approve to automatically sync the newest albums or enable the analytics option to keep track of the results of your widget engagement. The opportunities are countless.
Custom CSS editor for your Facebook gallery widget
The layout designs do not fit your brand? We've considered that too.
This is why as part of the platform we included a simple CSS editor to help you craft the widget your brand deserves.
If you have any doubts about how to use the CSS option, don't hesitate to contact us and we will be happy to assist you.
How to embed a Facebook photo gallery?
It's easier than it sounds. No coding skills required, either. Just follow the steps below:
Start your free trial for EmbedAlbum
Depending on the kind of album you want to add, choose to import albums from a Facebook page or use the albums you already have saved on the platform
If you go with the first option, insert the Facebook page link where the albums are located
Pick your layout and define settings and design options
Copy and paste the provided code in your website body section and the Facebook Gallery widget will appear shortly
* *Please note that only public Facebook Page albums are supported.
Create multiple Facebook Gallery widgets for every website you have
So many websites that need to be served, and so little time to do that manually?
We have your back!
We don't limit you on the number of websites you can use to display our Facebook widget. Go ahead and create as many widgets as you need within the same account.
This tool can be a real energy and nerve saver for marketing agencies or businesses that handle different website domains.
How to embed Facebook page photo gallery on WordPress?
It is so simple that you don't need any coding skills to embed the widget.
Just copy the shortcode we provide you with once you've finished creating your feed and then paste it into the HTML section where you want the Facebook widget to be displayed.
And that's all.
Download our official WordPress plugin to start with your first Facebook Page Gallery.
Need help?
Frequently asked questions about Facebook gallery widget
We made EmbedAlbums be so user-friendly and intuitive that everyone can create a widget effortlessly.
However, if you have any additional questions, check the FAQ section below or tap on the chat bubble to reach us. Always happy to help!
Yes! You can craft your photo gallery from up to 15 Facebook pages as a source (depending on the pricing plan). Explore our pricing options to see what matches your needs best.

Currently, we have 4 fully responsive and customizable widgets at your disposal as we are constantly working on adding more modern looks in our layout gallery.

Facebook Grid widget
Facebook Row Grid widget
Facebook Masonry widget
Facebook Three Column widget

Yes! We provide you with countless opportunities to shape and re-design your widget.

Feel free to explore the general and album settings option. For more advanced customization options, our custom CSS editor can be quite useful for you.

If you need any help while designing the widget, reach out to us and we will help you with every step of the way.
Yes! We integrate with the most popular CMS platforms and web builders like WordPress, Squarespace, PageCloud, Joomla, Wix, Weebly, Shopify, Magento, OpenCart.

On top of that, we also support the platforms that allow embedding javascript codes or 3rd party iframes.

Absolutely! You have an entire section to handpick which albums to be included in the gallery. You can use this option any time, meaning that you can sync the gallery to automatically publish the new albums or publish or unpublish albums in the gallery on the go.

We can promise that we will do our best for you to remain a satisfied EmbedFeed customer, but if you decide to cancel, the widget will be removed from your website. However, there is always room to change your mind. 🙂
Browse albums widgets templates