Pinterest is a social media network that gives creators a unique opportunity to promote their brands to audiences that look for their products.
This means that Pinterest addresses an actual intent for the users to do something – paint their room, decorate an entire house, buy new clothes or find a new recipe.
All these intent activities usually have a call to action nature – lead people to download, save or buy something. This intent is what most of the brands are looking for, right?! And therefore, the ones that recognized it are gaining a perfect channel to build community and sell more online.
For example, Glossier publishes user-generated content as social proof of the effectiveness of their products. To increase exposure, they publish story-like videos to build up the interest of the users and link this content directly to the product that the influencer or their customer is talking about in the video.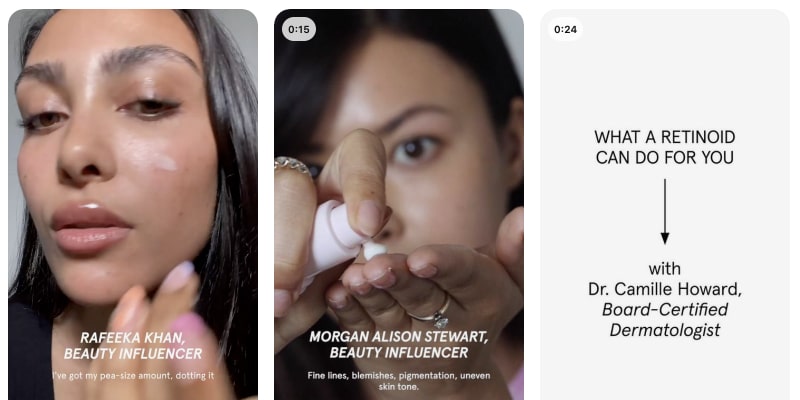 Users who actively use Pinterest are already getting benefits from the unique nature of the platform, such as:
use immersive format to showcase their products, such as Pinterest story pins
get discovered by people who actually need their products or services
build community with potential customers, who come to inspire but eventually fell in love with their brand.
Why should I embed my Pinterest board?
Pinterest is a platform for brands to showcase their products or creativity among a vibrant community of people that are highly engaged and are very interested in making an action – buy, share, comment, save, etc. It's most probably the best network to get your products, and ideas in front of an audience that actually is looking for them.
So if you are already creating for Pinterest why not increase the reach of this content, save time, and re-use it on your website as well?
The main reason to do this is actually to engage your website visitors, with immersive, fresh, and live content. This shows your everyday business activity and builds trust among first-time visitors to your website.
If you are looking for a new social media tool to expand the reach of your Pinterest activity beyond your existing Pinterest account – you have come to the right place.
Embed Pinterest Board with Widget Builder
We provide you with 2 options:
The main difference is that if you use a professional social media aggregator, you can embed custom Pinterest widgets on your website, automatically. Also, you can combine the posts with posts from other social media accounts, such as Instagram or Facebook, and create an entire social media wall for your website.
First, let's show you how to create a simple widget from the native widget builder provided by Pinterest.
To get started, go to the Pinterest page where your board is located. Then, copy your URL, navigate to the Pinterest Widget Builder page and follow these steps:
Step 1: Submit Pinterest board link and choose widget style
When you're on the builder page, switch to the Board tab. Paste the copied URL in the field labeled "Pinterest board URL".
For the widget layout, you have three Size options: Square, Sidebar, Header or you can create your own by setting up the height and width of the widget.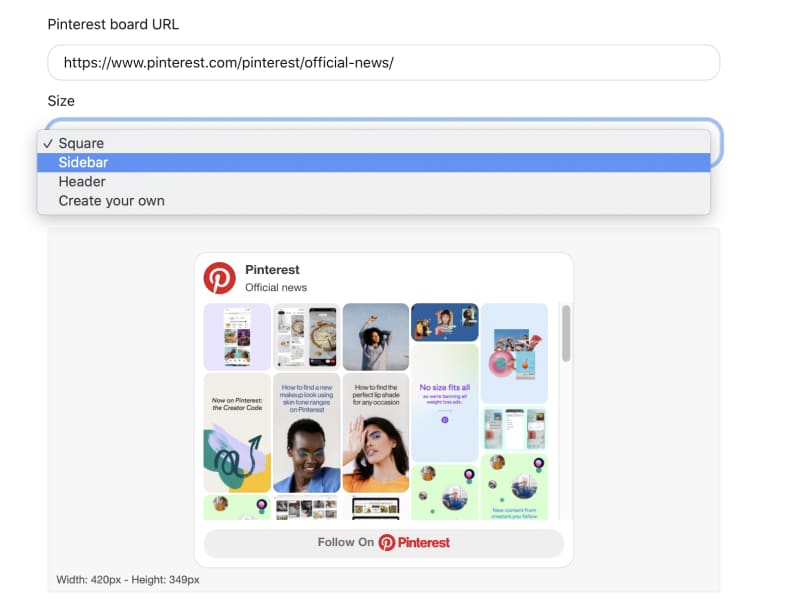 Choose whichever option you think will fit your website
Step 2: Copy and paste the code in your website
Now copy the provided HTML code and paste it into your website's body section, right where you want the board to appear.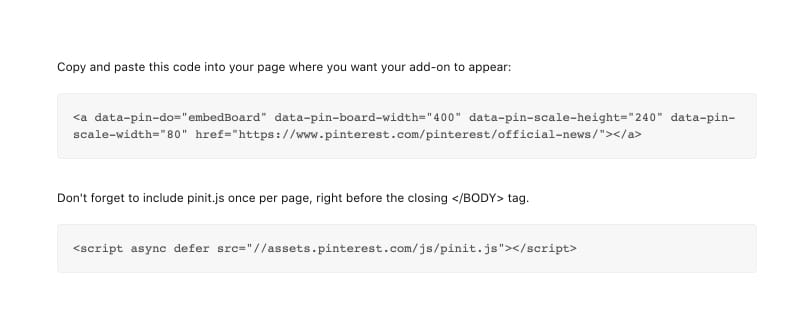 The widget will automatically include a link back to the board as well as show your Pinterest profile picture and name (by default).
Embed Pinterest Board Automatically
Here are the steps how to use our social media aggregator EmbedFeed and embed your Pinterest board automatically.
First, sign up for a free trial account and follow the steps below.
Step 1: Connect your Pinterest account
When you log in, you will get to choose a social platform you want to connect to.
Once you select Pinterest, a popup will appear, asking you to allow the required permissions so our app can get your Pinterest board. This connection is approved and verified by Pinterest, and the app is legit to use for generating your Pinterest boards.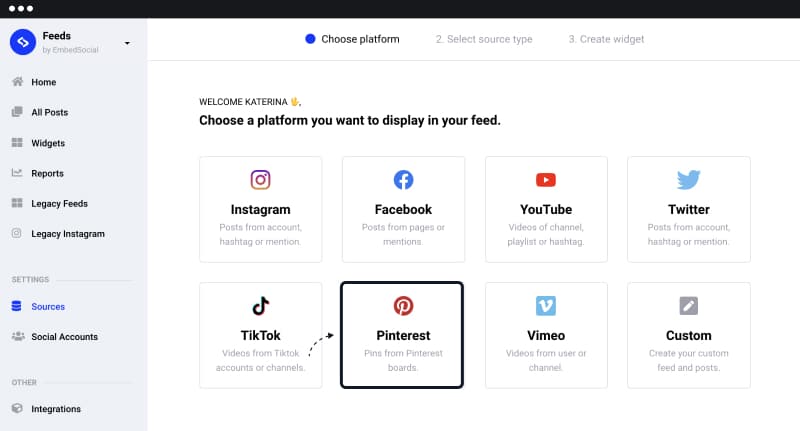 To do so, just click 'Give access,' and you will get back to your EmbedSocial account to choose your board.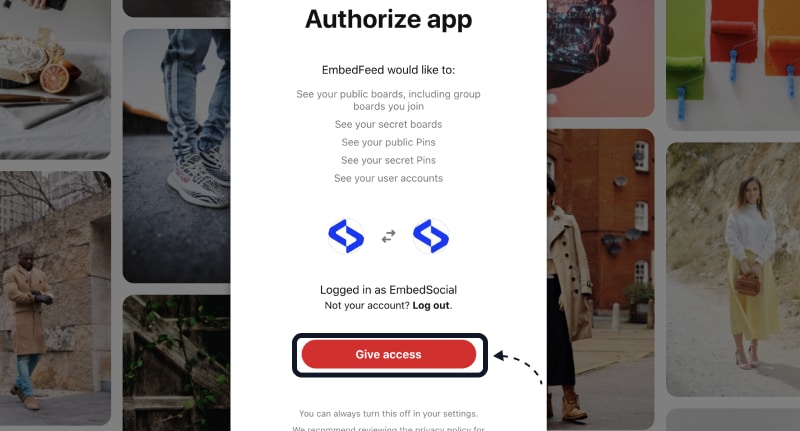 Step 2: Select a Pinterest board
When you provide the permissions, EmbedFeed generates all your Pinterest boards, and in this step, you will only need to select the one you want to embed.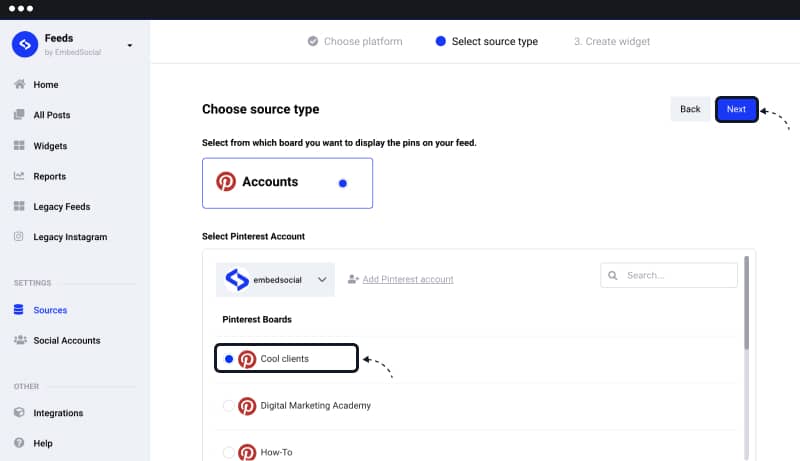 Just check the box before the board name and click Next.
Step 3: Select a widget template
In this step you can choose from the variety of widget templates that you think will best fit your website design. Choose a Carousel, Collage, Grid, Slider, or Default Feed template.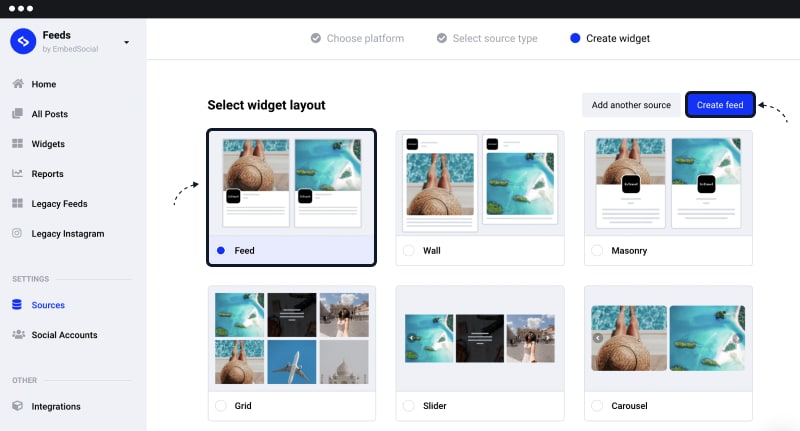 Step 4: Customize widget and embed code in your website
Finally, your widget is created and you have tons of customization options to make the design fit your branding.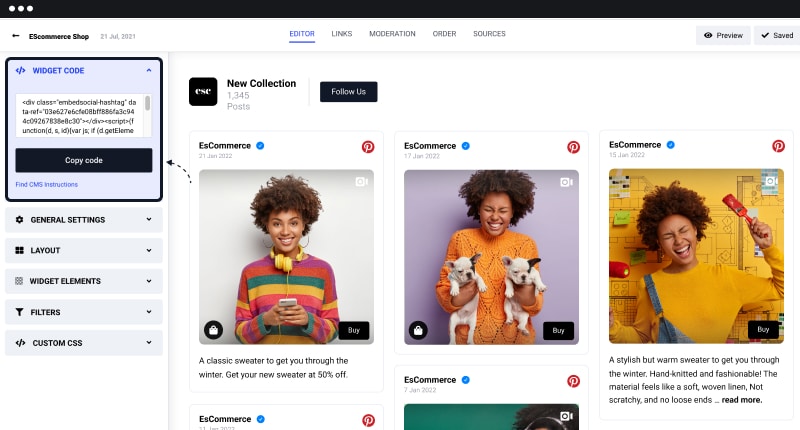 Pinterest is a visual platform that focuses on images. That's why boards with high-quality content, appealing to the users' interests and needs, have been proven to perform well on Pinterest. The possibility of embedding these Pinterest boards directly into your website is a digital marketing opportunity that you should not pass up.
Plus, EmbedFeed provides social media curation options, options to add more sources and posts from all your social media accounts, including TikTok, Facebook, YouTube, Vimeo, Instagram, or Twitter. Moreover, the platform allows you to tag the photos with your products, link to their checkout pages, and build a social shop on your website.
These options are only available in a PRO social media aggregator and you will not be able to customize the widget that you generate with Pinterest's widget builder.
So if you are interested in expanding your Pinterest activity to your website go ahead try EmbedFeed.
For any additional questions, feel free to click the right bottom chat icon and talk with our team live.