Online reputation is one of the top 3 assets that we all need to nurture.
The way a company discovers generates, understands, and responds to reviews, ratings, and comments about their products, services, and the company overall, will differentiate them as a winner or a loser.
You agree right?! Words shared by customers are a serious asset that you will need to find a way to manage. It is the fundamental process of building power users and nurturing their trust.
Most companies do this by asking the most engaged customers to send them a few kind words that they will later display on a website.
"We've done that too but realized that these testimonials or reviews are not a fixed content and we can not just rely on 3 testimonials that will forever slide on our website." – Nikola Bojkov, CEO at EmbedSocial
We want a fresh testimonial every single day.
And the best place to get these testimonials is …. you guessed it = Facebook!
The Facebook platform additionally allows us to generate these reviews and dynamically display them on a website.
In the following text, you can read how you can do this manually or automatically by using tools like EmbedReviews.
If you need the quick steps, here is how to embed Facebook reviews with EmbedReviews: (Below you will find these steps in more details and screenshots)
Log in to EmbedReviews
Connect your Facebook account
Generate your Facebook reviews in a widget
And just copy/paste the provided code on your website
And this is the result:
Embed your Facebook reviews now
Generate your Facebook recommendations and display an interactive reviews widget on your website.
Additionally, in an epic guide to Facebook Reviews that we recently published, we explained how to activate Facebook reviews on your Facebook page and what you can do to make the most out of them.
To use these websites and get the user-generated content to help you convert on your web store, we suggest you display the Facebook reviews on your website.
There are two methods that will help you to embed Facebook reviews on a website, manually and automatically with a plugin.
Here is how to do this manually:
Steps to embed Facebook reviews on a website (manually)
If you have a few reviews on Facebook and you just want to embed them one by one without any customization, you can do this by following these steps:
1. Navigate to the Facebook reviews section on your Facebook Page;
This is the link: https://www.facebook.com/(yourfacebookpage)/reviews
2. Choose the Facebook review that you want to embed, click on the top right three dots icon and choose 'Embed'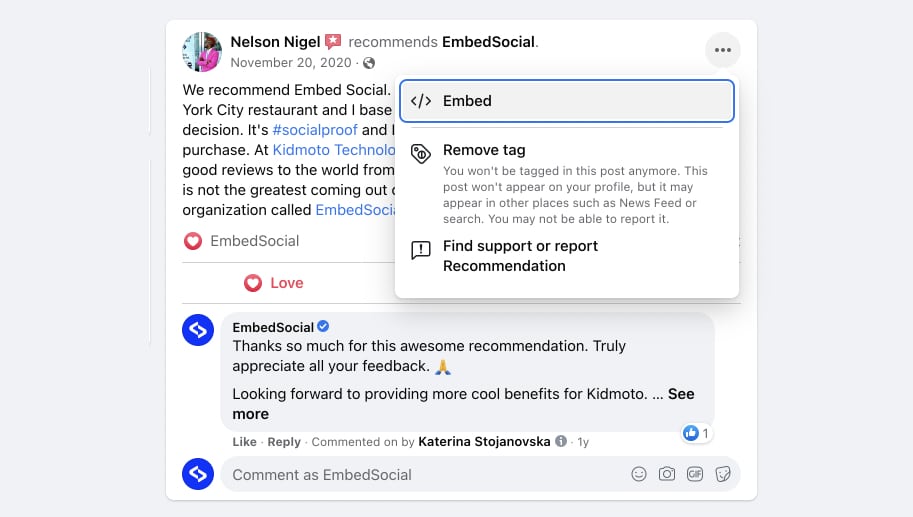 3. In the Embed post screen you will see the code and in the preview section you can see how the widget will appear on your website and to get the code just click 'Copy Code'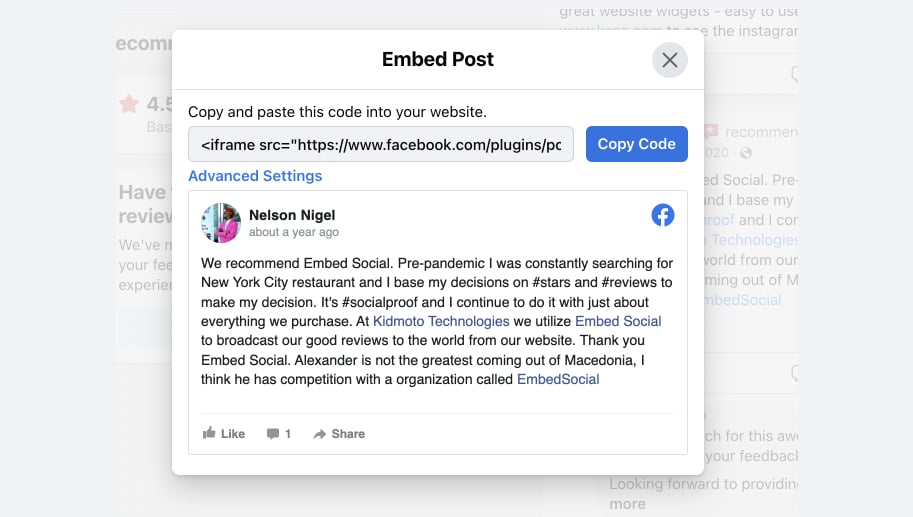 4. Go to your website HTML or CMS (WordPress, Joomla, Drupal) editor and paste that code.
That's it! Here is an example of the review that I embedded manually from our Facebook Page.
Now, I will show you how to embed the Facebook Reviews on any website automatically, with the help of a plugin that will give you bigger flexibility to customize and analyze your Facebook reviews:
Steps to embed Facebook reviews on a website (automatically)
It's very simple and easy!
You do not need any coding skills.
We've built an embeddable Facebook reviews widget that can display your Facebook Page reviews on any website. It literally generates all your customers' reviews on Facebook and stores in your EmbedReviews account.
To start, log in to your EmbedReviews account, and If you still don't have an account, go ahead and start a free trial.
Below are the steps to embed Facebook Reviews on a website:
When you log in, a popup will appear asking you to choose which source you want to use. For Facebook reviews, choose Facebook Page, so the steps in detail are the following:
Please note that if you already missed this popup at login, you can add sources in the left-hand menu 'Sources' menu and the steps are as outlined below:
1. Go to "Sources" and choose "Facebook Page" as a source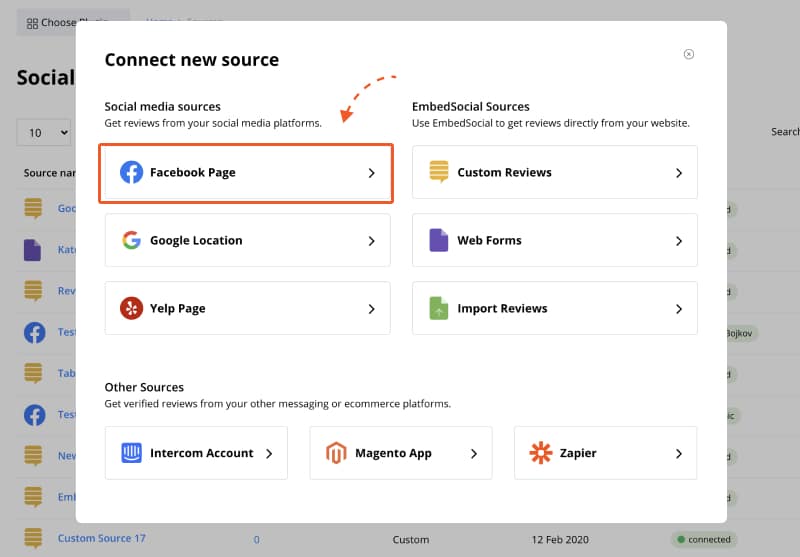 2. Connect with your Facebook account and allow the required permissions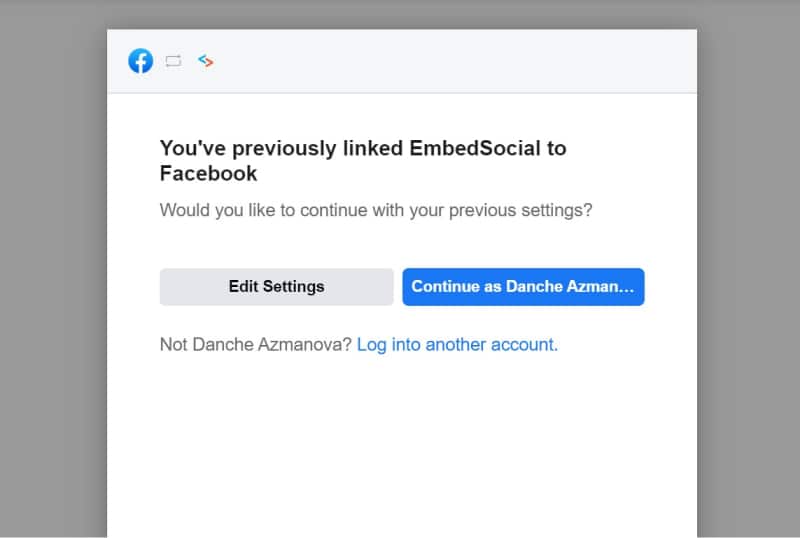 3. In the list of Facebook pages, select the one you want to pull reviews from and click on 'Create widget'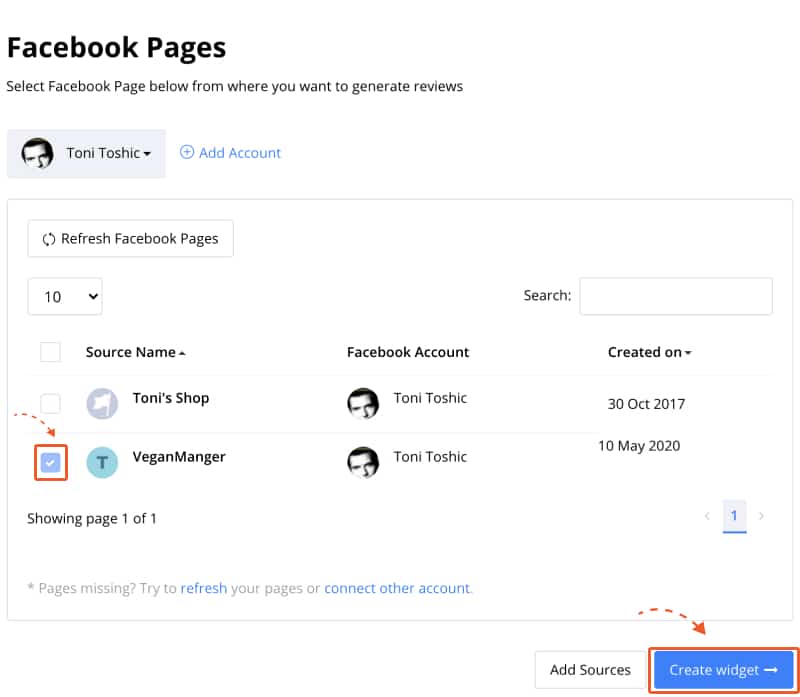 The system will immediately generate the Facebook reviews from this page and you will be navigated in the reviews feed edit page (shown below).
4. To display them on your website, just copy the top-right code and paste it into your website body section.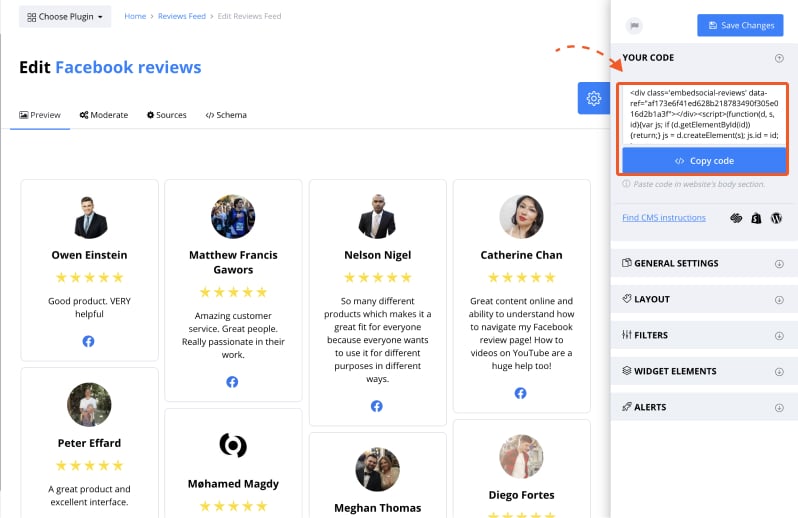 That's it.
Once you add the code, the system will automatically display the Facebook reviews widget on your website.
Customize the Facebook reviews widget
The EmbedReviews plugin has advanced options that will help you to customize the look of the Facebook Reviews embedded on your website.
Here are the options:
Choose the layout template: Grid, Slider, Page, Table, Popup
Choose star color
Filter reviews by a number of stars, date
Show a limited number of reviews
Sort by likes, comments, and rating
Add widget title and change its color and size
Fully customize it with custom CSS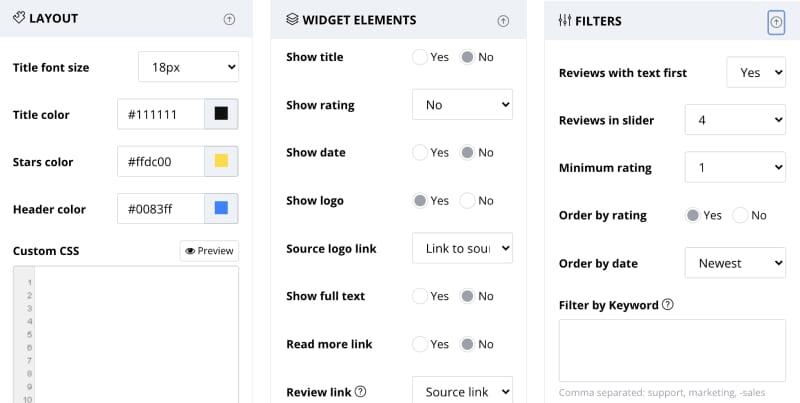 Once you customize the look of your Facebook reviews widget, you can embed it on any website.
Embed Facebook reviews on a WordPress website
To embed the Facebook reviews on your WordPress website you just need to copy-paste one line of code. No coding skills are required.
So, copy the code that is displayed above the settings bar.
Open your WordPress post text editor and paste the code. Click 'Publish' and you will see your reviews widget in action.
Embedded Facebook reviews widget demo
Here is a sample slider widget of the reviews published on our Facebook page and displayed here in this blog post by using EmbedReviews. To browse more Facebook reviews widgets check the Templates demos.
That's it. Simple and in seconds.
Feel free to contact us for any questions about the reviews on Facebook or if you have any feedback.