Ever wondered how to make your website more dynamic?
Dive into our guide on embedding your LinkedIn feed, a surefire way to elevate engagement, enhance credibility, and foster robust networking.
Discover how to embed your LinkedIn feed using multiple methods like social media aggregators and watch your website come alive!
What is LinkedIn Feed?
A LinkedIn feed refers to the stream of updates and posts that you see on your LinkedIn homepage when you log into your account. This feed is personalized to each user, featuring content from their connections, companies they follow, and other relevant professional updates based on their industry and interests.

LinkedIn feed definition
It includes shared articles, posts, likes, comments, and updates from your connections, companies you follow, LinkedIn Influencers, and news in your industry.
The LinkedIn Feed uses an algorithm that personalizes content based on your professional interests, engagements, and connections.
What is embedding a LinkedIn feed?

When we talk about embedding a LinkedIn feed, we're referring to the process of integrating this stream of updates into another platform, such as a personal website or blog. This allows visitors to the site to view LinkedIn updates directly without needing to leave the site or log into LinkedIn. This can be a great way to showcase professional updates, share industry news, or highlight the activity of a specific LinkedIn user or company.
In this post, we explore all the methods on how to add a LinkedIn feed as a social media wall on your website.
---
FYI: Embed Linkedin widget automatically with the social media aggregator and UGC platform by EmbedSocial. Click below to try it for free: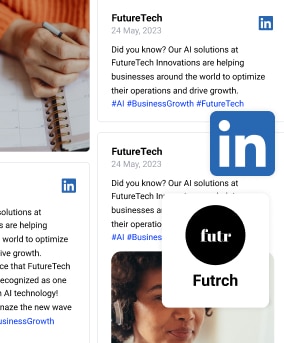 Embed Linkedin widget on your website automatically!
Try EmbedFeed and display LinkedIn page posts on your website.
All PRO features | Cancel any time.
How to embed a LinkedIn feed directly onto your website using the built-in feature?
LinkedIn provides a built-in feature that allows you to show embedding LinkedIn content directly onto social media walls or walls from your website. Here is the embed code to embed LinkedIn profile posts on the page and a step-by-step guide:
Step 1: Log into your LinkedIn account and navigate to the LinkedIn post URL you want to embed.
Step 2: Click on the three dots (…) in the post's upper right corner and select 'Embed this post' from the drop-down menu.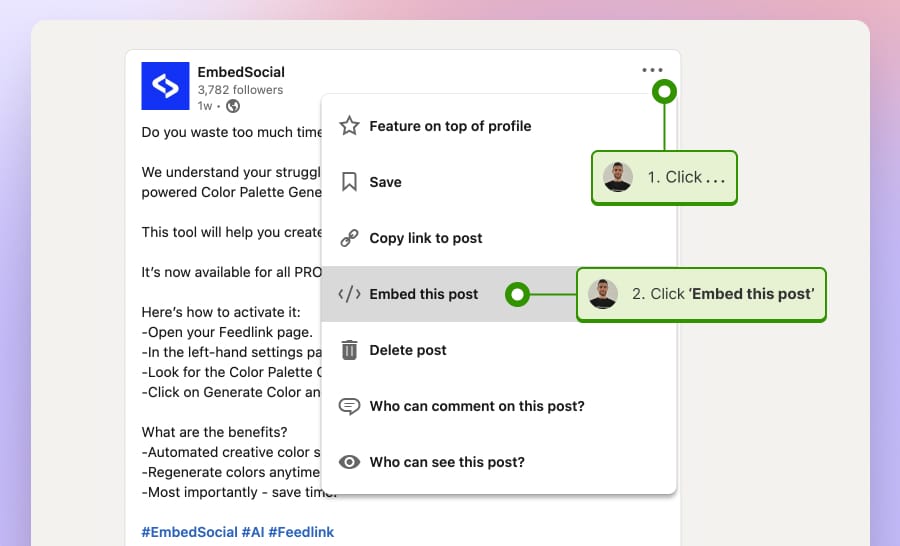 Step 3: A pop-up will appear with the embed code. Click Copy code.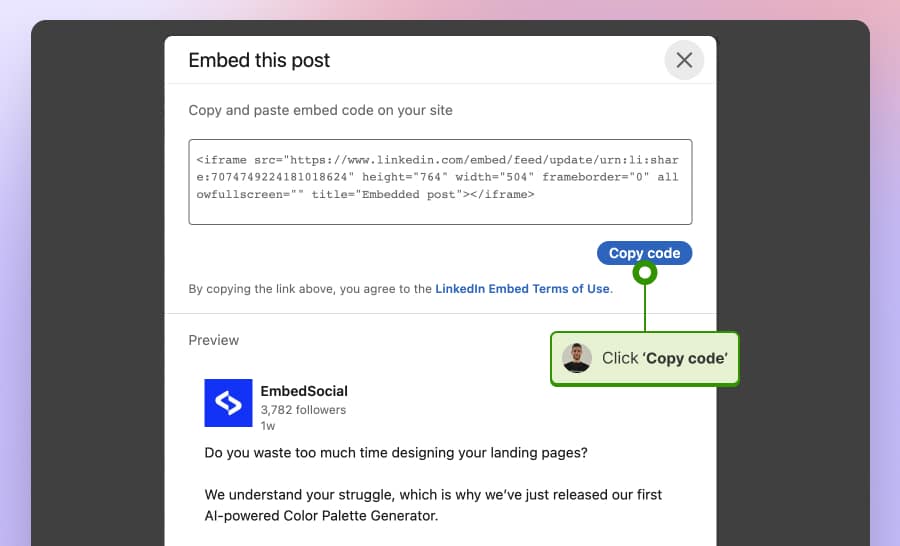 Step 4: Paste this code into the HTML of your website where you want the LinkedIn post to appear.
To embed multiple posts, you will need to repeat the steps above multiple times.
Here is the post I've embedded in this post, using the above method:
In order to avoid embedding more codes and easily embed LinkedIn feed, we suggest checking the options below and using a tool where adding LinkedIn feeds is enabled with just one code.
How to embed LinkedIn Feed on a website using an aggregator?
EmbedSocial is a complete UGC platform to collect and display user-generated content on any website.
It offers EmbedFeed, a social media aggregator for aggregating and embedding social media feeds on websites. Related to this, EmbedFeed provides multiple options to embed LinkedIn on your website.
Let's dive in:
Option 1: Embed LinkedIn Feed posts automatically
Here's how to embed LinkedIn company feed on your website automatically:
Step 1: Start a free trial if you don't already have an EmbedFeed account.
Step 2: Once logged in, navigate to 'Sources' and click the 'Add Source' button.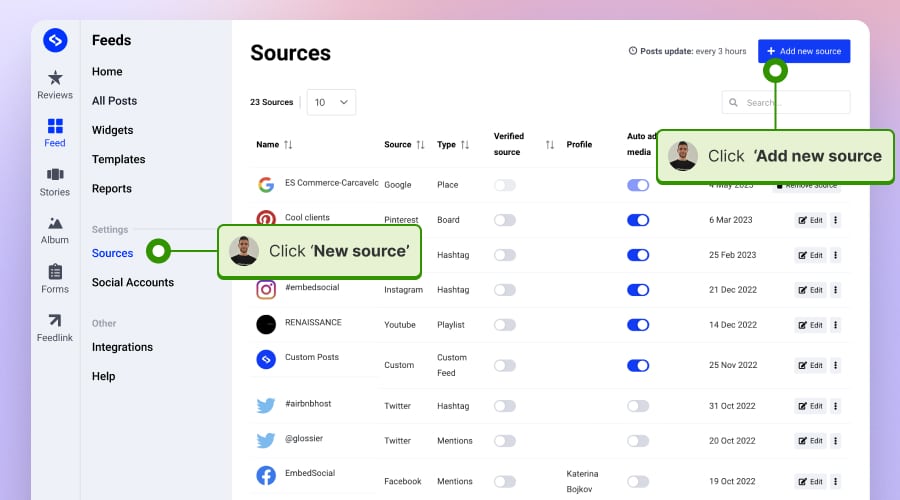 Step 3: You will see various social media platforms listed. Select 'LinkedIn.'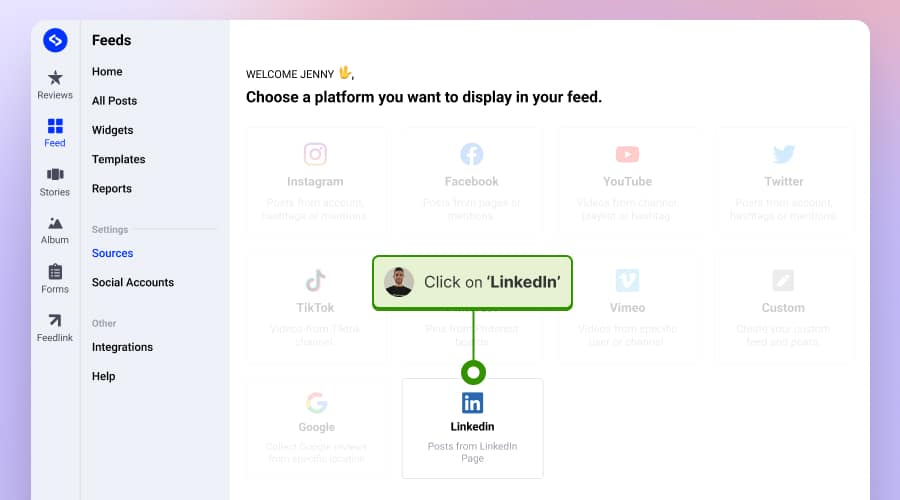 Step 4: Click on 'Connect LinkedIn account' and log in to your LinkedIn account.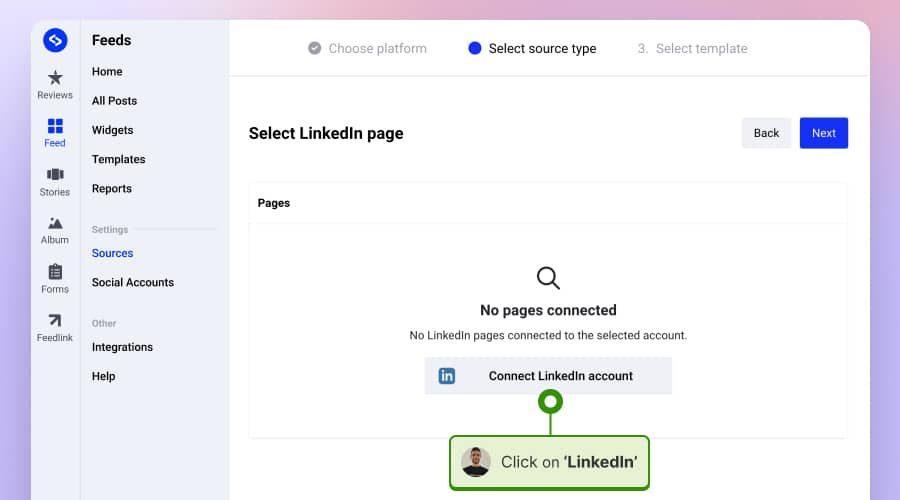 Step 6: After successfully connecting your account, the system will collect LinkedIn posts, and you can select the type of widget template you want to display (for example, a slider, grid, masonry, or collage).
Step 6: In the widgets editor, you can customize the look and feel of your LinkedIn feed. Once satisfied with the customizations, click 'Save.'
Step 7: After saving, you can find the widget code in the top left settings panels by clicking on the Embed tab, as shown below: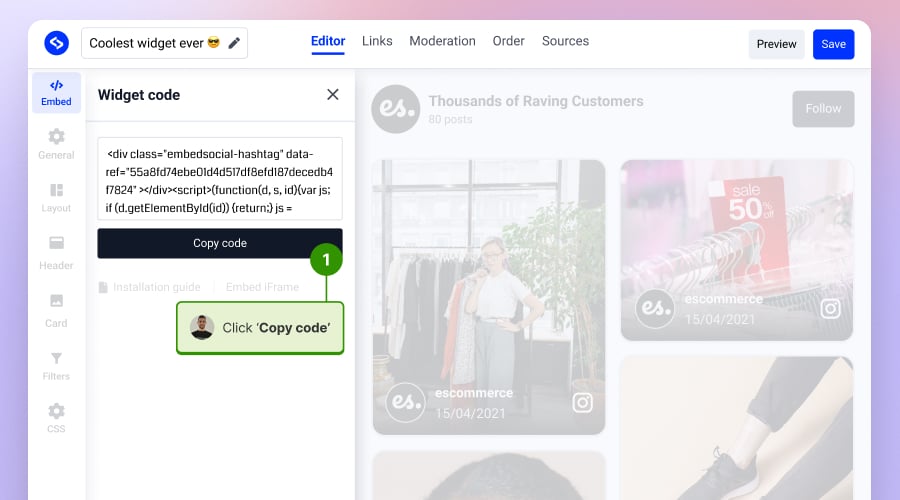 Step 8: Go to your website admin panel and paste this embed code where you want your LinkedIn feed to appear.
That's it! Your LinkedIn feed should now be successfully embedded in your website. Depending on your website builder, you will find more tutorials below on how and where to add the LinkedIn feed code.
LinkedIn Feed widget demo
Here is a demo of our LinkedIn company page posts embedded in a web widget with a slider layout:
See the full Linkedin slider template >
Option 2: Embed LinkedIn Feed posts manually for free
Users that want to display LinkedIn Posts to show their social activity and not have regular updates on the website can do this with a simple and manual option only.
You can do this by manually uploading the information. Here are the steps:
Step 1: Log into EmbedFeed, navigate to sources, and click 'Add source.'
Step 2: Select Custom and next write the source name, for example: 'LinkedIn page.'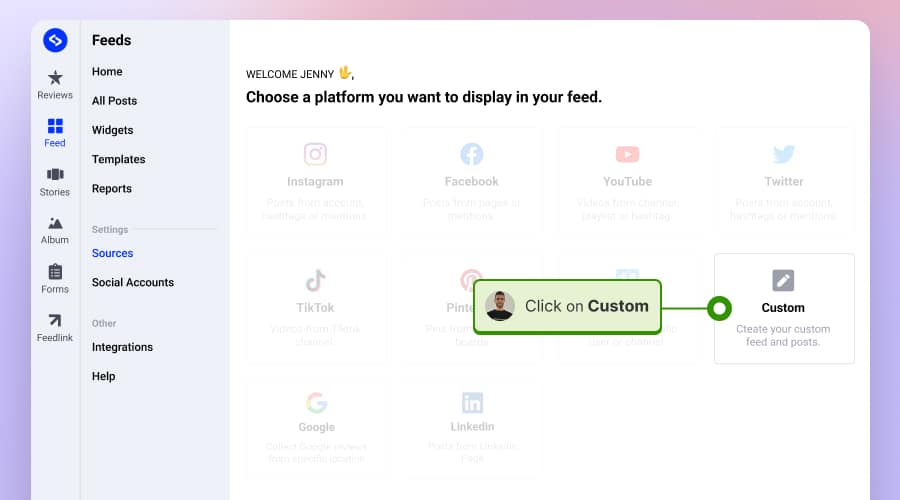 Step 3: In the customer source page, click 'Add post.'
Step 4: Fill in the post details, such as author name, post link, post image, and caption.
Step 5: Repeat this to add multiple LinkedIn posts, and once you are done, click 'Create widget.'
Step 6: In the widget editor, you can customize the LinkedIn posts widget.
Step 7: Once you are done and ready to embed, you can find the widget code in the left-hand panel by clicking on the 'Embed' tab (same as step 7 in the previous method.)
Step 8: Copy and paste the code into your website building platform.
To learn where to paste the code in a specific platform you use to build your website, scroll below to pick the specific tutorial.
Customize your LinkedIn Widget
EmbedSocial's widget is a powerful tool designed to help website owners integrate real-time social feeds and LinkedIn content directly onto their websites in a seamless, visually appealing manner.
One of the standout features of the EmbedSocial Widget is its customization capability.
You can adjust how your LinkedIn feed is displayed, choosing from various layout options, deciding the number of posts to show, and even filtering content based on keywords or hashtags.
This ensures that the feed aligns perfectly with your website's design and the content strategy you're pursuing.
Here is the list of some of the available customization options:
Layout settings
Templates library
Card styles and customization options
Lightbox styles
Header settings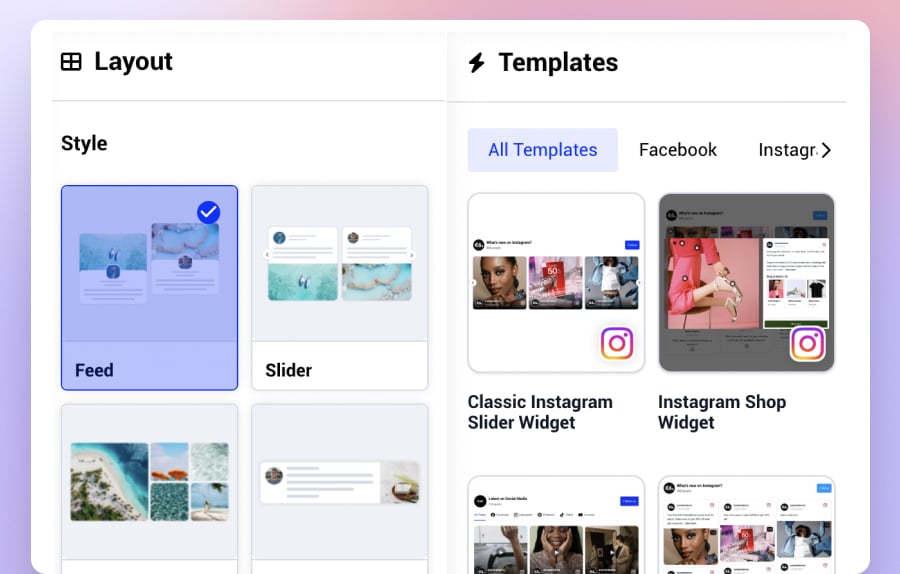 How to embed LinkedIn feed on different websites?
EmbedSocial LinkedIn feed widget integrations
When integrating EmbedSocial's LinkedIn widget on your website, the versatility of this tool is one of its main selling points. It's compatible with many website builders, including Wix, Squarespace, WordPress, Shopify, and custom HTML websites.
Embed LinkedIn feed in Wix website
Wix is a widely recognized platform for its comprehensive, all-in-one website-building solutions. It's appreciated by many users worldwide for its intuitive drag-and-drop interface, making creating a beautiful and functional website accessible, even to those with little to no prior web development experience.
To embed EmbedSocial's code in Wix, follow the steps: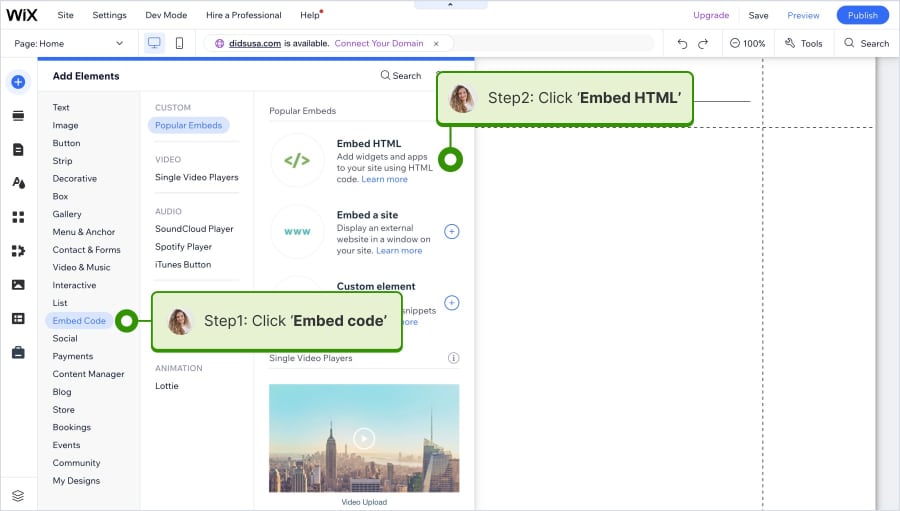 Open the page in Wix where you want to display the LinkedIn widget.

Click the top left +icon to add a new element.

Search and select the Embed code element.

Choose Embed HTML, and in the pop-up window in the code paste the widget code

Click 'Update,' and the widget will appear in the editor.

Once you are done editing, click 'Publish' to make the page changes live.
Embed LinkedIn feed in Squarespace website
Squarespace, another popular builder prized for its design-centric approach and sophisticated templates, also supports EmbedSocial integration for Squarespace, which means your website can feature live social media and LinkedIn feeds effortlessly.
To easily embed your LinkedIn feed on your Squarespace website, follow these steps: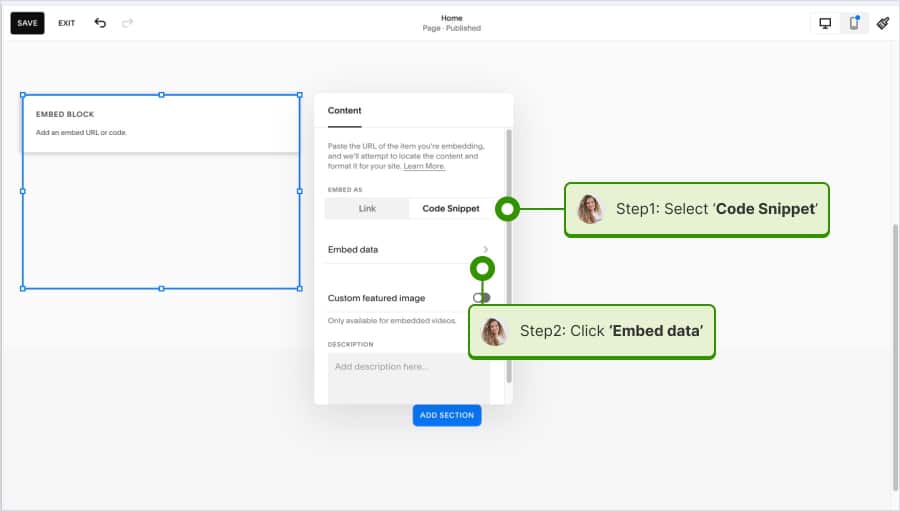 Open the Squarespace page where you want to add the LinkedIn feed.

In the page editor, select a section and click on the '+ icon' to add a block.

In the list of blocks, choose Embed.

In the Embed block settings, click Code Snippet and turn on the Embed data toggle.

Paste the code from your LinkedIn Widget in the Embed data text area.

Click Save.
Embed LinkedIn feed in WordPress website
WordPress is a vastly used CMS and an ideal platform for integrating your website platform with your LinkedIn feed.
WordPress's extensibility, combined with EmbedSocial's easy integration for WordPress, allows you to effectively display your professional content from LinkedIn on your WordPress website.
To embed LinkedIn posts feed on your WordPress website, follow these steps: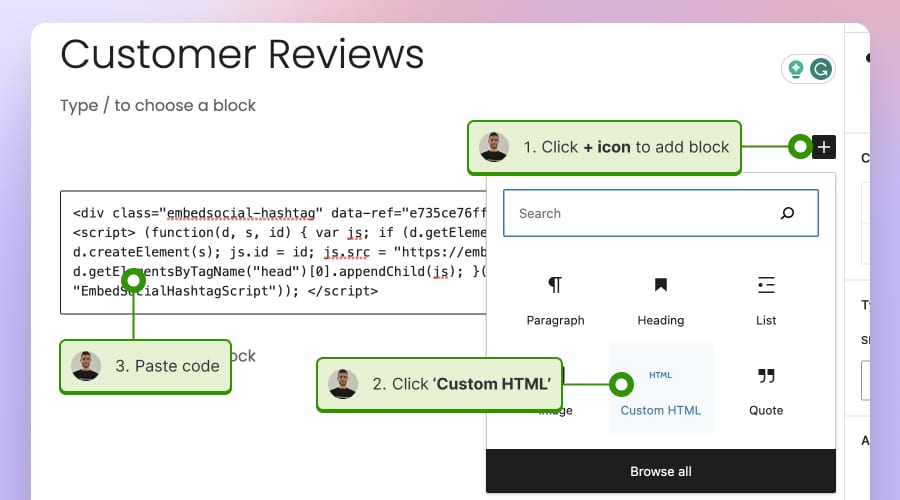 Open your page in the WordPress editor.

Click on the + icon to add a new block and choose HTML Block.

Paste the LinkedIn widget code and click Update or Publish.
That's it. Your WordPress LinkedIn feed will immediately appear on your website.
Embed LinkedIn feed in Shopify website
Similarly, Shopify, the go-to platform for e-commerce businesses, works well with all EmbedSocial's widget codes, enabling you to show your professional interactions and updates to your online store to customers.
Here are the steps to embed LinkedIn posts feed on your Shopify website: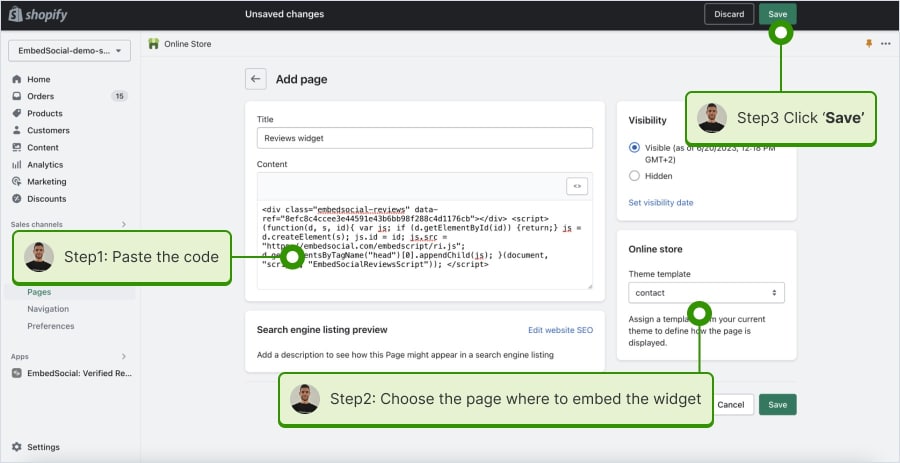 Open the Shopify page where you want to display the LinkedIn feed.

In the text editor, click on the 'code icon' to switch to the edit custom HTML option.

Paste the LinkedIn widget code and click Save.
Read More: EmbedSocial integrations for Shopify websites
Embed LinkedIn feed in custom HTML website
Lastly, even if you're using a custom HTML website, EmbedSocial's LinkedIn widget can be incorporated by adding a few lines of code to your site's HTML code.
In the steps below, we will show how to select the HTML iFrame option in case your website doesn't support javascript.
To do this, you will need to get the LinkedIn widget URL. You will find it by following these steps:
Click Embed from the left-hand setting panel and click the iFrame code option

In the pop-up window, choose one of the iFrame codes options (Dynamic or fixed width and height) and click Copy code

Go to your website code and paste this code.
Features of the LinkedIn widget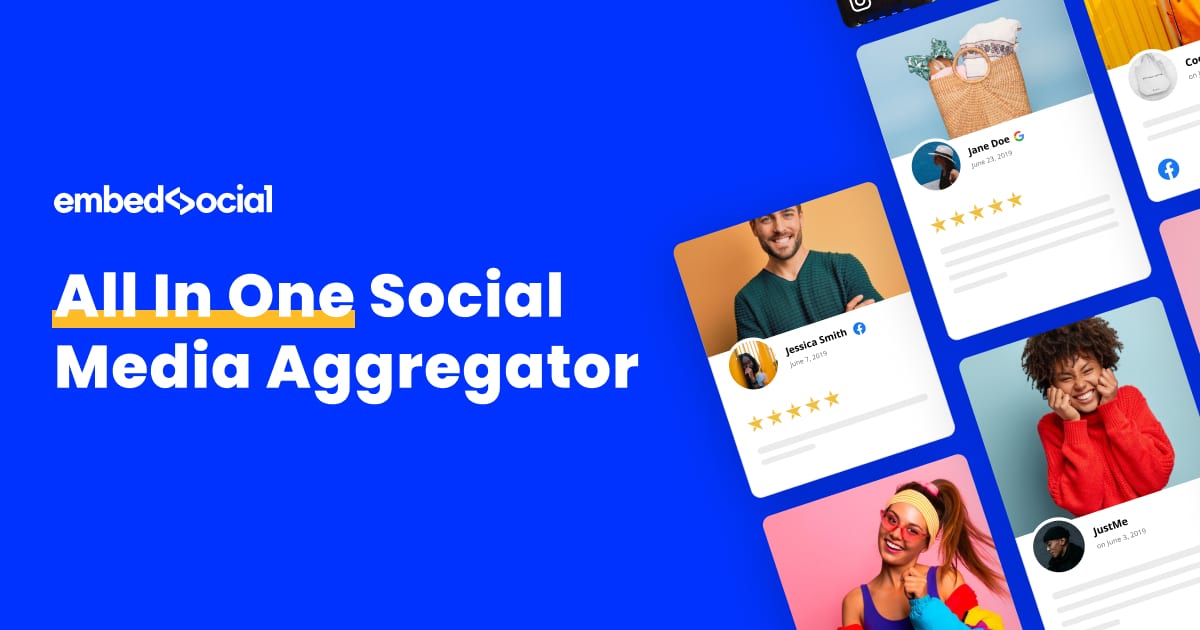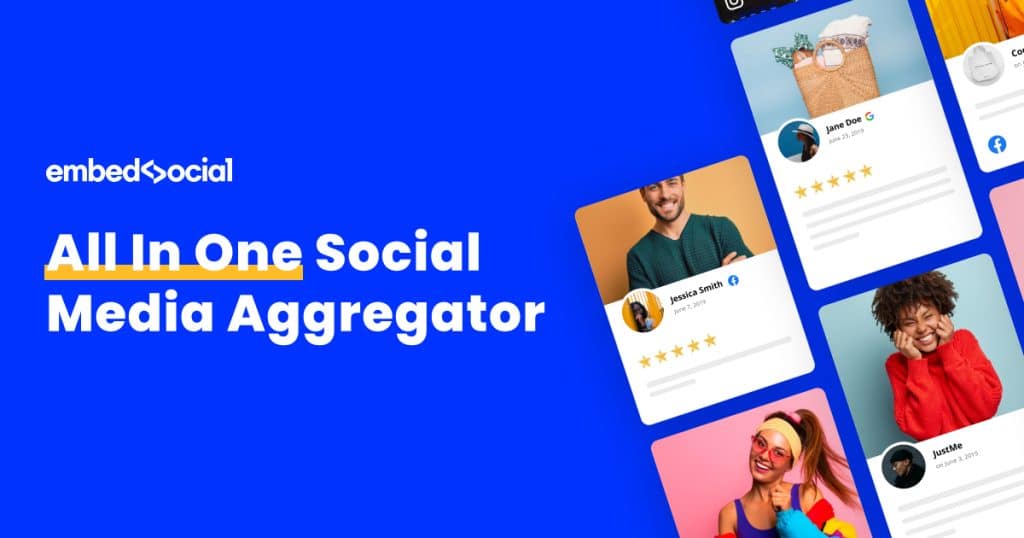 EmbedSocial's widget editor is one of the most robust editors for social media feeds. The list of features is constantly updated and provides users with exceptional capabilities and flexibility to make their LinkedIn widgets as custom as possible.
Here are some of the main features:
Automatic Syncing: Automatically syncs all your social posts with your website's social wall.

Content Aggregation: Collects and curates content from your favorite social media platforms, allowing you to embed social media feeds on your website in seconds.

Template Library: Offers a constantly updated template library with new widget designs for any social media campaign.

Hashtag Walls: Allows you to expand the reach of your hashtag campaign, curate social content with few clicks, display real-time posts, sync automatically, and add 'Buy' buttons to re-invent the shopping experience.

NEW AI Post Translator: an advanced tool that leverages artificial intelligence to automatically translate content in your feeds from one language to another.

Social Commerce: Enables you to embed Shoppable Instagram or TikTok Feed and convert more website visitors into customers.

Moderation: Offers advanced moderation features enabling you to have complete control of what will appear publicly in the feed.

WordPress Plugin: Provides an official WordPress plugin that allows you to use shortcodes instead of JavaScript to embed your social media feeds in the WordPress website.

API Access: Privdes API access for premium users to implement EmbedSocial's capabilities in their own systems.

User-Generated Content: You can generate, store, and display user-generated content such as Google Reviews and combine it with social feeds in an amazing social widget for your website.

Multiple Accounts Support: The system is designed to support multiple Instagram accounts or types of social media content, such as hashtags.

Customization: Allows you to use multiple templates or a custom CSS editor to make your Instagram widgets fit your brand and website design.

Cancellation: Allows you to cancel anytime with no hidden costs or fees.

Dedicated Support Team: Provides a dedicated support team to assist you in real time.

Unlimited widgets: Integrate LinkedIn feeds on your website without any limits.

Integration with CMS and Web Builders: Works with all major content management platforms and web builders, such as WordPress, Squarespace, PageCloud, Joomla, Wix, Weebly, Shopify, Magento, Open Cart, and all platforms that provide an option to embed third-party iframes or javascript codes.
Need more social media sources?
As mentioned, EmbedFeed is a complete social media aggregator that will enable you to create social media walls from multiple sources, such as Instagram, Facebook, YouTube, Vimeo, TikTok, and more.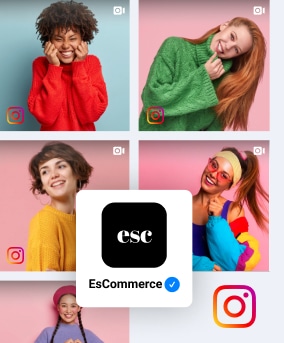 Show social media wall on your website automatically!
Try EmbedFeed and display Instagram, Facebook, YouTube, Pinterest, TikTok, and Vimeo feeds on your website in seconds.
All PRO features | Cancel any time.
Why should you embed your LinkedIn feed on your website?
There are many benefits on why you should embed LinkedIn feeds on any website; we will mention just a few of them.
Increased engagement
You're presenting your audience with dynamic, relevant content by embedding your LinkedIn feed on your website.
Adding and collecting LinkedIn feeds to your LinkedIn page posts can encourage your visitors to interact more with your site, potentially leading to increased dwell time, lower bounce rates, and higher conversion rates.
Plus, the discussion and commentary around your embedded LinkedIn profiles, LinkedIn posts, and page posts can spur additional conversation and engagement.
Authenticity
Authenticity is an invaluable asset in the digital world. Displaying real-time LinkedIn interactions can help build trust with your audience by showing that you're actively engaged with your industry and community.
This transparency helps show your company page brand as reliable, thus fostering deeper connections with your audience.
Brand awareness
The embedded LinkedIn feed helps you to showcase your LinkedIn activities – posts, shares, comments, likes, etc. – tell a story about your brand. By displaying these on your website, you give visitors a glimpse into your business culture, values, industry involvement, and much more.
This can help reinforce your website-building brand image and make it more memorable to website visitors.
Increased traffic
Your LinkedIn feed on the website also serves as an additional source of valuable content that can potentially draw more visitors to your company's website.
If you regularly share insightful content on your social media feed LinkedIn, displaying this on your site gives you more opportunities to attract organic traffic and improve your website traffic and SEO.
Read More: How to generate traffic on Social Media
Professional credibility
LinkedIn is a platform for professionals, and displaying LinkedIn feeds on your website can enhance your professional credibility.
A LinkedIn thought-provoking post can contribute to a relevant discussion, a custom post, or a testimonial from a client; each post contributes to your professional reputation.
Content variety
Embedding your LinkedIn feed on the website also adds a dynamic content element to your website.
It helps break the monotony of static web pages, providing fresh, engaging content that keeps visitors intrigued and more likely to explore further WordPress websites.
Network expansion
Visitors who see your LinkedIn activity might be inclined to connect with you on the platform, leading to an expanded professional network. This can open doors to new business opportunities and partnerships.
Showcase achievements and updates
Your company page, HTML website, or LinkedIn feed may contain significant business updates, achievements, or endorsements you want your visitors to see.
Displaying these prominently on the company web page can help highlight your successes and position your business.
In summary, embedding LinkedIn feeds on your website provides a wealth of content, increases engagement, builds trust, boosts brand awareness, and enhances your professional standing.
Why use our EmbedFeed's LinkedIn widget to embed LinkedIn posts?
The EmbedFeed LinkedIn Widget simplifies sharing your professional journey and network interactions with website visitors. It helps you to easily embed your LinkedIn feed and bring your social activity to your website.
Furthermore, the embedded LinkedIn feed increases engagement, adds credibility to your business website platform and online presence, and keeps your audience updated with professional news and achievements.
It gives you control over customization, update frequency, and more. It also reduces the hassle of manual embedding, saving you time and effort. Showcasing your LinkedIn feed on the website helps boost your site's credibility, engagement, and overall user experience.
This makes it a valuable tool for any professional or business-focused website-building platform.
Signup below to add LinkedIn feeds on your website today!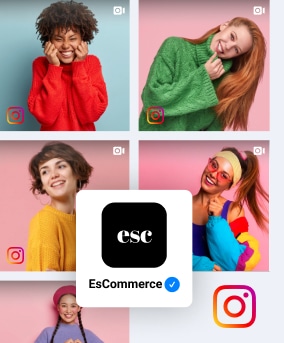 Show social media wall on your website automatically!
Try EmbedFeed and display Instagram, Facebook, YouTube, Pinterest, TikTok, and Vimeo feeds on your website in seconds.
All PRO features | Cancel any time.
FAQ about embedding LinkedIn
Can I embed a LinkedIn feed?
LinkedIn does not directly provide a LinkedIn feed widget with multiple LinkedIn feeds of posts you can embed on your website.
However, several third-party services like EmbedSocial offer LinkedIn feed widgets that can help you easily embed your LinkedIn feed.
These services connect to your LinkedIn account, pull data from your feed, and provide an embeddable widget that displays this feed on your website.
How does LinkedIn feed work?
LinkedIn Feed is the constantly updating list of updates and other various LinkedIn page posts and company or LinkedIn company page or LinkedIn company page name posts you see on your LinkedIn homepage. It operates similarly to the news feed and other LinkedIn and company page or company page URL posts you would see on other social networking sites.

When you log in to LinkedIn and visit your homepage, you'll see various LinkedIn posts in your feed. These posts can include:

Updates from your Connections
Company Updates
Group Posts
Sponsored Content
News and Content

LinkedIn uses an algorithm to determine what to display in your feed, prioritizing content most likely relevant to you.

This is based on various factors, including your connections, your interactions on the platform (like LinkedIn posts you've previously liked or shared), the popularity of the content (measured in likes, shares, and comments), and the relevance of the content to your industry or profession.
How do I customize my LinkedIn feed?
Customizing your LinkedIn feed lets you prioritize the content that matters most. Here are a few ways to customize your LinkedIn feed:

Follow Relevant People, Companies, and Groups: Following people who share interesting content, companies relevant to your industry, and groups that focus on your areas of interest can help populate your feed with relevant content.

Engage With Posts: The LinkedIn algorithm takes note of the LinkedIn posts you like, comment on, or share and prioritizes similar content in your feed. Engaging with content that interests you can help customize your feed over time.

Adjust Your Preferences: LinkedIn allows you to adjust your feed preferences. Go to your LinkedIn homepage, click on the three dots in the top right corner of any LinkedIn post, and select "Improve my feed."

You can follow or unfollow topics, influencers, or companies to tailor your feed content better.

Hide or Report Unwanted Content: If you come across content you don't want to see in your feed, you can hide the individual LinkedIn post or report it to LinkedIn, which helps the platform refine what content is displayed in your feed.

Follow Hashtags: LinkedIn allows you to follow LinkedIn company feeds, follow hashtags in custom LinkedIn posts, and embed LinkedIn feeds in the LinkedIn post below.
Can I search my LinkedIn feed?
You can use the main search bar at the top of the LinkedIn page to find people, jobs, content, and more. After entering a search, you can also use the "Posts" filter to find specific LinkedIn posts related to your query.