Social media aggregator for any website.
Embed social media feeds and hashtag campaigns on your website in seconds.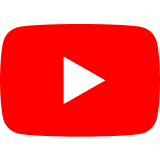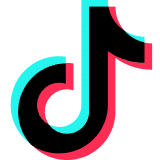 Latest integrations with YouTUbe, TikTok and Google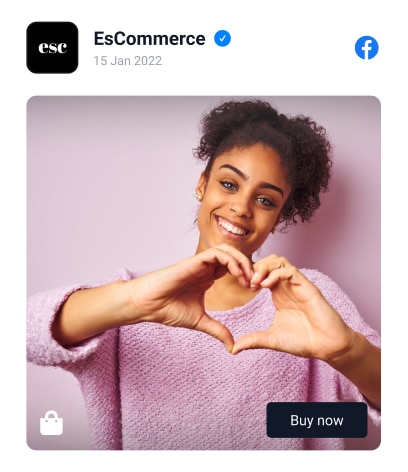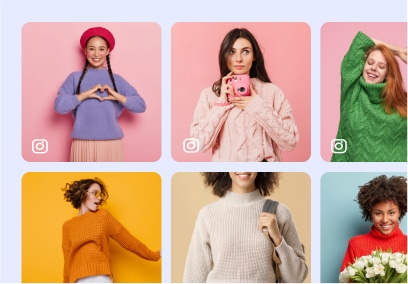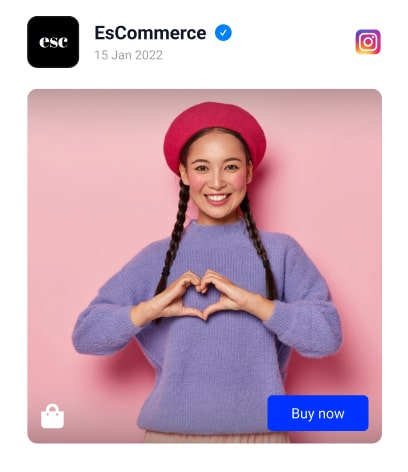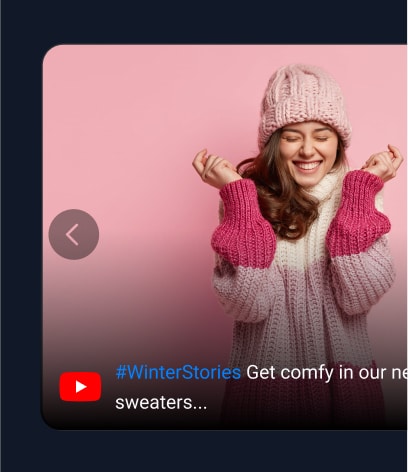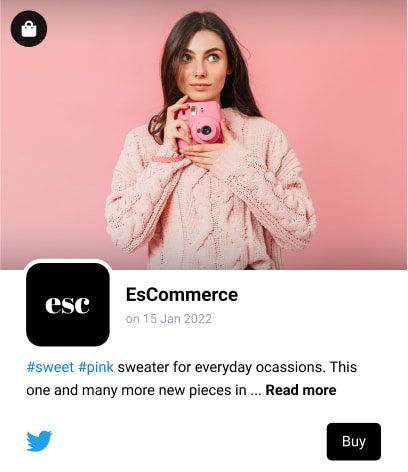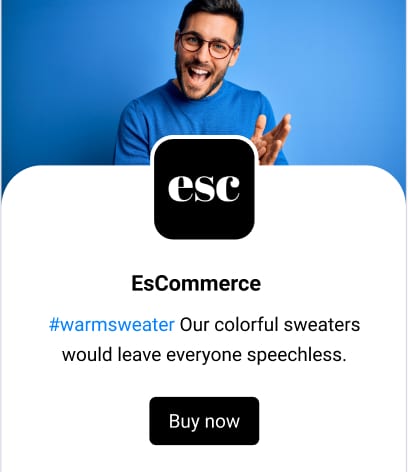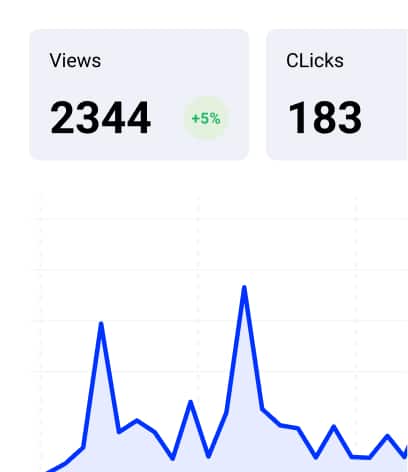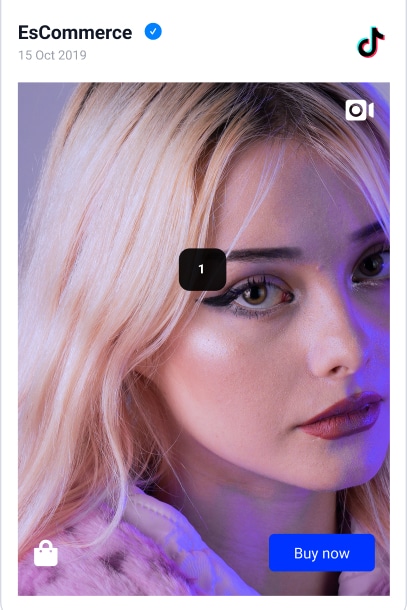 How does a social media aggregator work?

EmbedFeed is one of the best social media aggregators that automatically syncs all your social posts with your website.
Create an EmbedSocial account
Connect social media accounts
Customize and embed the social media widget

Social media feed widgets for

any website design.
Templates library that constantly updates for any social media campaign.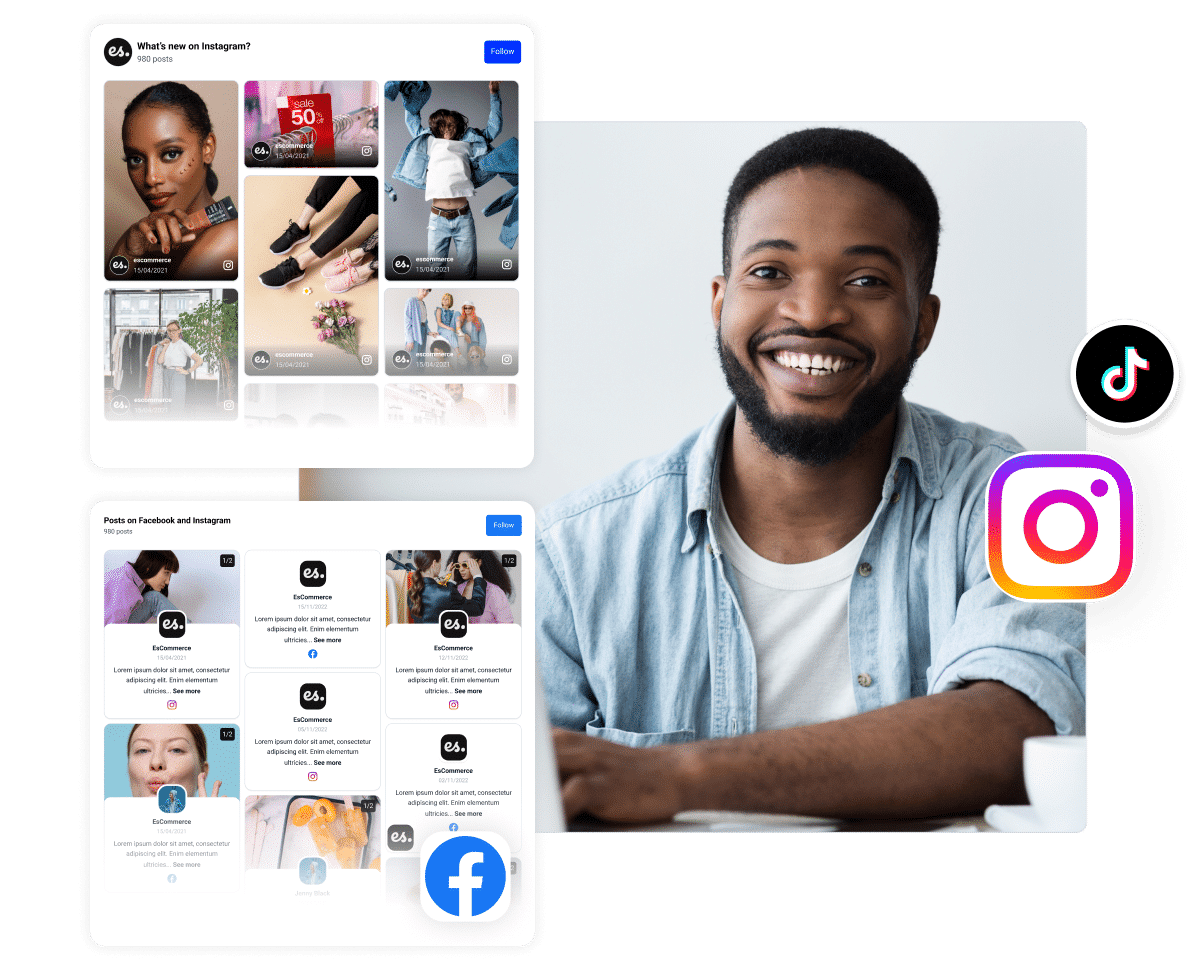 Embeddable code
Code that works on any web platform that supports Javascript.
Mobile responsive
Mobile-friendly widgets that fit any device size and digital screen with responsive design.
One widget, multiple platforms
Construct a combo widget that will include posts from multiple networks.
Custom CSS
Popular
Stay on brand and make your own style and design for unique widgets.
Browse 20+ Instagram widgets & Instagram templates
What is a social media aggregator?
Social media aggregation tool to sell more.
A social media aggregator collects and curates content from your favorite social media platforms, allowing you to embed social media feeds on your website in seconds. It is increasingly popular to embed large social media widgets with lots of content from different platforms.
Hashtag walls
Expand the reach of your hashtag campaign.
Reach a bigger audience with your hashtag campaigns, extending their presence from social media platforms to your website.

The hashtag aggregator enables you to curate social content with few clicks, display real-time posts, sync automatically, and add 'Buy' buttons to re-invent the shopping experience.

Explore more →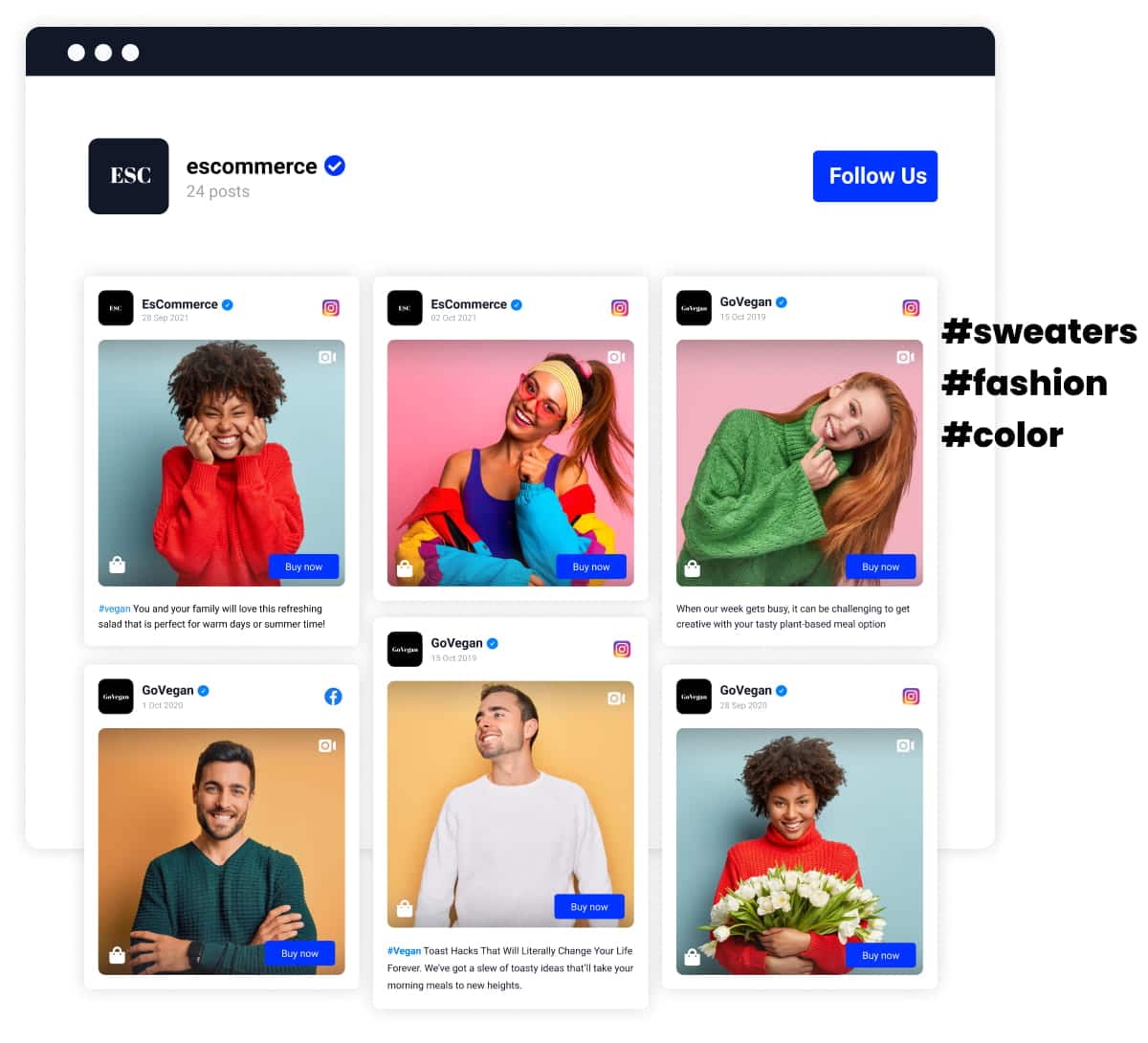 Social Commerce
Embed Shoppable Instagram or TikTok Feed and convert more website visitors into customers.
Sell on-site with visual social media marketing.

Display an entire UGC social media wall and tag photos with your products, thus creating a social e-commerce experience on your website.

Explore more →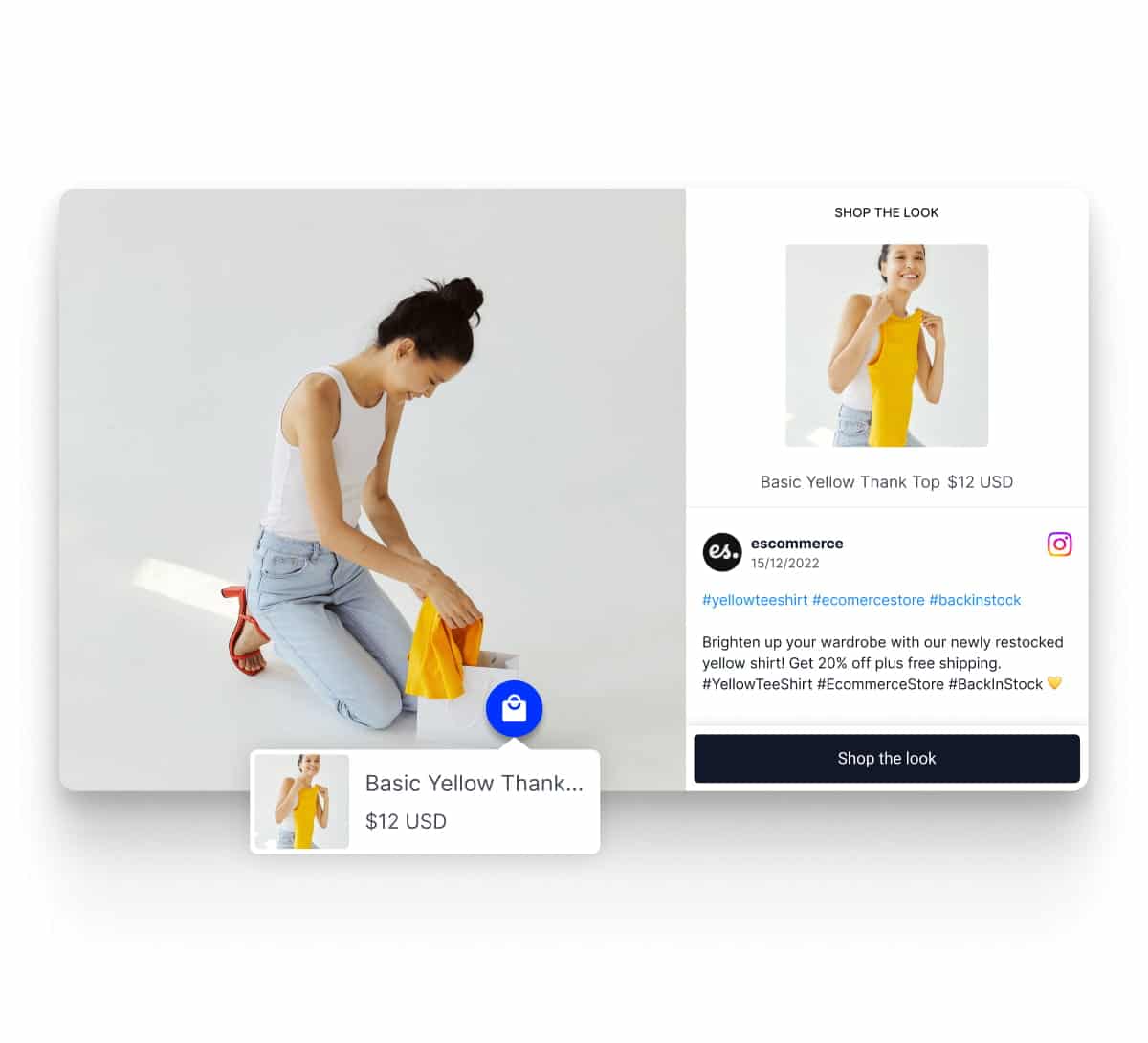 Moderation


Control which social media posts show on your website.

The Social media aggregator has advanced moderation features enabling you to control what will appear publicly in the feed.

Make sure you use the negative keywords filters to ban posts containing specific keywords you don't want to display on your website. Or curate your social media walls with a simple on/off auto-sync option.

Learn more →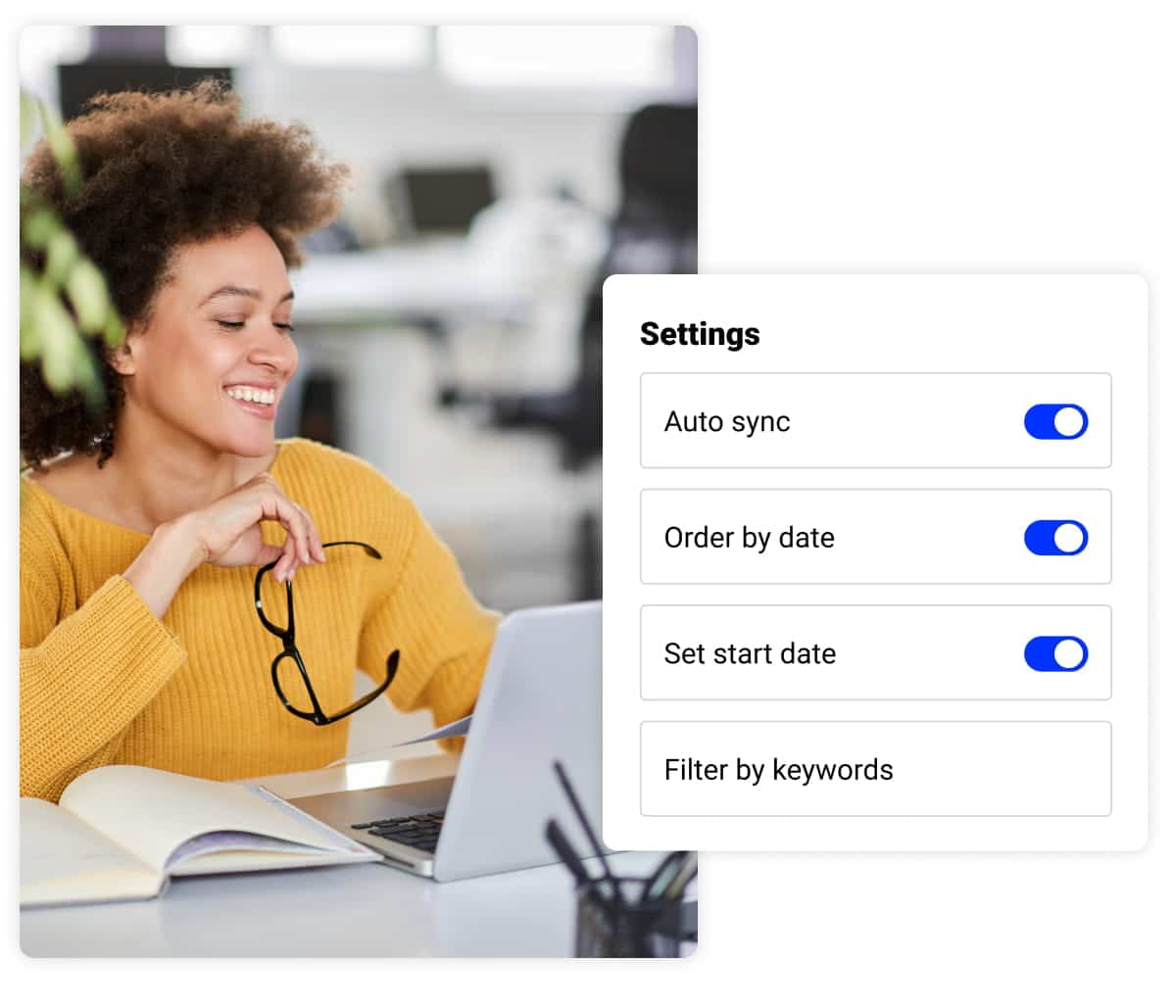 More sources
Empower your social media feeds with Google reviews.
Integrating Google Reviews into your social media feed will display real-time customer reviews, enhancing your brand's credibility and providing social proof.

Together with Instagram mentions, TikTok videos, and hashtags posts, you can now showcase real, authentic, user-generated content that engages your audience and helps you sell more.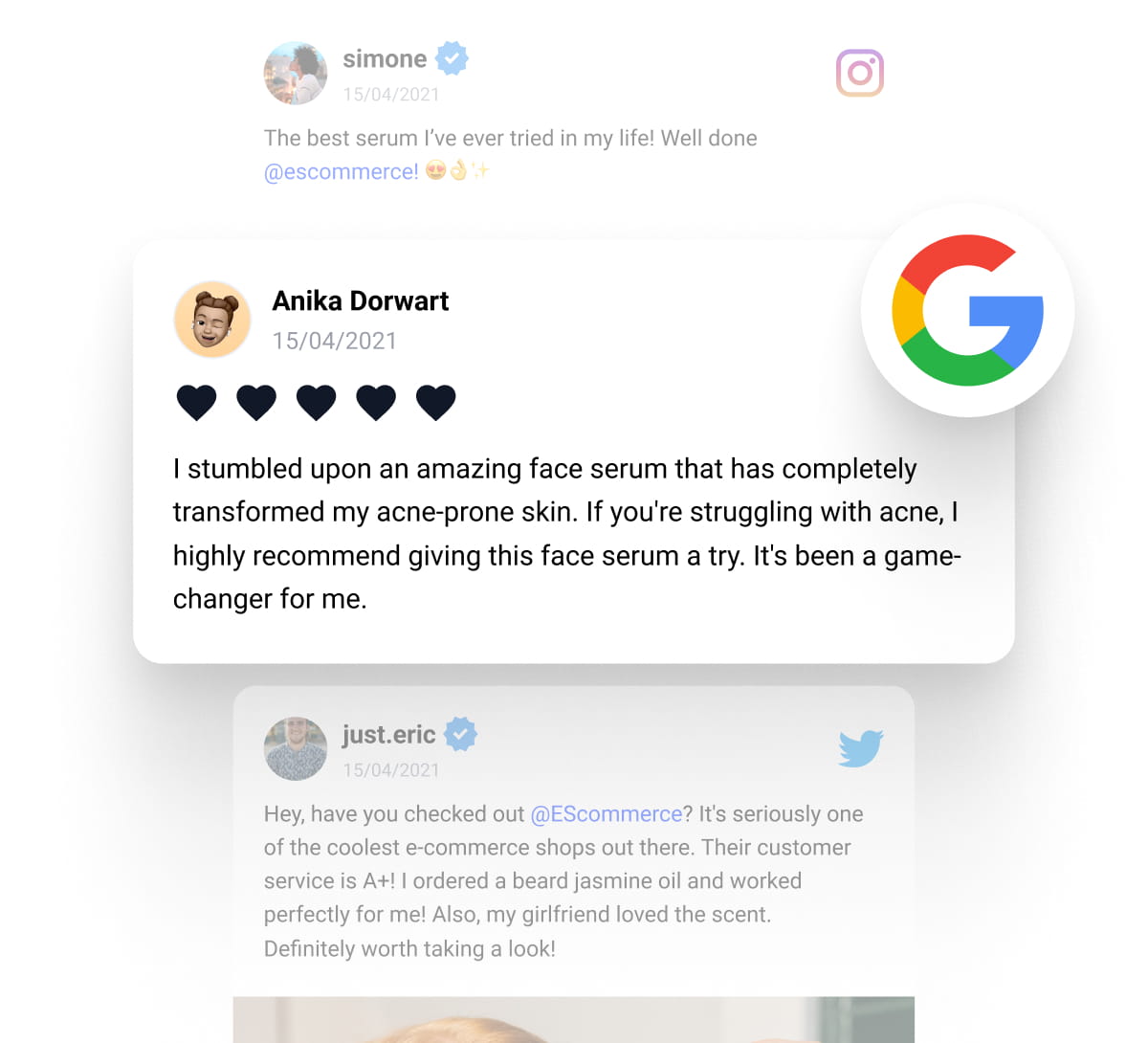 Customization
Variety of settings for full customization of card styles & layouts.
The widgets editor allows you to tailor the look and feel of your social media feeds to align with your brand's aesthetic perfectly. Whether you prefer a minimalist design or a vibrant, eye-catching layout, our customization options have got you covered.

Adjust the color scheme, typography, card shapes, and more to create a unique and engaging user experience on your website.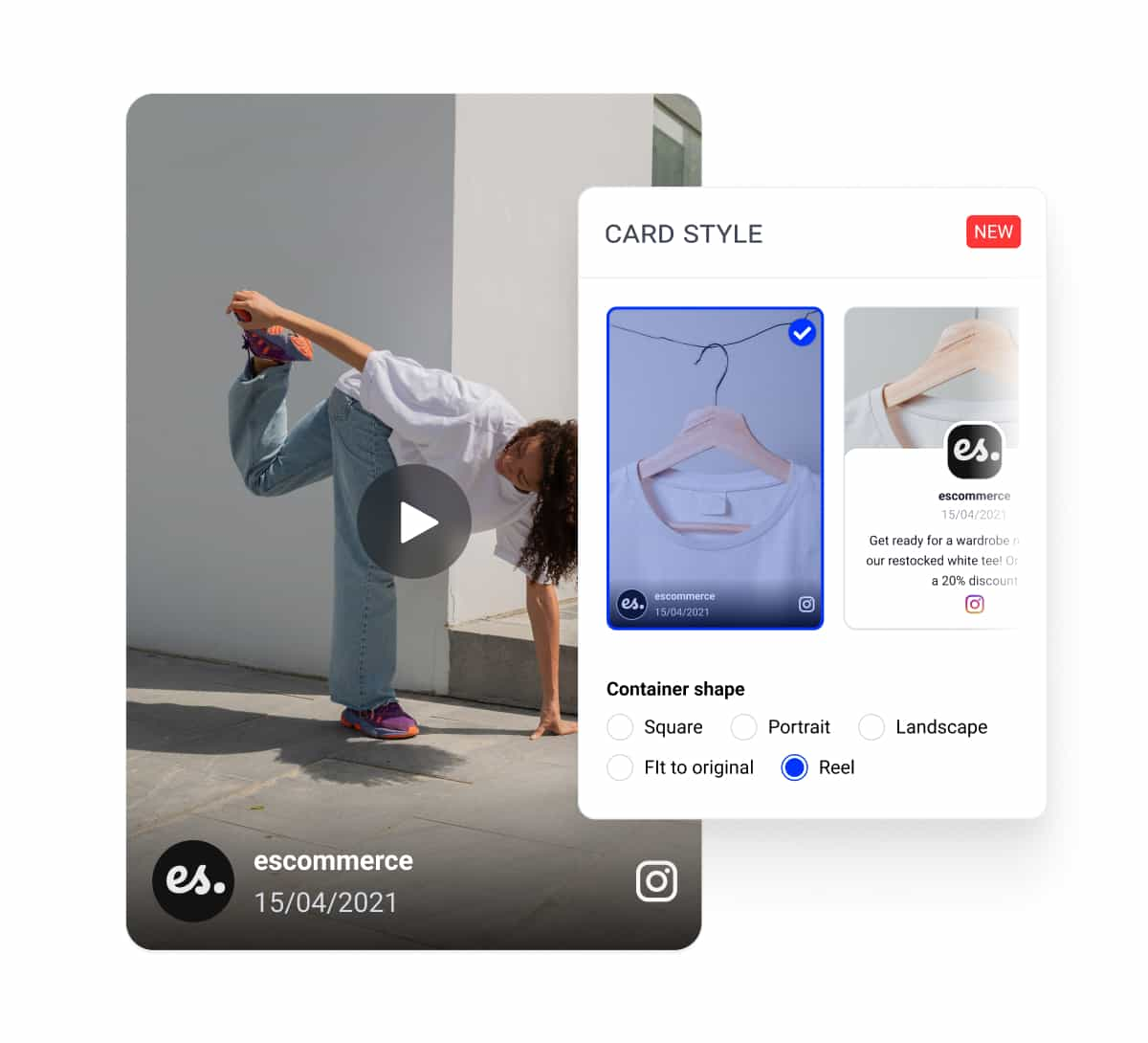 Official WordPress plugin


Free social media feeds WordPress plugin.

Like all popular social media aggregators, EmbedSocial provides an official WordPress plugin that allows you to use shortcodes instead of JavaScript to embed your social media feeds in the WordPress website.

✓ Use shortcodes
✓ Regular updates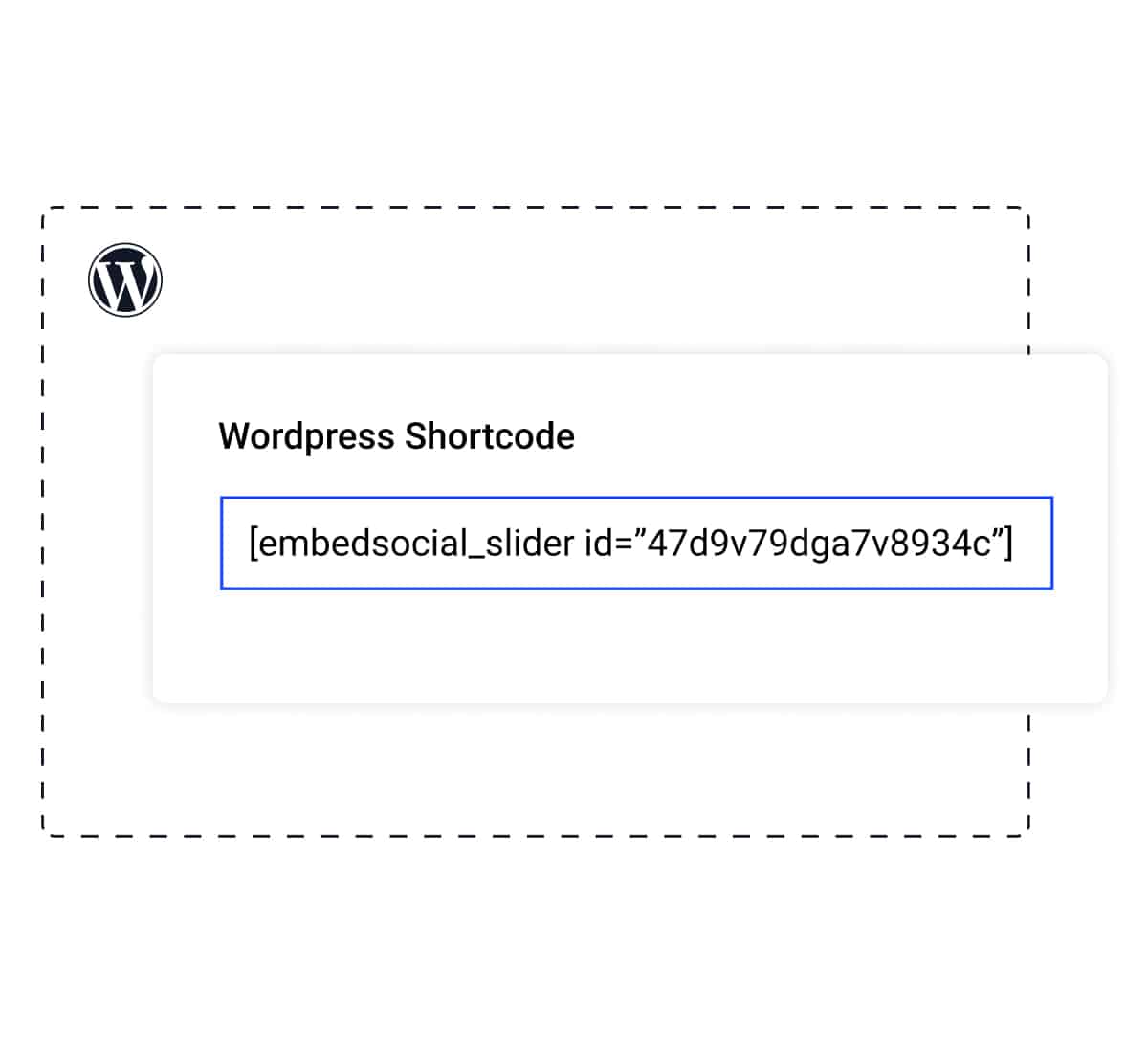 Rights management


Ask for rights to use user-generated content on Instagram.

Navigating the world of user-generated content can be tricky, but our feature makes it simple and straightforward. With our "Ask for Rights" feature, you can easily request permission to use user-generated content on Instagram. This feature lets you directly reach out to the content creator with a request to use their photos, videos, or posts in your marketing efforts.

Available now for Premium users!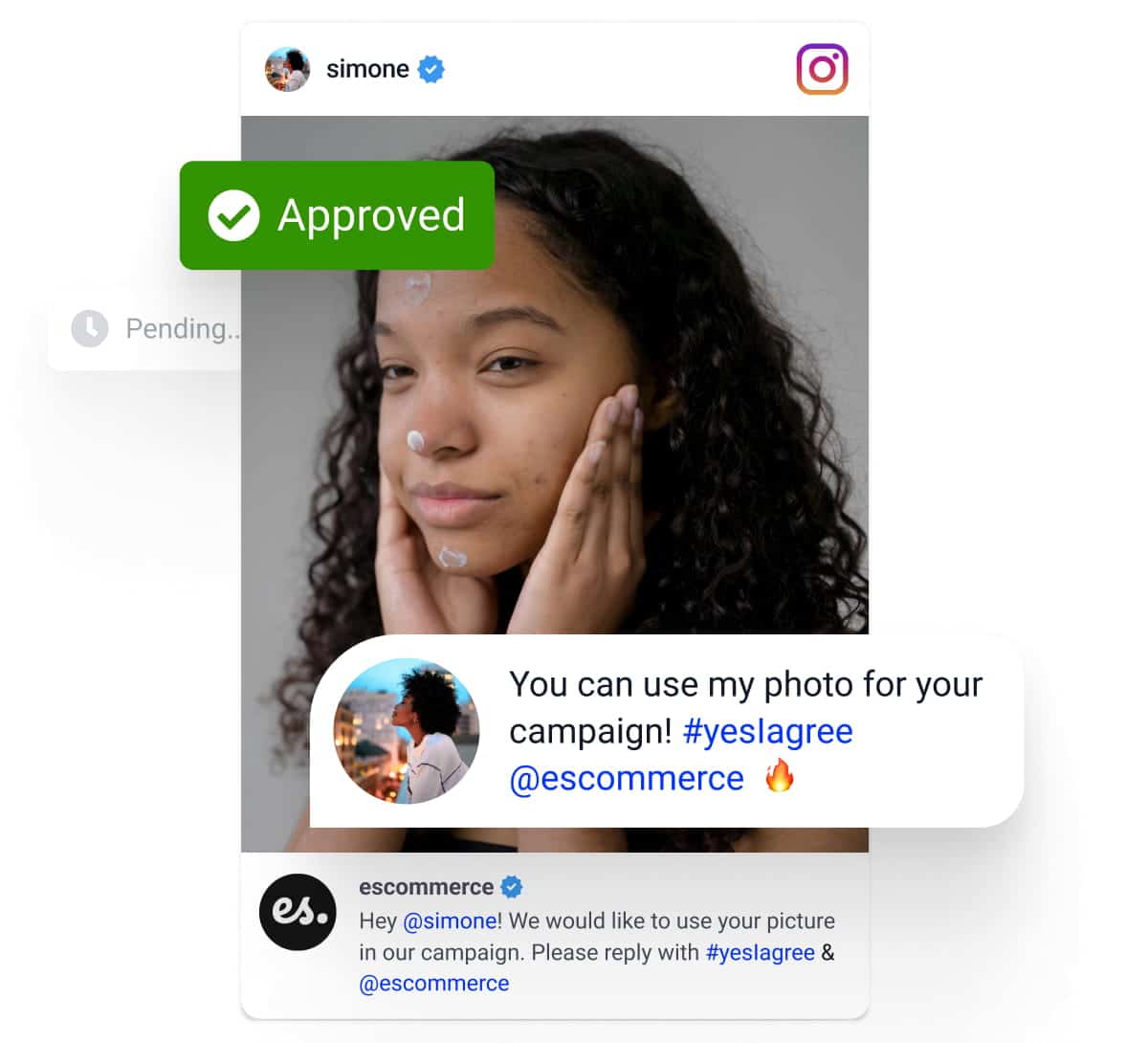 Let social proof drive your sales. Try today!
Unlock EmbedFeed PRO features.
Offical API integrations
Fast-loading widgets
Cancel anytime
Dedicated support
What our users are saying:

TrovaTrip increased booking conversion rates by 12% with customer testimonials in just 4 weeks
Nick Poggi
TrovaTrip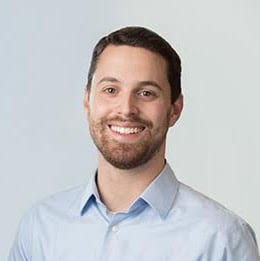 The team at Embed Social is so easy to work with. They are very quick to respond to any special requests and fast to implement account changes. Aside from the great customer service, their products are also very easy to use and offer a lot of freedom that you can't get with other similar products. Definitely recommend.
Ryan Hazlewood
Developer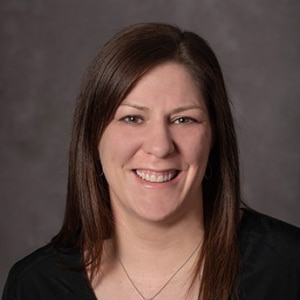 EmbedSocial allows us to showcase social media content on our web pages in a way that's both functional and vibrant. Their library of social feed designs integrates seamlessly with our existing components and is easy to use for page editors of all skill levels.
Zanna Ollove
Boston College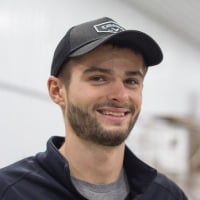 The experience with EmbedSocial has been amazing. We're always looking for ways to leverage our time, so finding a product to keep our reviews fresh automatically was a no-brainer.
Brooks Hitzfield
Seven Sons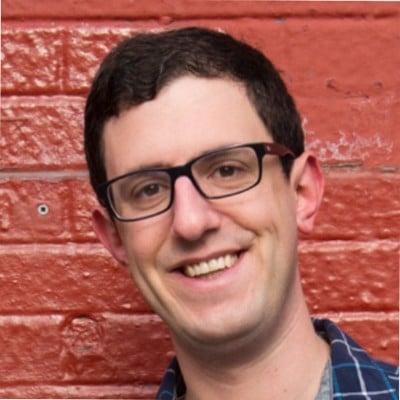 It has been pretty simple to display social proof with EmbedReviews, and their team has been great in assisting with technical implementation.
Eric Hnatov
Industrious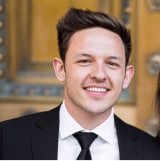 We are spending half of what we previously did for our last review manager, and getting 100x more out of it! I honestly am amazed at what we are getting for the price. I wish we had switched to EmbedReviews years ago.
Kodi Duncan
3 Key Elements
Frequently asked questions
Everything about social media aggregator
Have a question? Check the FAQ section below or click the chat icon to talk with us.
You know, when a customer or blogger posts a genuine photo of using your product? Thanking you for your great support or for providing an amazing product
Well, that's user-generated content, the one that 
EmbedSocial
 can generate, store, and display in an amazing social feed for your website, bringing authenticity to life in a whole new way.
User-generated content
 is becoming the number #1 marketer's focus in almost every industry and using robust social media aggregators helps get the most out of it.
And if you are looking for the best social media aggregator you have come to the right place.
Yes, you can litteraly handpick which photos show in your feed published on your website. The moderation options are various, which means you can filter only posts posted after certain dates or posts that include certain words.
Yes, the system is designed to support multiple Instagram accounts or types of social media content such as hashtags. Check our 
pricing plans
 and choose which plan suits the number of Instagram sources you need.
We currently provide more than 10 widgets and we regularly increase the widget library. At the moment you can use:
– Instagram carousel widget
– Instagram slider widget
– Instagram slideshow widget
– Instagram slideshow widget without thumbnails
– Instagram slideshow widget with vertical thumbnails
– Instagram Feed (4 different widgets)
– Instagram masonry widget
– Instagram grid widget
Feel free to contact our customer support if you need more layouts.
Yes. The EmbedSocial platform is integrated with all major social media networks, such as Facebook, Twitter, TikTok, Instagram and Youtube and provides you with the options to choose more social media sources of the posts for your web feed.
Yes, you can use multiple templates or a custom CSS editor to make your Instagram widgets to fit your brand and website design. You can use limitless customization options on the pro version, pro plus, and the premium version. The free version doesn't allow customization options.
The pricing plans for EmbedSocial's social aggregator tool start with $29/month and provide all PRO features available in the platform. Plus the platform provides one of the best free aggregators that you can start using with a branding banner and upgrade at any time to remove branding.
EmbedSocial integrates and works with all major content management platforms and web builders, such as WordPress, Squarespace, PageCloud, Joomla, Wix, Weebly, Shopify, Magento, Open Cart, and all platforms that provide an option to embed third-party iframes or javascript codes. There is an Instagram feed plugin available.
Yes, the widget will stop showing on your website but you can come back and activate your account any time.