If you use Instagram Stories to promote your business, you may already know that this feature goes a long way to help you connect with your customers and engage them in a more personal and friendly manner.
But, are you using Instagram Stories to its fullest potential? What about replicating the familiar Instagram Stories experience on your website, too?
This is now possible with the EmbedStories platform!
We developed a simple Stories tool that automatically generates your Stories posted on your Instagram Accounts and transforms them into eye-catching and fully interactive Instagram Stories widget.
You don't need to be an API geek. Since we have a direct integration with the Instagram API, the platform can create an unlimited number of Instagram Story widgets for your website instead of you.
Whether you are a marketing agency, business owner, or an individual, EmbedStories provides you with a quick and simple way to create the Story widget your website visitors deserve and level up your social media strategy in just a few clicks!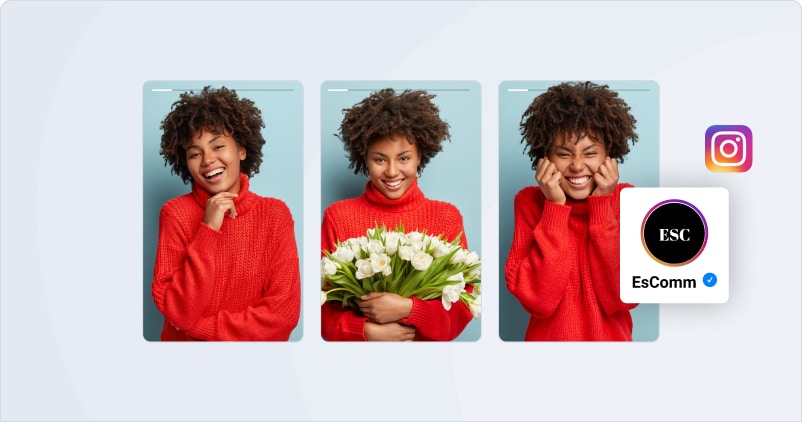 Benefits of Instagram Stories widgets
Enhances website vibrancy
Increases user engagement and interaction
Improves dwell time
Reduces the time of manually adding your Instagram Stories
Boost sales with Shoppable Instagram Story widget
Expands the reach of your Insta profile
Boost your Instagram followers base
Variety of Instagram Stories widgets
We developed a variety of fully customizable and interactive widget layouts that fit perfectly to all mobile devices and look great on desktop and tablet, too. Our layouts are so flexible that they can adjust to every website branding and match any web builder theme.
Connect the Instagram Story widget to your Instagram account and just watch how your followers base will expand in a blink.
The best part?
You can create a shoppable Instagram Story widget and boost your website conversion rates by adding custom Buy buttons that will direct visitors to the checkout page.
Custom CSS editor for your Instagram Story widget
Our widget design options don't fit your website branding? No problem!
We created the EmbedStories platform to be so flexible that you can do a complete makeover of the widget look and feel using our Custom CSS option.
If you find it difficult to apply the CSS option or you just want guidance, feel free to reach out to us and we will help you create the best Instagram Story widget your visitors deserve!
How to embed Instagram Stories on your website?
Follow these easy steps to generate Instagram stories and create your story widget:
Start your free trial for EmbedStories
Connect Facebook account that is linked with Instagram profile
Go to Widgets, choose the Instagram profile and click 'Create widget'
In the edit view, customize the widget
Copy the top-right code
Paste the code to in your website body section
Create multiple Instagram Story widgets for every website you have
We don't limit you on the number of websites you can use to show an Instagram Story widget. So, no matter if you have just one of five websites, we allow you to create an Instagram Story widget for all of them using the same account.
So, whether you are a digital marketing agency, business owner, photographer, social media influencer, or designer, EmbedStories is developed to be a time and energy saver when it comes to telling your business story in a well-organized manner.
Our widget fits perfectly at any e-commerce storefront, too.
How to embed Instagram Stories in WordPress websites?
Our widget works like a charm when embedded on a WordPress website.
It takes less than a minute to copy and paste the provided shortcode from the EmbedStories platform into the HTML section of your WordPress website editor where you want to display the widget.
Need help?
Frequently asked questions about Instagram stories widgets
Have a specific question about the Instagram Stories widgets? Explore the FAQ section below or click the chat icon to talk with us.
Yes! The EmbedStories platform integrates with the Instagram API and allows you to connect your Facebook accounts that manage Instagram profiles. And once you do this the platform will continue to automatically generate all the stories you publish on Instagram.

You can try the following 5 Instagram Story widgets:

Slider
Lightbox
Story List
AMP List
Slider List

Yes! We encourage you to explore all the widget layouts, moderation, and customization option available within the platform. Additionally, if needed, try our custom CSS editor for a complete makeover of the widget appearance.

Absolutely. EmbedSocial platform is compatible with the major CMS and web builders like WordPress, Squarespace, PageCloud, Joomla, Wix, Weebly, Shopify, Magento, OpenCart. Additionally, we support every platform that allows embedding third-party iframes or javascript codes.
Yes! Within the moderation option, you can handpick which Instagram posts you want to be shown on your published widget.

Yes. All you need to do is add a custom 'Buy' buttons on any media you need, so next time your website visitors click on that CTA button, they will be redirected to the checkout page where they can buy the promoted product.

Yes! You can use the EmbedStories platform to generate your Instagram Stories, but you can also manually upload Story Pins from Pinterest.

Unfortunately, yes. We will do our best to help you get the best experience from our EmbedStories tool, but if you don't find it valuable and decide to cut-off the subscription, we will have to remove the Instagram Story widget that was published on your website. However, we will patiently wait for you to change your mind and return to our platform 🙂
Browse all stories widgets