User-generated content (UGC) is all over the internet. From influencer marketing to review sites and blog posts, users constantly talk about different brands.
The popularity of UGC has raised an important question: How do we manage UGC rights?
UGC contains intellectual property, and many legal issues come up frequently. Rights management entails comprehending the rights of creators, figuring out appropriate uses, and ensuring that the use adheres to copyright regulations and other legal frameworks.
This guide digs into the importance of UGC rights management and the details of how to get UGC permission requests with EmbedFeed.
What is UGC rights management?
The process of regulating the legal and intellectual property rights connected to user-generated content is known as UGC Rights Management. It encompasses concerns like copyright infringement, permits, licensing, and fair use across various digital channels.
Furthermore, UGC rights management includes creating standards and frameworks to safeguard content producers' legal requirements and rights.
In order to protect the integrity of content ownership and dissemination, UGC Rights Management seeks to find a balance between fostering user innovation and doing so.
Individuals, companies, and platforms can enjoy a fair and open content production and distribution environment by properly managing UGC rights.
For example, GoPro shares a lot of content on their Instagram page with their customers and use the #GoProAwards program as a way to gain permission to use UGC for their marketing purposes.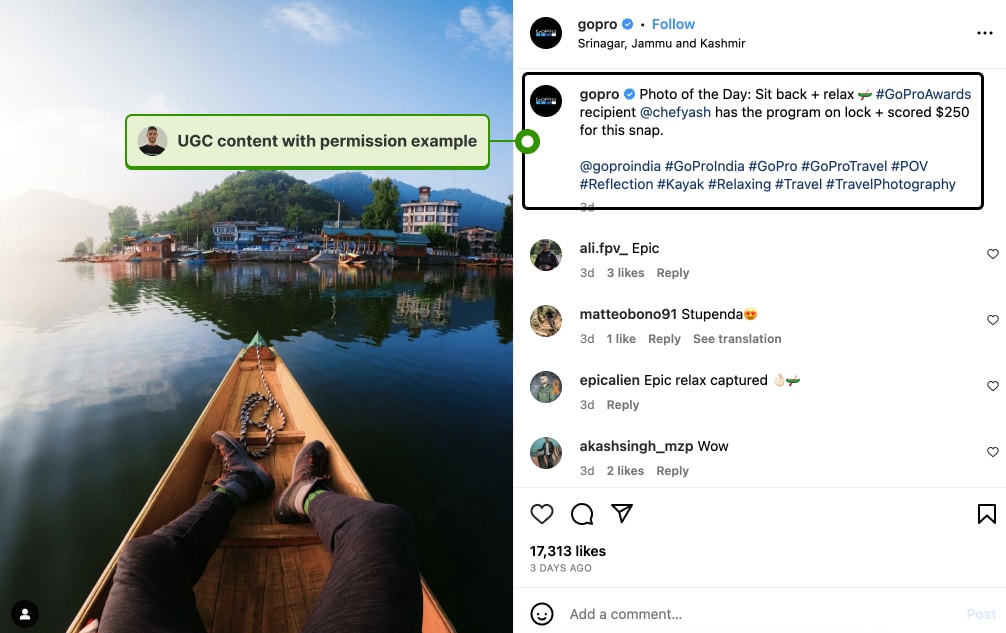 Why is User Generated Content Rights Management Important?
User-generated content rights management is crucial because it protects the intellectual property of content creators, fosters an environment that is fair for content creation, ensures legal compliance, reduces the risk of copyright infringement, and allows brands to use UGC for marketing, boosting their reputation and authenticity.
Let's dive deeper into the importance of getting legal rights on social channels.
Content Security
Businesses and platforms can protect UGC's originality and integrity by establishing appropriate rights management processes that stop illegal use, plagiarism, and copyright infringement.
A proper process for requesting content rights gives content producers peace of mind by ensuring their original works are safeguarded and used legally, stimulating them to share more UGC about their favorite brands.
Also, it promotes a culture of respect and trust inside online communities, which motivates people to keep sharing their worthwhile information without worrying about being taken advantage of or mistreated.
Brand Reputation Management
Brands can avoid legal issues, guard against reputational harm, and show their dedication to upholding the rights of content producers by getting the proper permits and licenses for user-generated material.
Furthermore, by ensuring that the content brands use is consistent with their brand messaging and image, good content rights management helps brands to uphold their principles and moral standards.
Brands can boost their reputation as responsible and respectful actors in the digital sphere by taking the time to get the permits and licenses they need diligently.
Gain organic brand influencers
Brands can drive their audience to act as brand advocates by gaining consent and using UGC in accordance with the general data protection regulation and ethical standards. These advocates will share valuable content and provide genuine word-of-mouth marketing.
UGC rights management also enables companies to use the legitimacy and veracity of user-generated content to boost their marketing initiatives.
Many brands could encourage individuals to become brand influencers, naturally pushing their goods or services to a larger audience and generating meaningful interaction by presenting real experiences and endorsements from pleased consumers. This user-driven advocacy can bring brands exponential growth and a good reputation.
Access to user-generated content
Proper UGC rights management gives platforms, and companies access to a sizable collection of priceless user-generated material. Organizations can use UGC for marketing initiatives, social proof, and expanding consumer interaction by correctly managing and licensing it. This will eventually increase brand visibility and trust.
How does GDPR affect user-generated content?
GDPR applies to any UGC that contains personal information about individuals within the European Union (EU). Here are a few ways GDPR affects UGC:
Consent and data protection: Before collecting, utilizing, or displaying UGC that involves personal data, platforms, and businesses must have appropriate consent methods in place. Users have a right to access, revision, and deletion of their personal information, as well as information about how their data will be used.

Privacy by design: Platforms and companies should initially include privacy considerations in their UGC systems and procedures. This entails putting organizational and technological safeguards in place to guarantee personal data protection and safeguard the privacy of people who participate in UGC.

User control and rights: Users have the right to data transfer and the right to object to the processing of their data. Platforms and companies must provide users control over their personal data that is used to create UGC.

Data transfer: GDPR restricts the transfer of personal data to non-EU nations that do not have an appropriate degree of data protection.
What type of consent do marketers need for their marketing campaigns?
Marketers must gain the proper consent before using user-generated content (UGC) or engaging in marketing interactions with individuals. Depending on the particular use case and jurisdiction, they might need several types of consent.
Expressed consent for UGC use
In order to use user-generated content (UGC) in marketing efforts, marketers often need the creator's express permission. A formal agreement or a particular checkbox expressing approval for using their material are typical ways to get express consent.
Implied consent for UGC use
When UGC is posted publicly, and the author of the material reasonably anticipates that it may be used for marketing reasons, you might need implied consent. Nonetheless, it is crucial for marketers to take caution and make sure the use of implied permission complies with all relevant laws and regulations.
Opt-in consent for marketing communications
Marketers commonly demand users' opt-in agreements for marketing communications such as email newsletters or promotional messaging. Opt-in consent is when a person voluntarily and consciously gives their consent to receive marketing materials or to be contacted by doing so.
Ways to get UGC rights permission
Here are some typical ways to get UGC right permission for advertising purposes:
Direct request: Use messages, comments, or email campaigns to ask for explicit legal consent directly and make sure you get it in writing.

UGC terms and conditions: The rights and permissions related to user-generated material can be outlined by establishing particular terms and conditions for UGC on platforms or websites. By providing their content, users consent to these conditions and give the required permissions for its usage.

UGC rights management tools:  For the sake of ensuring compliance and streamlining the authorization process, these systems frequently provide features, including consent forms, content license agreements, and rights tracking.

Hashtag campaigns: Using hashtag campaigns motivates people to produce and distribute UGC with a particular hashtag. By participating, users imply consent to the use of their material in connection with the campaign, provided that it complies with the campaign's rules.

Contests and promotions: Participants consent to the required rights and permissions for the use of their content related to a certain promotion or contest.

User agreement on sign up: It ensures that users understand and give approval for the use of their content. With this strategy, the user's contact with the platform or brand is explicit regarding the rights involved from the start.
What can you do with a user-generated content rights management tool?
Marketers can effectively manage and realize the potential of gaining more user-generated content with the help of a content rights management tool such as EmbedSocial.
These solutions offer a complete strategy for controlling UGC rights and maximizing its impact across many digital channels, including curating and presenting UGC campaigns, embedding feeds on websites, making shoppable galleries, and combining UGC into an email and paid advertising.
Display UGC Campaigns
Thanks to UGC rights management tools, marketers can organize and promote UGC campaigns across various digital media. These platforms enable creation of engaging and dynamic campaigns that aggregate, filter, and display UGC in aesthetically appealing formats.
Embed UGC feeds on website
These technologies allow UGC feeds to be easily embedded onto websites or landing pages. Marketers can choose the display options, such as the style and layout, to easily include user-generated content in their online presence. The display of actual customer experiences and material improves user engagement, social proof, and authenticity.
Publish shoppable UGC galleries
Tools for managing UGC rights frequently provide options for building shoppable UGC galleries. Users can browse and immediately buy highlighted things when marketers link user-generated content to certain products or services. Bridging the gap between user-generated content (UGC) and e-commerce increases conversions and offers a smooth buying experience.
Social & email advertising
Marketers could simplify the process of including UGC in social media and email advertising campaigns by using UGC rights management systems. Tools like this make obtaining the necessary licenses and rights easier, guaranteeing that UGC used in marketing materials for social media platforms and email campaigns adheres to all applicable intellectual property laws.
How to request UGC rights with EmbedSocial
Unlike traditional media, asking for content rights from social media accounts can be challenging.
That is why EmbedSocial has recently introduced a UGC rights management tool in the EmbedFeed product. It now has an automated process for requesting content rights from users on Instagram.
Here are the key rights management features of EmbedSocial
Directly request UGC rights on Instagram

Auto-post requests in comments

Real-time tracking of request status
It is a very simple way to gain permission by posting a comment below the photo posted by the user. Companies usually use EmbedFeed to collect content that customers post using their branded hashtags. And now, with the rights requests, they can gain free access and exclusive rights to use this content.
Here is how to use EmbedSocial to request permission to use social media content for marketing purposes:
Before you start, start a free trial and login to your account.
Step 1: Go to 'All Posts' and click on the 'Rights requests'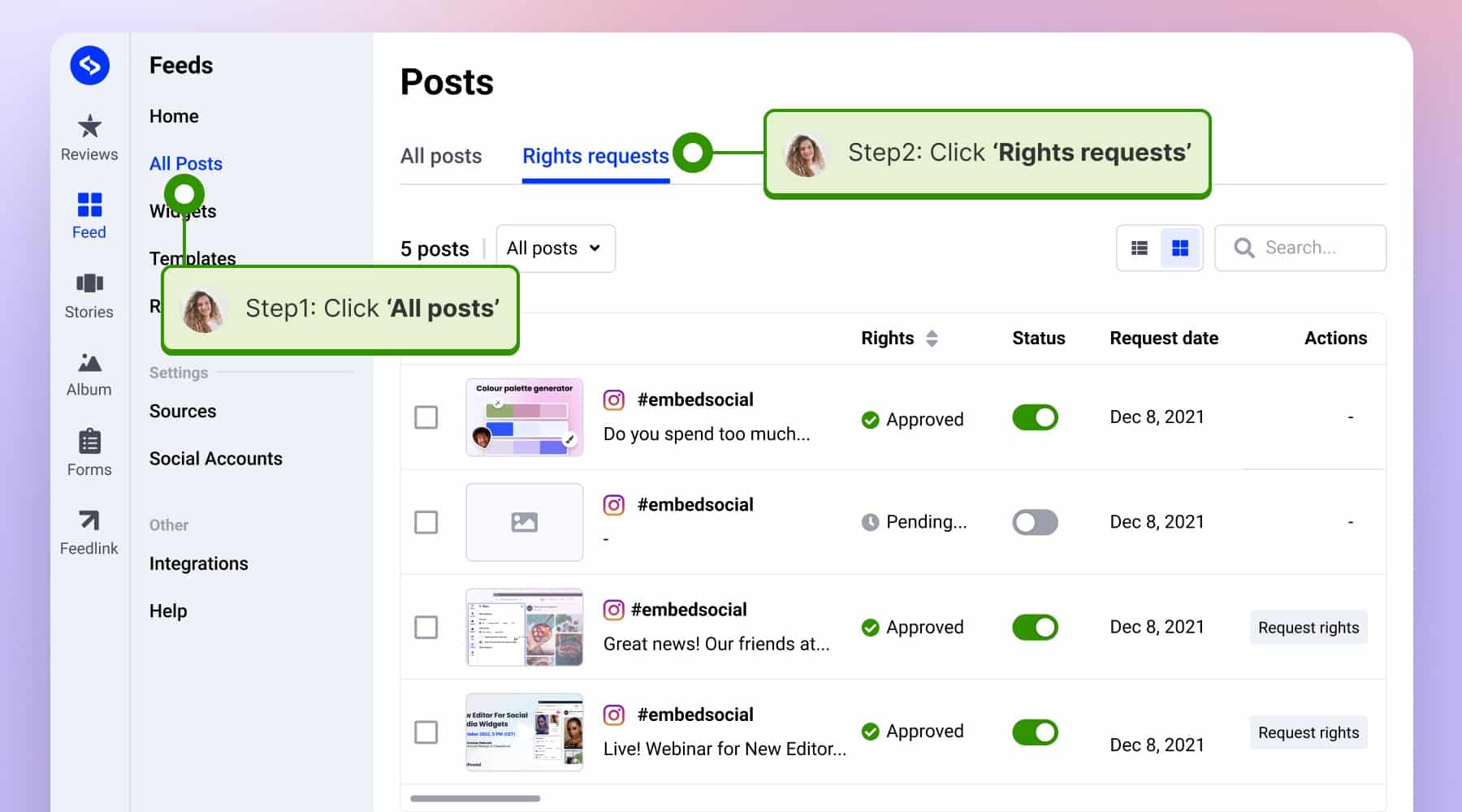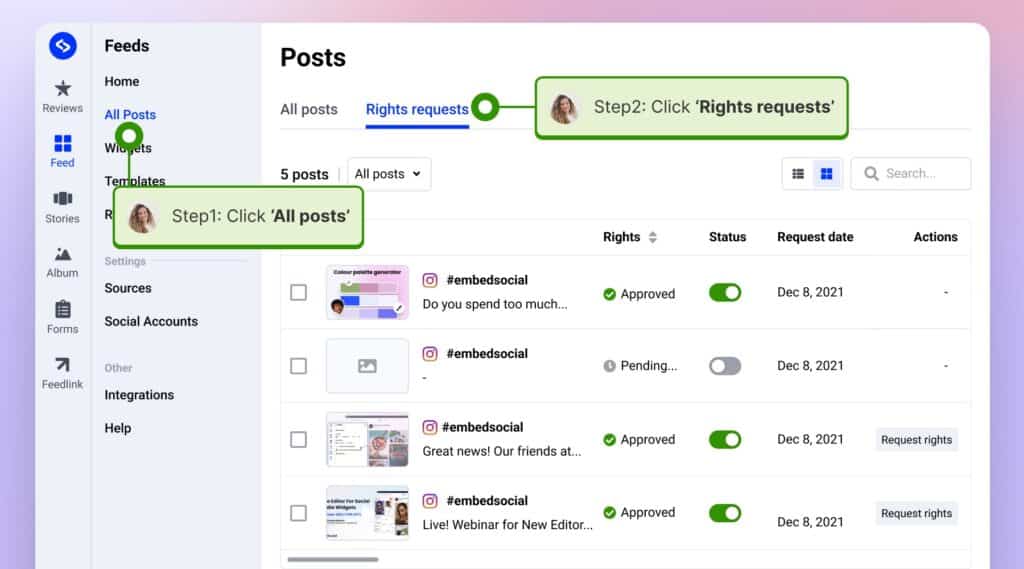 Step 2: Install Chrome extension for requesting content rights on Instagram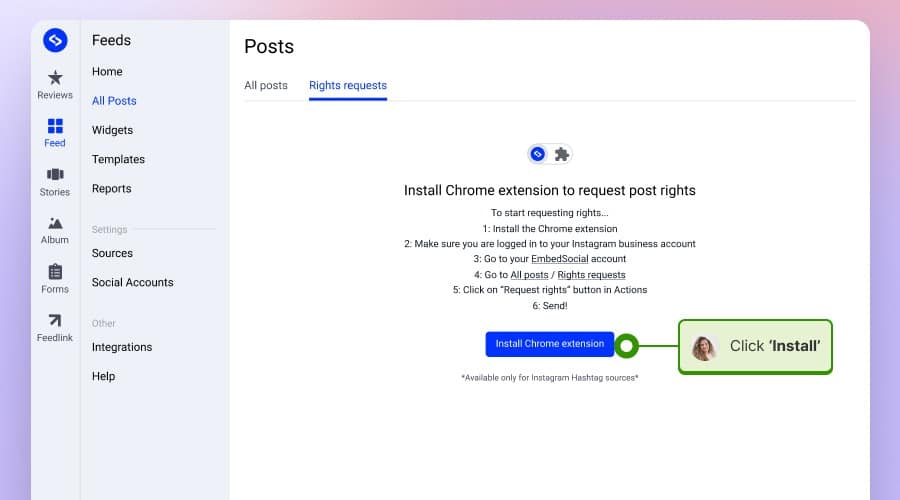 Step 3: Go back to 'All posts > Rights requests' page, and click Request rights next to the post you want to get content usage. In the popup, choose the Instagram account from which you want to post the comment, double check the comment text and click 'Post comment' as shown below:
Step 5: Once you post the comment and the user replies with the 'yesagree' reply, it will automatically approve the content in your dashboard.
That's it. Now you can get exclusive rights directly from your customers and use their content for your marketing purposes.
Here is the full tutorial for requesting rights >
It provides brands with easy access to the opportunity to ask the copyright owner for the ownership rights of their creative output and gain explicit permission to use relevant content in digital ads or elsewhere.
Conclusion – protect your intellectual property with UGC rights management
Businesses and content creators should protect their creative works, stop illegal use and copyright infringement, and keep control over their intellectual property by implementing efficient UGC rights management processes.
Emphasizing the defense of intellectual property through UGC rights management is essential for nurturing a fair and safe digital environment for content creators and businesses, whether through getting the necessary consent, utilizing UGC within legal and ethical boundaries, or utilizing UGC rights management tools.
---
FYI: Embed Instagram widget automatically with the social media aggregator and UGC platform by EmbedSocial. Click below to try it for free: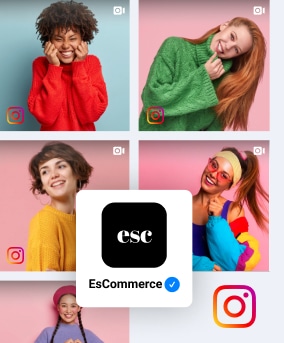 Embed Instagram widget on your website automatically!
Try EmbedFeed and display Instagram content from your feed, mentions, or hashtags on your website.
All PRO features | Cancel any time.
FAQ about rights requests for UGC
Will consumers give me permission to use their content?
The type of content, the context in which it is used, and the particular permissions asked are only a few of the variables that affect getting explicit consent from users to use their content. 
When using user-generated content, it's crucial to set up clear rules and have express permission. This can be achieved via direct requests, putting UGC terms and conditions in place, or using UGC rights management solutions that speed up the permissions procedure.

Nonetheless, it's crucial to respect customer preferences about privacy and choice. Using or sharing some customers' material by brands or corporations may not be acceptable to them. So, it's essential to be open and honest, offer opt-out alternatives, and heed any requests to delete or stop using their content.
What can UGC do that brand content can not?
The brand-it produces traditional brand content that can be done in-house or outsourced. On the other hand, UGC is created by customers, influencers, creators, or other outside stakeholders. This type of social proof provides confirmation that the brand is reliable, boosting customer trust and brand reputation.
When do we need to get rights to UGC?
Before using User-Generated Content (UGC) for reasons beyond the ones for which it was initially posted, you first need to acquire permissions. This covers situations like exploiting user-generated content (UGC) for marketing or other commercial purposes, redistribution or republishing it, or editing the material. By purchasing UGC rights, you ensure legal compliance and respect the ownership and intellectual property of the content creator.
How much do content usage rights cost?
In the influencer marketing space, the influencer reach, content kind, and degree of interaction are some of the variables that affect how much influencers charge for usage rights. Influencers often charge between $50 and $1000 for a single post, depending on the size of their audience. For instance, an influencer with 100,000 followers would charge $500 for a post, while one with a million might want a minimum of $1000.
How to negotiate for user-generated content rights?
When negotiating for user-generated content (UGC) rights, knowing the content creator, stating your aims clearly, providing value or incentives, going through the usage conditions, and putting the agreement in writing is important. Be mindful of the content creator's rights, respond to issues, and be willing to compromise for a win-win solution.