How to Embed TikTok Videos on Any Website [Step-by-step guide]
In this tutorial, we will show you how to use EmbedFeed and aggregated TikTok videos that you can embed on your website in a responsive and interactive TikTok feed widget. But first, let's introduce the importance of TikTok and why this network is getting so much traction.
Where can you find one of Gen Z nowadays? On TikTok! Funny, informal, and absolutely addictive, this app is teen's latest social phenomenon. Formerly known as Musical.ly, Tik Tok has become one of the most popular free apps with massive adoption worldwide shaking the throne of Snapchat and Instagram, especially in Asia and India.
And we are not surprised it's trending. This app presented an alternative version for sharing video content online and expressing yourself in a creative way. It allows you to create and share short videos (from 5 up to 60 seconds) and edit them with plenty of filters or featured music as a background. Lipsync, tutorials, and many more fun things are happening on the platform.
As I am writing this, the popularity of TikTok is spreading rapidly. Check out the numbers: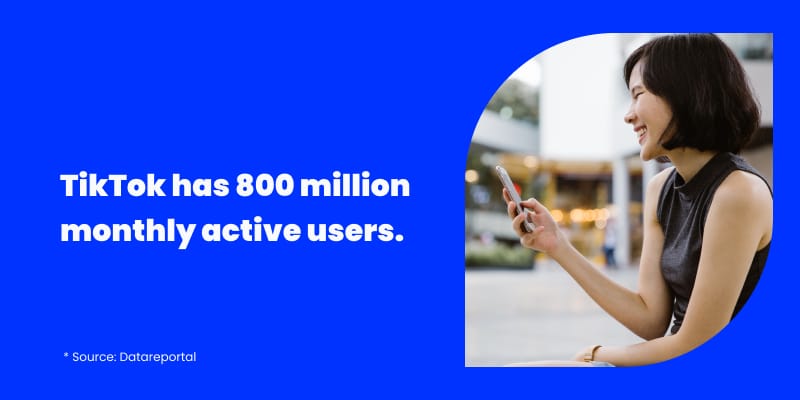 Meanwhile, users spend an average of 52 minutes per day browsing the app or creating videos. This is just another reminder that should sparkle the curiosity of brands to use TikTok popularity and promote their products and services, especially if young people are your target audience.
TikTok popularity isn't going anywhere anytime soon. This is why we will show you how you can embed TikTok videos on any website builder and make the most of this platform. Let's get to know how to include TikTok in your user-generated content strategy and amaze your website visitors. Are you ready?
Why should you embed TikTok videos on your website?
If you are a TikTok video creator – congratulations!
You are part of an enormous community that focuses on creativity and encouraging young people to be themselves.
If you are ''in it to win it'' – you might consider sharing TikTok videos on your website.
We believe that the following reasons will motivate you to jump into action:
Reason 1: Collect UGC to improve your brand visibility
In a world where younger consumers are skeptical of ads, TikTok videos can be a great way to create strong social proof on your website and show visitors how people use your brand. Having TikTok content on your website positions you as a modern brand that keeps a step with the latest trends.
Reason 2: Improves user experience and SEO metrics
Increased time on site, lower bounce rate, higher CTR are some of the SEO benefits you can expect to add TikTok videos on your website.
Reason 3: Saves time and space uploading videos
When embedding TikTok videos, you will save time and a lot of space and resources from your hosted server. Instead, videos are played from the primary source (TikTok platform). This means that you don't need to re-upload the video on your website additionally.
Okay, now that you are familiar with the TikTok video's advantages, let's dive into how to embed TikTok videos on any website (step-by-step).
We will outline 2 options, using a third-party platform or the manual native TikTok embedding option.
How to embed a TikTok video on your website with a third-party widget?
The social media aggregator EmbedFeed has a cool new option that allows users to insert links from their TikTok videos and create widgets with their TikTok feeds.
A dedicated TikTok video widget for your website, that transforms a webpage into a TikTok channel.
To create a TikTok video widget and embed it on your website, just follow these steps.
First, you need an EmbedFeed account where you will need to set up your TikTok source. Here are these steps:
Create an account in the EmbedFeed platform
Go to 'Sources' and choose TikTok
Enter the TikTok video link you want to display and click 'Create TikTok source'
In the TikTok source page, paste the video link you want to show
Then you can just click 'Add new video' to insert more videos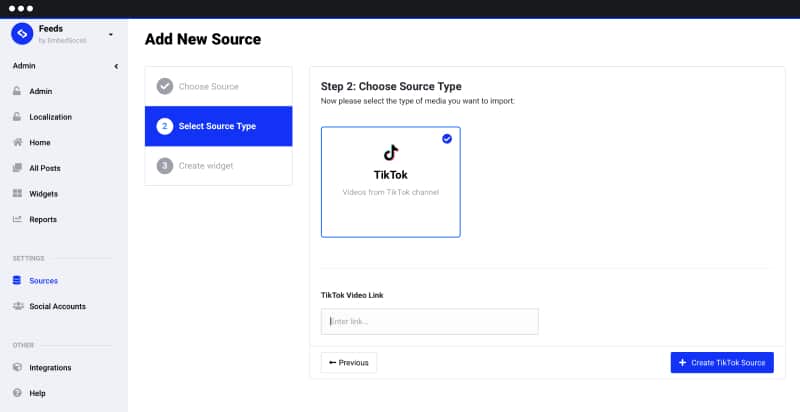 Once you insert your first TikTok video you can add more videos in the same source, and when you are ready you can create your first widget. To embed the TikTok feed follow the steps below:
Go to 'Widgets' click 'Create New' and choose your TikTok source
Customize the widget and copy/paste the provided code in your website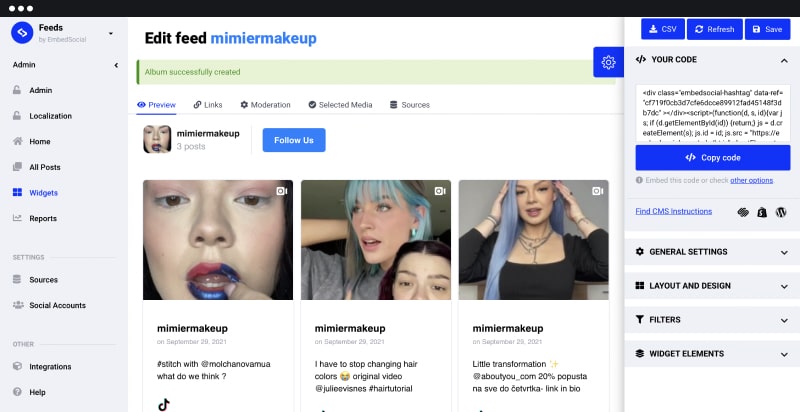 Choose from the different layouts and templates (sidebar, popup, carousel), customize with CSS, and make your TikTok video feed match your website and branding.
You can add a custom CTA button that may lead to your TikTok video URL, eCommerce site, or wherever you want to land your visitors.
How to embed a TikTok video on your website with the native option?
Before you proceed, make sure that your TikTok app is downloaded from respective app stores.
For Android users that would be PlayStore and iTunes for iPhone iOS users.
And now, follow the steps below (it takes less than a minute and you don't need a plugin):
Step 1: Open your TikTok app on your web browser (or go to https://www.tiktok.com)
Step 2: Open the video you want to embed (or copy-paste an URL from the video)
Step 3: Click the 'Get embed code' option in the share buttons corner of the video display card
Step 4: Select the 'Copy code' button to copy the HTML code to your clipboard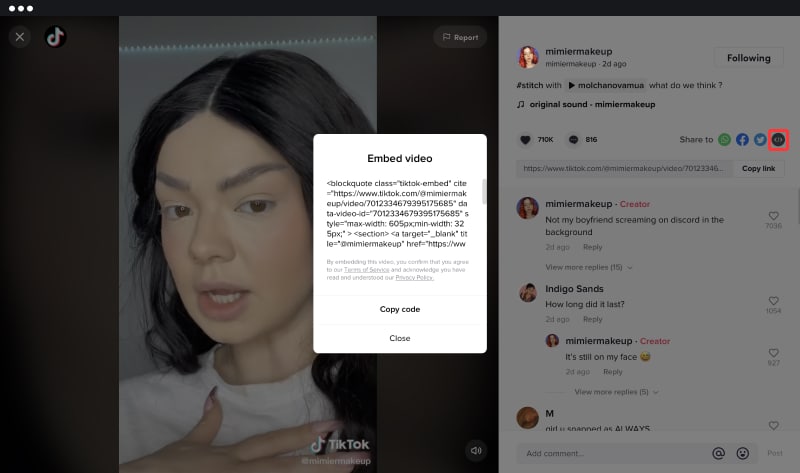 Step 5: On your website, open the page where you want to embed the video
Note: For WordPress websites use the HTML Gutenberg block or use the Code editor to paste the embed code
Step 6: Paste the code and click on 'Preview' to see if the video is correctly displayed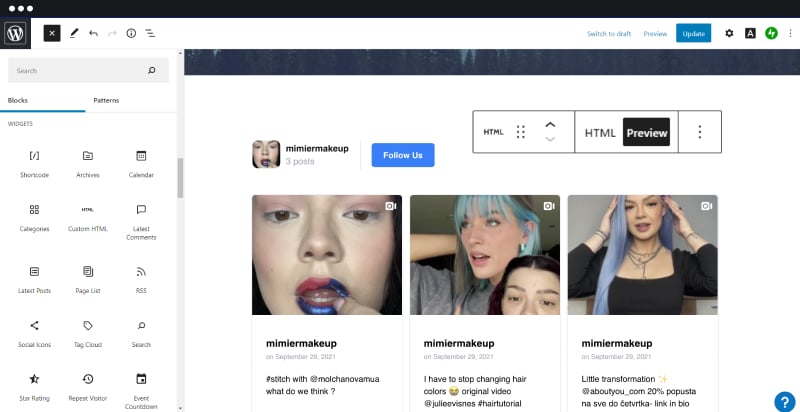 Step 7: Click 'OK', 'Save' or 'Update' (depending on the CMS)
Step 8: Enjoy your embedded TikTok video!
Here is a demo of an embedded TikTok video in this blog post:
Once embedded on your web page, the video will be displayed along with attributions such as video creator, video description, and the background original sound.
It will also link back to the same video on the TikTok app.
Please note: If a video is removed from the TikTok app, the same video embedded on a website, will no longer be available too.
For more detailed information, check out the official embed TikTok video guide for developers.
Embed videos from other Social media platforms
To do more with your social media videos, learn how to embed Instagram, or even how to embed Youtube videos on any website.
You can use our social media aggregator to generate all this content and display it on any website, automatically.
The best thing is that you can include all sources TikTok, Youtube, Facebook, Instagram, and create one video widget for your website.
Wrap up
A lot has happened since TikTok crashed the social media platforms party in 2016.
Although TikTok is becoming a more attractive platform for users, it is still uncharted territory when it comes to marketing (have in mind that the app has just begun with the paid advertising option). 
Luckily, this may be your golden opportunity to catch the wave and skyrocket your brand using TikTok, especially after the Covid-19 crisis will take its toll.
Happy embedding!