TikTok popularity isn't going anywhere anytime soon. This is why we will show you how you can embed TikTok videos on any website builder and make the most of this platform. Let's get to know how to include TikTok in your user-generated content strategy and amaze your website, visitors. Are you ready?
---
FYI: You can embed TikTok widget automatically with EmbedSocial's UGC platform. Start a free trial and display your social media widgets now.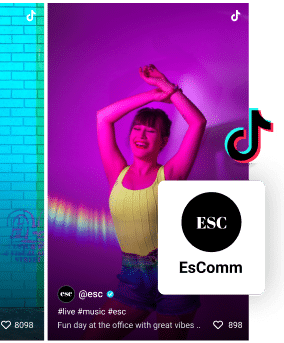 Show TikTok videos on your website automatically!
Try EmbedFeed and add TikTok videos, Instagram, YouTube or Facebook feeds to your website.
All PRO features | Cancel any time.
How Do I Embed a TikTok Feed on a Website?
We will outline 2 options: a third-party platform or the manual native TikTok embedding option.
This section contains the simpler steps in case you need the native option and do not need to sync multiple videos on your website automatically.
How to embed a TikTok video on your website with the native option?
With this option, you will be able to embed TikTok videos one by one, and for each, you will need to copy the code and paste it on your website.
Follow the steps below, it takes less than a minute and you don't need a plugin:
Step 1: Open your TikTok app on your web browser (or go to https://www.tiktok.com)
Step 2: Open the video you want to embed (or copy-paste an URL from the video)
Step 3: Click the 'Get embed code' option in the share buttons corner of the video display card
Step 4: Select the 'Copy code' button to copy the HTML code to your clipboard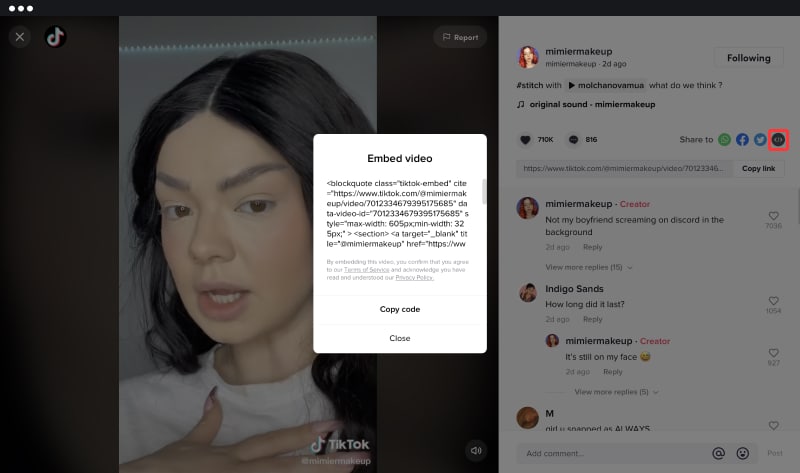 Step 5: On your website, open the page where you want to embed the video
Note: For WordPress websites, use the HTML Gutenberg block or use the Code editor to paste the embed code.
Here is a demo of an embedded TikTok video in this blog post:
Once embedded on your web page, the video will be displayed along with attributions such as video creator, video description, and the background original sound.
It will also link back to the same video on the TikTok app.
Please note: If a video is removed from the TikTok app, the video embedded on a website will no longer be available. And if you discover the UGC videos on your mobile phone, make sure your TikTok app is downloaded/updated from your respective app stores. For Android users, that would be PlayStore and iTunes for iPhone iOS users.
For more detailed information, check out the official TikTok video guide for developers.
Embed TikTok Videos with a UGC Platform
You dont have to go through all that trouble and embed TikTok videos one by one with a default design. With the social media aggregator EmbedFeed, you can automatically generate and embed entire TikTok video feeds on your website. This custom TikTok video widget will transfer your website into a live TikTok channel.
The platform provides 2 options:
Option 1: Manually insert links from TikTok videos and create widgets for TikTok feeds.
Option 2: Connect a TikTok account and automatically pull all videos from that account.
Option 1: Embed TikTok videos manually
EmbedSocial provides you with a great option to embed any TikTok video in stunning web widgets. This means you don't need account access, but you must manually add the video links.
Here are the steps:
Step 1: Select TikTok videos
Once you select TikTok as a source, in the second step, instead of the TikTok account, choose 'TikTok video'. Next enter TikTok video URLs.
In this step, submit all the TikTok video links you want to add to the widget.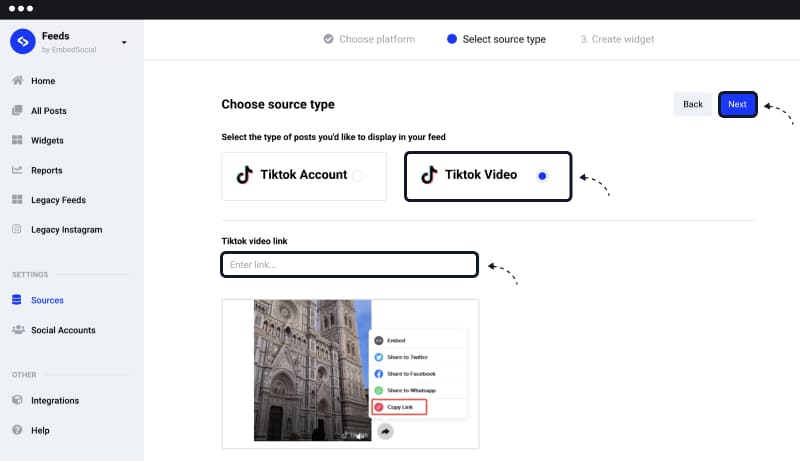 The rest of the steps to create and embed the TikTok widget are the same as described above.
Note: You can add custom CTA buttons that may lead to your TikTok video URL, eCommerce site, or wherever you want to land your visitors.
Option 2: Embed TikTok videos automatically
Follow these steps to create a TikTok video widget and embed it on your website.
First, you need to create an EmbedFeed account, where you will need to set up your TikTok source.
Step 1: Go to 'Sources 'and choose TikTok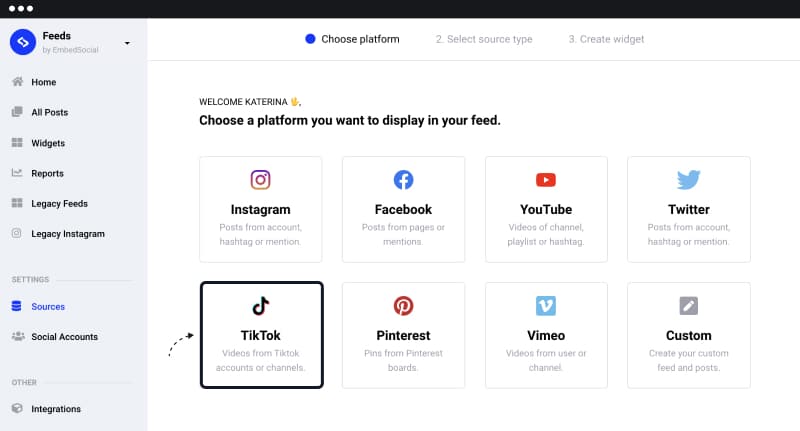 Step 2: Choose to connect TikTok account
From the 2 provided options, choose a TikTok account so you can connect and automatically pull your account's videos. Click 'Connect with TikTok.'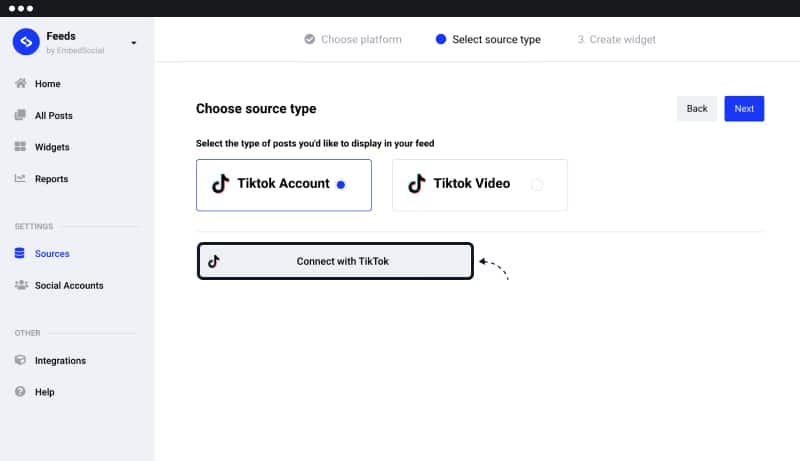 Step 3: Provide permissions to the EmbedFeed TikTok app
Once you select TikTok, a popup will appear where you will need to click 'Authorize' to allow the app to sync with your TikTok account.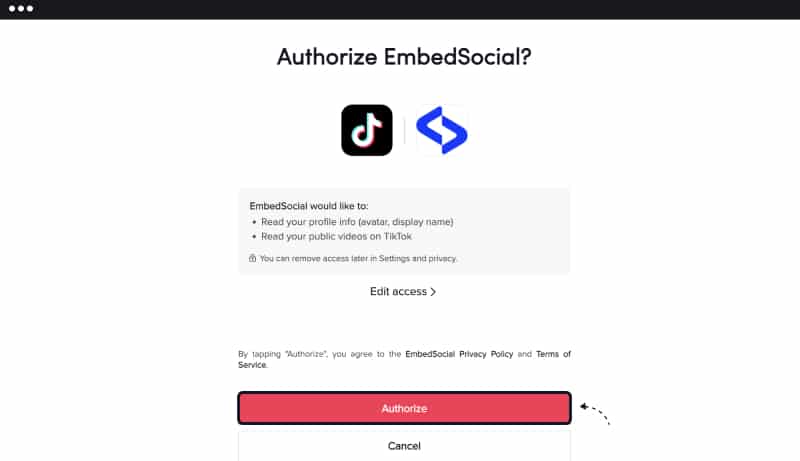 Step 4: Choose the TikTok account
Click the dropdown and select your account to generate TikTok videos. Once you are done, click Next.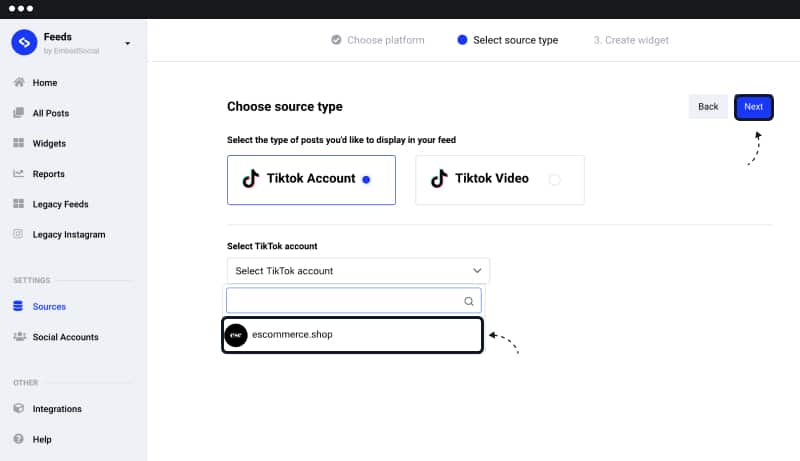 (if you have more than one, you can repeat the steps and add them also as sources.)
Step 5: Choose TikTok widget template
Choose from the different layouts and templates (grid, wall, popup, carousel). Click 'Create feed'.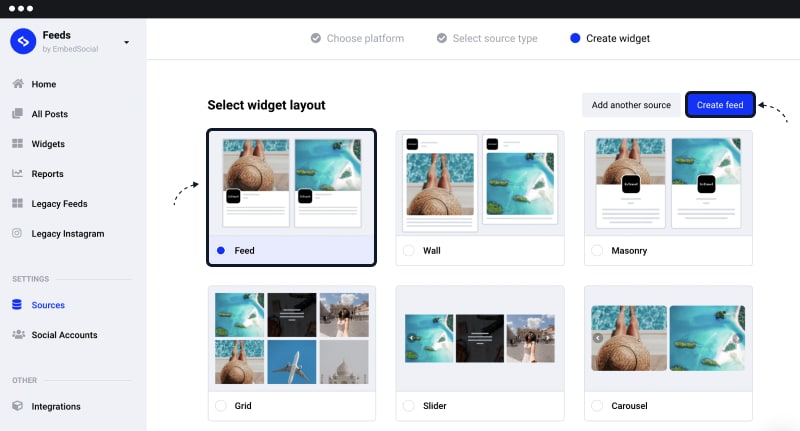 Step 5: Customize or moderate the TikTok widget
Once you select the template, your widget will be created, and you will be redirected to the main Editor. Here you can customize the settings or the entire look with custom CSS so your TikTok video feed matches your website and branding.
You can also use the Moderation tab and handpick which videos appear publicly in your widget.
Step 6: Copy/paste the provided code
And finally, copy the top-left code and paste it into the area of your website where you want the TikTok widget to appear.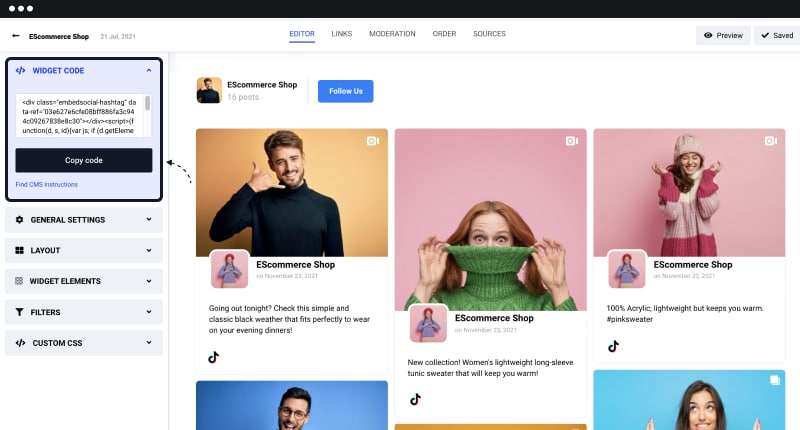 How to add TikTok feed to WordPress website
Note: If you use WordPress, you don't need to install any WordPress plugins. Just go to your page or post and insert an HTML block to paste the provided code.
Step 1: Go to the post editor, click the plus icon, and then click the Custom HTML block: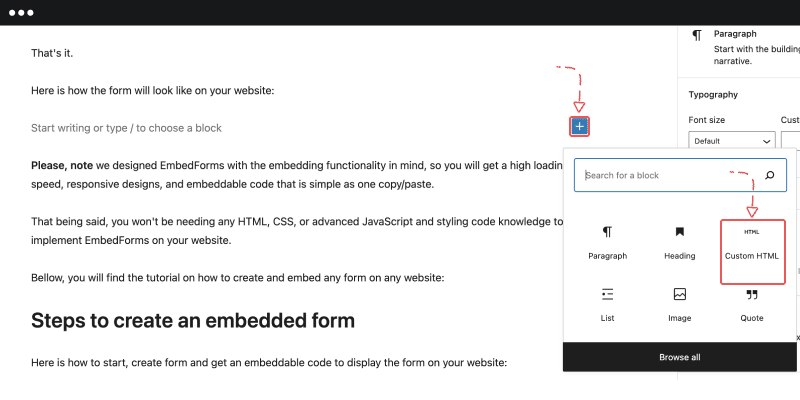 Step 2: Paste the code you got from EmbedFeed and click on 'Preview' to see if the TikTok feed is correctly displayed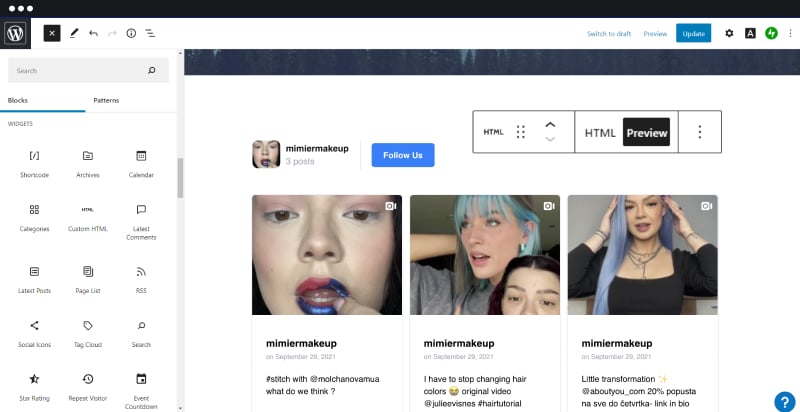 Step 3: Click 'Update' or 'Publish' (if it's a new post)
That's it. Your TikTok video feed will appear on your website immediately.
How to embed TikTok video on Squarespace?
If you are using a Squarespace web builder, then using the EmbedFeed code to embed the TikTok video feed will also work.
To do this, open your Squarespace editor and follow these steps:
Open the page on your website where you want to add TikTok
Click on the + icon in the editor to add a new section
Click on the Embed block option
Paste the code and click Done to view the widget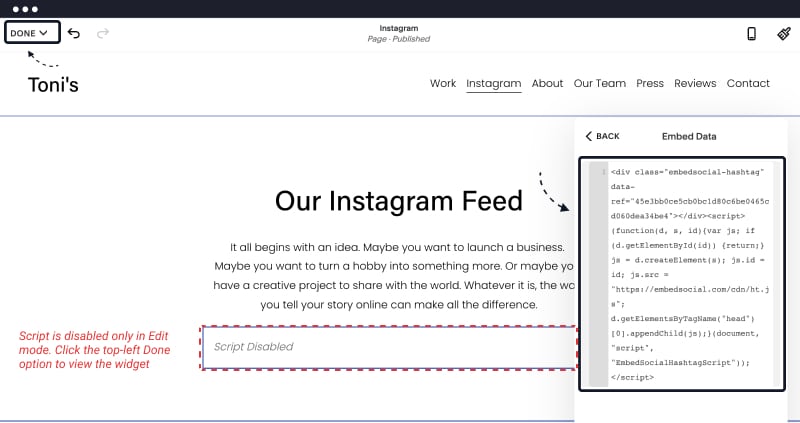 That's it. Every time you add a TikTok video, the widget will automatically display it on your Squarespace website.
How to embed TikTok video on Wix
If you are using Wix, here are the steps how to embed the code from EmbedFeed or the TikTok video native code into the Wix editor.
Step 1: Login to your Wix website and click Edit site
Step 2: Select an area where you want to add the TikTok video feed
Step 3: Click on the top left + button Add Elements, click on Embed Code and click on Embed HTML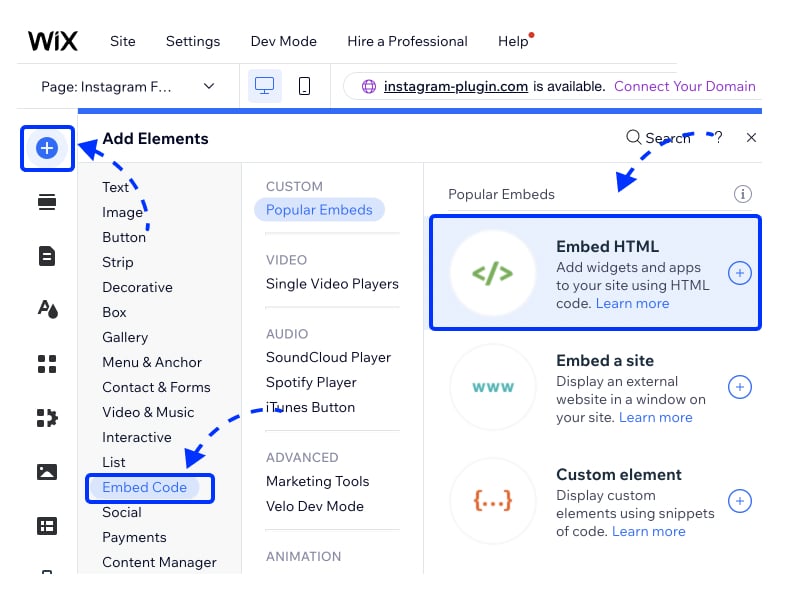 Step 4: In the HTML settings, paste the code from EmbedFeed in the 'Add your code here (HTTPS) only' area. If necessary, use the controls to adjust the section with the height of your TikTok feed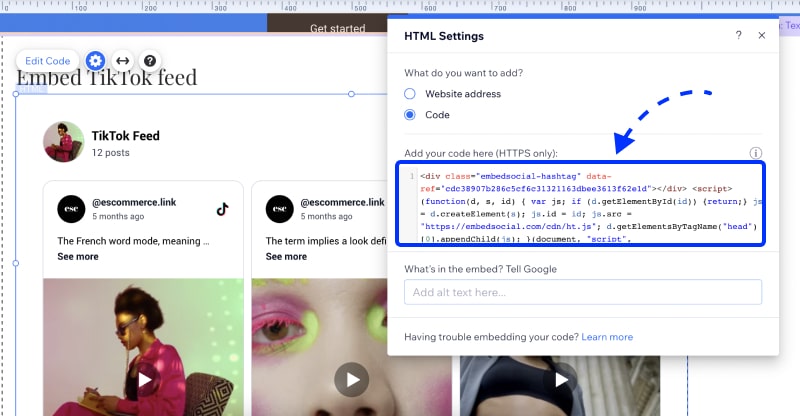 Step 5: Click Publish
Why should you embed TikTok videos on your website?
If you're a TikTok video creator – congratulations! You're part of an enormous community that focuses on creativity and encouraging young people to be themselves.
As I am writing this, the popularity of TikTok is spreading rapidly. Check out the numbers: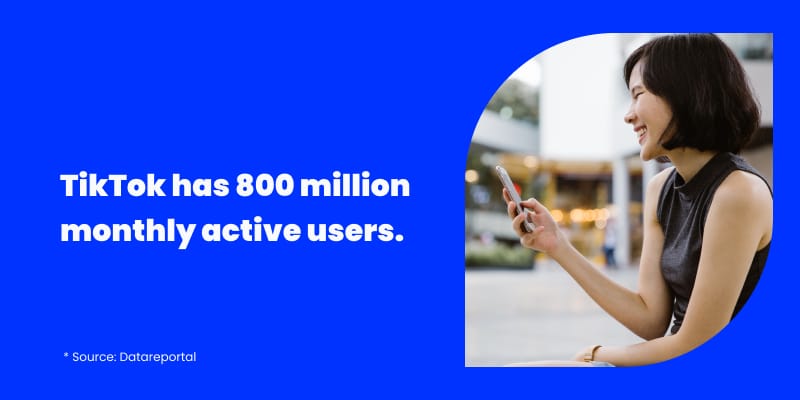 Meanwhile, users spend an average of 52 minutes browsing the app or creating videos daily. This is just another reminder that should sparkle the curiosity of brands to use TikTok's popularity and promote their products and services, especially if young people are your target audience.

Despite its enormous user base, here are the main reasons why you should consider having TikTok videos on your website too:
Get real-time content updates
By syncing your website with your TikTok account, you ensure that the latest videos are always showcased, providing your web visitors with fresh and engaging content. This keeps visitors coming back for more and encourages longer browsing sessions.
Enhance user experience
Embedded TikTok videos make your website more interactive and visually appealing. This dynamic content can boost user experience, leading to higher visitor satisfaction and increased return visits.
Collect UGC and display social proof
Showcasing TikTok videos with user-generated content on your website can serve as social proof of your brand's popularity and relevance. This can help to build credibility and trust among potential customers, clients, or partners.
Reach wider audience
TikTok has a massive user base that spans various demographics. By embedding your TikTok videos on your website, you can tap into this diverse audience and potentially attract new followers and customers.
Grow your TikTok following
TikTok videos can humanize your brand by showcasing your unique personality, behind-the-scenes moments, or user-generated content. This authentic connection can foster trust and loyalty among your website visitors that can easily opt-in to follow you right from the widget link to your TikTok profile.
Improve SEO
Get cross-platform promotion
Save time and hosting for uploading videos
When embedding TikTok videos, you will save time and a lot of space and resources from your hosted server.  Instead, videos are played from the primary source (TikTok platform). This means you don't need to re-upload the video on your website. 
Promote hashtag campaigns
TikTok is known for its viral hashtag challenges and campaigns. By embedding your TikTok videos on your website, you can effectively promote your own hashtag campaigns and encourage user participation. This can boost brand awareness, user-generated content, and engagement across platforms.
Embed Videos From Other Social Media Platforms
To do more with your social media videos, learn how to embed Instagram feed or even how to embed Youtube videos on any website.
You can use our social media aggregator to automatically generate and display all this content on any website.
You can include all sources, including TikTok, Youtube, Facebook, and Instagram, and create one video widget for your website.
Key Takeaways
In conclusion, embedding TikTok videos on your website is an effective and engaging way to enhance your brand's online presence. By utilizing the TikTok embed code, you can seamlessly integrate your favorite video content from one of today's most popular social media platforms onto your site. This increases click-through rates and provides valuable social proof for your audience.
As a video creator, employing the EmbedFeed TikTok widgets editor allows you to customize the appearance and functionality of the embedded videos, ensuring they align with your brand's aesthetic. Furthermore, using a social media aggregator can help you display a collection of curated posts, optimizing your website's visual appeal and user experience.
Embedding TikTok videos on your website can expand your audience reach, foster deeper connections, and contribute to your success in the competitive digital landscape. So, don't miss out on this opportunity to make your online presence even more dynamic and captivating – start embedding TikTok videos today!