Did you know that visitors spend 88% more time on a website if it has a video?
Higher CTRs, improved average order value, higher conversion rate, and revenue are some of the benefits that will help you level up your video marketing experience on your website and enhance your mobile version, too.
EmbedStories tool is here to land you a hand with this!
If you are looking for an easy way to show Video Stories on your website that will engage your visitors on mobile and desktop, take EmbedStories for a spin!
Whether you are a marketing agency, business owner, or an individual, you can easily make a Video Story widget that will help you be on top of the game.
Upload your own video clips or re-use your Instagram, YouTube or Vimeo videos to create a unique experience for your potential customers.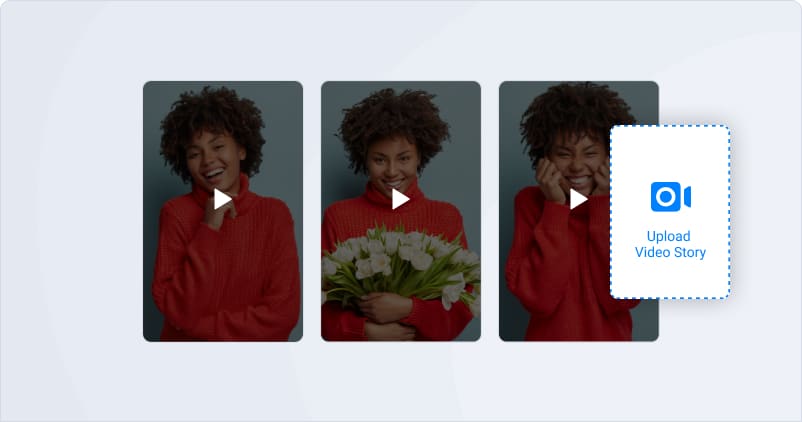 The benefits of showing Video Stories on your website
Establishes a strong brand personality
Promotes your latest products or services in a familiar Instagram-like format
Encourages conversion when using shoppable Video Stories
Creates an engaging user experience with a longer average time on page
No coding skills required for creating a modern video widget
Embed Video Stories in a variety of layouts
5+ custom layouts at your disposal to effectively structure and categorize your video content, providing the best journey for your users.
Check out our latest AMP layout, or play around with Lightbox, Slider, Popup, Column formats.
All the layouts are fully customizable, so you just need to make sure to find the one that fits your branding and adjust them to your website colors and design.
Custom CSS editor for your Video Story widget
And that's not all.
We made our platform so flexible that now you can have a greater control over the layout with the Custom CSS option.
So, anyone with basic CSS knowledge can easily use the editor to craft a custom Video Story widget.
How to upload and embed Video Stories on your website?
Follow these 4 easy steps to create your Video Stories widget:
Start your free trial for EmbedStories
Upload (or drag and drop) the videos you want to be displayed on your website (please consider the required format before uploading it)
Select a layout, moderate the widget and add CTA buttons
Copy and paste the code on your website builder to display your Video Story widget
Create multiple Video Story widgets for every website you have
No matter the industry you are in, adding videos to your homepage describes your character and demonstrates your values to your target audience.
In this age of fighting for prominence among competitors, you can't stand out from the crowd if you are not embracing your brand uniqueness.
EmbedStories tool helps you show your individuality and improve your visibility on any website you may have.
And especially if you are an agency that works with multiple clients, you can use the same account and create multiple widgets for multiple domains.
How to embed Video Stories for WordPress?
With EmbedStories, you can effortlessly combine several Video Stories into one widget and embed it into your WordPress website.
It will take you less than a minute to copy and paste the provided code into the HTML section where you want the widget to be displayed.
Need help?
Frequently asked questions about Video Story Feed
Still have some questions? Check out our FAQ section below or click the chat icon below to talk with our team and we will be more than happy to answer any questions you may have.
You can test and use any of the following 5 customizable Video Story widgets:

Slider
Lightbox
AMP
Popup
5 Column

Videos must be under 100MB
Supported video formats: mp4, webm, mov, avi, mkv

Yes! We made the platform so flexible that you can craft your desired Video Story Feed look with a variety of layouts and moderation options where you can manually select the videos you want to be displayed. Our custom CSS editor is always at your disposal too.

Yes! EmbedSocial platform integrates with the following major CMS and web builders:

WordPress
Squarespace
PageCloud
Joomla
Wix
Weebly
Shopify
Magento
OpenCart

Additionally, we support all the platforms that allow embedding javascript codes and third-party iframes.
Yes! Within the EmbedStories feed, you have a moderation option where you can handpick the videos that you want to be displayed in your Video Story widget.

Yes! There is an option for adding a CTA button for all story media in your widget.

Buy, Register, Learn more, Sign up, Contact Us, Book now are some of the CTA copy you can choose from. Additionally, we give you open hands to craft your own custom CTA text.

The Call to Action button appears in the top right corner of the Video Story and once the visitor clicks on it, they will be directed to the checkout page where they can buy the product/service.

Yes! EmbedStories can generate stories from Instagram automatically which means you can create a widget alongside the video stories that you manually upload.

We will do everything to help you get the best experience from our EmbedStories tool, but if you don't see the value in it, and decide to cancel the subscription, the Video Story widget will be removed from your website. However, we will be here for you if you change your mind.
Browse all stories widgets