EmbedAlbum Features
The only feature set you will ever need for your social media photos
Embed Facebook, Instagram or Twitter albums on any website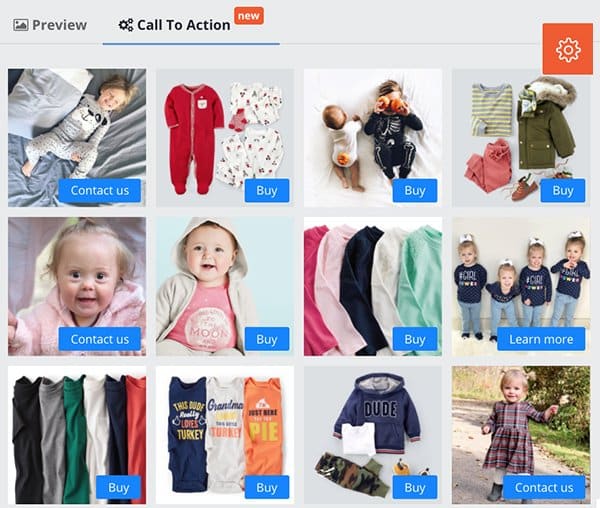 Facebook & Instagram Shop
Add a call to action buttons to your Facebook or Instagram photos and create an entire shop with just a few clicks.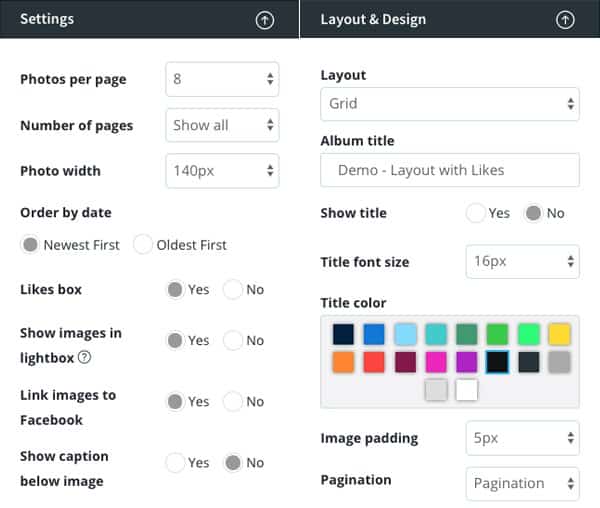 No branding! Customize the looks of your social media albums
Use the layout features and create a slideshow, masonry, grid or three column layout, display the caption below the photos, customize the size of the photos, choose the number of pages, photos in the albums and lots of design customization features.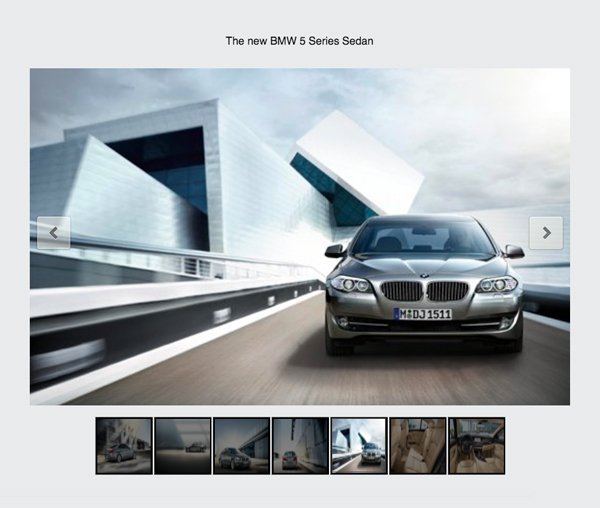 Create a slideshow with your Facebook and Instagram photos
With this layout, you can create slideshows with your Facebook and Instagram photos and display them on any website. The platform has specific options for the slideshow layout such as: Show thumbs, define the number of thumbs, define start position, turn on automatic transition or show navigation controls.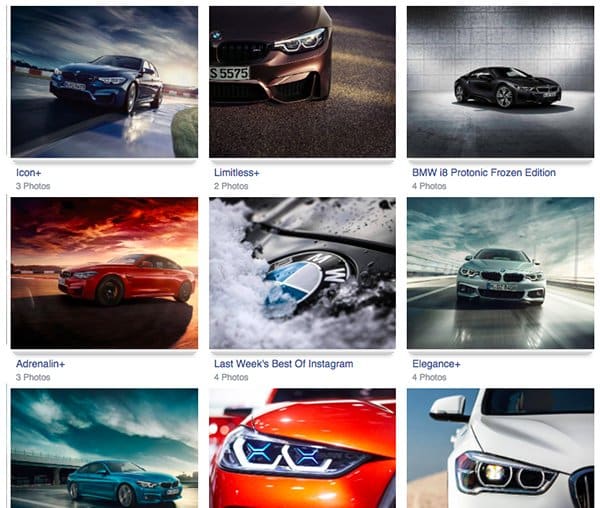 Create entire gallery from your Facebook albums
Import albums from your Facebook pages and select the albums you want to include in a gallery. You can embed this gallery on any website with a single embeddable code. By clicking on the main album thumbnail, users can navigate through the photos in the gallery.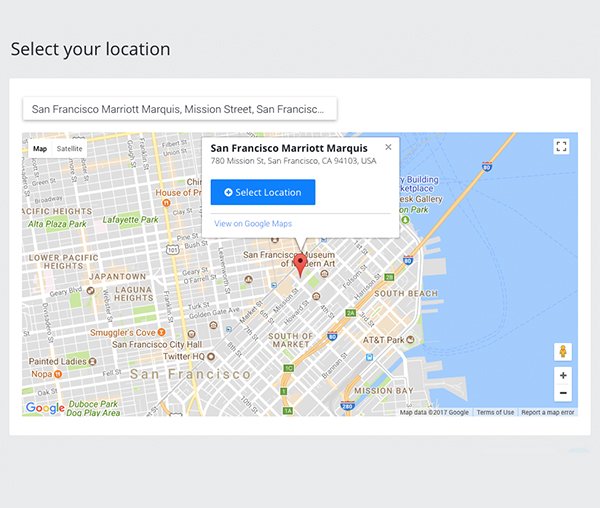 Embed Google place photos on any website
Use EmbedAlbum to generate photos posted by visitors on a specific location. Use options to customize the display of the Google place photos and embed the created album on any website.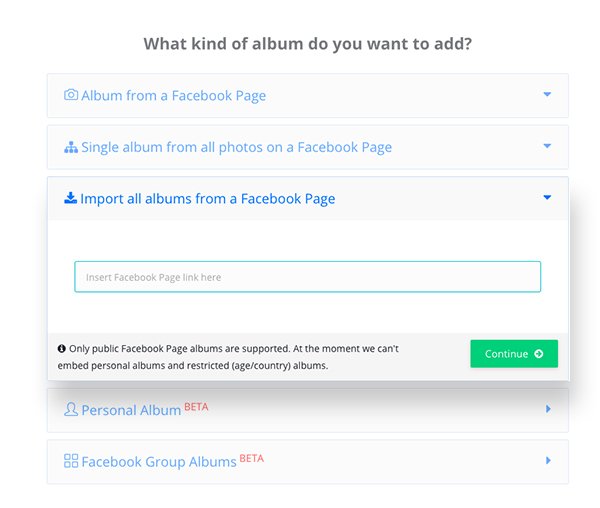 Auto import all Facebook albums with a single click
EmbedAlbum allows you to import all your Facebook albums and generate embeddable codes that will allow you to add the albums to your website. This functionality saves lots of time for users who have lots of albums posted on their Facebook Page.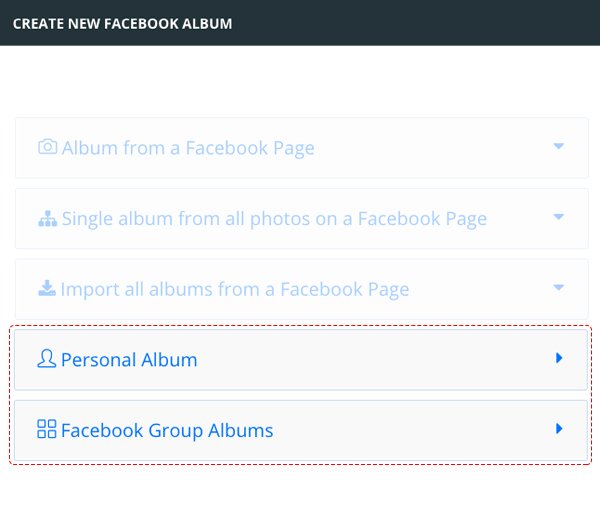 Generate and embed photos from personal profiles and Facebook groups
This is the only tool on the market that will give you all the options for displaying Facebook photos on any website.EmbedAlbum offers you features to generate photos from a specific personal Facebook profile and display the photos on a website.Similarly, you can generate photos from your Facebook groups and embed these photos as an album on your website.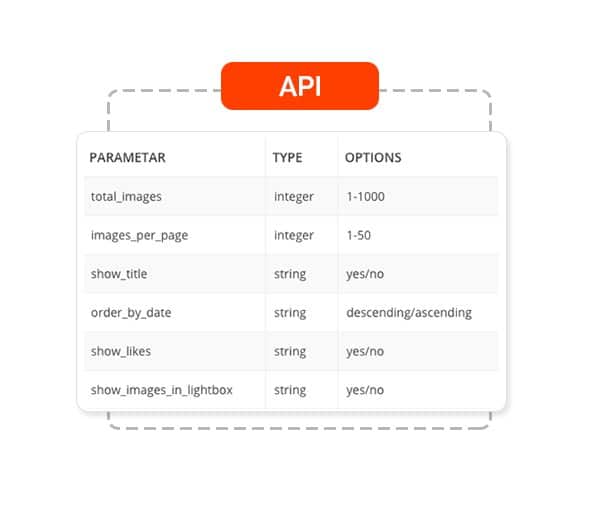 Advanced developers API for creating albums, dynamically
This feature makes it easier to embed albums dynamically without adding them one by one.You can use the actual Facebook album id to embed the album. All the options from the admin panel are available as parameters in the URL query string.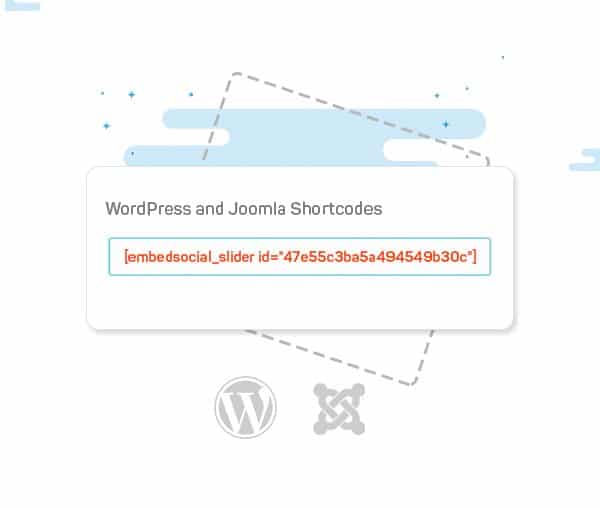 Official social media photo plugin for WordPress and Joomla
Official social media photo plugin for WordPress The WordPress version of the EmbedAlbum plugin allows you to easily display your social media albums on your WordPress website. You can use a simple shortcode in your WordPress posts or pages.
Auto Sync
Automatically sync when a new photo is added to your social media accounts
Unlimited websites and domains
Use EmbedAlbum for multiple websites and domain
Instagram Hashtags
Embed Instagram gallery from a hashtag or username
Masonry Layouts
EmbedAlbum can help you create albums with a masonry layout
Three column layout
This layout will display your photos in three columns similar to the Instagram website layout
Twitter albums
Display Twitter albums from a specific hashtag on any website
Pagination
Choose the pagination of your albums: numbered pagination or display load more button
Lightbox mode
Choose to display the photos in a lightbox mode with option to slide through the photos
Free Instagram Plugin
You can use the forever free plugin to display basic Instagram albums
Thumbnail width
Change the size of the thumbnails in the albums dynamic or fixed width
Custom padding
Edit the padding between photos in the album
Free Facebook Plugin
You can use the forever free plugin to display basic Facebook albums
Get started with
EmbedAlbum

Now!

Choose the plan that fits your needs
Free
$
0
per Month
2 Sources
10 Albums
Facebook Page Albums
Facebook Page Galleries
Facebook Groups & Personal Albums
Instagram Albums
Twitter Albums
Responsive and Lightbox Mode
Multiple Layouts & Customization Options
Automatic Import from Facebook
Photos update every 24 hours
Start Free
PRO Plan
$
19
per Month
5 Sources
Unlimited Albums
Facebook Page Albums
Facebook Page Galleries
Facebook Groups & Personal Albums
Instagram Albums
Twitter Albums
Responsive and Lightbox Mode
Multiple Layouts & Customization Options
Automatic Import from Facebook
Photos update every 15 minutes
Buy Now
Premium Plan
$
99
per Month
50 Sources
Unlimited Albums
Facebook Page Albums
Facebook Page Galleries
Facebook Groups & Personal Albums
Instagram Albums
Twitter Albums
Responsive and Lightbox Mode
Multiple Layouts & Customization Options
Automatic Import from Facebook
Photos update every 15 minutes
Start Free Trial
our users
You're in great company