As 90% of information transmitted to the brain is visual, adding a YouTube video to your website is a quick and effective way to get your message in front of your target audience and present a unique content that's easy for viewers to consume and engage with.
Our EmbedFeed tool is developed to help you achieve that! You will no longer need to manually copy and paste the share code below each individual YouTube video.
We have a direct integration with the YouTube API, so you can automatically sync your YouTube playlists on your websites within a few minutes.
Create a video widget that will embed an entire video playlist from your YouTube channels effortlessly!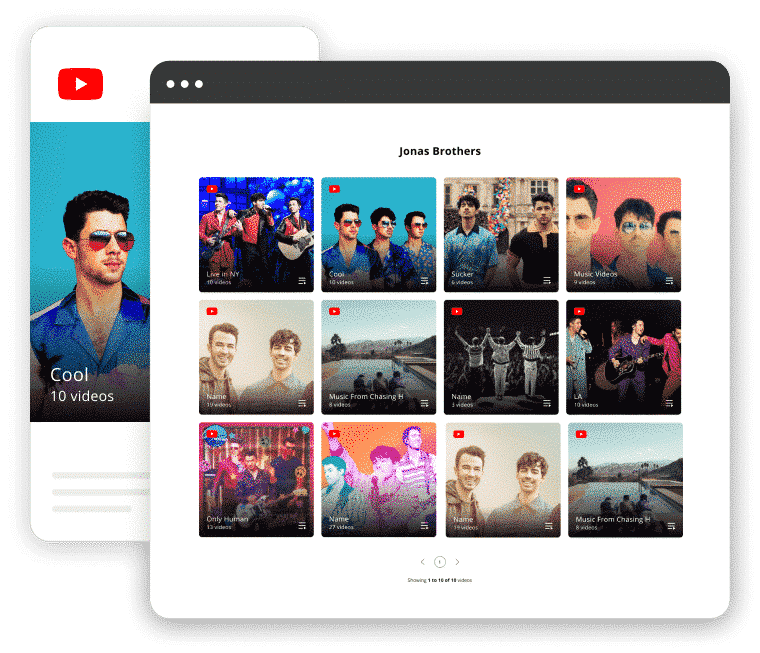 Benefits of embedding YouTube playlist on your website
Promotes your products in a more eye-catching and engaging way
Improves your SEO and brand presence
Encourages conversion when adding CTA buttons on your videos
Promotes your YouTube account and turns website visitors into followers
No coding skills required to create an outstanding mobile responsive widget
Embed YouTube playlist in a variety of interactive layouts
With EmbedFeed, you have 10+ modern ready-to-go layouts at your disposal. They are fully customizable, and interactive, mobile-friendly, fast-loading, and provide you with the lightbox experience.
You also have the option to redirect your visitors from the widget to continue watching the video on your YouTube channel.
Custom builder for your YouTube playlist widget
We made the EmbedFeed platform so flexible, that you can completely overwrite the default design of the YouTube playlist widget and customize it the way it makes the most sense for your brand.
All you need is just basic CSS knowledge and some dose of creativity.
If you find yourself struggling with the CSS editor, don't hesitate to reach out to us and we will be happy to land you a hand with this.
How to generate and embed a YouTube hashtag feed on your website?
Generating and showing videos that contain certain hashtags can be done within a few minutes. Just follow the steps below:
Start your free trial for EmbedFeed
Choose your YouTube channel as a source
Select the Playlist you want to display
Customize the layout, moderate the videos and set CTA buttons
Copy/paste the code we provide you with into an HTML section on your website builder where you want the widget to be shown
Create multiple YouTube playlist widgets for multiple websites
Every website deserves to provide the best experience for its visitors, and yours should not be an exception!
No matter if you have one, five, or ten websites you manage, we allow you to create as many YouTube widgets you may need.
This tool can be a time and nerve saver for marketing agencies or business owners that have companies in multiple locations with different YouTube channels or separate marketing campaigns.
Auto-sync and moderate your YouTube playlist widget
Want your latest videos always displayed on your website? We got you covered!
It takes just a click of a button to allow our YouTube generator to pull the latest videos from the selected playlist into your website widget.
Additionally, if needed, with the moderation option, you can always handpick the videos that want to be shown on your website.
The best part? You can create a combo feed by combining YouTube videos and media from any other social network we integrate with.
Need help?
Frequently asked questions about YouTube Playlist feed
We made our platform as user friendly as possible, but if you still have any questions, check out the FAQ section or tap the chat icon to talk with us. We are always here to help you!
Yes! You have open hands to add as many YouTube playlists you need to your feed. Within the widget feed, just select the YouTube playlist you want to add, and we will automatically connect with the YouTube API and generate those videos for you.

Depending on the number of sources you want to connect, check our pricing plan to see what fits your requirements best.

Currently, you can try the following 11 modern and fully customizable widgets:

YouTube Feed widget (2 different layouts)
YouTube Masonry widget
YouTube Grid widget
YouTube Three Column widget
YouTube Carousel widget (2 different layouts)
YouTube Slideshow widget (with and without vertical thumbnails)
YouTube List Slider widget
YouTube Different Size Photo Slider widget

Yes! We encourage you to try different templates or check out widget elements options to show or remove parts of the widget.

For more advanced customization options, check out our simple CSS editor.

Yes, you can handpick the videos you want to be displayed in your widget.
Absolutely! You can add shoppable CTA buttons to boost your conversion rates on any media. Choose the CTA button copy that suits your products and add a link that will navigate the visitors to the webpage where they can buy the selected item.

Yes! We made our platform so flexible that it works with the main CMS platforms and web builders like WordPress, Squarespace, PageCloud, Joomla, Wix, Weebly, Shopify, Magento, Open Cart and all the platforms that allow embedding 3rd party iframes or javascript codes.

Yes, sure! As we integrate with all the major social media networks like Facebook, Twitter, Instagram, Vimeo, TikTok, you can select several sources when crafting your widget.

Unfortunately, yes. If you cancel the subscription your widget will automatically be removed from the website it was displayed on. We will do everything we can so you will always remain satisfied with our service.