Trusted by 250,000+ big and small brands. World-famous and local
Generate customer reviews via email. Fast & easy.
Upload your customers' email list and use EmbedSocial to ask for reviews via email. The email template contains your own link to a collect form provided by EmbedSocial, which will collect and archive the reviews in your account for later use.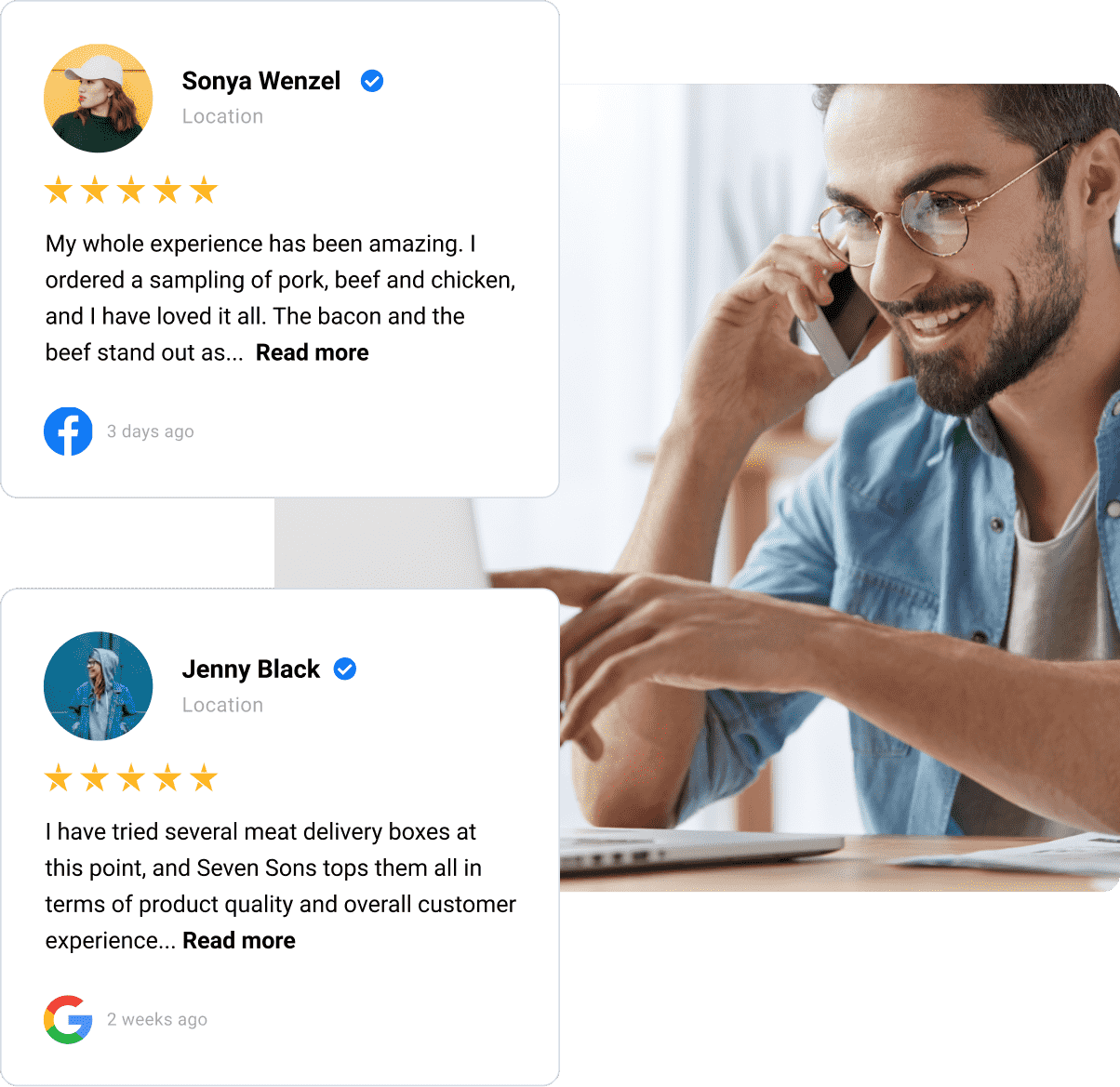 Customization


Display email reviews in a custom reviews widget

Similar to your social reviews, once you connect Email as an aggregator source, you are able to create a specific widget with the reviews that you've collected by sending emails to your customers.
All this by just embedding one line of code on your website, with options to choose layouts or customize the design of the web widgets.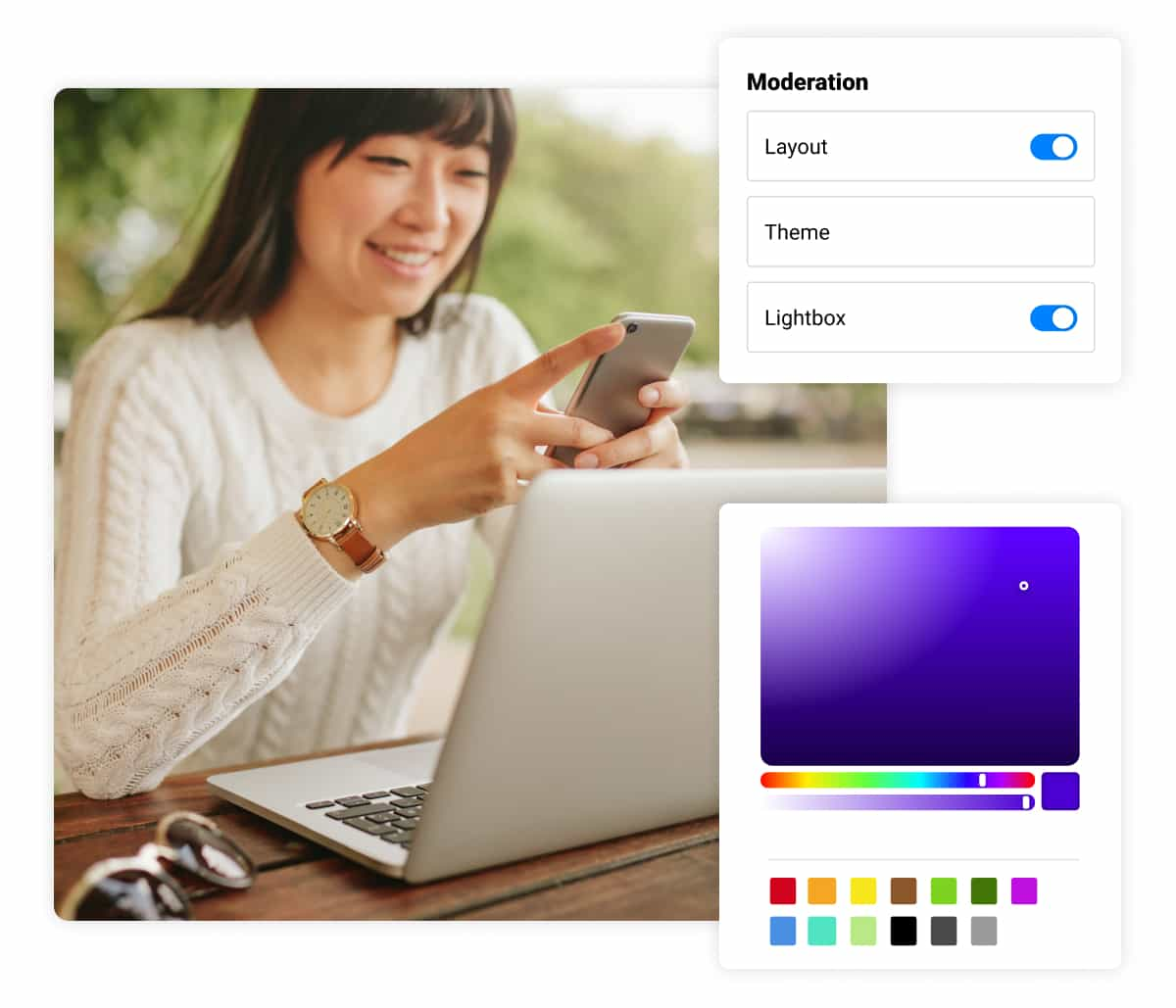 Templates
Customer reviews widgets




for

any website theme
The template library is constantly updated with new widget designs.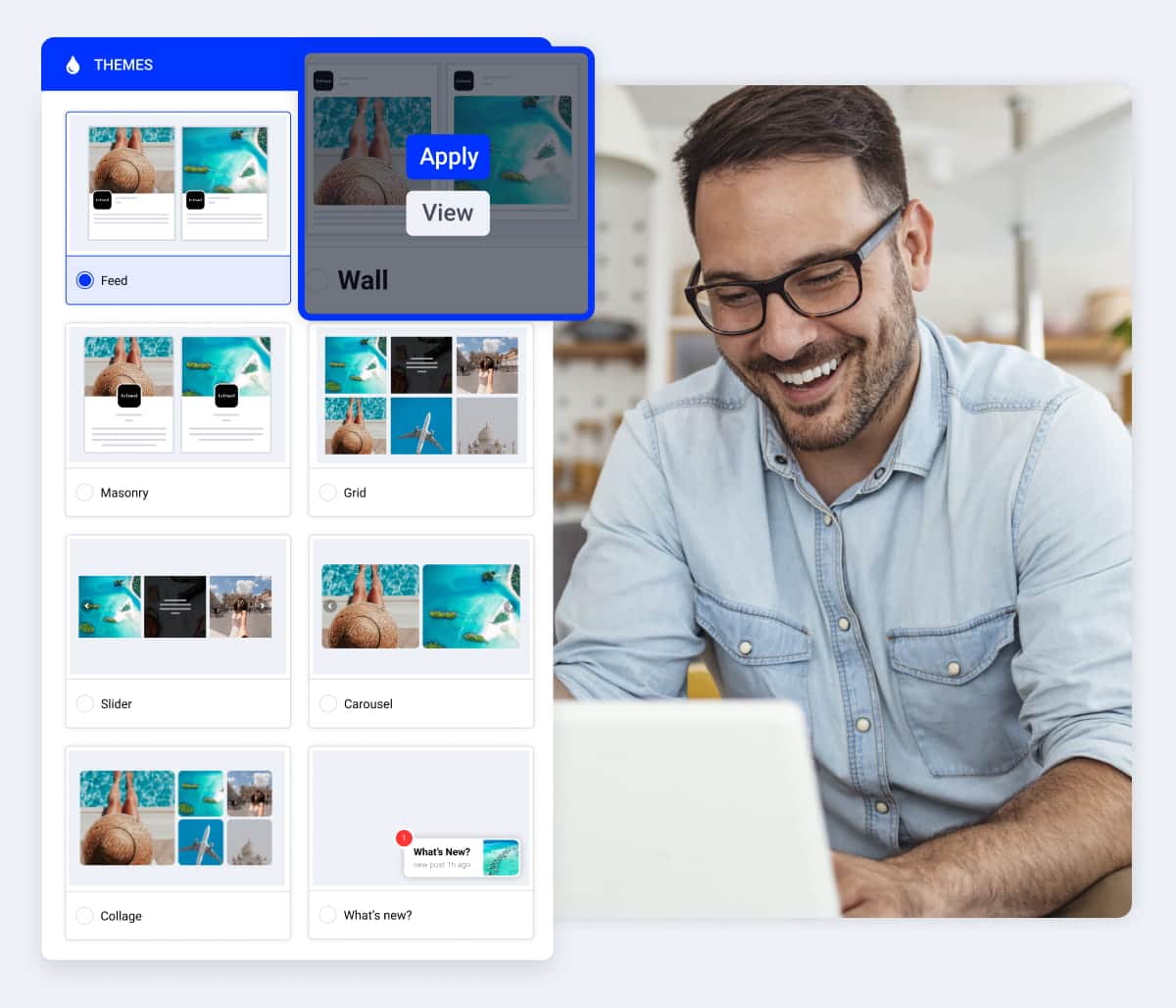 Embeddable code
Code that works on any web platform that supports Javascript.
Mobile responsive
Mobile-friendly widgets that fit any device size.
One widget, multiple sources
Construct a combo widget that will include reviews from various sources.
Custom CSS
Popular
Stay on brand and make your own style and design for unique widgets.
Save time with pre-built or customized email reviews request template
Use the email editor to edit the default email and change the text for asking your customer's to
Each email contains must have structure, such as email subject and unsubscribe option that you should have in mind when creating the email template.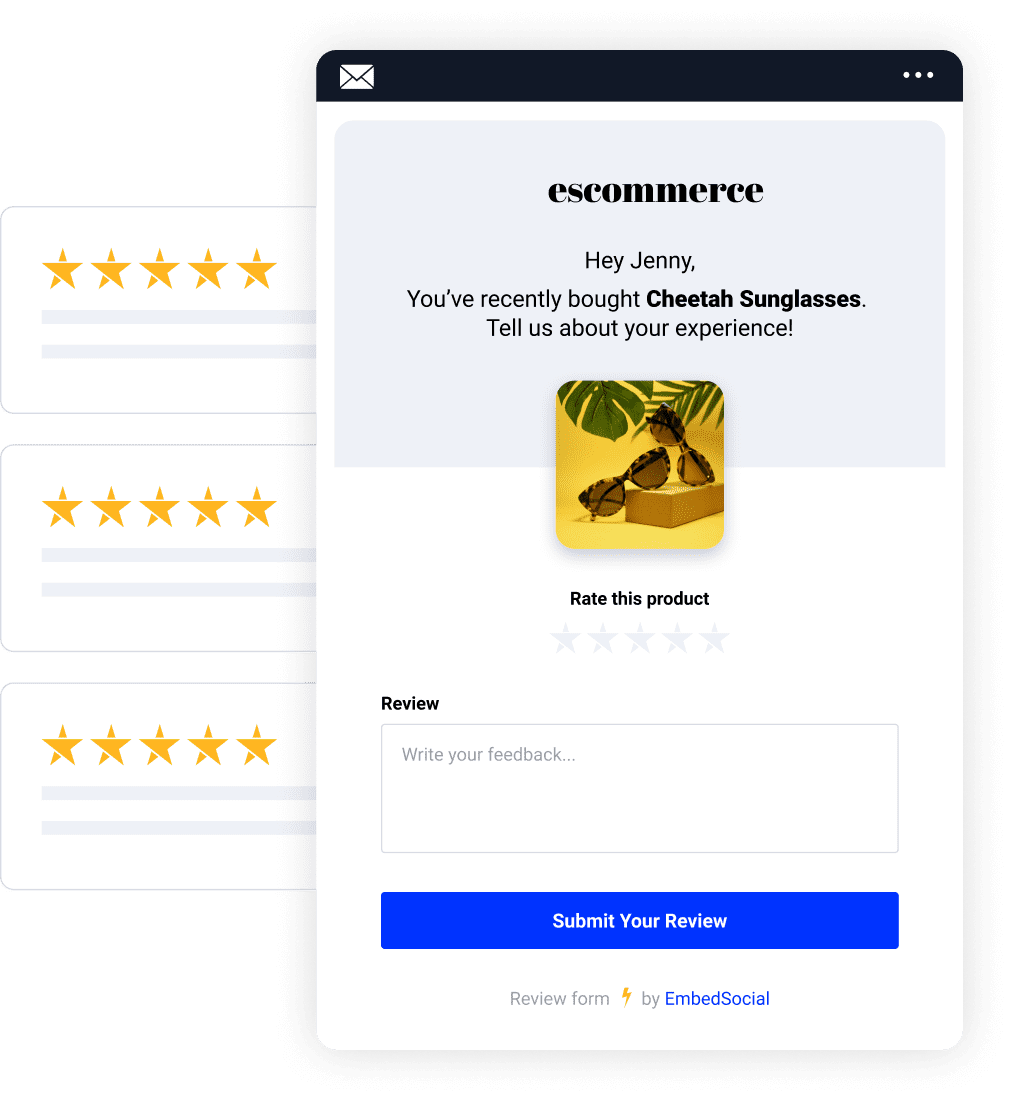 Send personal reviews request emails at scale
EmbedSocial's email editor provides dynamic parameters that can be used in the email template that will create a personal voice of the email text.
For example, one of the parameters can replace the customer's email and the same template will be sent to multiple people replacing the parameter with the actual email of the specific customer.
The current email parameters include the following data: your company name, customer name, source name, unsubscribe link, and link to review form.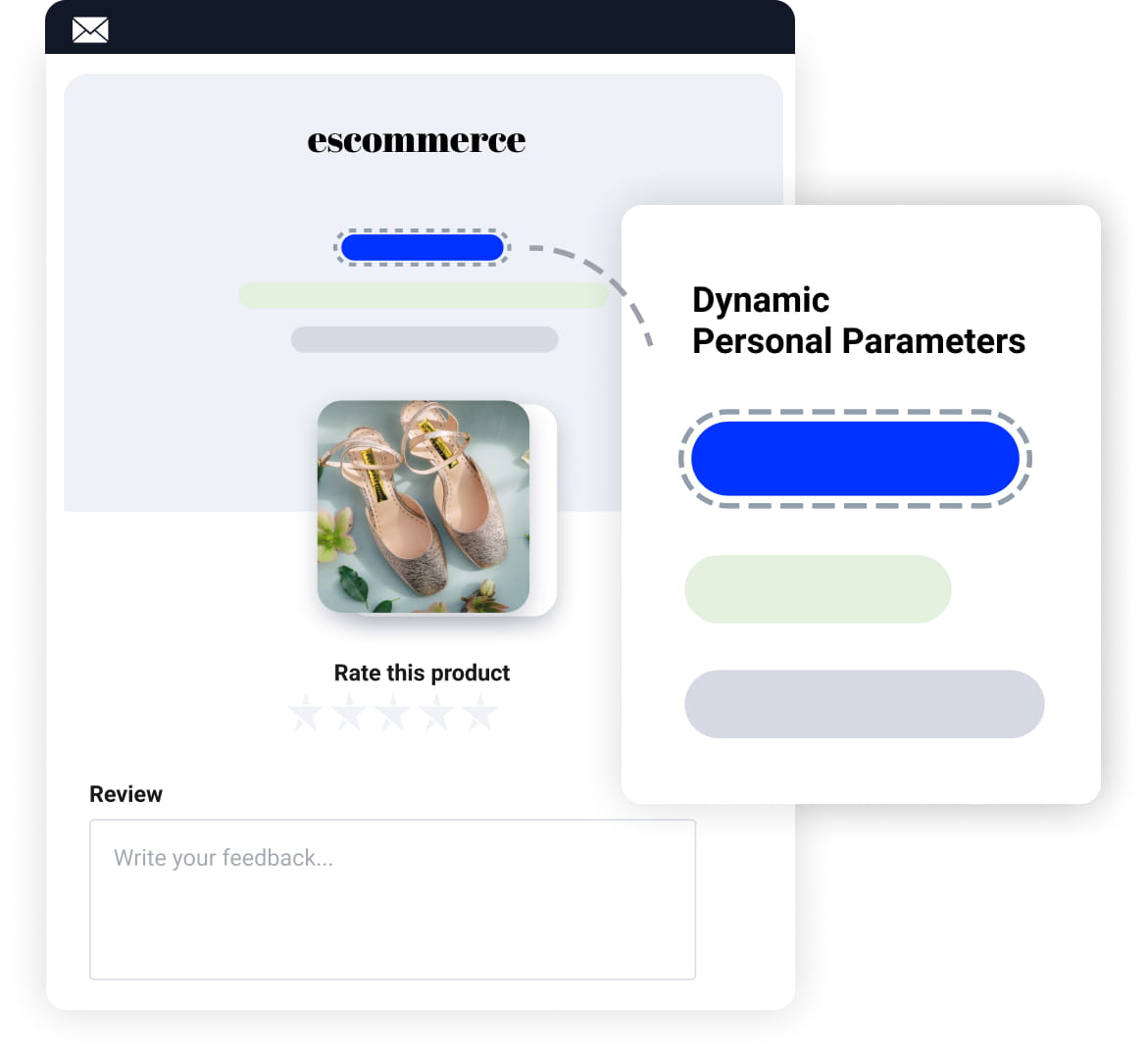 more features
More than a widget. All-in-one solution for online reviews
Multiple sources + Import
Auto-Sync
Reviews badges
Reviews Forms
Localization
Filters & Tags
Analytics & Reports
Customization
Moderation
Here is how to generate reviews via email and embed them on a website
EmbedSocial's email capability makes collecting reviews via email a breeze – simply add your customers' emails, customize a review request email, send the emails and watch getting reviews from your customers. Plus, our easy-to-use widget code allows you to embed these reviews on any website with just a few clicks. So start collecting more reviews via email today, it's fast, easy, and hassle-free!
Create an account
Upload emails and send
Create widget
Collect & embed social media reviews today
Start your EmbedReviews free trial today.
Official API integrations
Reviews widgets
Cancel anytime
Money back
What our users are saying:

TrovaTrip increased booking conversion rates by 12% with customer testimonials in just 4 weeks
Nick Poggi
TrovaTrip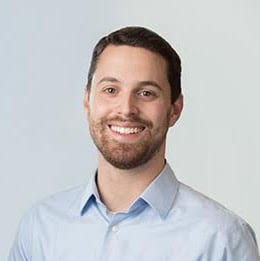 The team at Embed Social is so easy to work with. They are very quick to respond to any special requests and fast to implement account changes. Aside from the great customer service, their products are also very easy to use and offer a lot of freedom that you can't get with other similar products. Definitely recommend.
Ryan Hazlewood
Developer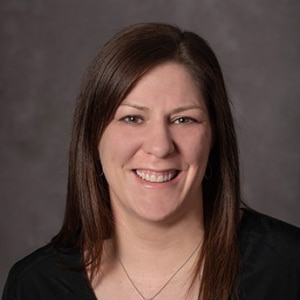 EmbedSocial allows us to showcase social media content on our web pages in a way that's both functional and vibrant. Their library of social feed designs integrates seamlessly with our existing components and is easy to use for page editors of all skill levels.
Zanna Ollove
Boston College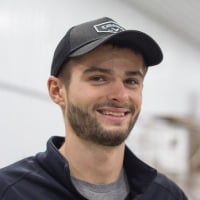 The experience with EmbedSocial has been amazing. We're always looking for ways to leverage our time, so finding a product to keep our reviews fresh automatically was a no-brainer.
Brooks Hitzfield
Seven Sons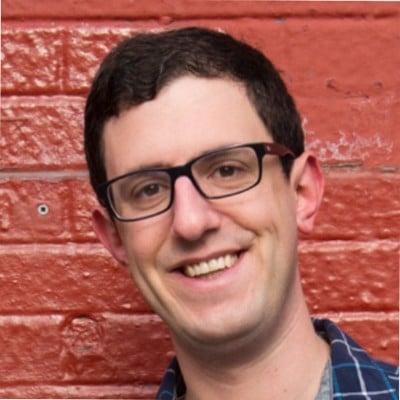 It has been pretty simple to display social proof with EmbedReviews, and their team has been great in assisting with technical implementation.
Eric Hnatov
Industrios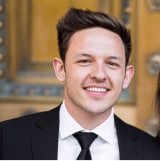 We are spending half of what we previously did for our last review manager, and getting 100x more out of it! I honestly am amazed at what we are getting for the price. I wish we had switched to EmbedReviews years ago.
Kodi Duncan
3 Key Elements
Help & FAQ
Frequently asked questions
about email reviews
Have a specific question about email reviews? Click the bottom right chat icon and talk with us.
Yes, you can delete the reviews that you don't need to store or show in your widgets.
Yes, you can use multiple templates or a custom css editor to make your testimonials fit your brand and website design.
Yes! The system checks for new reviews regullary and sends you an email notification shortly after you get a new review, so you can be alerted to respond on time.
Yes. The EmbedSocial platform gennerates reviews from other networks, and allows you to make a widget with combinations from all reviews and recommendations you receive.
Yes, the widget will stop showing on your website but you will be able to export all your reviews in a CSV format.
---
Browse more reviews widgets
Reviews widgets with other social media sources