Are you constantly uploading photos to your Facebook page and then repeating the same time-consuming process for your website gallery all over again?
We got you covered!
With the EmbedAlbum tool, you can easily collect your favorite Facebook photos and embed them on your website in a catchy and interactive widget.
It works perfectly when you want to sync your Facebook photos on your website without adding them one by one.
Promote an event, introduce your latest product collection or show some social proof from happy customers, this fast and simple Facebook widget will leverage your users experience on many levels.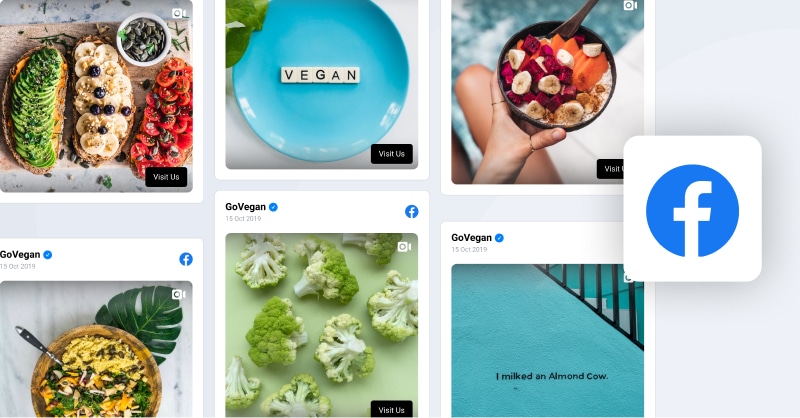 The benefits of showing Facebook photos on your website
Improves the user experience in an engaging and familiar way
Increases the visitors average time on page
Shows your products in a modern format that is easily consumable
Promotes your marketing campaigns in a creative way
Increases the conversion rates with a CTA button on your Facebook Album widget
Promotes your Facebook profile and turns website visitors into Facebook followers
Embed your Facebook photos in interactive and fully customizable layouts
Our dedicated team developed 10 modern layouts that are fully mobile and desktop responsive and can flawlessly adjust to every website you have.
Feel free to explore all the design customization features and craft a stunning Facebook album widget that will express the uniqueness of your brand personality.
Play around with the pagination, custom padding, the lightbox mode or captions. Customize the size of the photos and choose the number of pages.
Make sure to allow the sync option, so your latest Facebook photos can automatically be added on the widget. And don't forget to link the widget to your Facebook account to boost your followers base in no time.
Custom CSS editor for your Facebook Album widget
EmbedAlbum platform is so flexible that we allow you to get full control over how your widgets will look and feel.
Try our Custom CSS editor to curate the Facebook album widget that suits your brand best.
All you need is to free your creative spirit and some basic CSS knowledge.
Have some doubts about how to use the CSS editor? No worries! Reach out to us and we will be delighted to do that instead of you.
How to embed a Facebook Photo Album on my website?
It's very simple, no coding skills required. Just follow the steps below:
Start your free trial for EmbedAlbum
Depending on the kind of album you want to add, choose to enter the Facebook album URL or insert a Facebook Page link
Select a layout, check out the design options or add a CTA buttons
Copy and paste the provided code in the body section of your website where you want the widget to appear
Create multiple Facebook Album widgets for every website you have
We understand how dull and demanding is to add your Facebook photos on every website you have, over and over again.
So, when using EmbedAlbum, we don't limit you on the websites you can use to display your Facebook widget (all that within the same account).
This tool is an all-in-one solution and a perfect match for marketing agencies or businesses with several locations and different domains.
Create a shoppable Facebook album
Navigate to the Call to Action tab of your widget and add links to the photos in the album. By doing this you can create a 'Buy' links of the product photos and redirect your customers to your checkout pages.
Display Facebook Photo Album on WordPress?
WordPress is one of the CMS we integrate with, so it will take you less than a few minutes to craft your widget and embed it to any WordPress website you have.
All you need to do is just copy and paste the widget shortcode into the HTML section where you want the Facebook Album to be displayed.
Go on and download our official WordPress plugin to get started!
Need help?
Frequently asked questions about Facebook Album Widget
We made EmbedAlbum be a user-friendly and intuitive tool that won't require any coding skills. However, if you have any questions, we hope you will find your answer in the FAQ section below. If not, please reach us on the chat icon on the bottom.
Yes! It depends on the pricing plan you choose.

For example, in the free version of the tool, you have only one source = Facebook page and it goes up to 15 sources with the Premium plan. Check our pricing plan to see what works best for your brand.

Currently, you can try the following widgets (they are fully customizable and responsive):

Facebook Grid widget (2 different layouts)
Facebook Masonry widget
Facebook Slideshow widget (with and without vertical thumbnails)
Facebook List Slider widget
Facebook Different Size Photo Slider widget
Facebook Carousel Slider widget (2 different layouts)
Facebook Three Column widget

Yes! We encourage you to leave your unique branding layouts on the widget. Explore the layouts, try our design options, check out the CSS editor, or even add a CTA button to encourage conversions.
Yes! We integrate with the major CMS platforms and web builders like WordPress, Squarespace, PageCloud, Joomla, Wix, Weebly, Shopify, Magento, OpenCart. Additionally, we work well with all the platforms that allow embedding javascript codes or 3rd party iframes.

Absolutely! Explore the 'Call to action' tab and pick the CTA button copy that suits your products best. If you don't see a fit, we allow you to create your own custom CTA text.

You can set a different 'Call to action' button for each photo in the album or one copy for all of the photos. Don't forget to include a link where visitors can click, and purchase the selected product.

Unfortunately, yes. If you don't see the value in EmbedAlbum and decide to cancel, your widget won't be displayed anymore. However, you can always change your mind and we will be more than happy to restart our collaboration with you.
Browse albums widgets templates