With creative teens as fuel and its popularity spreading rapidly, TikTok is becoming a trendsetter when it comes to new and creative marketing campaign trends.
As a result, we developed a tool like EmbedFeed to help you level up your visual marketing game and embed unique TikTok social feeds for your website.
EmbedFeed allows you to insert TikTok videos (as much as you want), and create a stunning widget for your website. 
It has never been easier to maximize the power of this trendy social network, promote your brand and boost your marketing and sales efforts, so make sure to showcase your favorite TikTok videos using our simple social media generator.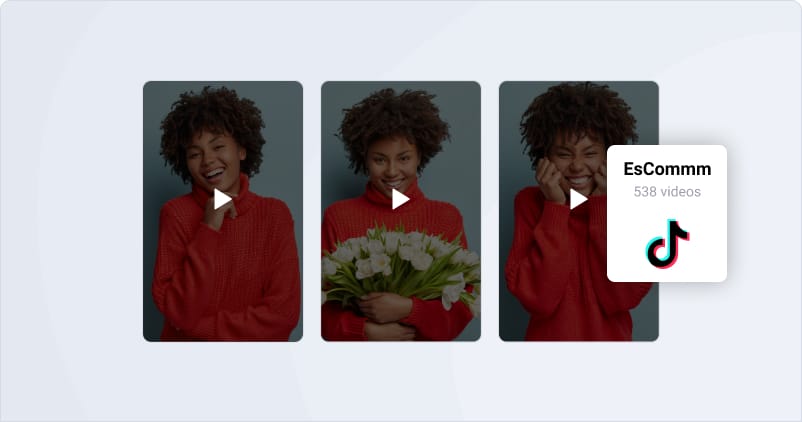 The benefits of showing TikTok feed on your website
Boosts user experience and increases the average time on page
Leverages your marketing efforts by showing your products in an engaging and trendy format
Increases the conversion when adding CTA button on your TikTok feed
Promotes your TikTok account and turns website visitors into TikTok followers
Embed TikTok feed in eye-catching layouts
We've developed dozens of modern layouts that can adjust to any website and provide outstanding user experience, both on desktop and mobile.
You have a variety of layouts like sliders, feed, grid, masonry, and many more to help you craft an interactive TikTok widget that will outline your brand personality.
All the layouts are fully customizable, so you just need to make sure to find the one that fits your branding and adjust it to your website colors and design.
Custom CSS editor for your TikTok feed widget
The widget design doesn't match your brand style?
No problem!
All our layouts are completely customizable!
Craft your own TikTok feed with the Custom CSS option. All you need is basic CSS knowledge.
If you need any help along the way, feel free to reach out to us and we will be happy to help you customize your desired TikTok widget.
How to generate and embed TikTok feed on your website?
You can embed your TikTok social media feed on a website within several minutes. Just follow the steps below:
Start your free trial for EmbedFeed
Choose your TikTok channel as a source
Copy/paste the URL of the TikTok videos you want to be displayed
Customize CSS, choose a layout, try the moderation or add buttons
Copy and paste the provided code on your website builder to display your TikTok widget
Create multiple TikTok feed widgets for every website you have
We don't limit you to add just one widget per website.
As the popularity of TikTok is rapidly growing, if you are a marketing agency or a business owner, you may need to generate TikTok video feed on any website you have. We couldn't agree more.
So, we made EmbedFeed available for all paying plans. No need to upgrade to display your TikTok widgets on several websites. You can do that within the same account you have.
EmbedFeed tool can help you maximize the power of this social media network and give your brand the leverage it needs to hit your goals this year.
Create a combo feed with your Instagram, Facebook or Youtube videos
If you sync with your Instagram, Facebook or Youtube accounts you have the option to also handpick witch TikTok videos you want to see displayed on your feeds.
By using this flexible option of moderating your feeds, you can create a one of kind feed with all your social media videos and content.
How to embed TikTok feed for WordPress?
With tools like EmbedFeed, you can easily combine your favourite TikTok videos into one modern widget and embed it to any WordPress website. No coding skills required!
Just copy and paste the short code into the HTML section where you want the widget to be shown. And that's it.
If you want to use a shortcode, you can download install our official WordPress plugin.
Need help?
Frequently asked questions about TikTok Feed
We made this tool as simple as possible, but if you still have some questions, please check the FAQ section!
Yes, sure! We designed our system to support multiple TikTok accounts. All you need is to copy and paste your TikTok channel URL and our platform will do the rest and connect your TikTok API and generate your videos. Depending on the number of sources you want to connect, check our pricing plans to see what fits best for you.

Currently, you can play around with the following widgets:

TikTok Feed widget (2 different layouts)
TikTok Masonry widget
TikTok Grid widget
TikTok Three Column widget
TikTok Carousel widget (2 different layouts)
TikTok Slideshow widget (with and without vertical thumbnails)
TikTok List Slider widget
TikTok Different Size Photo Slider widget

Please note that we are regularly developing new layouts for our widget's library, so stay tuned!

Yes, we encourage you to express your creativity and try multiple templates and our moderation option where you can handpick the video content that you want to be displayed. Feel free to play around with the custom CSS editor to make sure the widget fits your unique brand voice.

Yes! EmbedFeed platform integrates with WordPress, Squarespace, PageCloud, Joomla, Wix, Weebly, Shopify, Magento, OpenCart as one of the major CMS platforms and web builders. Additionally, we work with all the platforms that allow embedding javascript codes or 3rd party iframes.
Yes! Use the Moderation tab to pick which videos you want to be shown on the feed published on your website. Here you can select the video content that includes a certain word(s) and filter videos posted on certain dates.

Absolutely! We encourage you to do that by using the Call to action tab in the TikTok feed posts. All you need to do is to select the CTA button and add a link from where visitors can buy the selected product.

Yes! Our platform is integrated with Facebook, Instagram, Twitter, Pinterest, YouTube, Vimeo, so you can choose to add video content from all of the social media networks listed above.

Yes, the widget stops showing. We hope that you will see value in EmbedFeed, but if you decide to cancel, we will always be here for you if you change your mind and want to use our platform again. No hard feelings 🙂