Do you remember the time when Coca-Cola introduced its personalized coke bottles within the Share a Coke UGC campaign? The world went crazy! Consumers were sharing on social media posts of themselves enjoying a drink with their personalized coke bottles. The outcome? Coca-Cola's consumers stepped into the shoes of the advertiser.
This is what user-generated content is all about!
We created the UGC platform EmbedSocial to help you collect and display user-generated content. This guide will show you how to convert your buyers into advocates for your brand using the best UGC practices. You will also find everything you need to know to leverage UGC and your customers' ecosystem. Let's get started.
FYI: You can embed Google reviews widget automatically with EmbedReviews platform. Start a free trial and display your Google reviews now.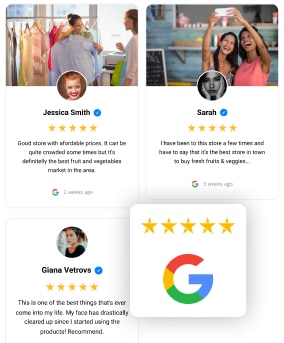 Generate & embed your Google Reviews.
Try EmbedReviews, generate Facebook and Google reviews, and display social media reviews widgets on your website. Automatically and in seconds.
All PRO features | Cancel any time.
What is User-Generated Content?
UGC meaning and definition:
It can be in the form of user-generated photos, UGC videos, testimonials, online reviews, customer comments, tweets, blog posts, podcasts, and every other content that promotes your brand. It is actual customer-created content that can help any company to build a brand community, raise awareness, and gain customer trust with authentic forms of marketing.
Compared to branded content, which was mainly part of all traditional marketing activities, UGC is taking over with the emergence of influencer marketing. Why? Mostly because the best user-generated content provides powerful proof that leads to increased trust and more loyal customers. Here is an example: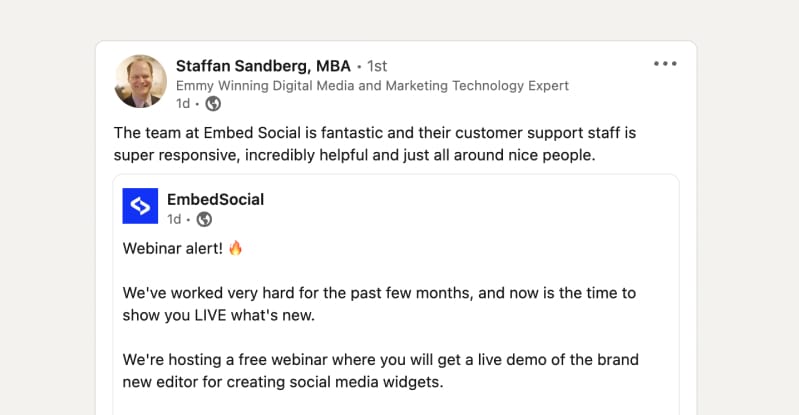 Reasons Why You Need User-Generated Content ASAP
It's obvious why UGC as a type of content is so influential.
UGC campaigns have shown to be a golden ticket in the digital marketing world due to their super-efficiency. And most importantly:
79% of people say that UGC highly impacts their purcahsing decisions.

Stackla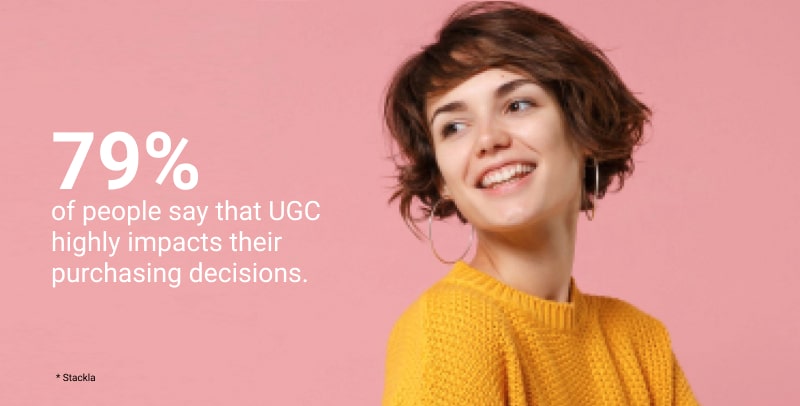 There are many benefits of user-generated content, so no wonder why so many businesses implement it in their main digital marketing strategies.
Here are the main reasons why brands are turning to their audiences to share experiences of their products instead of them:
UGC promotes authenticity and credibility boost (customers are no longer passive consumers led by TV commercials and billboards)
It can increase brand awareness significantly
Presents an undeniable social proof (as powerful as word-of-mouth)
Builds trust for your brand (consumers trust recommendations from real people)
Impacts purchasing decisions on a higher level
It gives the consumer a voice (and shows that it matters)
It's cost-effective (users run the show, while marketers don't have to empty their pockets on marketing campaigns that may or may not perform well)
Attracts brand advocates and brand ambassadors
It makes people feel they are a part of an online community
Customer reviews expand your SEO efforts and help you rank higher
User-Generated Content Statistics
The main benefits of using UGC platforms are the ability to display authentic content and build online trust. To summarize, here are some useful UGC statistics: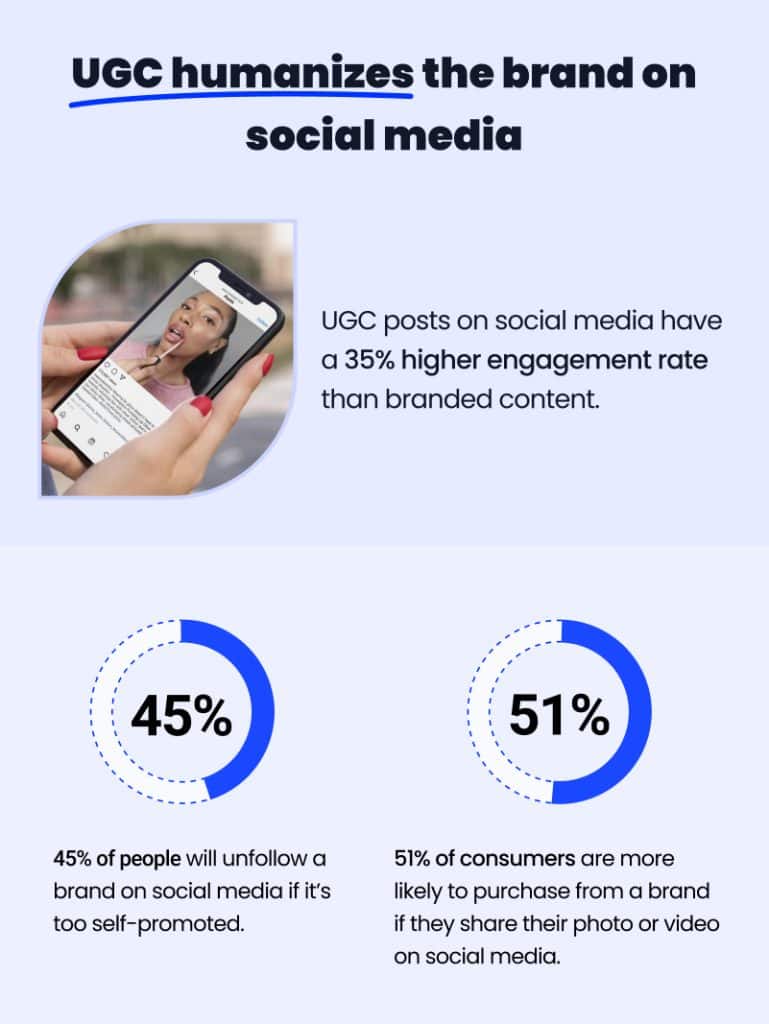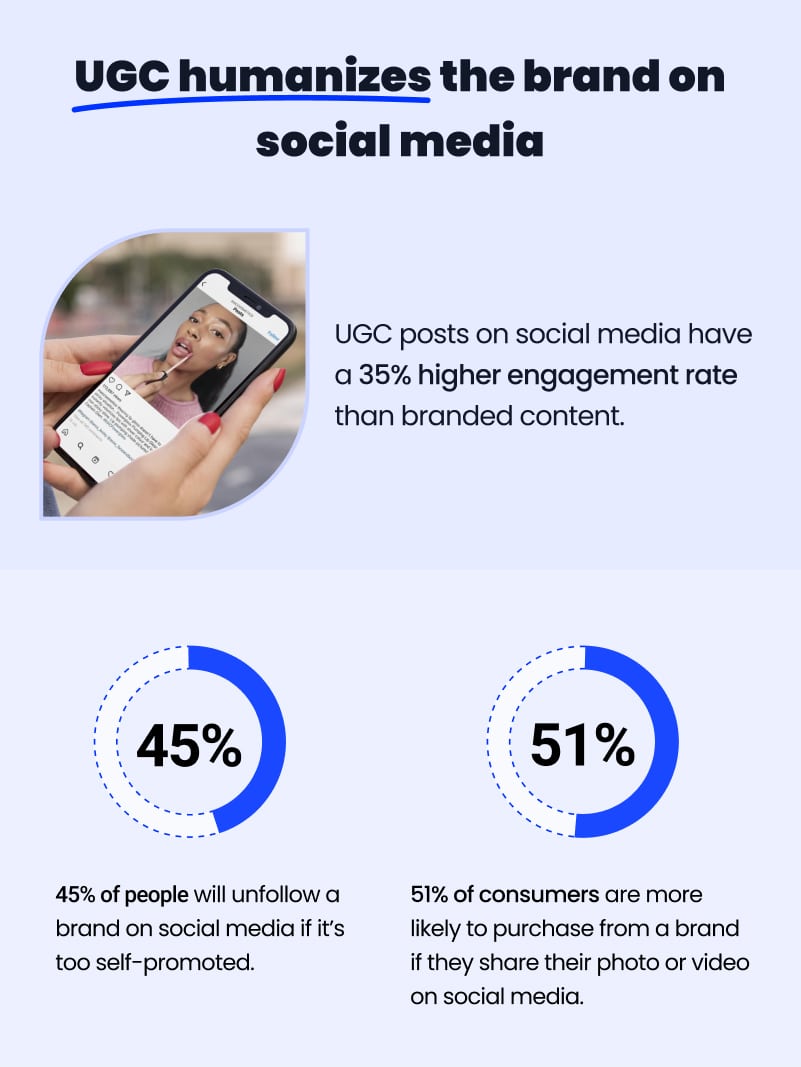 Types of User-Generated Content
Now that you understand where UGC fits into your digital marketing strategy, let's see the most popular UGC use cases that will help you to increase your brand awareness, user engagement, and sales without you lifting a finger.
1. Social media photos and videos (Visual UGC)
Visual UGC content is the most common type of UGC and the most engaging, too. It is a very common practice for customers to share a photo or video on their social media accounts, expressing their experience with a certain brand among their followers.
Below you will find an excellent example of visual UGC when a customer shares a photo of a product (gift) they've received on social channels (in this case, Instagram stories).
2. Customer interviews and case studies
This is a more traditional approach when it comes to gathering customer experience. But, in some industries, long-formatted customer interviews are usually a great inspiration for potential customers to identify themselves and get inspiration on how or why to use a certain product.
Here is a great example of how case studies work as UGC in the software industry: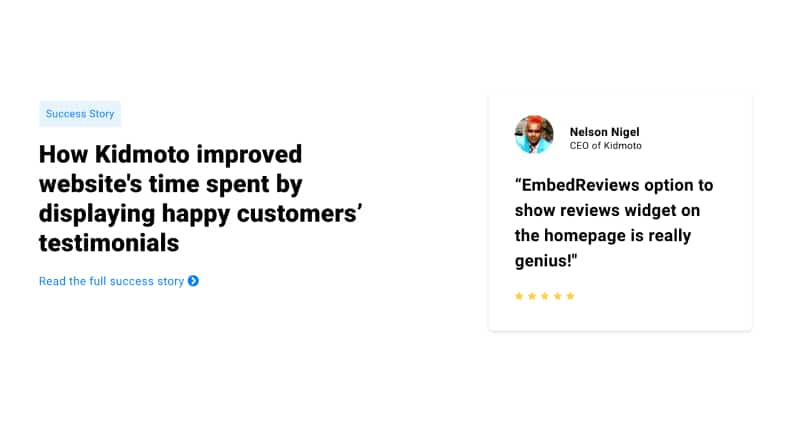 3. Recommendations in tweets, groups, or forums
It has become a common practice for people to ask similar-minded people when it comes to purchasing a product. This usually happens in Facebook groups, forums, or through simple Tweets people asking their friends to share recommendations.
Here is an example: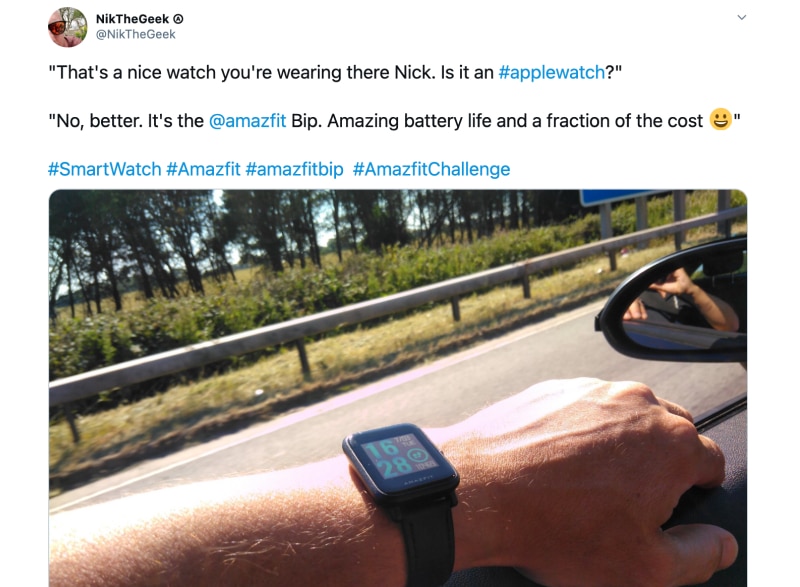 4. Customer reviews, testimonials and ratings
One of the best UGC types is definitely customer reviews and ratings. Reviews are left on product pages or business listings such as Google reviews and are a huge part of a product's success. The time a person takes to write a review validates their willingness to help other people who want to purchase a similar product or service. In both cases, positive or negative.
So that is why, brands need to establish a firm process in online reputation management that will include managing, responding, and showcasing customer reviews.
Take a look at the Starbucks example: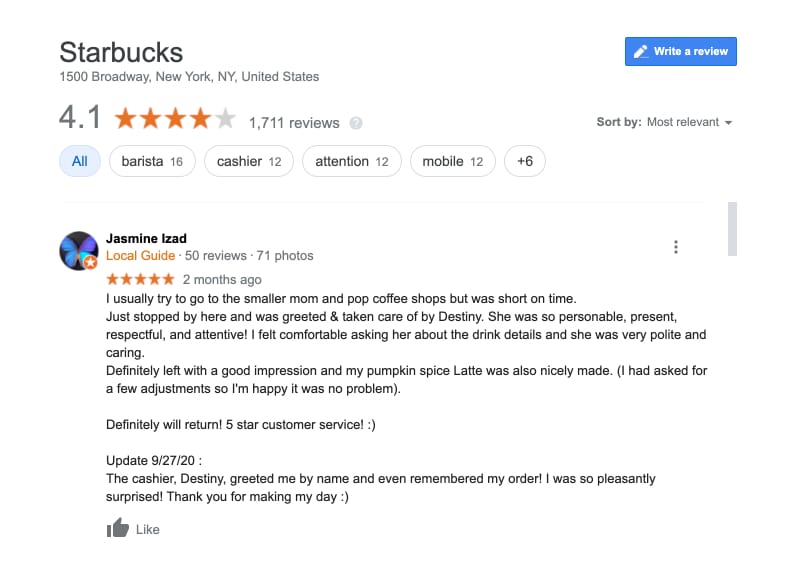 5. Blog posts or product reviews by experts
This format is very particular for certain industries, such as travel, tech or gadgets, fashion, and food, but in general, it can be applied to any service or product. Why, because there are experts that can freely write about your product, whether you like it or not.
For example, here is a blog type of review about a MacBook computer: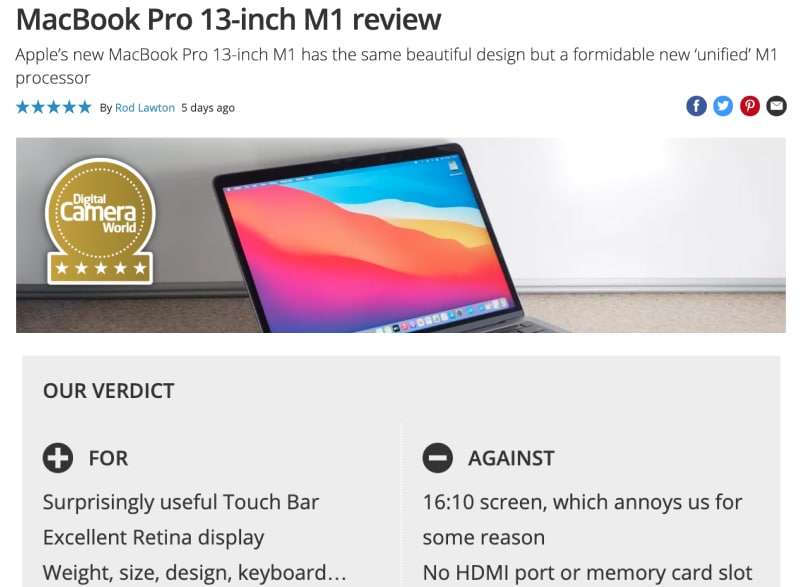 At this point, you might be thinking, what is the best type of UGC to ask your customers for?
The answer is All of them!
Here are examples of brands that learned how to maximize the power of UGC.
Hope this will inspire you.
User Generated Content Examples
#CLUSE
The watch company CLUSE posts UGC pictures on their homepage to help future customers find inspiration from users wearing CLUSE items and inspire others to show off their style. They encourage buyers to tag #CLUSE in their Instagram photos to be part of the photo album below.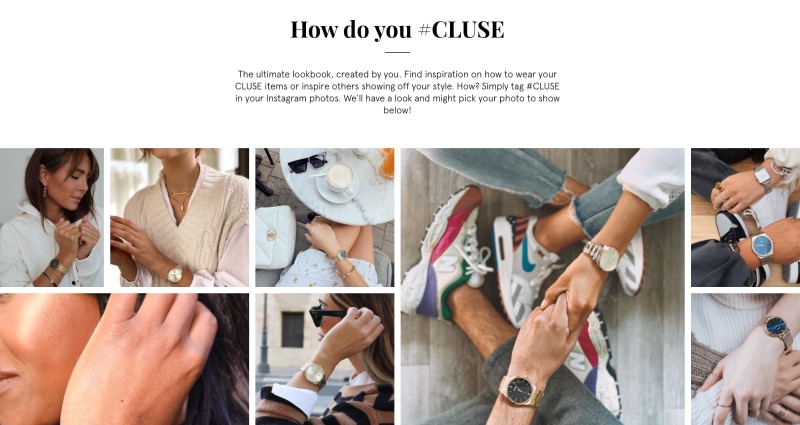 #Doingthings
The athletic wear company Outdoor Voices is on a mission to get the world moving. They created a successful hashtag campaign, #DoingThings, that invites shoppers to share content while doing anything active in the OV brand clothing.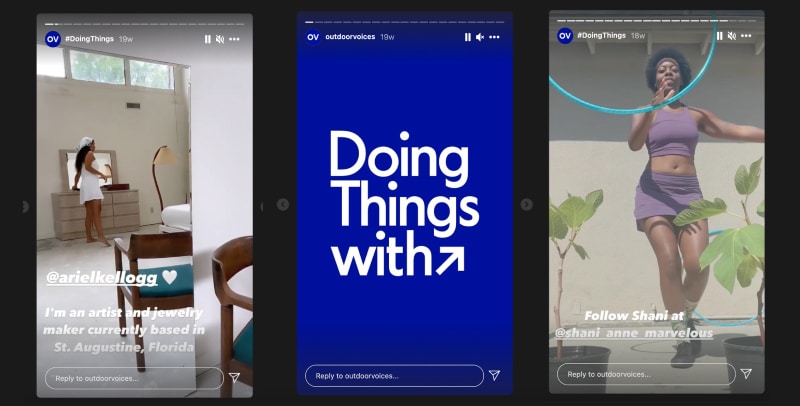 #JentayHome
Unlike the brands that rely on shoppers to share photos when they leave product reviews, the furniture store Jennifer Taylor goes one level up. They pull UGC pictures from customers' social media profiles into their product pages. To get featured, you just need to tag your content with the hashtag #jentayhome.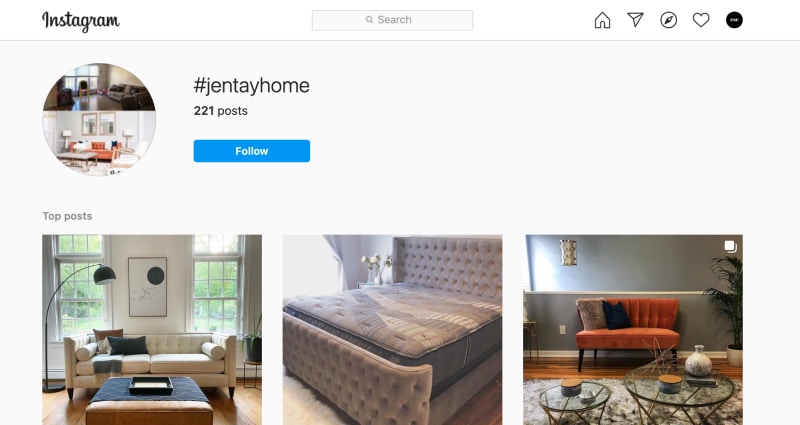 #GoPro
The camera company GoPro is a genius when it comes to collecting user-generated content. The brand surprised users with fantastic campaigns regularly. The latest – million-dollar challenge made millennials eager to be featured and share many photos and videos on how they use the brand's new product, hoping to earn the contest.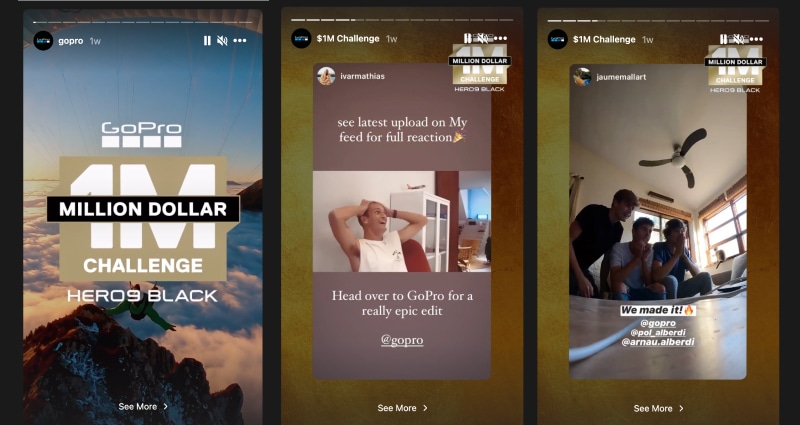 See more user-generated content examples →
Best UGC Goals
Before we move down to best practices on sharing user-generated content, have in mind that you need to set up a UGC campaign. And, like in any sort of marketing strategy, you need to clarify your goals.
Here are some common user-generated content goals you can set:
Higher brand engagement
Consumers tend to spark conversation with their content. Seeing more comments, likes, and mentions of your brand can be clear signs of success. But it would help if you had the right social media management tools to benchmark your efforts.
Higher conversion rates
If you need to make potential consumers comfortable buying from you, UGC is the right thing to boost. You can increase conversion rates by collecting and displaying many reviews that include pictures.
Boost trust in your brand
No matter if you have had some bad press recently or are starting fresh, building brand awareness through trust is a great goal. UGC is the easiest way to establish credibility with your consumers, so make sure to track keywords or phrases connected with your brand.
Educate customers
Most of consumers want to double-check the brand before they invest their money there. Investing in educating customers about your products and services is a crucial thing to do. Start by tracking popular questions and concerns about your business on social media and provide a straightforward answer to them.
Save time on creating content
This is the perfect way to automatically boost your user-generated content marketing strategy and help your marketing team focus on other priorities. Provide a fruitful ground for customers to speak about you and enjoy the amount of UGC you will receive.
Keep in mind that there are tools like EmbedSocial that can help you collect your UGC in one place and create UGC widgets for any website.
Best Practices for User-Generated Content Marketing Strategy
In order to inspire your audience to start creating UGC for your brand, you will need to embrace it as a serious strategy for growth.
Make your brand sharabble
So first things first. Before you expect your customers to start talking about you and sharing content about your products, you will need to consider what is unique about your brand and what you will do to facilitate the experience you want your customers to share.
It can be anything: packaging, some extra mile moment in your customer service, a surprise during delivery, an unexpected birthday card, a showcase of care in their local community, and so on.
Carefully select the social networks
Don't jump straight to Instagram or put all your marketing efforts into your Facebook page. Think about where your audience lives on social networks and the place where your potential advocates could have the most significant influence. Focus on the social media network that is most effective for your user-generated content campaign.
Always request permission to share photos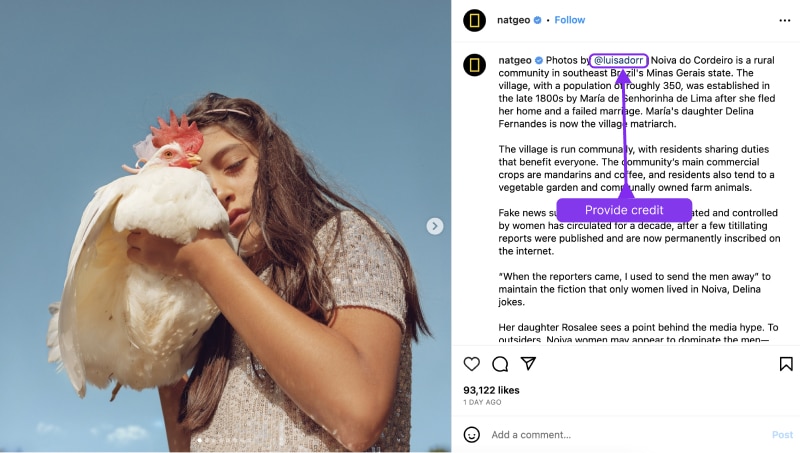 The user-generated content example above shows that a branded hashtag is a great way to collect user-generated content. However, asking for permission is always a good idea, even when a post includes your tag. Re-sharing that content without explicit consent from the UGC creator can annoy some of your best advocates (you don't want to do that).
Credit the creator of the content
When you share user-generated content on your social channels, make sure to tag the original content creator directly in the post. This will make it easier for fans and followers to verify that the content is authentic and created by a customer outside your company.
Offer something in return
Social media contests (like the one above) and giveaways are a great way to generate a substantial amount of UGC quickly. So next time you want your followers to provide you with user-generated content, consider what you can offer them in return.
Analyze and measure your content
No matter if you re-share it or not, user-generated content metrics can serve as a great source of customer research. Please take a closer look at how buyers are using your brand and what language they use to describe it. You might discover that they are practicing your products or services in ways you haven't considered.
Embed and display UGC on your website, social media, or any other marketing channel
And finally, user-generated content has a high purpose in helping your brand provide evidence and proof that previous customers create.
Thus, this marketing collateral gets a superpower that no other marketing content can provide. You can start by simply publishing the content on your social media channels. For example:
And next, make UGC part of your core processes and use social media aggregator as your new marketing platform to help you aggregate and store UGC at scale.
UGC Social Media Platforms
Collecting valuable user-generated content takes more than coming up with a hashtag. A good UGC strategy adds value to the brand and brings user experience to another level.
User-generated content doesn't just have to live on social media channels. You can quickly expand its reach and value by showing it directly on your website with interactive UGC widgets.
User-generated content SaaS platforms like EmbedSocial can help you automatically generate, set up visual content curation, and display UGC in a real-time widget that you can publish on your website with a single line of code.
Pick your favorite social media platform (Facebook, Instagram, Google, Twitter, YouTube, TikTok, etc.) and select what you want to show, whether that be stories, posts, user-generated videos, or reviews of your products. Select your preferred template and curate your perfect widget.
The greatest thing is to leverage user-generated content in interactive widgets embedded on your website pages or any blog post.
EmbedSocial provides options to tag photos and user-generated videos with checkout pages, so you are able to increase conversions with this authentic form of marketing.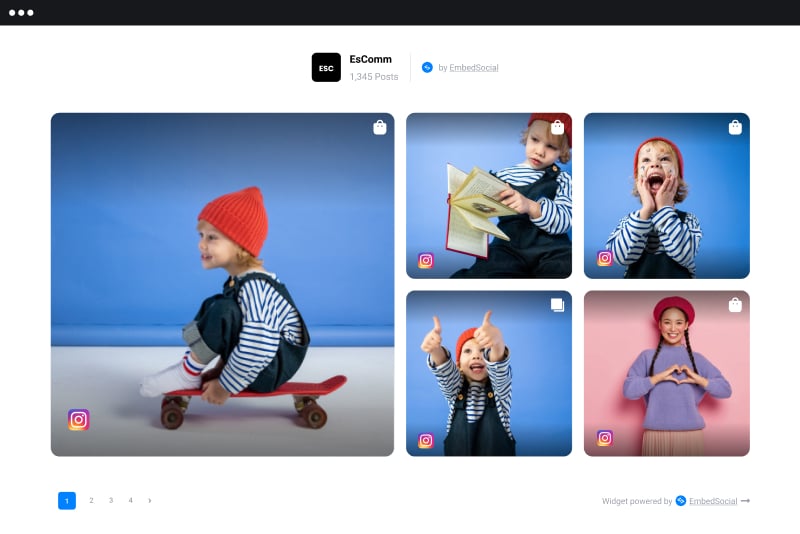 EmbedSocial platform works with every CMS and popular eCommerce platform, so no matter what website builder you have, we got your back!
Frequently asked questions
Why is UGC important?
User-generated content is important because it helps businesses to connect with their target audiences more authentically and engagingly. It also provides valuable insight into what consumers are interested in and how they perceive your brand.

What is user-generated content marketing?
UGC marketing refers to brands' marketing tactics to show existing customers' experiences within their marketing communication activities or marketing materials.

And usually, existing customers proactively post about their experience with a brand or write testimonials to express their satisfaction with a particular product. So these types of content are re-used by brands (with permission) to create marketing collateral.
What is a user-generated content platform?
UGC platform is a SaaS software solution that mainly provides functionalities to easily aggregate, store and re-use content that customers share on social media or other online profiles. For example, EmbedSocial is a complete UGC platform that enables brands to automatically generate posts other people post on social media or reviews on Facebook and Google.
How to get user-generated content?
Usually, UGC is not something brands can 'pay' or 'force' to acquire. There are ways to incentivize or encourage people to share their experiences. For example, in return, you can ask people to write testimonials and swag. But, the best way is just to create 'deliberate' experiences that people can't hesitate to talk about and share, such as exciting packaging, social initiative, sponsorship of vulnerable communities, exceptional customer support, etc.
How can I encourage UGC?
You can encourage users to generate content for your brand in a few different ways. This includes hosting competitions and giveaways, using hashtags to encourage social media engagement, and featuring user-generated content on your website or blog.

Are there any risks associated with using UGC?
There are a few different risks associated with using user-generated content. This includes the potential for negative or fake reviews, copyright issues, and reliance on social media platforms. Make sure that you get full permission from the customers, especially if you use their images or other content in mass-marketing campaigns.

Conclusion
Don't over-sell your product – show it and let others speak about it. Encourage shoppers, professional content creators, influencers, and industry experts to communicate their opinions about your brand in their own words and style. As a retailer, always be open to critics or attacks and have the will to turn every negative feedback into a lesson learned.
Using UGC platforms can help you aggregate all user-generated content in one place as a powerful digital asset and competitive visual marketing.
Embed user-generated content on your website automatically. Start a free trial today >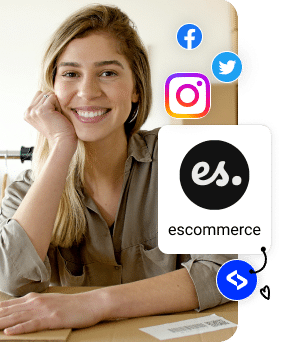 Collect social proof & user-generated content with the #1 UGC platform
Try EmbedSocial and automatically collect, monitor, and display UGC on any website.
All PRO features | Cancel any time.