Comparison: Juicer v.s EmbedSocial
Compare social media aggregators alternatives
About Social Media Aggregators
In the past few years, social media has been all the rage. It's a great way to connect with others and share information. For brands, it's a powerful tool for building relationships and creating awareness of their products or services.
Some people may not be aware that there are dedicated software products specifically designed to collect and display content from multiple social media accounts – these are called "social media aggregators."
But if you are one of those who are looking for a premium solution for creating seamless social media walls with pixel-perfect design, you've come to the right place.
In this post, we will compare two of the most popular aggregators on the market: EmbedSocial vs Juicer.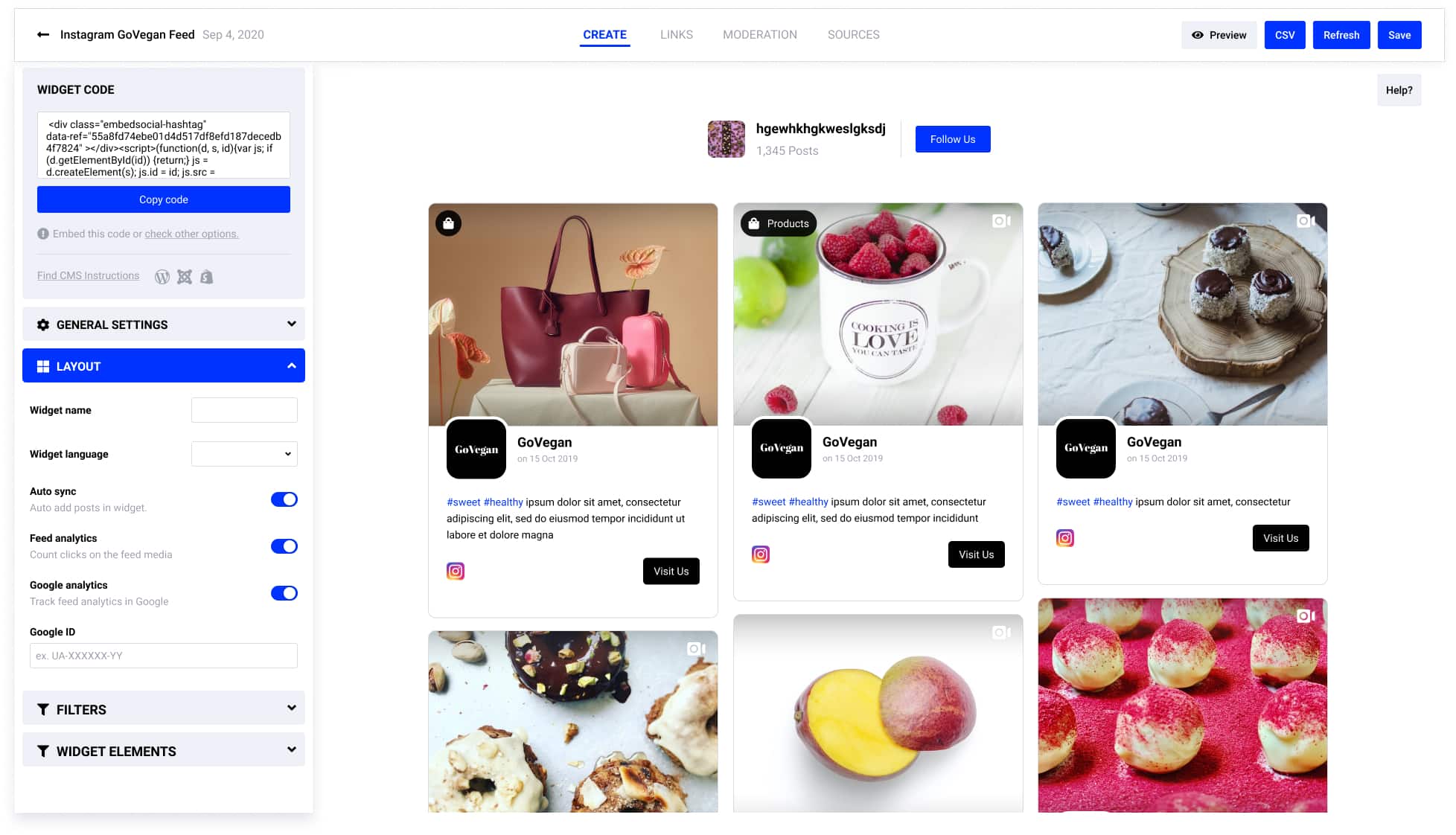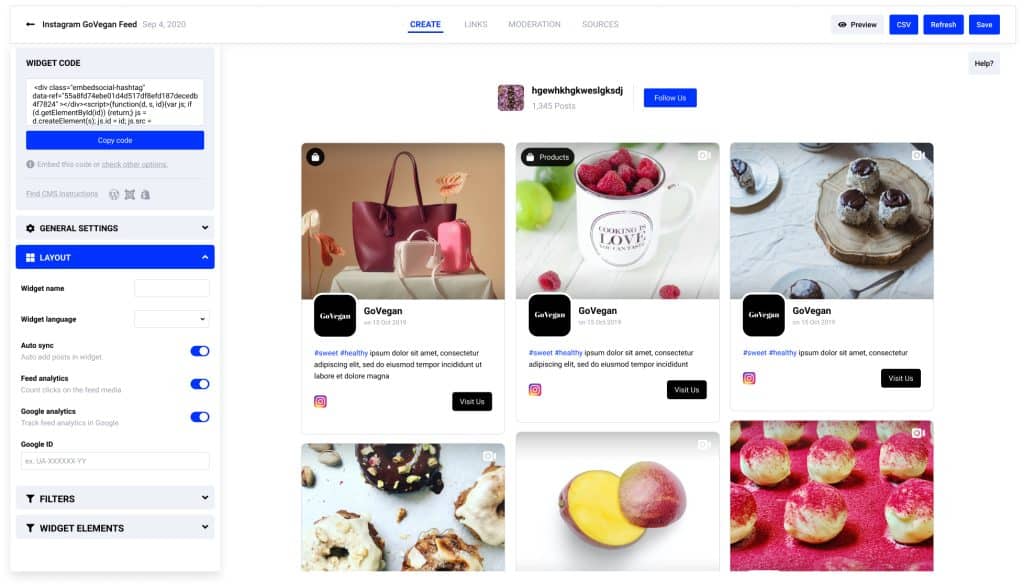 Best Juicer alternative
PRO versions comparison by Juicer and EmbedSocial's social media aggregator.
| Features | Juicer | EmbedSocial |
| --- | --- | --- |
| Mobile-friendly (android and ios) | | |
| Customer support with a dedicated support team | Email only | Live chat & Email |
| All major social media networks | | |
| Customization | | |
| Custom posts | | |
| Auto-sync | | |
| Templates | | |
| API access | | |
| Shoppable feeds | | |
| Analytics | | |
| Team accounts | | |
| Free version | | |
| Pricing | $99 for 3 feed | $29 for 3 feeds |
*Such as WordPress, Squarespace, Shopify
UGC & Social media aggregation
User-generated content is one of the most powerful tools to build trust and loyalty with your customers. It's also an incredibly effective way to get them talking about you. And, when it comes to brand building, there's nothing more valuable than word-of-mouth advertising. If you're looking for a cost-effective way to increase customer engagement and improve your brand awareness, then user-generated content is worth investing in.
That said, the demand for UGC software solutions has increased. The market is already saturated with great platforms that can help businesses collect, curate, and display user-generated content across their marketing platforms.
One of the most common UGS use cases is the possibility of gathering and displaying social media feeds on businesses' websites to provide social proof and evidence for their products. And you can do this automatically with social media aggregators.
What is a social media aggregator?
Social media aggregators are software products that directly integrate with the major social media networks and allow brands to create social media widgets with their content or other users' content (content they published with a brand's mention or particular hashtag).
The most common social media channels provided as sources of social media content are: Tweets from Twitter posts, posts published in an Instagram hashtag campaign, photo albums from Facebook pages, LinkedIn recommendations, sometimes but really RSS feeds from brands blogs, and similar.
What are the benefits of using social media aggregators?
Here is how an embedded socialfeed can make your life easier:
Monitor social media from one place – Never miss a mention on social media about your brand. Your content will be stored in one dashboard where you will have the opportunity to sort, browse, analyze, respond, etc.
Save time for web content updates with automated feeds – the integrations with social media networks allow your widgets to sync automatically which means the moment you post on the synced profiles the feed will update in real-time on your website.
Discover powerful user-generated content for your content marketing – users constantly mention and talk about their experiences with brands and businesses. This content is genuine and authentic that every marketer needs to discover and incorporate into their marketing. Social media aggregators can help to do this fast and easily.
Drive conversions with interactive web widgets – the options to embed social media walls on your website create an opportunity to engage more with web visitors, reach more people with your social media content, and eventually provide proof that will increase conversion rates and boost your revenue. There are a variety of grid or carousel templates that you can choose from that will perfectly fit your website.
Simple Integrations with web builders -marketers won't need any coding skills to implement and use the widgets on their websites. Most of the platforms provide apps and plugins that work with major web builders, such as WordPress, Shopify, Wix, PageCloud, etc.
Now once you understand the need for social media aggregator, you can compare and choose the right solution for your needs.
As we mentioned there are few solutions from simple widgets to big platforms and most of them claim that they are the best social media aggregators on the market.
But, in our opinion, you should look into the details, get demos or free trials, and decide what best will fit YOUR needs.
Why you should pick EmbedSocial?
EmbedSocial is an aggregator that works with many social media networks. Juicer is another powerful tool to combine multiple major networks into one solution! Although Juicer does provide great features, it is still aimed only at social media posts aggregation and misses some of the options that a complete UGC platform like EmbedSocial can provide.
Here are 10 reasons why EmbedSocial is the best alternative to the Juicer social media widget:
Founders of a Facebook Marketing Partner with 10 years of experience in working with official social media APIs
Unlimited number of social media widgets
Unlimited hashtag campaigns
Optimized for high speed, and fast loading
Works with any web builder, or eCommerce platform
No limits in page views
No charges and limits for multiple team accounts
Constant updates with new sources and new layouts
Quick response to customer requests and fast implementation
Dedicated customer success team
Sounds great!? Choose your plan below to try EmbedSocial or learn more.