Just like sharing videos on your social media networks, adding videos on your website is a great way to engage visitors and turn them into clients.
Videos double the time visitors spend on a website and relevant hashtags can expand the reach of your marketing campaigns 5 times faster.
To help you put such numbers to work for you, we created a simple YouTube hashtag generator to help you gather all your videos that contain certain hashtags in one modern widget.
With EmbedFeed, you can curate your YouTube hashtag feed with just a few clicks, show real-time video content that can sync automatically and re-invent your shopping process by adding buy buttons to your video feed.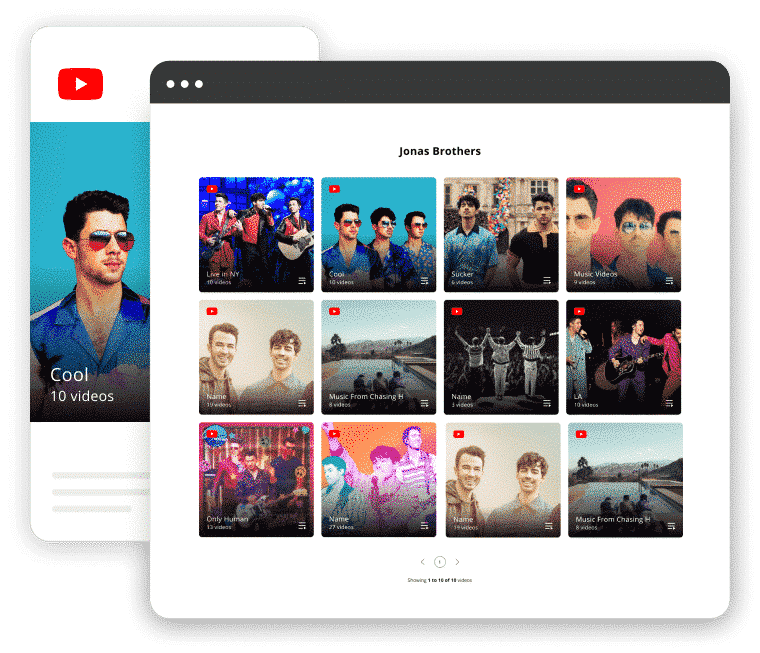 Benefits of embedding YouTube hashtag feed on your website
Boosts the visibility of your marketing campaigns and events
Collects all videos that mention your brand or products effortlessly
Increases the average time on page
Promotes your products in a more engaging way
Improves your conversion rates when adding CTA buttons to your videos
Promotes your YouTube account and increases your subscribers base
Variety of customizable and interactive layouts that suit every website
Pick some of our 10+ modern layouts to curate a unique user experience for your website that will look outstanding on mobile and desktop, too.
All of our layouts are designed to be fast-loading, interactive and completely mobile responsive. So, feel free to customize the templates the way you want, play around with the settings, or try the lightbox experience.
Moreover, you have the option to redirect your website visitors from the widget to your YouTube channel and gain more followers.
Custom builder for your YouTube hashtag feed
Our layout designs don't suit your branding?
No problem!
Our in-house team created the EmbedFeed platform to be so adjustable, that you can do a complete makeover of the widget, so it represents your brand flawlessly.
Show your creativity with our basic Custom CSS editor.
And if you need any help with the widget transformation, reach out to us and we will be happy to do that instead of you.
How to generate and embed a YouTube hashtag feed on your website?
Generating and showing videos that contain certain hashtags can be done within a few minutes. Just follow the steps below:
Start your free trial for EmbedFeed
Choose YouTube as a source
Write down the hashtag(s) you want us to pull videos from
Choose a layout, moderate the videos or set your 'Buy' buttons
Copy and paste the provided shortcode into an HTML section on your website where you want the widget displayed
Create multiple YouTube hashtag widgets for multiple websites
To maximize the user experience and level up your marketing game, use the EmbedFeed platform to craft a combo feed from all the sources you need on every website you have.
This tool can be highly beneficial for you if you are an agency with multiple clients or a business that has several branches in different locations and separate website domains for them.
Auto-sync and moderate your YouTube hashtag widget
We guess you don't have time to manually search and find all videos by hashtags on your website, so to help you out, we created an auto-sync option that will automatically generate all the videos that go under a particular hashtag(s) you have selected before.
Want to remove some of the irrelevant content from the hashtag feed? No problem!
Try the moderation option and select the videos that you want to be shown.
EmbedFeed provides you with several moderation options like selecting the priority in appearance for your videos or filtering them by date.
Need help?
Frequently asked questions about YouTube Hashtag feed
Still have questions? Feel free to browse the FAQ section below or tap the chat icon to reach us.
Yes! We don't limit you with the number of hashtags you can use.

Thanks to our integration with the YouTube API, you can add as many hashtags you need and we will automatically generate all the videos that contain the chosen hashtags.

Check out our 11 ultra-modern layouts that fit any website branding:

YouTube Feed widget (2 different layouts)
YouTube Masonry widget
YouTube Grid widget
YouTube Three Column widget
YouTube Carousel widget (2 different layouts)
YouTube Slideshow widget (with and without vertical thumbnails)
YouTube List Slider widget
YouTube Different Size Photo Slider widget

You always have the option to customize their appearance, but we can assure you that they are so stunning that you won't even need to bother doing that.

Yes! You have open hands to try every template we offer and even customize it with our simple CSS editor.

Check out the moderation option to choose more precisely what videos you want to see displayed in your widget and select their priority of appearance.

Yes, you can handpick the videos and choose more precisely what videos you want to see displayed in your widget and select their priority of appearance.
Yes! WordPress, Squarespace, PageCloud, Joomla, Wix, Weebly, Shopify, Magento, Open Cart are some of the main CMS platforms and web builders we integrate with, along with all the platforms that allow embedding javascript codes or 3rd party iframes.

Yes! Buy, Register, Learn More, Sign Up, Contact Us, Book Now are some of the CTA button copies that you can add on your video content. You can always add your custom copy, too. Don't forget to include a link that will direct your visitors to the checkout page where they can buy the selected product.

Absolutely. We integrate with all the major social media networks like Facebook, Twitter, Instagram, YouTube, Vimeo, TikTok, so we encourage you to select all the sources you need for your widget to maximize your marketing and sales efforts.

Our dedicated team will do everything so you get the best value from the EmbedFeed platform. But if you decide to cancel the subscription, your widget won't be displayed anymore. However, we can always resume our collaboration and we will be more than happy to have you back.