Providing your potential client with a simple way to request a quote from you is essential for running a business.
The request quote form is crucial for any website, containing versatile fields based on the industry.
It will help your customers get a personal quote based on their project details and requirements (and once they get their quote, they can have a better understanding of what they can expect from your service, and how much it will cost them).
This article will cover some free request for quote examples for different industries and show you the best way to create a Request Form from scratch, using a forms builder.
Basic information to include in an inquiry form
All the below-listed forms differ one from another because they are all created for a different industry.
Still, they have one thing in common – they all must include the basic personal information about the person filling in one form.
Such information to include in your forms are:
Company name
Company's website
Your Name and Surname
Your work email address
Your Phone Number (optional)
What is your Estimate Budget for this project?
Can you briefly describe what the project is about?
Is there a deadline for this project?
Comments/extra requirements?
These are the essential pieces of specific details your customer could fill in.
Now moving on according to the industry-specific forms, feel free to jump right to the industry that's most helpful to you:
1. Inquiry form for web design services
Well-thought web design has become an irreplaceable part of every website and a key factor for succeeding in almost every industry.
It is crucial for increasing the conversion rate and making a profit.
As web design grew more popular, so did web design services.
Elements to include in design services form
All the basic personal details
What is your current website?
How soon do you need the new website?
How many pages/sections will your website have? How many of them need re-design?
Do you already have a logo or other branded materials?
How important is Search Engine Optimization for your business?
Do you need hosting as well?
Will the existing website content be used?
What do you want to accomplish with the new website?
What strategies are you hoping to use to support your goals? (multi-select)
What would you like to be the first impression of your new website?
Do you have a color scheme?
Do you have the typography you prefer?
What type of content management system do you use?
Share about your competitors in more detail, their pages, and what do you like/dislike about them?
For example, we can take Lounge Lizzard, a digital agency that can help you not only with your web design but also with a variety of other services too.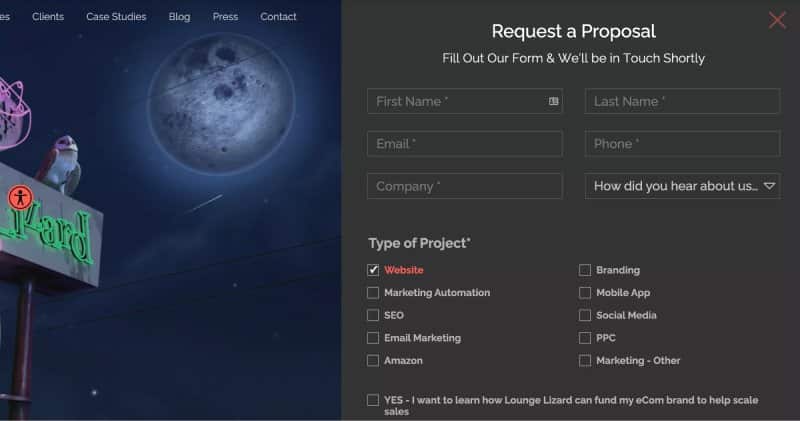 2. Get contact details in a quote form for marketing services
Marketing services are crucial for expanding a business.
These services help grow leads and increase sales, i.e. make a profit.
You, as a marketer, know the actual value of placing "Get a Free Quote" on your website.
But if you lack some question ideas – we are here to help!
What question you should include:
All the basic personal information
Tell us all the details about your brand and the product you want to advertise (please feel free to share your website)?
Who is your audience (add gender/age/location)?
What is the goal of the project?
What do you want to accomplish with our services?
What strategies are you hoping to use to support your goals? (here, you can list your services such as search engine optimization, content creation, social media marketing, etc.)
Do you have any specific KPIs for this project?
What do you think has worked for you in the past/ what didn't?
Name your five biggest competitors?
How do your product/services differ from the ones of your competitors?
What are the most common challenges that stop you from converting more customers?
Do you have a specific budget for your project? Share your monthly budget?
Any other comments you want to add? Could you tell us more about your project?
When are you planning to launch this project? Do you have a deadline?
Is there anything specific we should know about your project? (you can add a note with the things your customers are supposed to add, such as budget, deadline, requirements, etc.)
For example, we can take WebFX – an online digital marketing agency whose Get a Proposal is built in a way to take people step-by-step through the request for quote form without overwhelming them with a list of questions.
In the meantime, they are also offering social proof (reviews) and an alternative way to reach out to them (call them).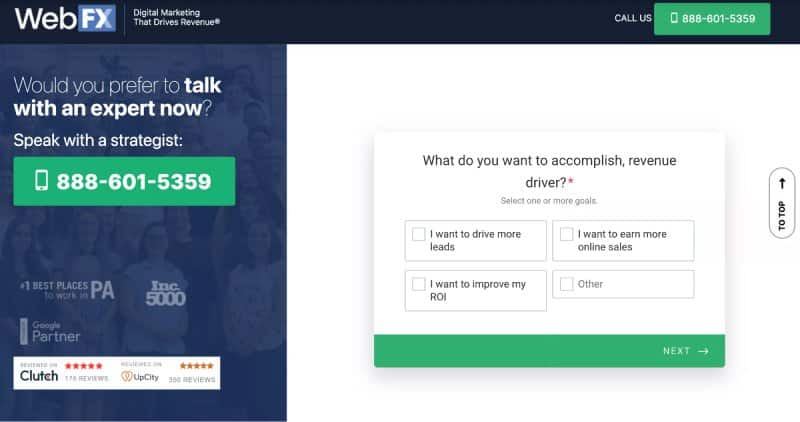 3. 'Request a project' form for technology services
Technology services or so-called IT services cover a wider area of services such as:
software development, integration, and maintenance
web app development
IT security
cloud services
installation services
hardware
mobile app development
blockchain development
games development
artificial intelligence
When it comes to setting up your request project form or feature request for quote form, a good place to start is to include general questions that will give you information for every service.
Include the following questions:
All the basic personal information
What's your inquiry about? (multi-select with services)
How can we help you?
Describe your idea?
Do you have a budget for your project?
After these questions, you can stop here, or you can get down to adding more questions relevant exactly to the type of services you are offering to your potential clients.
For example, Hyperlink InfoSystem offers development services.
They've kept their form simple, short, and just enough to capture their leads and reach out to them with a custom quote.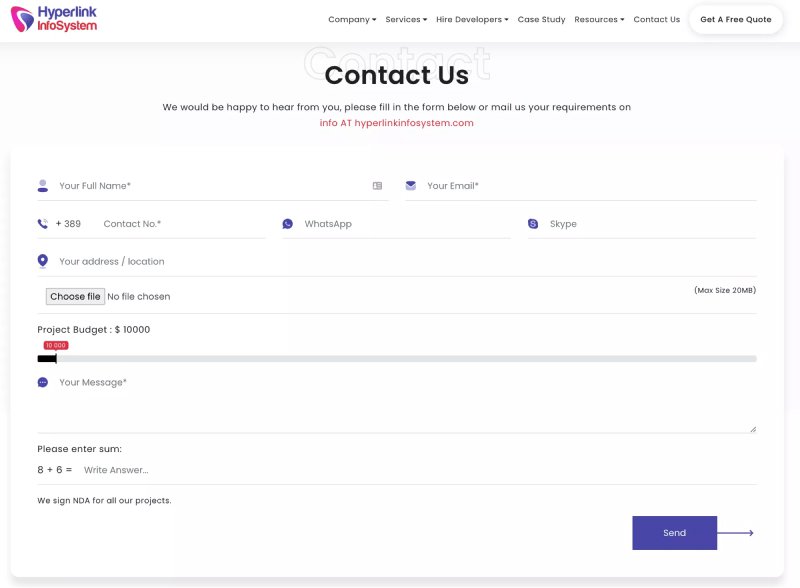 4. Quote request form for writing services
Over the last few years, content creation and content marketing have gained huge importance, and so along with writing services, have gained popularity.
Professional writing services also provide editing and proofreading services for a variety of content.
If you are a freelancer or own a writing services business, read below on how to set up your "get a free quote" form.
Examples of questions to include:
All the basic personal information
What's the type of written content you need? (list all the details here: social media posts, blog posts, product descriptions, etc.)
What industry is your project related to?
What's the project's scope? How many words/pages do you need?
Do you need additional services such as proofreading/editing/publishing?
Does the content need to be optimized for search engines?
Do you have a deadline for your project?
Do you have a budget for your project?
Do you have an example you can share with us?
What's your target audience? Can you share a tone of voice for your content?
We can take, for example, Digifloat's simple form.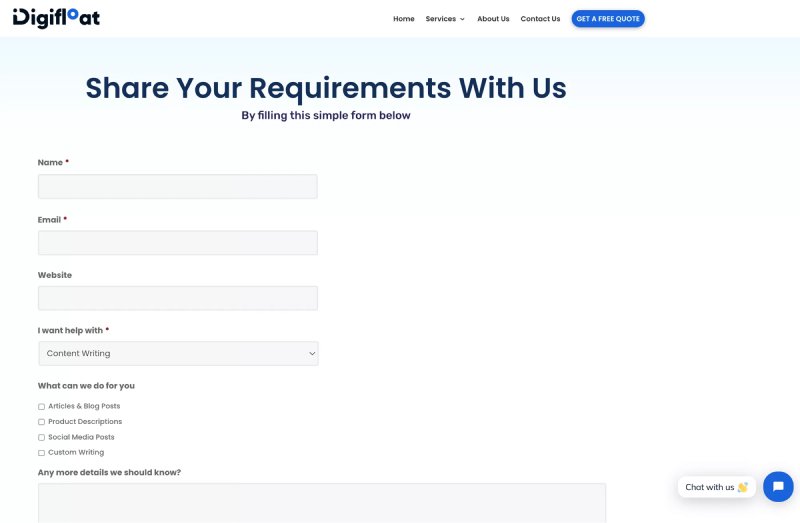 5. Request quote forms for translation services
Translating and localizing content for versatile markets is a crucial part when talking about market expansion, and it's the main reason why translation services are so important.
Translation services are important for communicating with international clients and expanding the business.
Here's how to set up the 'Request for a Quote' form for your website:
All the basic personal information
Select your source and target language
What type of documents do you need to translate?
Select a service you need? (list additional details, such as services you offer: translation, certified translation, interpretation, transcription, subtitling, etc.)
Preferred date of delivery (the option to charge more for an urgent translation)
What's the approximate word count for your document?
What's the industry this document is about?
Describe the format of your document?
Additional Questions/Comments
Cultures Connection has created an amazing page where besides adding their form, they also described how the price could vary based on a few key points such as the format of the document, the language pair, the urgency of the translation, etc.
Make sure you keep in mind all these things and include them either on your dedicated page or within the form itself.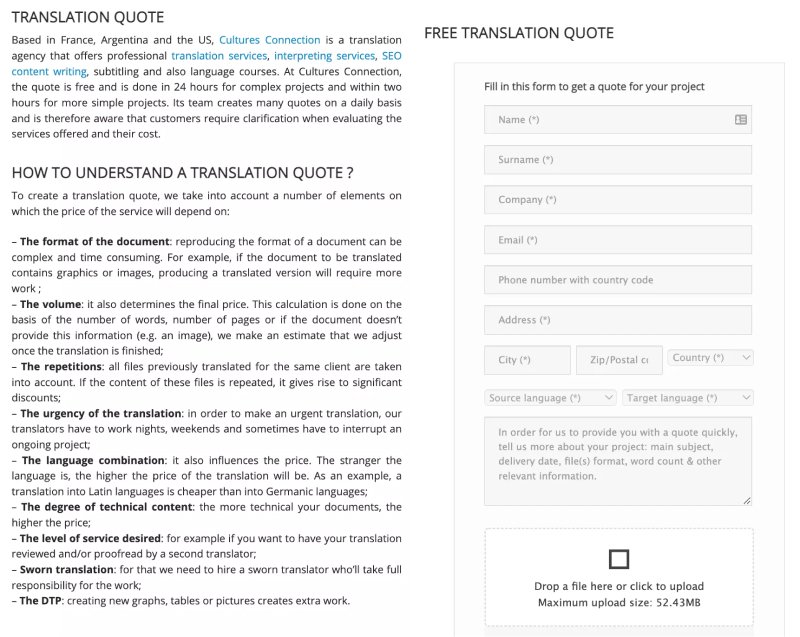 6. 'Get a quote' forms for graphic design services
A huge part of freelancers' economy is composed of graphic designers offering design services such as illustrations creation, logo design, brand style guides, business cards design, book design, brochure design, etc.
Graphic design is a great career path for creative people.
Questions to include in the "get a quote" form for the graphic design industry:
All the basic personal information
What best describes your brand?
How many logo design options do you need?
What style do you want your logo to be in (minimalist, 3D, signature, hand-drawn, vintage, water-colored, etc.)?
Do you have any preferred sizes for the logo?
Can you share your old logo as a reference?
Can you share your competitor's logo?
Do you have a color palette you prefer for your logo and branding?
Do you need any other design services?
What source format do you need your logo to be in?
Are you interested in any other services such as complete branding, social media kit, vector file, logo transparency, stationery design, etc.? (you can list other additional logo design services you offer here)
Do you have a specific deadline?
What's your budget for this project?
For example, we can take Digital Marketing Philippines, which offers graphic design services besides marketing services.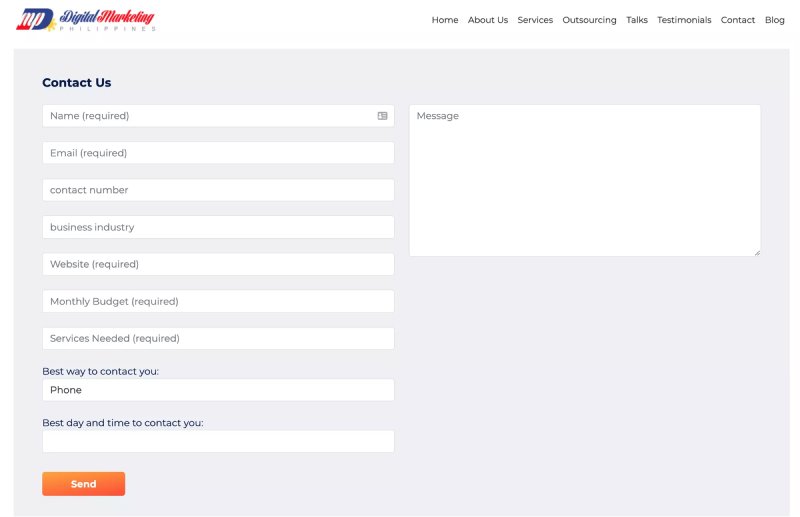 7. 'Request quotation' form for events planning
Events planning company provides a memorable life experience for their customers.
Event planners coordinate all the parts of an event.
It includes a lot of scheduling, taking care of the catering, choosing a location, budgeting, etc.
Event planners make sure that the event will go smoothly.
What should your quote request form include? Let's see!
All the basic personal information
Type of event (corporate or private)
Date and location of the event
Expected number of attendees
List of items and services needed
Any special requests?
What is your price target for the event?
Below we can see an example of the request form template of MGN Events: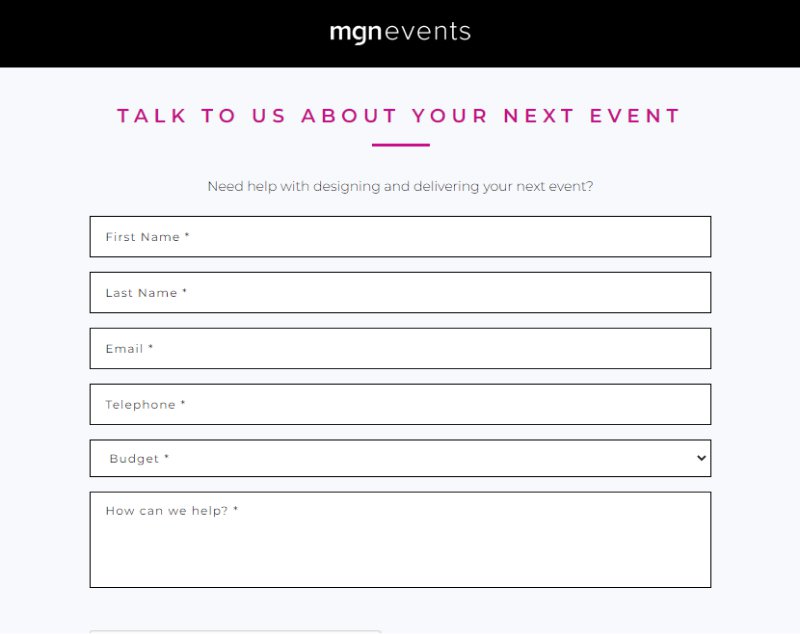 8. Request for quote form for photography services
Professional photographs instead of generic Stock ones can make all the difference when talking about capturing your audience's attention and interest.
Even more, professional photo sessions will turn into your most valuable possessions when the time comes.
Photographs are the most valuable memories in our lives.
Without a doubt, photography services are here to stay.
So if you own a website, here's how to capture some leads with a "Request for Quote" form:
All the basic personal information
What services are you interested in? (multi-select with options such as scheduling a photo session, photo editing services, product photography, social media photography, etc.)
What event are you scheduling a photo session for? Type of event?
When is this event happening? Date of event?
Where is the location?
How long will it last?
How long do you need a photographer to cover your event? (half day/a day/ more than one day)
For example, we can take the Lifetouch Special Event Photographer form.
As you can tell from the image, they have added fields for some essential personal information and the event you're scheduling your photographer for.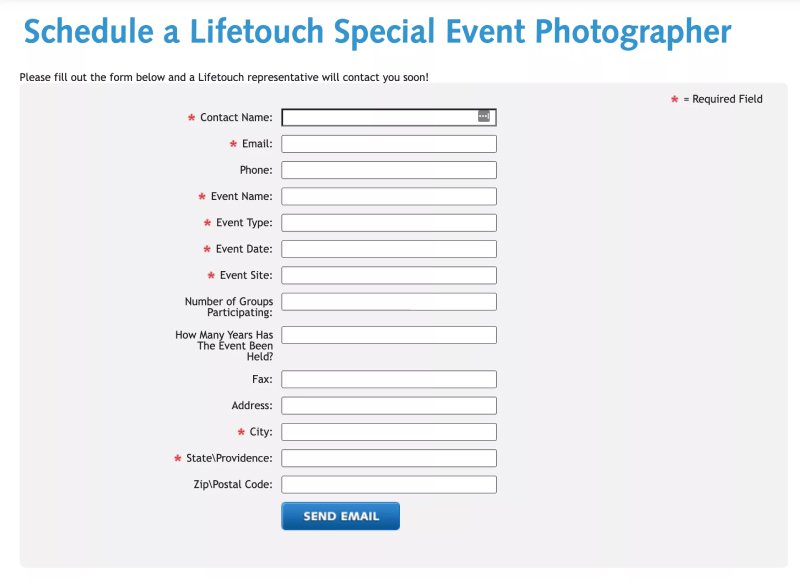 9. Quotation request form for a professional business coaching
When you run a professional business coach business, you support, educate and implement strategies for business owners for the purpose of growing their business.
The professional business coach should have experience in many aspects, such as finance, economics, marketing, etc.
Your strategy will vary depending on the needs of the company.
So, what should you include in a request form for your coaching business?
All the basic personal information
Name of the company
Type of coaching you need (business, executive, etc.)
When is the coaching session happening? For how many days?
How long will it last?
Number of attendees
What is your expectation?
Here is an example of a quotation form from Professional Business Coaches: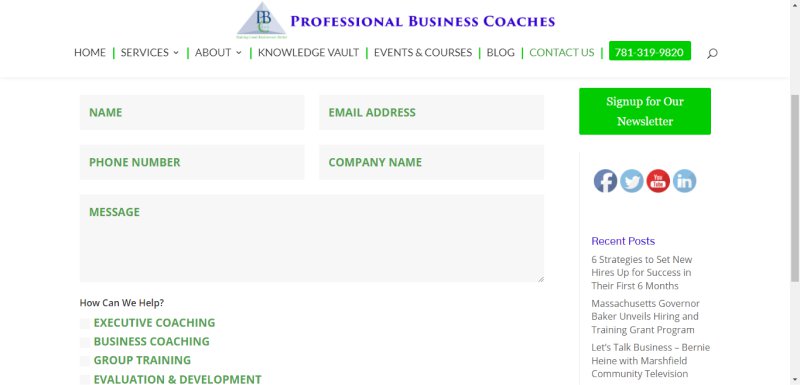 Get a quote for online education
Online academies are a great way of obtaining an international degree from the comfort of our homes, without sacrificing our jobs or family.
It helps people increase their earnings and become more competitive in their industry.
Running an online academy and not sure what to include in the quote template?
Don't worry! We've got you covered!
List of questions to include in an inquiry form for education services:
All the basic personal details
Are you employed or a student?
What kind, of course, are you interested in?
Have you taken the safe-placement test? If yes, what was your score?
What is your expectation?
Payment information
Below see the example of the student inquiry form at Prestans Online Academy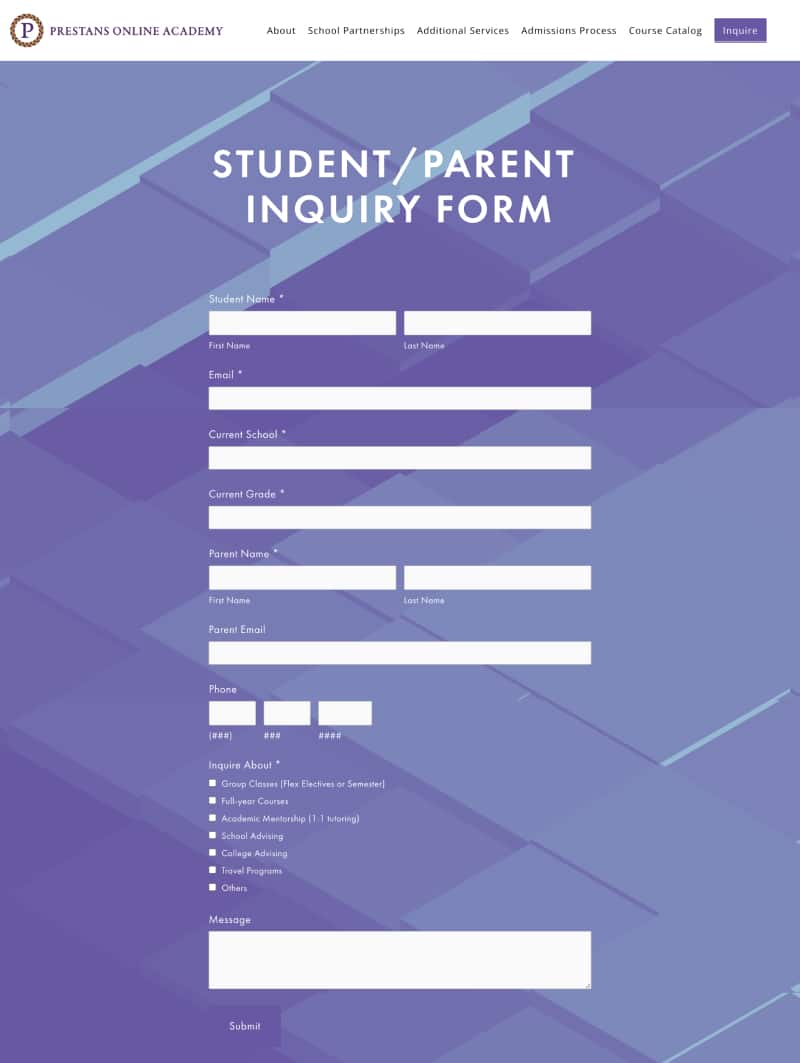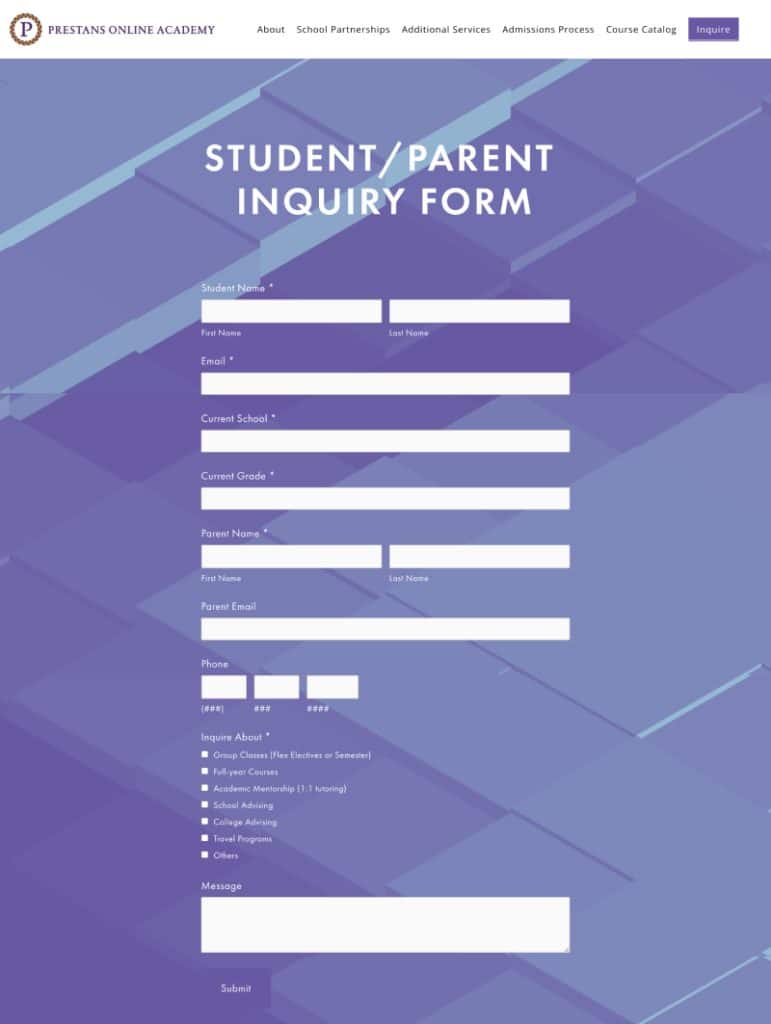 How to create a quotation form with EmbedForms in 3 easy steps
Now that we've covered the questions you should include in your survey, here's how to easily create your "request for quote" form from scratch and receive responses.
The process is simple and can be done for free with EmbedForms within a few minutes.
Here's a step-by-step guide:
Step #1 – Create your free EmbedForms account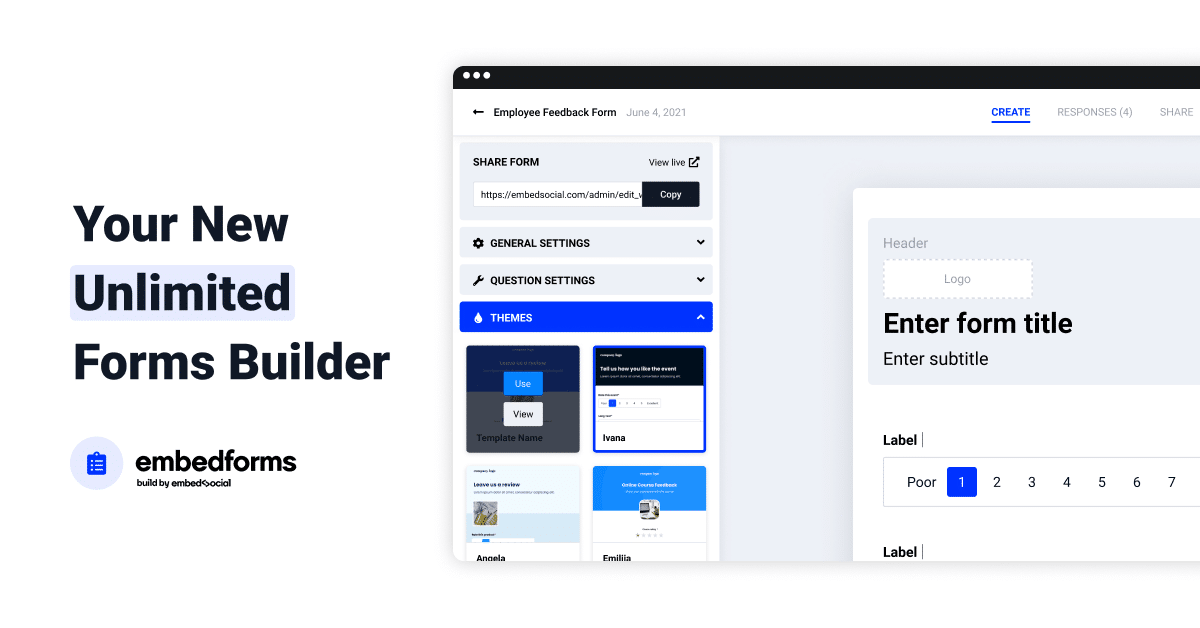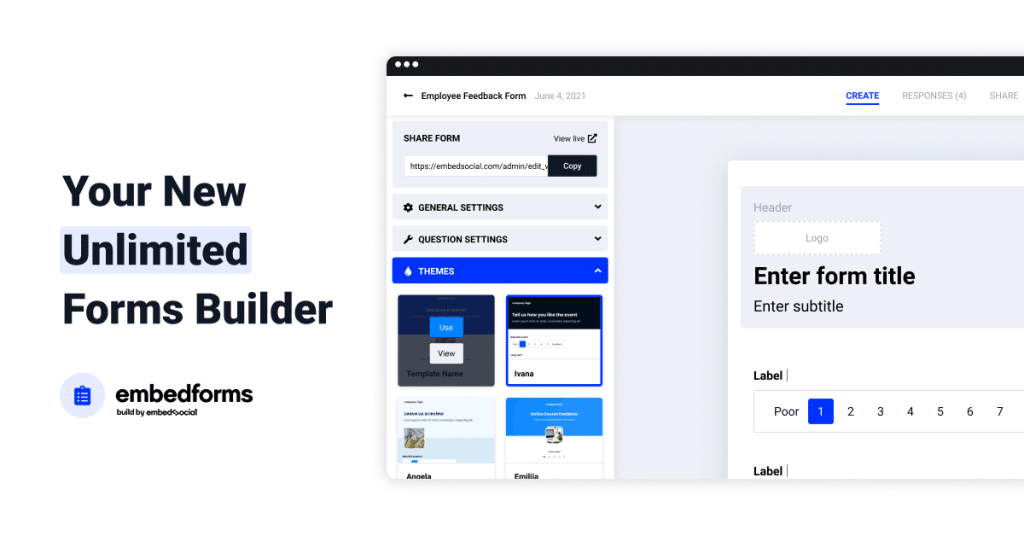 EmbedForms is a forever-free tool that you will find extremely helpful to create your forms.
Yes – you won't ever have to pay for it or provide payment information unless you're interested in non-branded form and premium features.
It's easy to set up, there's always someone that has your back – dedicated customer support, plus you will get to try out even the premium features for free for 7 days.
Even more, if you don't want to create a new account, you can register with your Google account.
Step #2 – Create your first form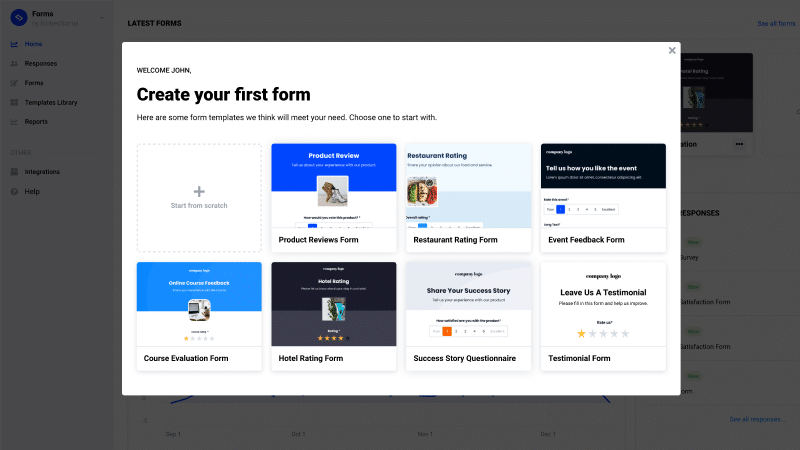 Once you create your account, you will be properly welcomed and walked through how to build your first form, which can be done in two ways:
Start from scratch or use a pre-made template.
You could create your form from scratch using the advanced form builder
But if you lack inspiration or simply lack time – this is the perfect option (here's a templates library with tons of forms you could re-use).
Additionally, if you choose a template, you could customize it even more to fit your needs and your brand.
Step #3 – Publish and share it with your audience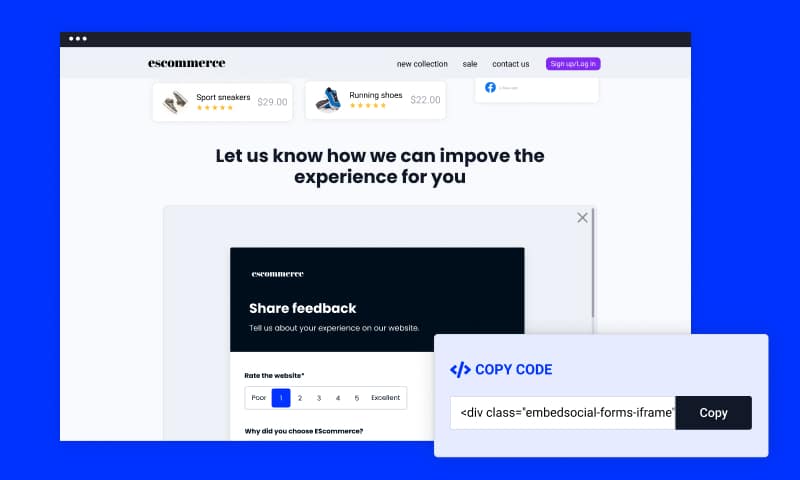 Lastly, when you're done with creating your form, simply use the toggle in the upper right corner, "Published live," and your form will be live.
Now you can copy the provided code and share it with your audience on social media or via email.
Additionally you are able to embed the form on your website.
Another great thing about this tool is that you could show your forms with interactive web feedback widgets, banners, popups, buttons, or floaters, which helps to get a high response rate.
Key takeaways
Adding effective request quote forms on your website with a form builder is a simple way to offer a more flexible pricing structure based on your customer's needs.
Even more, it will help you stay more organized and capture your leads better.
Plus, you will no longer have to be constantly available through some sort of business phone, meaning you will save tons of time without losing any potential customers.
So, what are you waiting for – make sure you head to EmbedForms and create your first request for the quotation form now.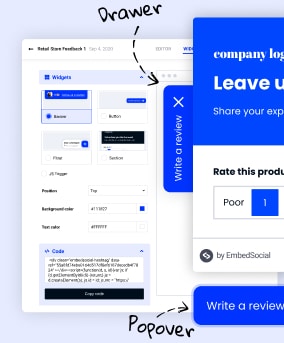 Build all your web forms for free
EmbedForms is the only form builder you will ever need to capture web leads, create surveys or collect feedback on your website.
Free forever | Live support available