Brands can use hashtags to connect with individuals who want to find specific products, services, or content. The purpose of hashtags is to allow people to search for and click on discussions and content related to their interests. Using the right hashtags and getting your fans and customers to use those hashtags are the keys to making your brand discoverable, especially on Twitter and Instagram.
There are different forms of hashtag contests, like Instagram giveaways, prize games, giveaway collaborations etc.
See more social media contest ideas >
In today's blog post, we will show you a couple of great reasons why you should run a hashtag contest as a small business. Also, you will find a practical step-by-step guide on organizing one by yourself and getting the most out of it. So, roll your sleeves up, and let's make all the things clear one by one.
FYI: You can embed Instagram widget automatically with EmbedSocial's social media aggregator and UGC platform. Start a free trial and display your social media widgets now.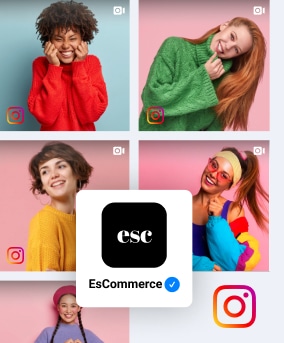 Embed Instagram widget on your website automatically!
Try EmbedFeed and display Instagram content from your feed, mentions, or hashtags on your website.
All PRO features | Cancel any time.
Why run a hashtag contest?
A contest or giveaway is a great way to expand your brand's reach and catch the attention of your target audience. Instagram is filled with "tag a friend to enter" and "like this post to enter" giveaways, which are the most popular.
Twitter and Facebook regularly run contests and giveaways, but they aren't quite as popular as Instagram contests. One of the reasons hashtag contests are so popular is that they're easy to enter. But there's a catch. Actually, there are a couple of catches:
1. Social Media Presence Boost
First, Instagram's algorithm can punish the brand that's running the giveaway if too many people who ultimately get tagged report the post as spam. Just announce your giveaway on your profile to avoid such a situation and let your participants boost it organically. Don't pay for ads promotion, or don't tag random people to reach bigger audiences. Use your unique branded hashtag and let your audience make it viral by interacting with your contest post and referring it to their friends too.
2. Organic Profile Growth
When you run a "tag," "like," or "follow and comment" hashtag contest, you might collect a few more followers, but they might just as easily unfollow you when the contest is over. To maintain a good relationship with them and represent a source of helpful and engaging information, you should post helpful posts that will catch their attention and make them want more and more.
Posting helpful and interesting content for your audience will drastically grow your social media profile, so use this strategy after the hashtag contest ends. Also, make sure you interact with them because making your followers feel important is another key point for organic profile growth and relationship maintenance.
3. Lead Generation
When you run a hashtag contest or any type of giveaway, brands don't collect contact information that will help them stay in touch with the people who want to win the prize. Mostly, there is only one-time action from the followers, and they disappear after the giveaway ends.
Lead generation is the solution to this scenario, which means that with certain strategies, you can collect their contact info and retarget them in the future with specific offers. Hashtag contests allow you to implement digital assets (like landing pages, lead magnets, and any helpful online value) to collect a potential customer's contact info in your database.
You can create a giveaway page that provides the rules and the steps to enter the contest. Here you can collect the entries and ask to share them on social media platforms to enter the contest.
An example of the hashtag contest landing page with option to collect subscribers for Newsletter: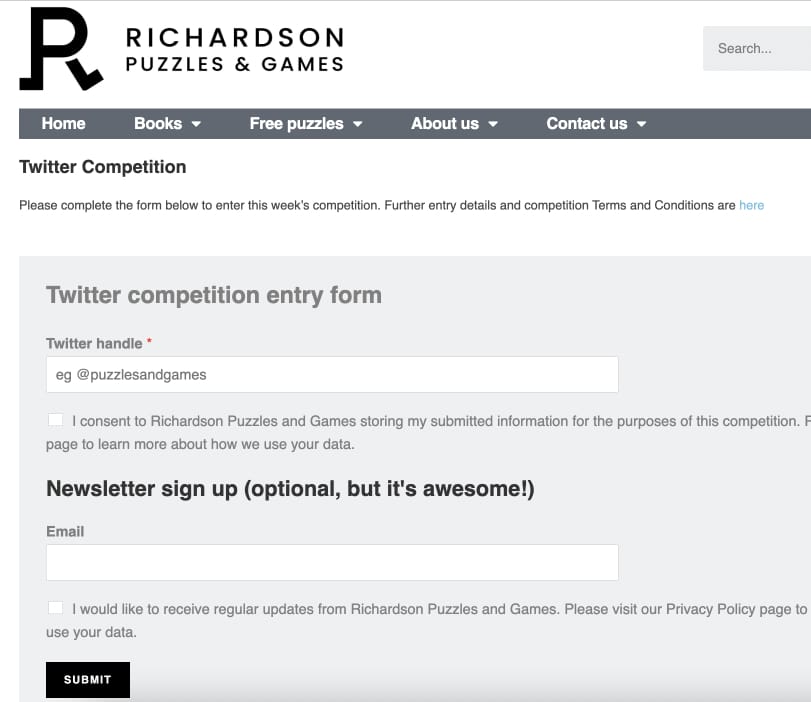 After that, you can use their emails or phone numbers for additional product or service promotions, increasing your chances for higher profit and more leads in your pocket.
4. And Much More…
To reach the audience you want, create and use hashtags. It's as simple as asking people to enter using your branded hashtag and following the entry steps. You can automatically collect all hashtagged contest entries in a gallery showing the photo and caption using giveaway-related tools and software.
Also, if you want to reward extra chances to win, ask entrants to fill out a brief survey they can access from your Instagram bio. If you collect email addresses, you'll be able to send follow-up and scheduled emails for the duration of your giveaway and beyond in the form of a newsletter.
Continue reading to learn the steps on how to run a hashtag contest:
Step 1: Decide Where to Run Your Hashtag Contest
To start a successful hashtag contest, you should dedicate yourself to certain things and get countless benefits from it. This section is reserved for a step-by-step explanation of how to run a hashtag contest easily and effectively. Let's walk through this guideline and get the most out of it:
The first step is to decide on which platform you'd like to run your hashtag contest. You can create this type of contest on almost any social media network, including:
Instagram
Twitter
Facebook
Pinterest
YouTube
Due to Instagram and Twitter's frequent use of hashtags, branded hashtag contests are more popular on these platforms.
It's probably best to start on your business's website or eCommerce store if you want to run this type of contest. Because social media contests are limited by their tools, reach, and rules, you are limited in your ability to run them. Keeping track of hashtag contest participants is more difficult, and there is no easy way to confirm if each participant qualifies, aside from manually checking each entry.
If you run a hashtag campaign in your Instagram posts or stories, you can promote it from your WordPress site.
Step 2: Plan Your Hashtag Contest Goals
After choosing where to run your giveaway, you should plan out your goals. Your goals are what you want to achieve from running a giveaway. For example, you might want to launch a contest to:
Grow your followers on social media
Increase signups to your email newsletter
Raise brand awareness
Send traffic to your Instagram feed
Promote a new product or service
Drive traffic to your website
Gather content for UGC campaigns
Setting the right goals will help you measure your giveaways' success when it's over. So, pick some that align with your overall business and digital marketing objectives. Then it'll be much easier to get the results you're looking for.
Step 3: Choose a Highly Relevant Giveaway Prize
After picking your contest goals, consider the prize you'll offer to the lucky winner. While most people love getting free stuff, they won't try to enter if your prize isn't good enough.
To run a hashtag giveaway that generates excitement, attracts new followers, and gets lots of entries, pick a high-quality prize that attracts attention.
Some popular prizes include:
Gift cards
Free products or services
Large cash prizes
Here is an example of a giveaway prize and how it is listed on a post: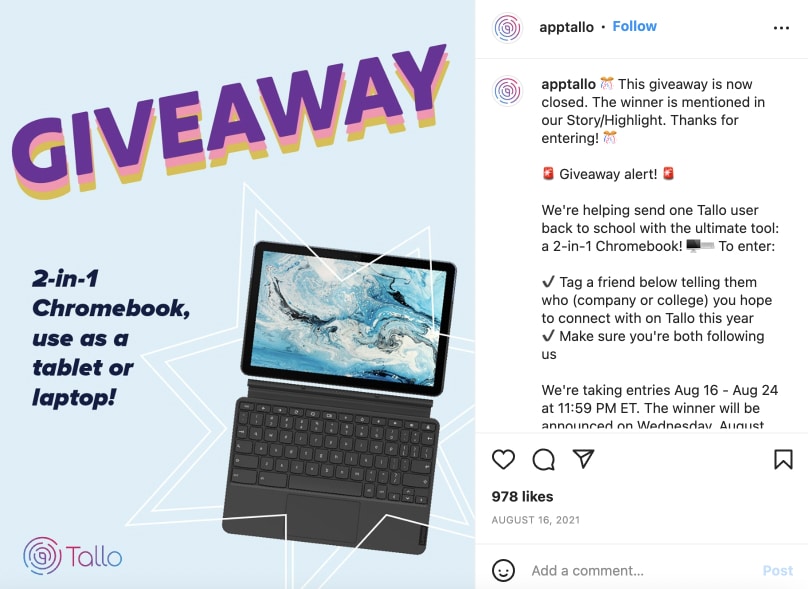 You'll also want to ensure that your prize is relevant to your brand and target audience. Otherwise, the new audience you attract with your contest won't stick around and engage with you when the contest is over.
Step 4: Pick Memorable Giveaway Hashtags
Now that you know what prize you'll offer think about the giveaway hashtags you'll use to increase the reach of your contest.
If you create too long or complicated hashtags, they'll be too hard for users to remember, so keep your hashtag short, simple, and easy to spell.
When picking hashtags, a good rule of thumb is to choose a few generic giveaway hashtags and combine them with one specific to your brand.
Here is an example of the latest contest by Canva which use the branded hashtag #CanvaCreate to invite people to spread the word about an upcoming event.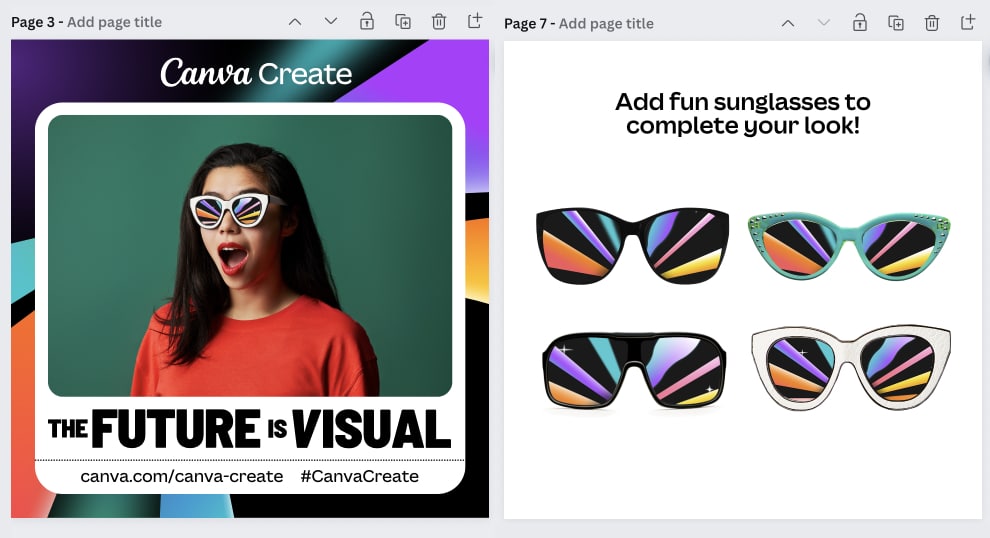 Here are a few things to remember when choosing a hashtag for a contest:
Use hashtags for an intended purpose – categorization is key.
Don't string too many words together – keep it simple, unique, and easy to read.
Don't crowd your posts with too many hashtags, it looks spammy.
Step 5: Write Your Rules and Guidelines
The next step in learning how to run a hashtag contest is to put your rules and guidelines in place. This will help keep your giveaway fair for all participants and compliant with the platforms you use.
Since you're running a giveaway that depends on hashtags, one of the first rules should be that users must include a specific hashtag in the posts they share.
You should also include the following guidelines:
Any age limits for entering
Other accounts that should be followed
Type of comments the participants should leave
If the contest is limited to a specific country
Giveaway start and end dates
Any other entry methods
How and when you'll pick a winner
Here is an actual example of how an contest entry rules are listed by the brand:
To enter, all you have do is:

✔️ follow @blinds2go and @fenwickandtilbrook on Instagram.
✔️ tag a friend in the comments, each friend is a new entry.

The competition ends on 15th September at 9 am.

There will be one randomly selected winner of this fabulous prize.

– example of an Instagram contest entry rules.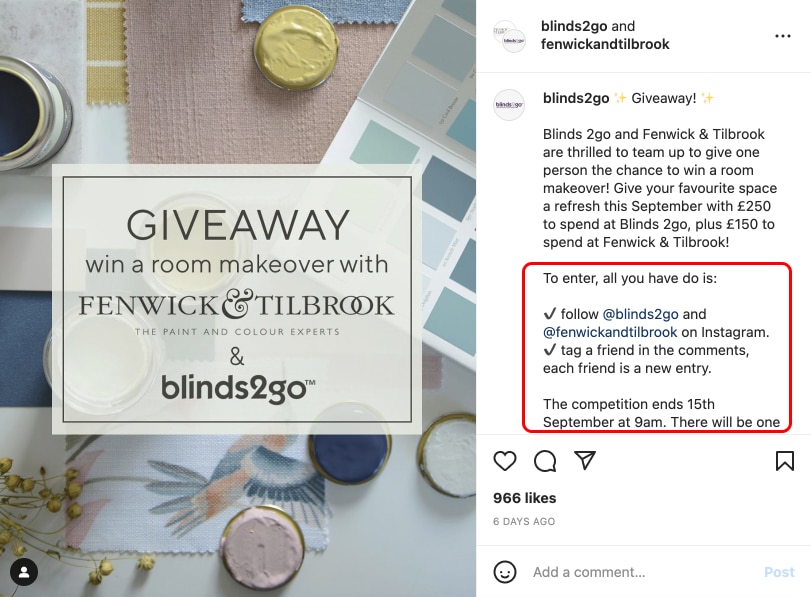 Additionally you should always share a link with rules about the competition and how the winner will be selected. In some countries, this type of document is obligated by law. Here is an example of contest rules document.
Step 6: Promote Your Hashtag Contest
The next stage in your plan is to promote it to spread the word and secure plenty of entries.
You can follow up after your contest by posting a giveaway winner announcement on social media and tagging the winner. Alternatively, you can send an email to announce the winner. You should also thank everyone for participating and invite them to take part in future contests.
You can also promote your hashtag giveaway by:
Creating an email newsletter
Adding a popup to your website
Social media ads
Submitting your contest to sweepstakes and giveaway directory websites
Reaching out to relevant bloggers and influencers
You should start promoting your contest at least 2 weeks before it goes live to ensure you generate plenty of anticipation, excitement, and entries from day 1.
Here is one example of how Canva promoted their hashtag – by sending information to enter the contest to their Newsletter subscribers: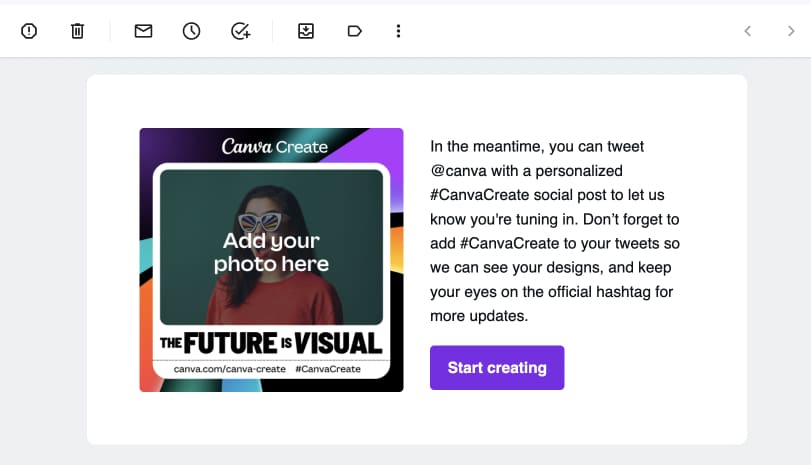 Step 7: Follow Up After the Contest
After randomly choosing your hashtag contest winners, it's a good idea to follow up with the people who didn't win. Following up with all of your participants will help you form better relationships with them and mention your contest once more.
You can follow up after your contest by posting a giveaway winner announcement on social media and tagging the winner. Alternatively, you can send an email to announce the winner. You should also thank everyone for participating and invite them to take part in future contests.
The final step in learning how to run a hashtag contest is to measure and analyze your results. This helps you see how well your giveaway performed and what you could have done better. Now, with the right data, you can see which promotion strategies drove the most traffic and entries to your hashtag contest. And you can use that to make your next contest much more of a success.
Here is a Twitter example announcing the contest winners: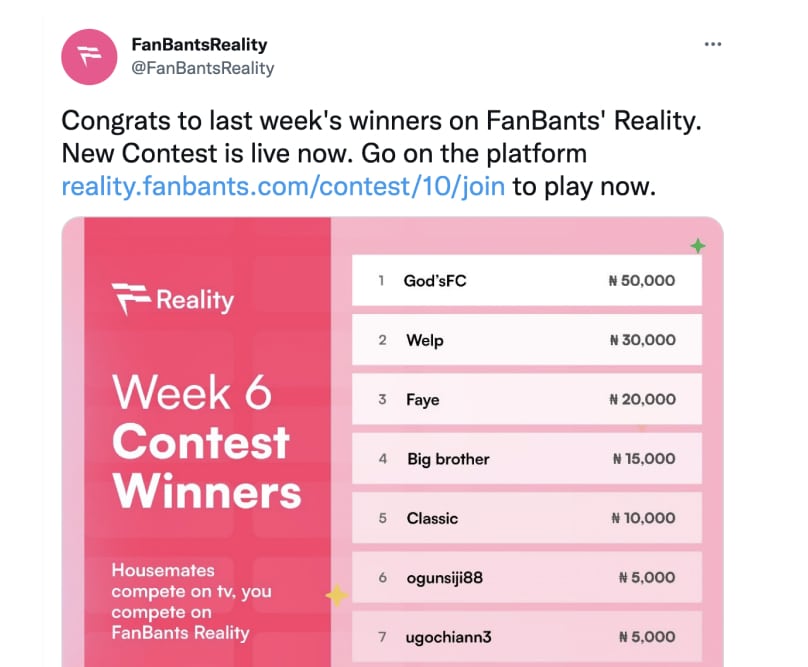 Example of Instagram hashtag contests
For the past few years, the most popular hashtag campaigns have been organized on Instagram. Brands can also add hashtags within the Instagram stories or in the post caption. Usually, you can see if they run an Instagram contest by checking their Instagram account profile page and looking if there is a hashtag in the bio section Here are a few examples of Instagram hashtag contests:
Coca Cola's UGC hashtag contest #shareCoke
#likeagril campaign by Always for empovering girls
#WinItWednesday is a popular hashtag for sharing contests on Wednesday on Twitter.
See more Instagram hashtag campaign examples >
To see all hashtag entries, you can click on a hashtag or go to Instagram.com/tags and type the hashtag to see the posts published with a certain hashtag.
Key Takeaways
Hashtag contests are one of the most popular ways of social media giveaways and interacting with the audience that brands use more than ever before. From this blog post, you had a chance to learn how hashtag contests can increase brand awareness, collect user generated content or help drive more traffic to your page. social media you are focused on.
Also, we hope that our step-by-step guide on running a successful giveaway will help you organize one on your profile and effectively engage with your audience.
To sum up, hashtags can help you boost your business in several different ways. You just need to invest a little time and effort, and you'll be able to reach your target audience easier than ever and grow your company in the process.
From this blog post, you should remember the following key takeaways:
Your brand can be seen thousands of times daily if you successfully grow your unique hashtag on social media.
Hashtag contests can bring you significant profile growth and engagement rate, reaching out to new audiences and potential customers.
Note that social media algorithms can block your hashtag contest posts and hashtags if it looks spammy. Make sure you promote it organic and let your followers interact with it organically for a better engagement rate.
FAQs About Hashtag Contests
Q: What are the best hashtags for giveaways?
Apart from your unique branded hashtag, you can add some generic Instagram hashtags related to your giveaway, and the most popular ones are:
#contest.
#giveaway.
#competition.
#sweepstakes.
#win.
#prize.
#giveawaycontest.
#giveawayalert.
Q: How do I find Instagram giveaways?
A: One of the easiest ways to find giveaways is to perform a simple hashtag search on Instagram. You can search for specific keywords to find the niche you are interested in or use some of the generic giveaway hashtags to find random ones.
Q: How can I ask for a giveaway collaboration?
A: Let them know you like what they are doing and their product (maybe even call out a specific one), and ask if they would be interested in collaborating. Make sure you think about what kind of collaboration you want to work on so you can reference it in your initial pitch, whether it be a giveaway or any type of hashtag contest.
Q: How to display user-generated content collected with the contest?
Use a social media aggregator to collect all the content posted with a specific hashtag. You can do this with EmbedFeed, where you will only need to connect your social media accounts and automatically pull the content. Later, just use this content to create embeddable widgets for your website, such s as Instagram walls, and display the UGC collected from the hashtag contest.
FYI: You can embed Instagram widget automatically with EmbedSocial's social media aggregator and UGC platform. Start a free trial and display your social media widgets now.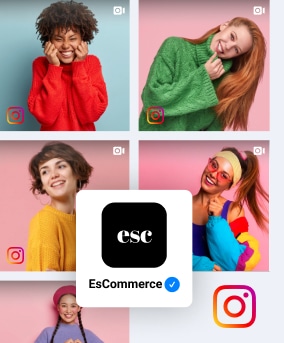 Embed Instagram widget on your website automatically!
Try EmbedFeed and display Instagram content from your feed, mentions, or hashtags on your website.
All PRO features | Cancel any time.