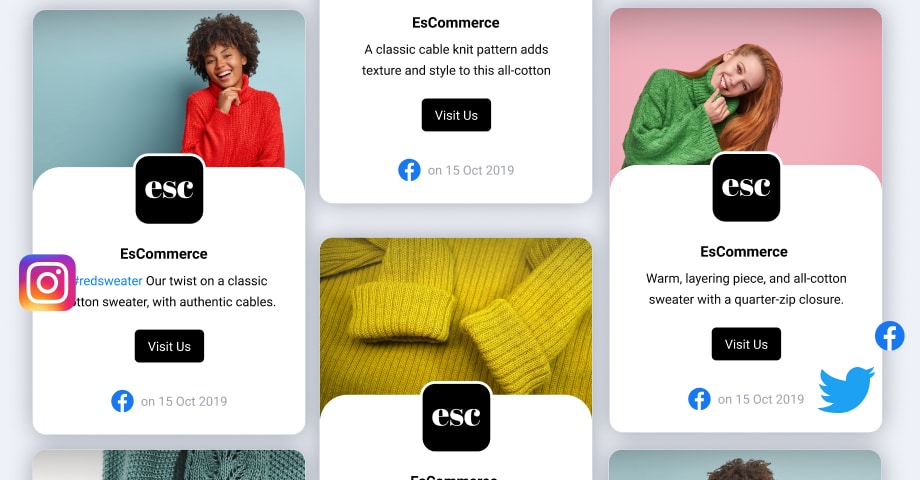 Social media feeds are widgets generated by social media aggregators that contain content from various social media accounts.
For example, social media feeds can display all your brand's content from various social media platforms in one wall-like layout.
To do this, you will need social media aggregator that will get access to your social media accounts and get all the mentioned content from other users who posted about your brand.
In more detail, social media aggregators are the tools that have API access to these major platforms and provide the ability to generate and sync tons of content.
And in this post, we feature EmbedFeed, a social media aggregator tool that you can use to generate, customize, and embed social media feeds on any website in less than a minute.
Benefits of social media feeds for your website
In short, here is why you need a social media feed for your website.
You can automatically sync fresh content with your website, which is usually created by your most loyal followers. And showcasing this type of user-generated content will eventually help you build trust and lead to more conversions.
As a summary, here are the main benefits of using social media feeds on your website:
Enhance your social media marketing efforts
Increase social media followers
Expand the reach of your social media content
Archive and analyze UGC (user-generated content)
Show social proof on your website
Add call to action buttons to drive visitors to landing pages.
Convert more leads on your website
Types of social media feeds
The primary outcomes that you will get when you display a social media feed on your website are widget like feeds like the following:
Brand wall – When you want to embed a combined feed from your Facebook, Youtube, or Instagram brand's posts, the most frequent use case is to showcase your website visitors your company's activity. The result is usually a social media wall that contains content posted by your team on all your social media accounts.
Event wall – Event organizers can engage online visitors and display an entire wall with the event attendees' Instagram hashtag posts. By doing this, you will be able to provide a user-generated view of the conference atmosphere directly on your website. And remember, by embedding an Instagram wall feed, you will never need to update it manually.
Instagram hashtag campaign wall – By using a feed generator, you can enhance your marketing campaigns and engage with your Instagram audience. People love to connect their offline experience with their online presence. By providing a contest campaign, you can encourage users to post their photos using a specific Instagram hashtag and select the winners by giving an Instagram hashtag feed on a website where web visitors can vote for the best photos.
For each of the social media networks, you can create different feeds, like the following:
Create your own social media feed
Generate, analyze and embed the desired social media feed on your website.
Examples of social media feeds
No matter if you have an e-commerce store or blog that you want to stand out and engage your users, the social media feeds help marketers use their social media presence to boost their website's performance automatically.
Social media feeds can come in various layouts that you can choose from, such as grid, carousel, slider, collage layout, use CSS editor, or apply other customization options, so the feeds fit any website design.
To get a more realistic view of these layouts, check the 5 examples of different social media feeds generated by the EmbedFeed platform:
1. Instagram Photos [Slider widget]
Showcase your social media posts in a beautiful and modern carousel layout, perfect for homepages or other landing pages. Here is an example: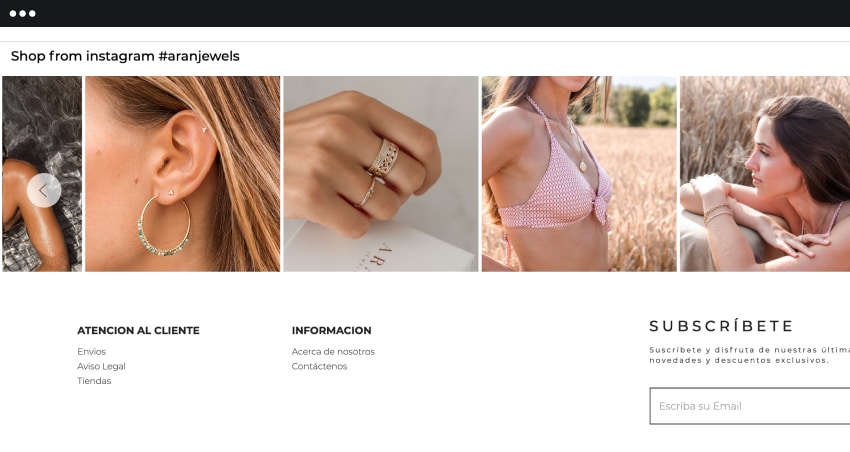 2. Facebook and Instagram Mentions [Wall widget]
Display a combination of Facebook, Twitter and Instagram posts that mention your brand.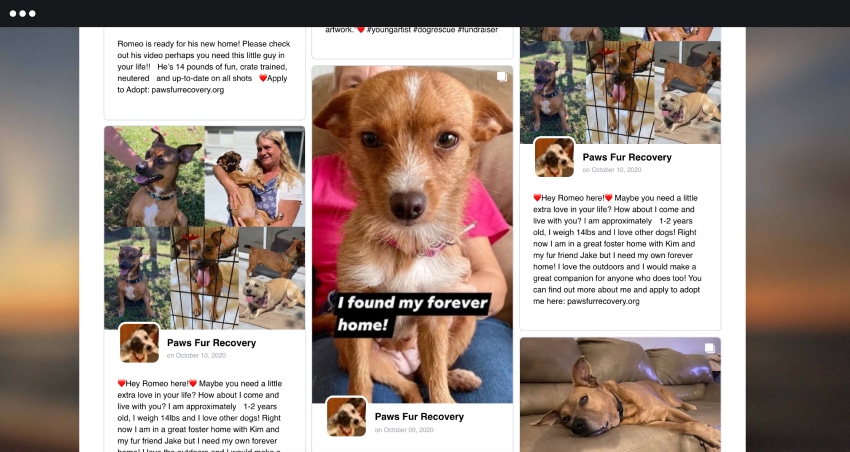 Click below to view the social media feed demo that you can embed with posts from both, Facebook page and Instagram account:
Instagram and Facebook Feed Demo →
3.Instagram Hashtag Feed [Masonry widget]
This is a perfect example to showcase user-generated content from Instagram. By encouraging users to post their experience by using a hashtag, you are able to collect all that content and display it on your website in a feed like this: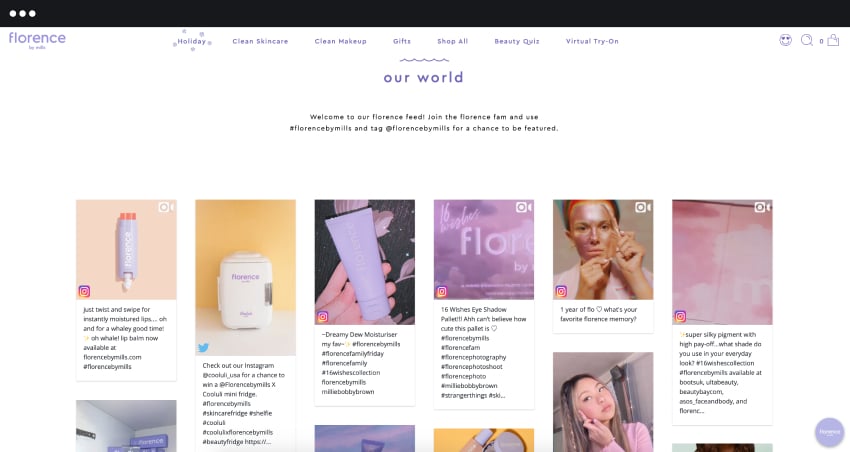 4.Youtube Video [Feed widget]
Generate Youtube videos from a specific channel and display them in a feed that syncs with your website any time you post a video on Youtube. Here is an example: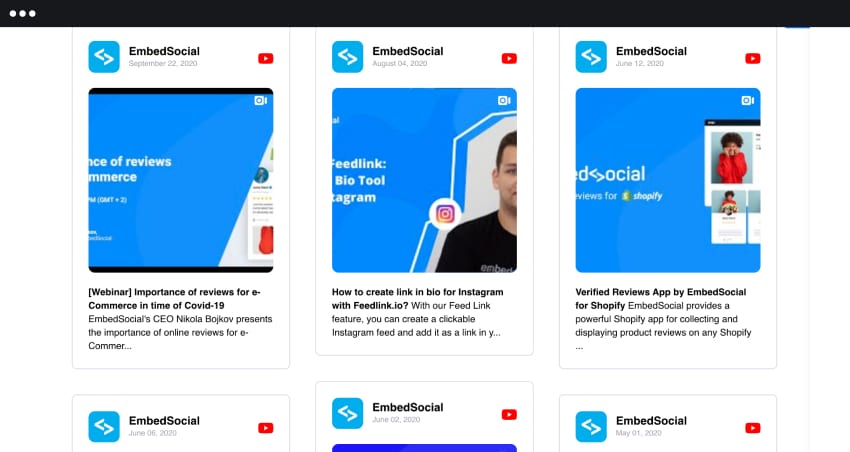 5. TikTok Vodeos [Carousel Widget]
Curate engaging TikTok videos on trending topics and improve the brand awareness of your company effortlessly. This social media aggregation platform can transform regular videos into a lovely TikTok widget like this one: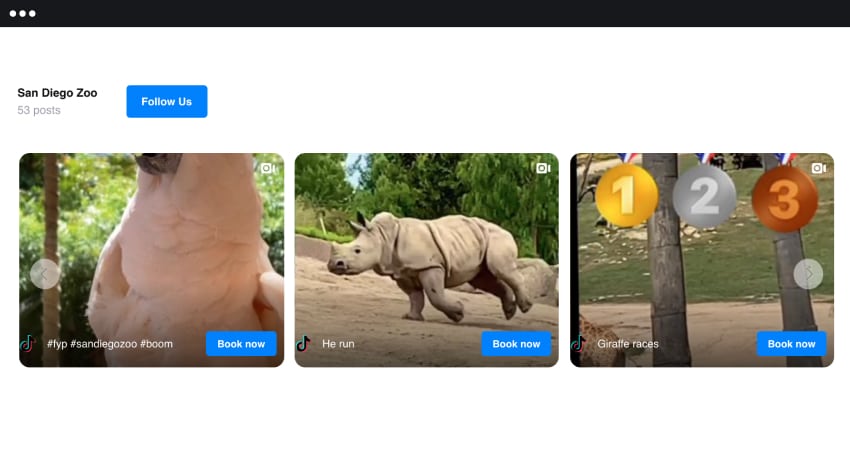 6. Facebook page social media feed [Collage Widget]
Pre-generate all your Facebook page posts and showcase it on your website. by doing this you can save time from publishing the same content and keep also your web visitors informed about your regular activities.
Steps to create your own social media feed
To get started, here is a quick tutorial on how to create a social media feed by using the social media aggregator EmbedFeed:
Step 1: First, log in to EmbedFeed (or create an account if you still don't have one), go to "Sources" and click "Add new source"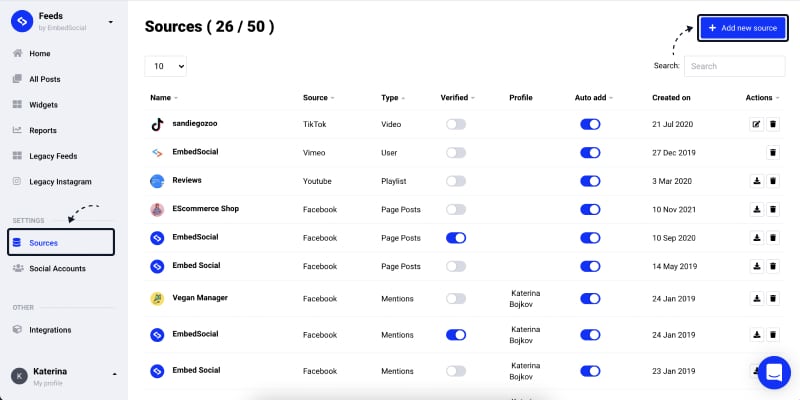 Step 2: Create a Facebook source (posts from a page, mentions, or visitors' posts)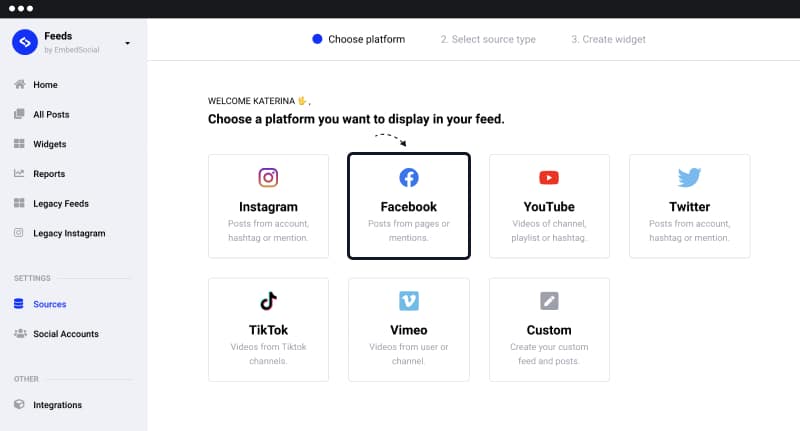 Step 3: After creating a Facebook source, choose the layout and click "Create feed"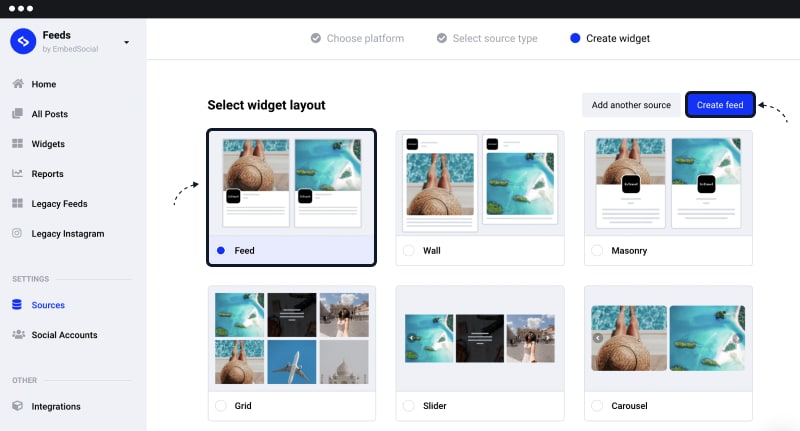 Step 4: Repeat the process to create an Instagram source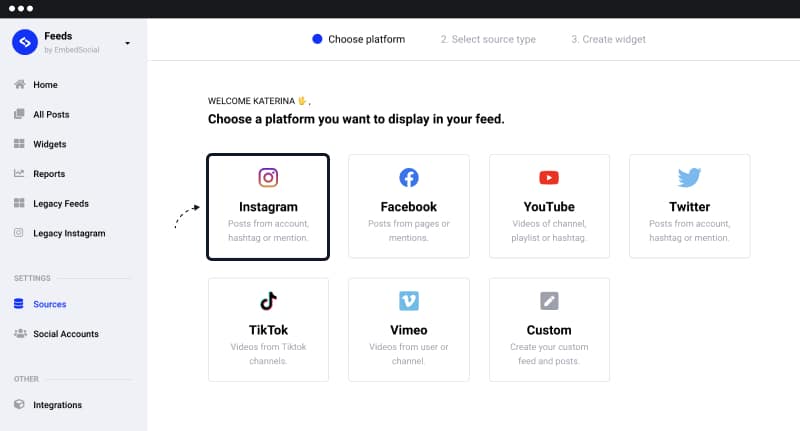 Once you finish connecting multiple sources from social media accounts, you are ready to create a social media widget that will show posts from the selected sources. Follow the steps below, to create the widget.
Step 5: Go to 'Widgets", click 'Create new' and select the two sources to create a widget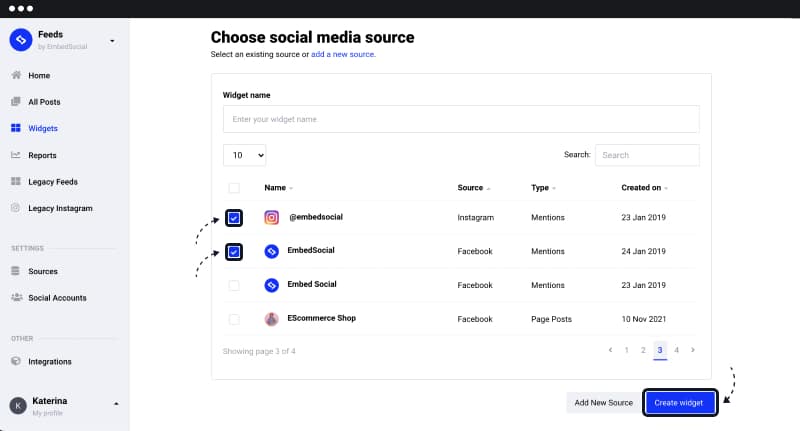 Step 6: Click 'Copy Code' in the top-left sidebar of the platform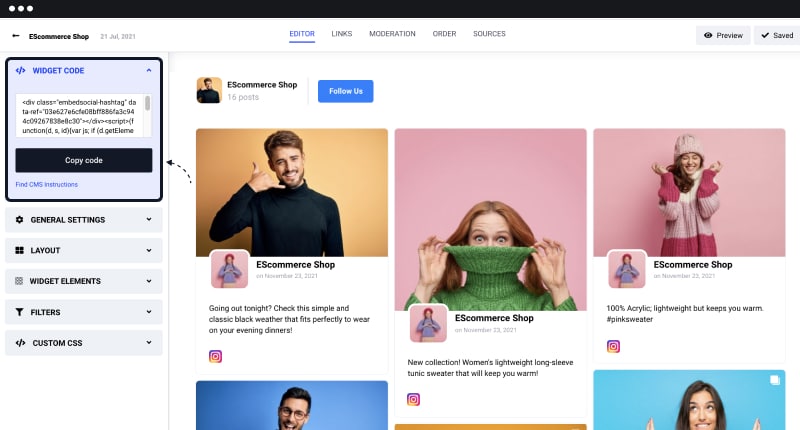 Step 7: Finally, paste this code into the body section of your website and the widget will appear immediately.
That's it. Here is how the widget looks when embedded:
Facebook, Instagram, TikTok & Youtube Widgets
Create your own social media widget now.
Please note that you can choose to combine up to 15 social media channels like a Twitter feed, YouTube playlist, Vimeo, TikTok or create your own custom feed despite Facebook and Instagram feed depending on your pricing plan. Or follow the link below to learn how to do this for free.
READ MORE: How to Embed Instagram Feed on Your Website for Free
The best part is that EmbedFeed's javascript codes work with all major CMS and website builders like WordPress, Wix, Weebly, Squarespace, PageCloud, etc.
Additionally, the EmbedSocial platform offers you simple social media feed plugins for WordPress to aggregate and re-use your user-generated content.
Frequently Asked Questions
Q: Social media walls or social media feeds – what is the difference?
A social media wall is a live or aggregated feed of social media content from social media platforms displayed on any digital signage display. It can be Tweet walls, Instagram posts wall, Facebook wall, or a combination of all networks in one place.
On the other hand, social media feeds are widgets generated by social media aggregators that contain content from various social media accounts and are shown on a website.
But please note that these differences are very small so we usually use social media feed and social media wall as synonyms.
Q: How to build a free social media wall?
To combine your brand's content from various social networks in one wall-like layout, you need social media aggregator like EmbedFeed to access your social media accounts and get all the mentioned content from other users who posted about your brand.
With a variety of customization, moderation, and analytics option, you can easily create the perfect social media display. No coding skills are required. It comes with a free version too.
Q: Can a social media wall help me promote my events?
Absolutely. Including a social media wall can be a game-changer for both physical and virtual events. The social wall can be used in various forms. For live events, display your social media wall on a big screen, include it in a live stream, or just embed it on your website as a live social media wall.
To maximize the social wall's potential, promote the event hashtag and encourage the event audience to post about it and watch the generated posts in real-time.
Q: Can I customize social media widget layouts?
Most of the aggregators, provide options to do a complete makeover of the layout look and feel. In addition to the options shown above for the EmbedFeed example, you can create a fully custom layout with your creative team or ask our customer support team to give you a hand implementing it.
If you have any questions regarding our widgets' appearance, we would love to hear from you!
The #1 Social media aggregator
Try EmbedFeed and embed Instagram, Facebook, Youtube, or TikTok feeds on any website, like a PRO.
7 days free trial · Easy setup · Cancel any time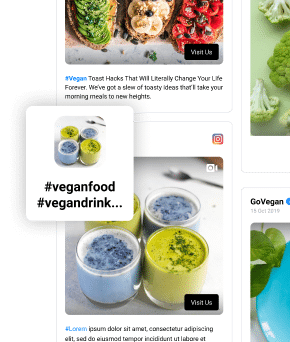 Definition:
Social media aggregator
is a tool that generates posts published on social media networks and help analyze, moderate and display on your website.