Customer success story
Learn how EmbedStories help the LA NACION reporters use Instagram as a fast, easy way to tell a story that adds to the text+photo+graphic routine

Industry

News
Location

Argentina
Goal

Help use LA NACION reporter Instagram Stories in their website articles
Type

B2C
About LA NACION
La Nación (The Nation) is an Argentine daily newspaper founded on January 4, 1870. Yes, they are in the media business for 150 years! WoW!
Currently, LA NACION represents a reference to innovation in social networks, building one of the most active social media communities in Argentina, reaching 3,593,803 Facebook friends and 454k followers on Instagram. They have one of the biggest daily newspaper circulations in Buenos Aires; the paper is also distributed nationwide and around the world.
And in 1961, Che read LA NACION. They are that cool!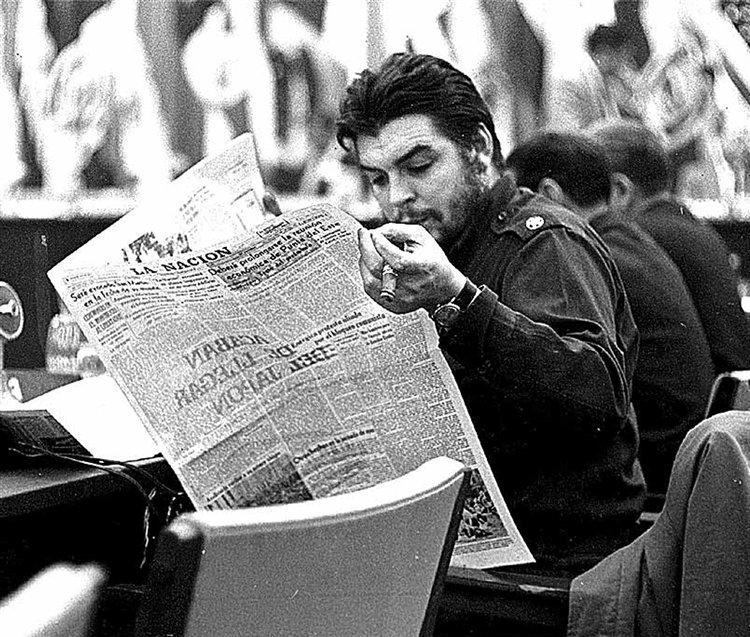 ---
The Challenge:
The world simply changed in 150 years
Sametband: "LA NACION was born as a newspaper, but the world has changed in 150 years, so we have to find a way to engage new readers and build a digital audience; it is a tool to promote content, and to show it to people where the people are spending more time."
---
The Solution:
Social Media – Instagram
We had the chance to talk with Ricardo Sametband from LA NACION, to understand how they continue to innovate and especially use the latest trends in social media to engage with their audience. What is most interesting that this 150-old newspaper is sophisticated in using Instagram and especially the Instagram Story format to tell stories and distribute them at the same time on their website.
Q: Why Instagram?
"Instagram has a lot of users, who spend as much time on it as on Facebook (we are on FB as well). But the idea is the same: find the audience where it "hangs out" and offer them our content."
Q: What type of content do you post in the Instagram Story format?
"All kinds of content; links to articles, promotion of other material, stuff that is too small to turn into a news piece. Also, real-time reporting: it is very easy to build, to edit, etc."
Q: Have you used Instagram Stories to drive traffic to your website? How?
"We use the "See more" to drive users to news articles on our website."
---
The Outcome:
All that effort is not lost after 24 hs, and our reporters can use IG as another fast, easy way to tell a story that adds to the regular text+photo+graphic routine
LA NACION uses EmbedStories to generate their Instagram stories in one single platform and create widgets that show the stories in their articles.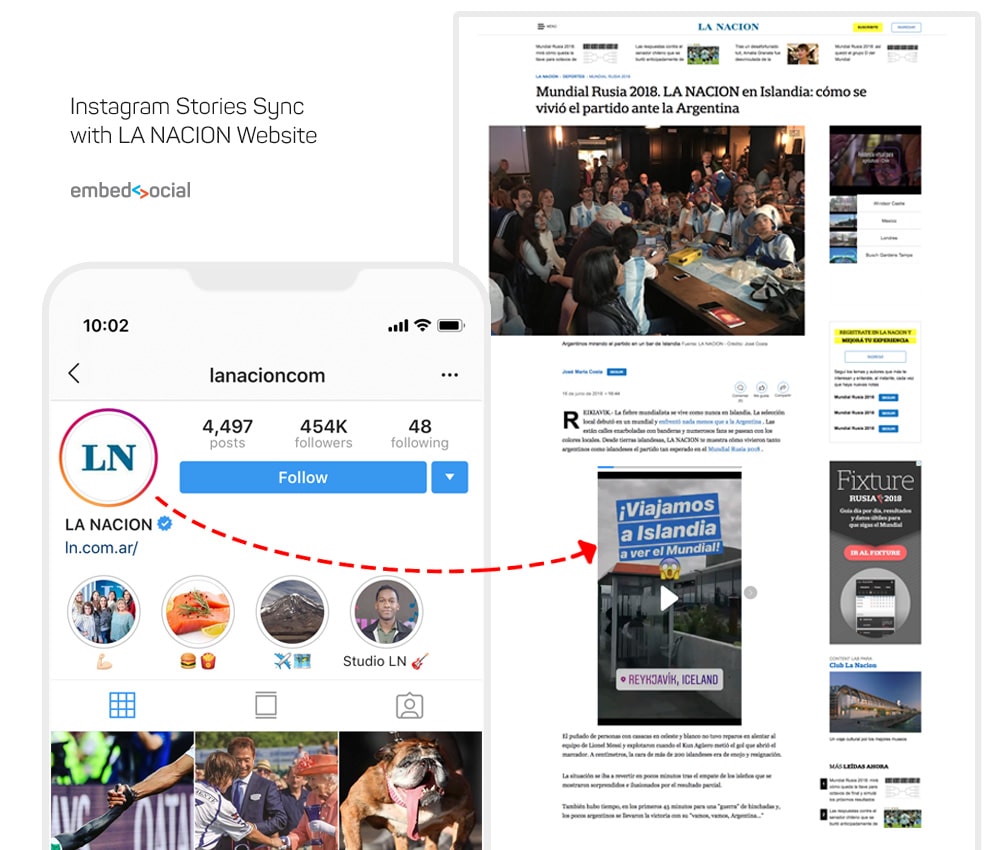 Q: How is your experience so far with EmbedStories?
Very good, very solid, loads fast, looks good
Q: What are the main benefits to display the stories on your website beyond Instagram?
We were doing live reporting on some occasions (big social meetings, rallies, marches, sports, public speeches, etc.) as a way to build audiences and connect with readers, but this also allows for that content (that visual way to tell a story, already formatted to be seen in a phone, the way the majority of our users read our articles) to add value to a regular article. I also mean that all that effort is not lost after 24 hs, and it means our reporters can use IG as another fast, easy way to tell a story that adds to the regular text+photo+graphic routine.
Q: Do you have a feature related to Instagram Stories, that will help you better achieve your goals?
Our IG channel has a lot of diverse content. Being able to choose, in a 24 hs period, which stories to add to a specific widget, and which to leave out, would make work easier for us.
"Instagram stories can be used as a full marketing funnel solution and not just for branding purposes!"
More related stories

SOS Children's Village is an organization that provides care to children without parents and parental care. They use EmbedForms to gain participants for upcoming events. Biggest Challenges Trying to reach as many people as possible and gather as much info as possible. The Awareness & Solution We had the privilege to talk with Goran Velkovski…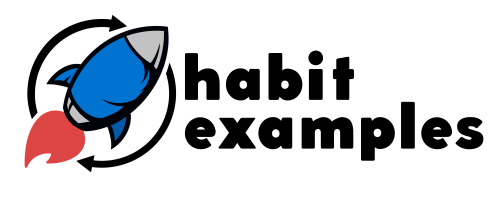 Habit Examples is a weekly newsletter where I help go-getters build better habits with sciencey tips and inspiring stories. All readable in 5 mins every Tuesday, 100% free. Goals and Objectives Currently working toward hitting 10,000 active subscribers so I can monetize the newsletter with paid sponsorships. Biggest Challenges Getting more people to subscribe to…

Wholesale Cabinets is one of the leading online cabinet stores in the country, providing customers across the USA with affordable, high-quality cabinets for more than 11 years. We create free kitchen designs for professionals and homeowners alike and offer them a personalized experience from inspiration to installation, with long-lasting RTA cabinets and pre-assembled cabinets, all…