Comparison: Elfsight v.s EmbedSocial
Compare social media aggregators alternatives
About Social Media Aggregators
Social media aggregators have direct and approved API integrations with all major social media networks. This allows users to generate content from all popular Social media platforms and display it on their website automatically.
Most of the available solutions on the market, provide the aggregation functionality but differ mostly with the display features. These features include customization options, optimization of the widgets for fast loading, image compression, compatibility with Google's Core Web vitals, and similar.
In this segment, EmbedSocial is mostly differentiated and focuses on providing users with the best social media widgets for websites. Widgets that load fast, fit any website layout on desktop or mobile, and of course, are SEO friendly so websites can continue to comply with Google's changes.
Below you can compare EmbedSocial with Elfsight, a great platform that is mostly focused on simpler widgets without other advanced options for data analysis, the combination of social media content into combo widgets, etc.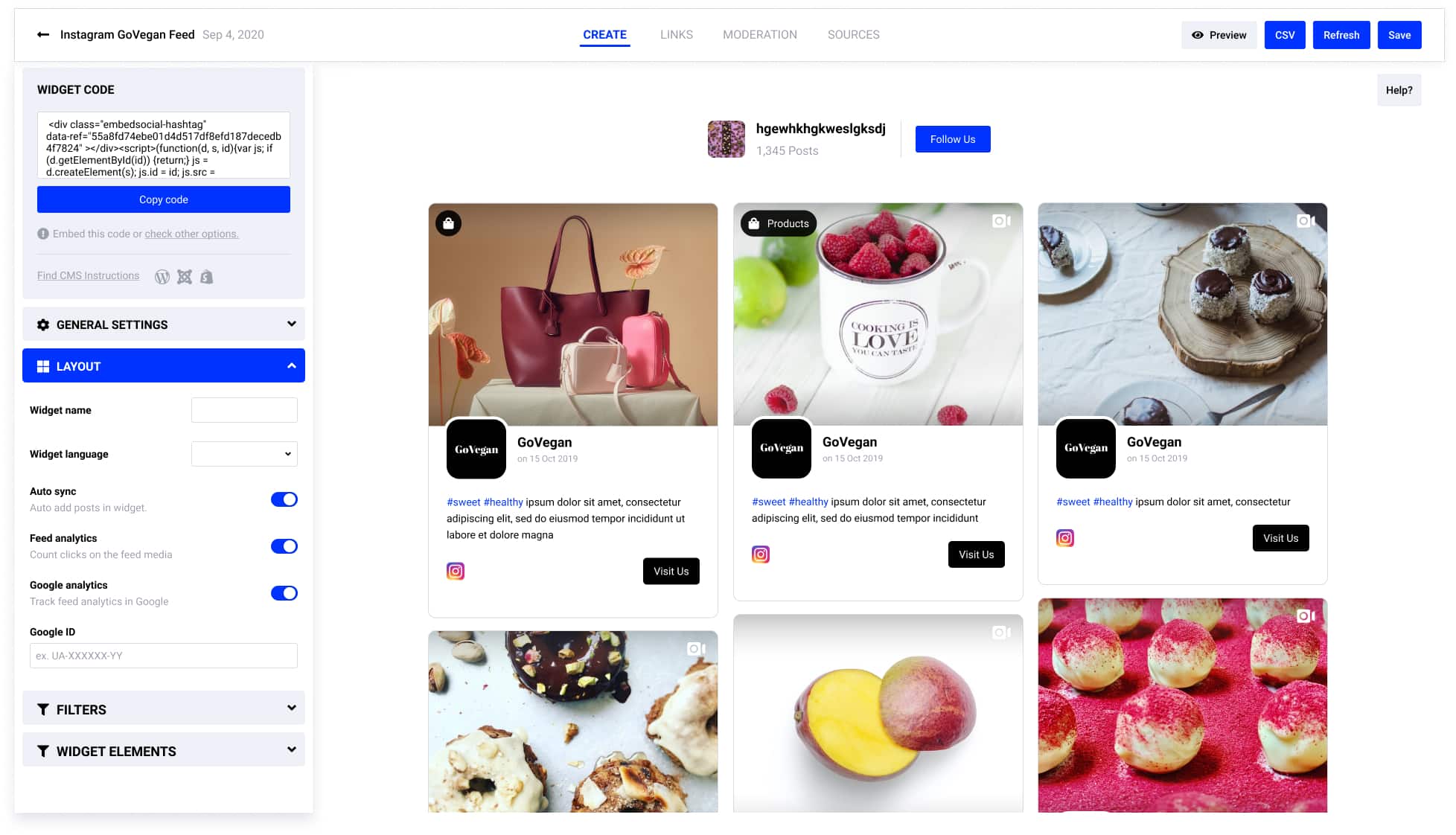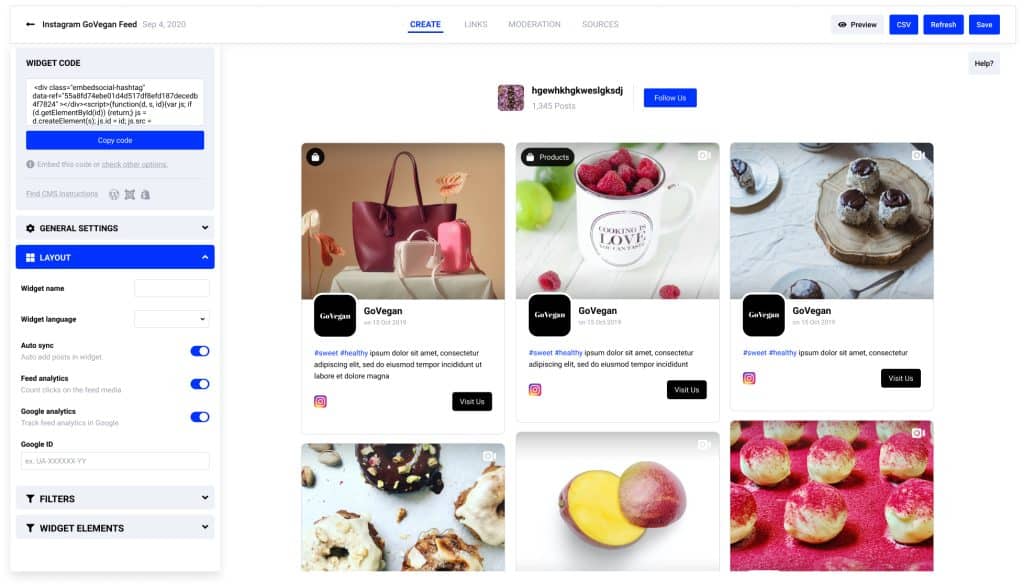 Best Elfsight alternative
PRO versions comparison by Elfsight and EmbedSocial's social media aggregator.
| Features | Elfsight | EmbedSocial |
| --- | --- | --- |
| Mobile-friendly (android and ios) | | |
| Customer support with a dedicated support team | Email only | Live chat & Email |
| All major social media networks | | |
| Customization | | |
| Custom posts | | |
| Auto-sync | | |
| Templates | | |
| Integrations * | | |
| API access | | |
| Shoppable feeds | | |
| Analytics | | |
| Team accounts | | |
| Free version | | |
| Pricing | $99 for 3 feed | $29 for 3 feeds |
*Such as WordPress, Squarespace, Shopify
UGC & Social media aggregation
User-generated content is usually considered as a form of advertising through "word-of-mouth" promotion. They are unofficial, informative, and sometimes entertaining materials about an organization or its products created by non-affiliated users on their own initiative without the company's direct involvement. This includes customer testimonials, reports on the quality of the brands' service or products, stories, digital images, and content that customers create, tag, and share on the company's social media accounts. In the general case, it is a form of co-created advertising between brands and their customers who are actually involved in their branding campaigns.
One of the best ways to scale the activities in discovery and aggregation of the content that customers create is to use social media aggregators that have the technology to easily collect and store UGC from the social media networks.
What are the benefits of using social media aggregators?
The main benefit of the UGC is the ability to provide an effective source of marketing information that helps to understand the needs of the actual customers. This can be leveraged to create loyal customers who are more likely to recommend the company's products or services to their friends.
Increased exposure to their brand and products: An increase in sales of branded content due to more traffic on sites that carry this type of content and the fact that it is usually added by users (people like to look at things they themselves have posted, commented on or 'liked').
Increased SEO ranking: The algorithms that search engines use to rank websites are getting more and more sophisticated all the time, but user-generated content is still one of the most important factors taken into account. Reviews on Google or other business directories are a signal to Google that your website is authoritative and worth ranking higher.
More leads: User-generated content gives you a way to collect contact information from potential customers. When people leave comments or sign up to subscribe to your blog or email list, they're giving you permission to contact them in the future. You can then nurture these leads with targeted advertising and eventually convert them into customers.
Greater engagement: UGC also helps to keep people engaged with your brand. When you share content from your fans and followers, it shows that you're paying attention to them and that you appreciate their support. This can help build loyalty among your customer base and encourage them to stick with you over the long haul.
Higher conversion rates for eCommerce websites: If you show other people's content waring your products on it or on the same page, you are much more likely to make a sale because people trust other people's opinions more than advertising.
Now once you understand the need for social media aggregator, you can compare and choose the right solution for your needs. One of the main criteria when choosing is to decide if you need a paid or free product. If you're just starting out, or don't have a lot of social media accounts, a free aggregator may be the best option for you. Paid options typically provide widget customizations, faster sync, and more sources from multiple social media accounts.
No matter which option you choose, make sure the aggregator you select has the features you need.
Here are 10 reasons why EmbedSocial is the best alternative to the Elfsight social media widget:
Founders of a Facebook Marketing Partner with 10 years of experience in working with official social media APIs
Unlimited number of social media widgets
Unlimited hashtag campaigns
Optimized for high speed, and fast loading
Works with any web builder, or eCommerce platform
No limits in page views
No charges and limits for multiple team accounts
Constant updates with new sources and new layouts
Quick response to customer requests and fast implementation
Dedicated customer success team
Sounds great!? Try EmbedSocial now!