Every modern marketer knows about the power of user-generated content and its magic.
In order to keep up with the latest trends and manage to get your consumers to do the work for you, we put together these statistics that will help you understand how important UGC is.
UGC stats to remember
In a world where the global landscape is changing at an ever-increasing pace, people are hungry for authenticity.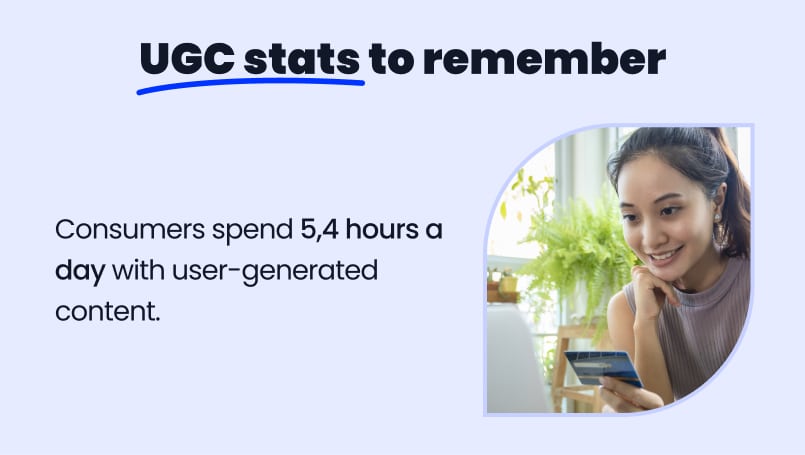 To meet this demand from consumers who have lost trust in traditional media user-generated content has become more important than ever before because users can provide their own lens through which we see things without bias from outside influences such as advertisers looking out only for themselves.
Marketers are overwhelmed with content
Marketers and content creators are feeling the crunch more and more. They have turned to user-generated content for relief. And it helps. A lot.
41% of marketers claim that they have their hands full when it comes to content creation. (Source)
Content shared by employees is x8 more engaging than content shared by brand channels. (Source)
43% of marketers say that it's very hard to find engaging user-generated content manually. (Source)
41% of marketers rank UGC as their top-performing KPI. (Source)
UGC in email marketing drives a 78% more click-through rate. (Source)
Here is a summary: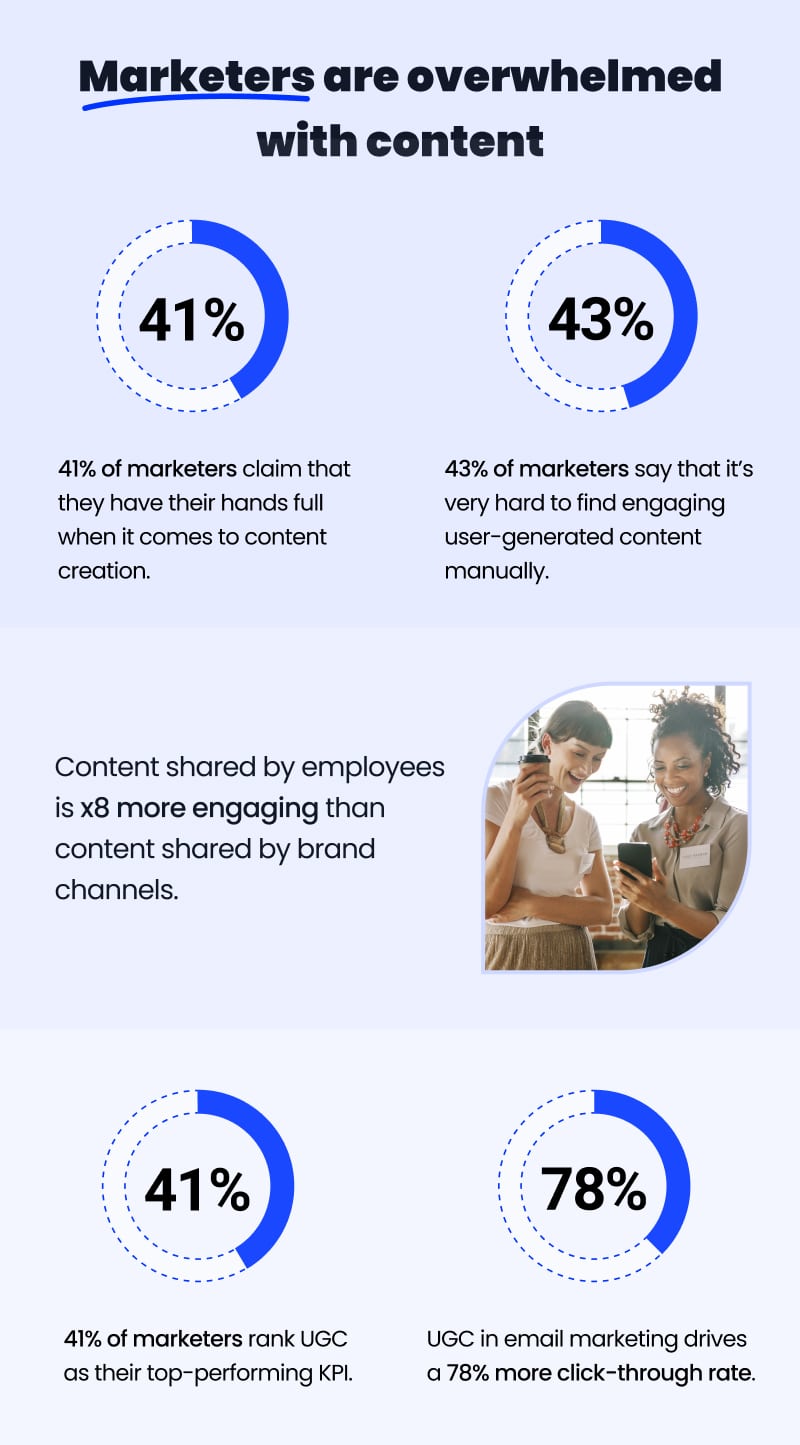 UGC boosts the time people spend on websites
People enjoy seeing authentic content on brands' social media channels and websites. And by seeing how great those experiences are, they tend to want to experience them on their own.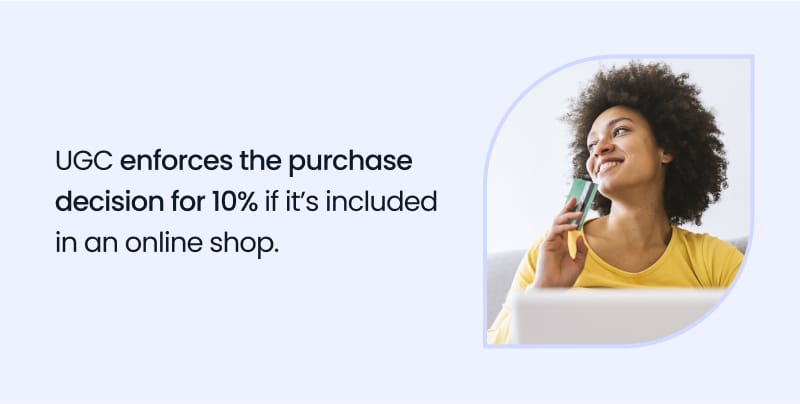 Visitors spend 90% more time on websites that include UGC galleries. (Source)
UGC enforces the purchase decision for 12% if it's included in an online shop or booking website. (Source)
Websites with UGC are marking a 20% increase in returning visitors. (Source)
UGC humanizes brands on social media
People like to go through other people's images to see how they're living life and want to experience the same at the same time. And people are posting on a daily basis which creates an opportunity for brands to serve people with authentic content they want to see.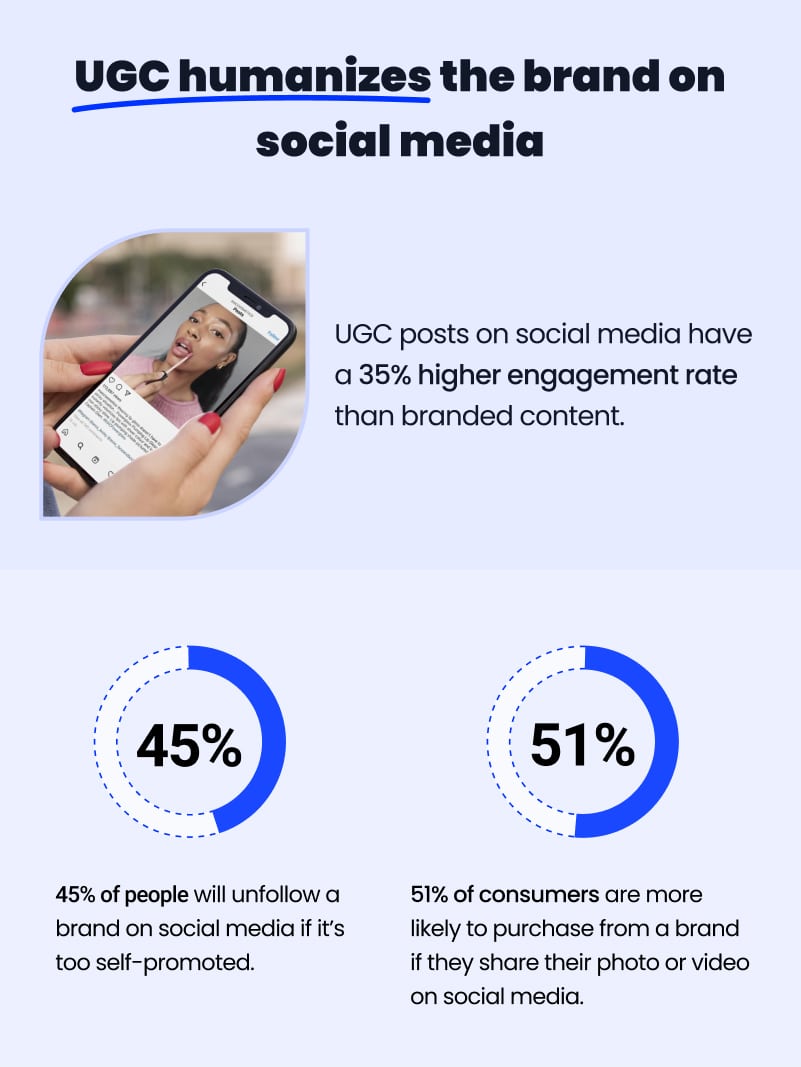 45% of people will unfollow a brand on social media if it's too self-promoted. (Source)
UGC posts on social media have a 28% higher engagement rate than branded content. (Source)
51% of consumers say that they're more likely to purchase from a brand if they share their photos or video on social media. (Source)
Consumers love to share content they create
People want to express themselves and to share their daily and life experiences online. This affinity goes in favor of brands because their consumers will be excited to create content for them.
89% of people would post about a great traveling experience. (Source)
85% of people would post about a great restaurant or dining experience. (Source)
65% of people would post about great health, spa, and beauty experiences. (Source)
Here is a summary: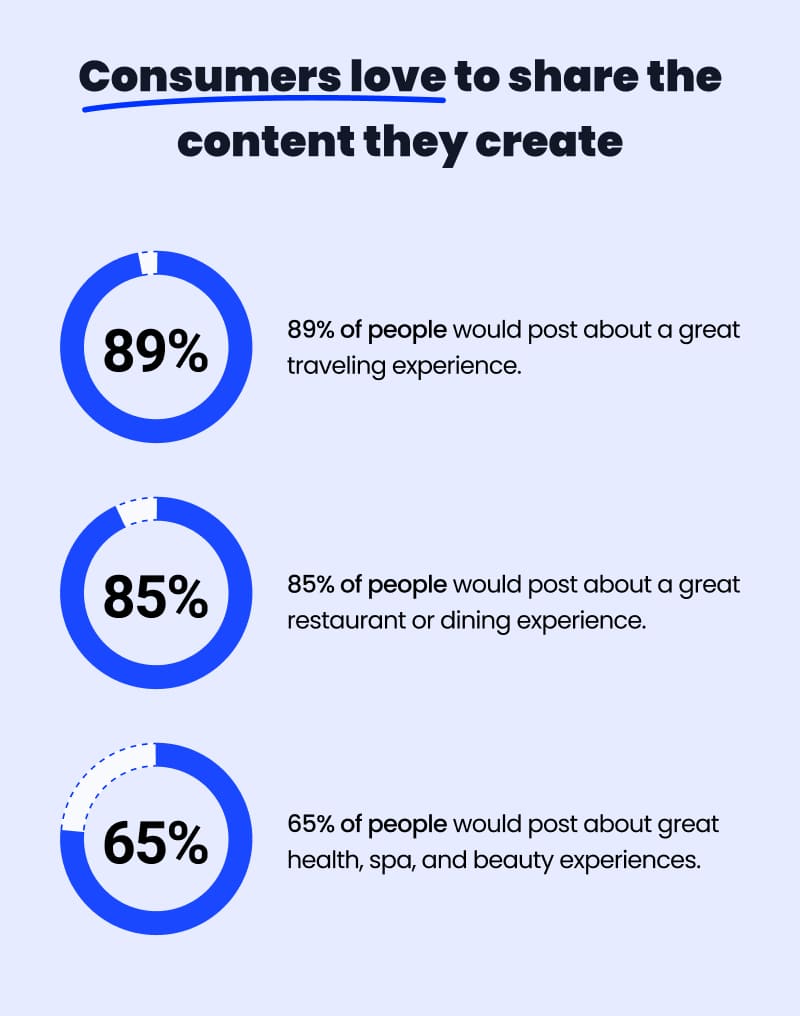 UGC impacts purchase decisions
User-generated content, especially reviews have a strong impact on purchasing decisions. And this is not a surprise since people tend to consult other people for recommendations, opinions, and experiences.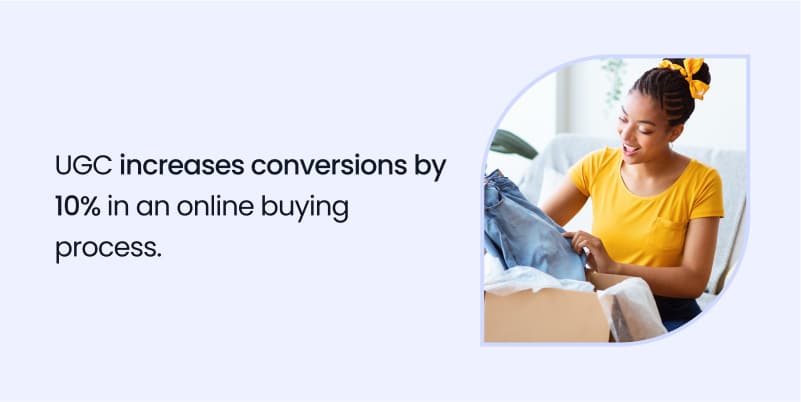 Social selling is the new market
With social media channels implementing online shops, people tend to buy a lot of stuff via Facebook and Instagram.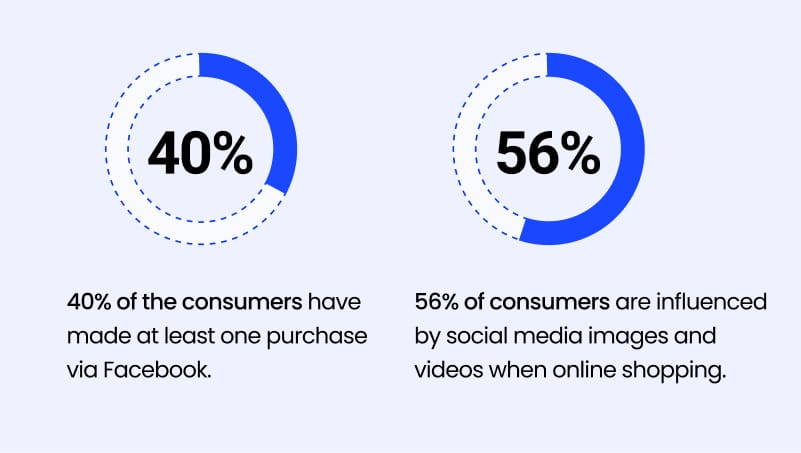 Millennials are natural UGC creators and consumers
Somehow the stats show that Millennials are natural content creators and UGC professionals, and also consumers. They tend to be more influenced by personalized and authentic content than branded advertising.
Here is a summary: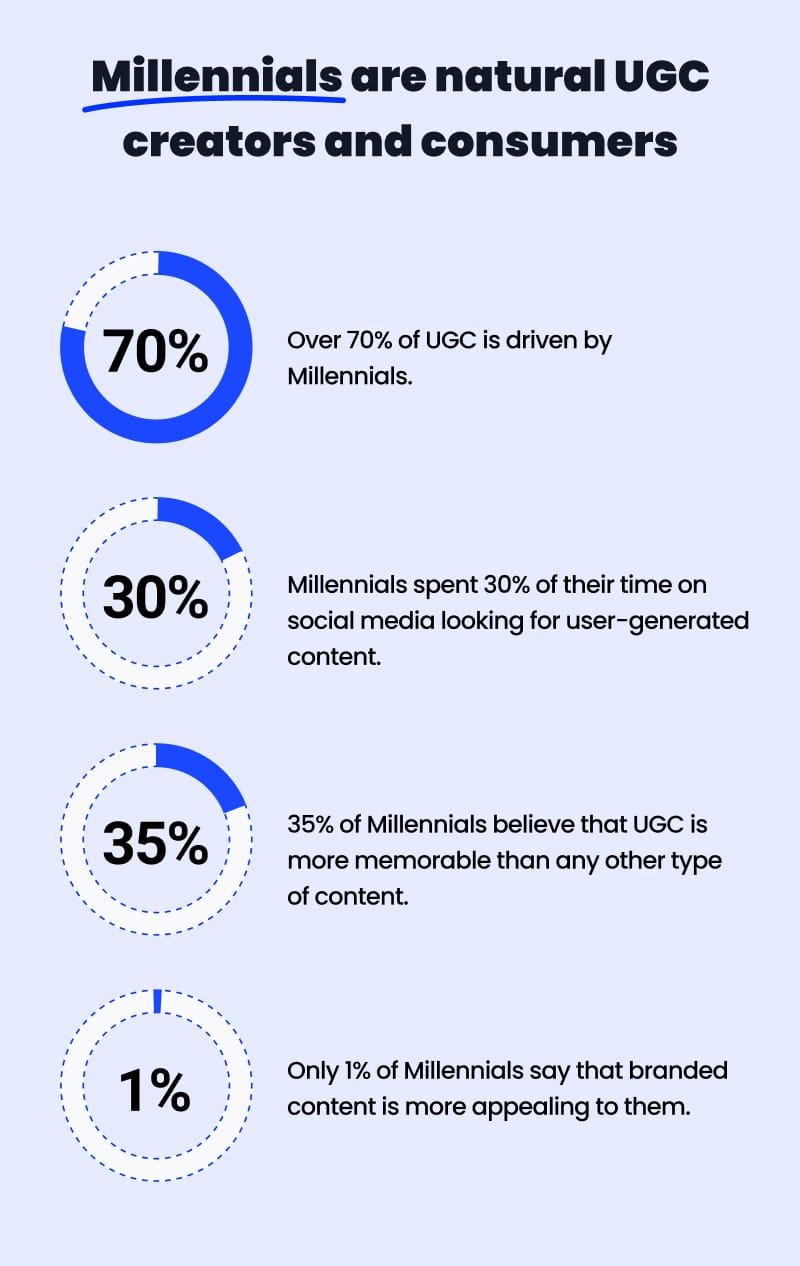 Gen Z is born with UGC
This generation is born with it. They "know nothing" but the digital world, online shopping, and influencers. They actively use social media and cherish the personalized content that's served to them more than anyone. And UGC is what will win them for sure.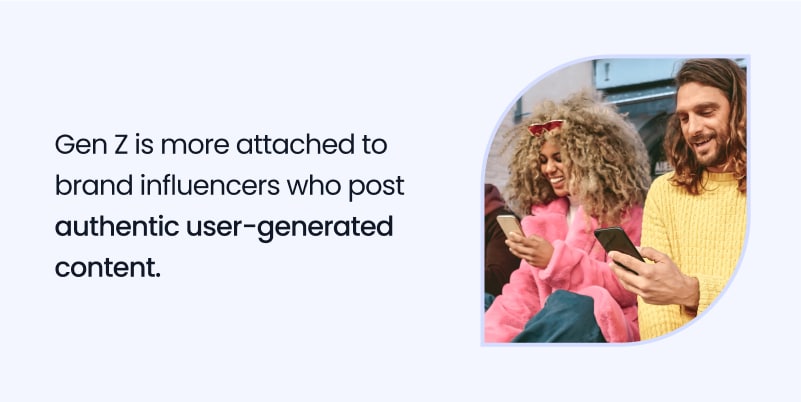 Post pandemic UGC trends
Online shopping has been on the rise for years and it looks like we're not slowing down anytime soon. And the fact that 72% of people say that they spend more time on social media after the pandemic started shows that social platforms are enforcing an impact on everyday life.
67% of consumers say that their online purchasing increased since the pandemic started. (Source)
75% of people say that they will still keep buying online even after the pandemic is over. (Source)
63% of Gen Z consumers say that they've purchased from a totally new brand since the pandemic started. (Source)
73% of Gen Z consumers confirm that online shopping increased and it's still rising. (Source)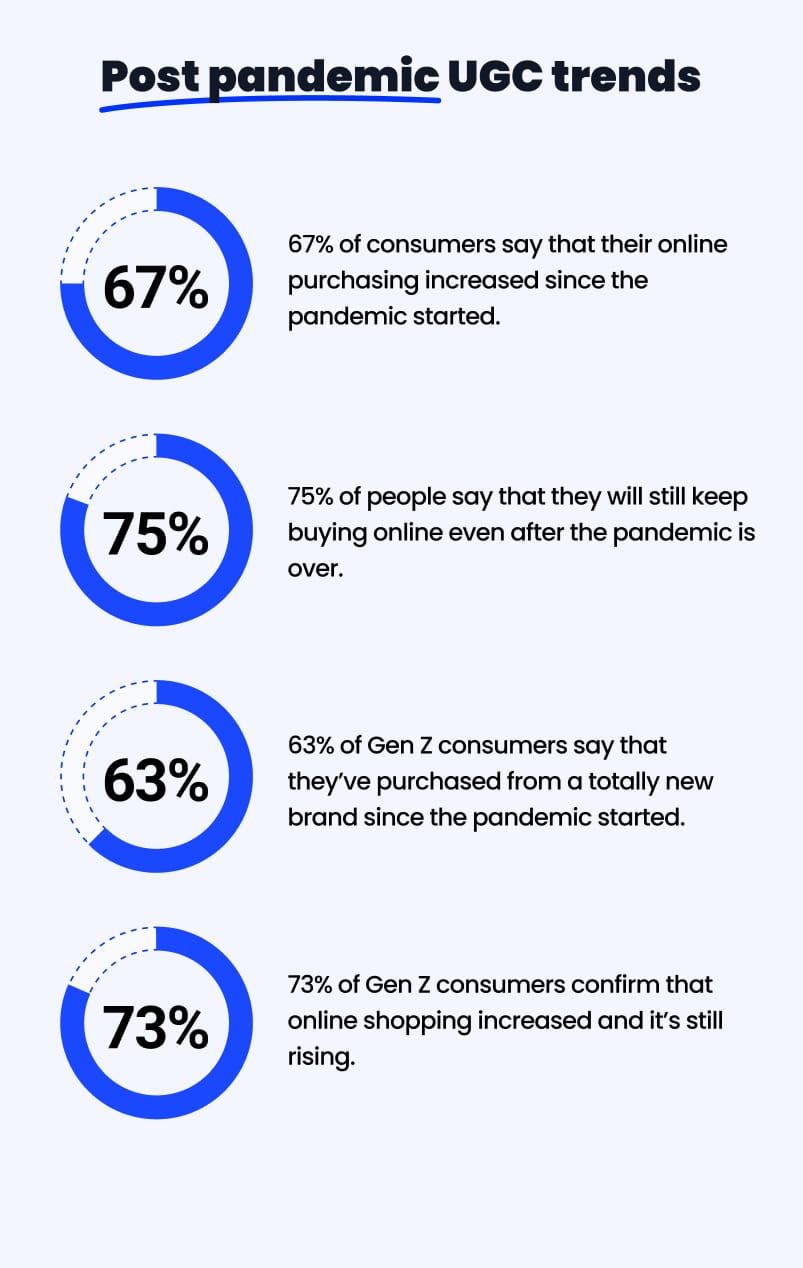 Conclusion
Brands that rely on user-generated content will be the norm for years to come. And as you can see in this article, statistics show there's no slowing down when it comes to users and posts online.
If you already don't, you can start collecting and using user-generated content in your marketing strategy. The good thing is that you don't have to do anything manually. You can get a UGC platform to do the job for you.
So don't wait, sign up for the EmbedSocial UGC platform, and bring your consumers closer.
Aggregate user-generated content now!
Try EmbedFeed to generate and embed Instagram, Facebook, Youtube, or TikTok feeds on any website, like a PRO.
7 days free trial · Easy setup · Cancel any time