Customer success story
Learn how Små Film shows social proof 

Industry

Content production
Goal

Show social proof
Products used
We had a unique opportunity to ask Oliver Dinesen from Små Film Production about their experience with EmbedSocial and why they decided to embed social media feeds and social proof on their website.
The Awareness
Why do you use a social media aggregator?
We use the social media aggregator to display our content, which we create for various clients. We are a content agency with a specialty in film and media production. And the EmbedSocial team has been very helpful in creating a solution that fits our needs perfectly.
The Outcome
How do you benefit from using EmbedSocial?
We use our social media aggregator mostly to provide social proof and showcase that what we create provides meaning and strong relationships to our client's businesses, as we embed any Instagram Reel or TikTok, etc., thereby keeping the context of each media production.
Here is an example of their Instagram video widget: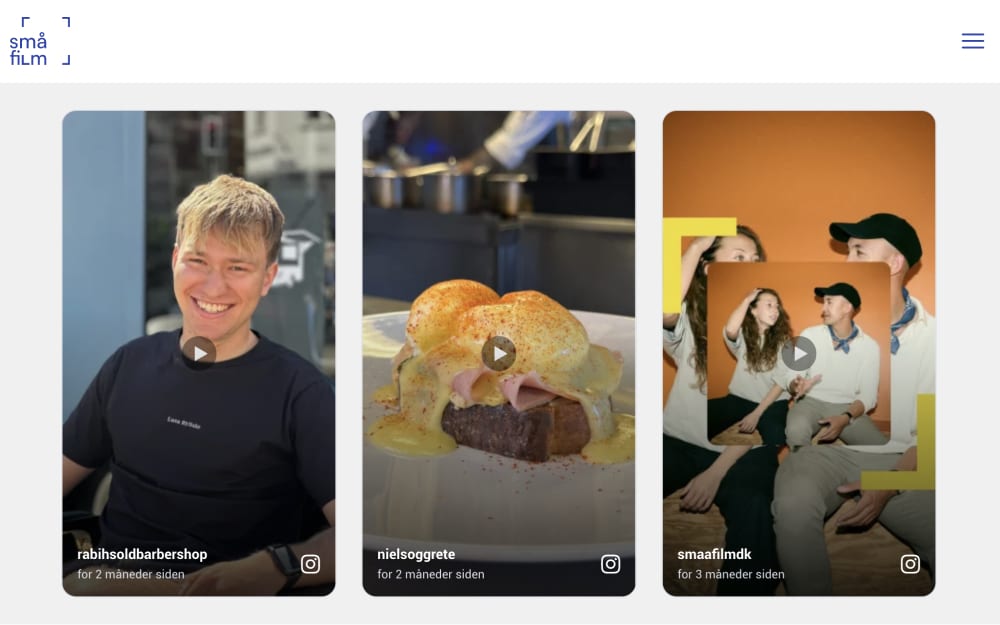 How satisfied are you with EmbedSocial?
The support is very effective, and they are very friendly and helpful.

Oliver Dinesen Partner at Små Film
Can you suggest a new feature?
To showcase a number of likes, comments, etc., in the thumbnail would be great! And help us prove to new clients that we create content that matters to our clients' businesses.
About Små Film
Små Film Production is a content agency focusing on media production, social media, and storytelling.
They understand the importance of translating business goals into compelling visual content.
Whether brands want to strengthen their presence, create stronger relationships with their target audience, or create conversions, experts in creating content that delivers results.
They work closely with their clients to understand their unique needs and create tailored content that speaks directly to the target audience.
EmbedSocial creates great value for our business by allowing us to showcase our content without losing the context of each social platform. We can easily embed any kind of media production, which means we can create a strong impression on new clients by using social proof and benefit from the awesome feedback we receive on our clients' social media.