Embed Facebook Feeds
Create and display responsive Facebook Page widgets on any website, automatically and in seconds.
All PRO features included Cancel any time
Trusted by 100,000+ users. big and small brands. World famous and local.
How Facebook feeds help you?
Execute your marketing strategy and hit more numbers for reach, followers, and sales
Save time to create content for website updates
Create a live Facebook feed that auto-updates and provides fresh content on your website, automatically.
Sell more with authenticity and interaction
Provid authentic content that creates interaction with web visitors, boosts engagement and leads to more conversions.
Expand reach to increase Facebook followers
Add a 'Follow us' button inline or in the popup of the Facebook widget and navigate the web visitors to your Facebook Page.
Facebook API Integration
Feeds from mentions or your own Facebook page
The EmbedSocial platform has direct, approved integration with the Facebook API and can pull all content related to your brand posted on Facebook. This means that EmbedSocial can generate the following sources:
Facebook Page Posts - Posts published by Facebook Page.

Facebook @Mentions - Posts published by users with a Facebook Page mention.

Facebook Visitors Posts - Posts published by visitors on your Facebook Page.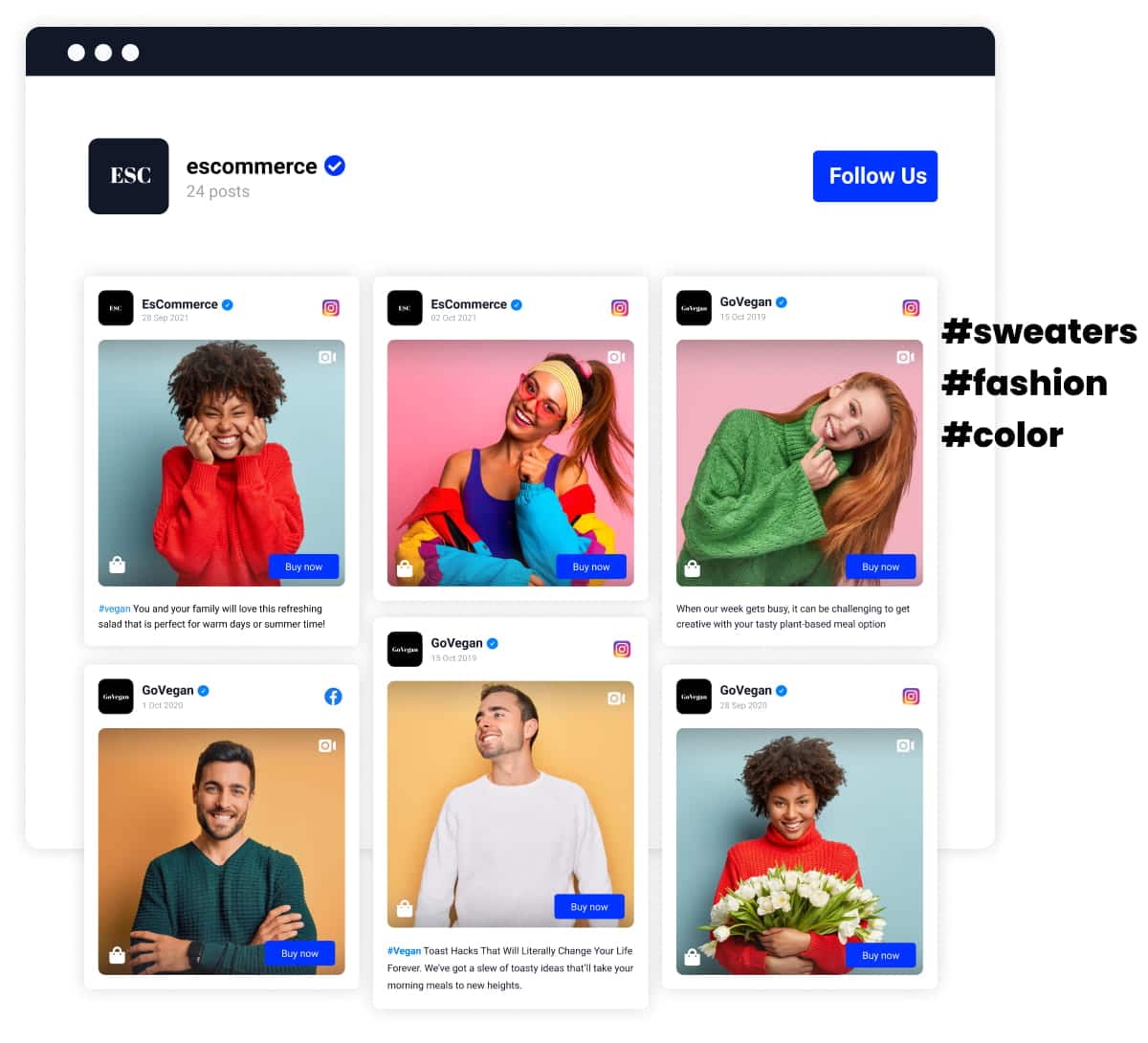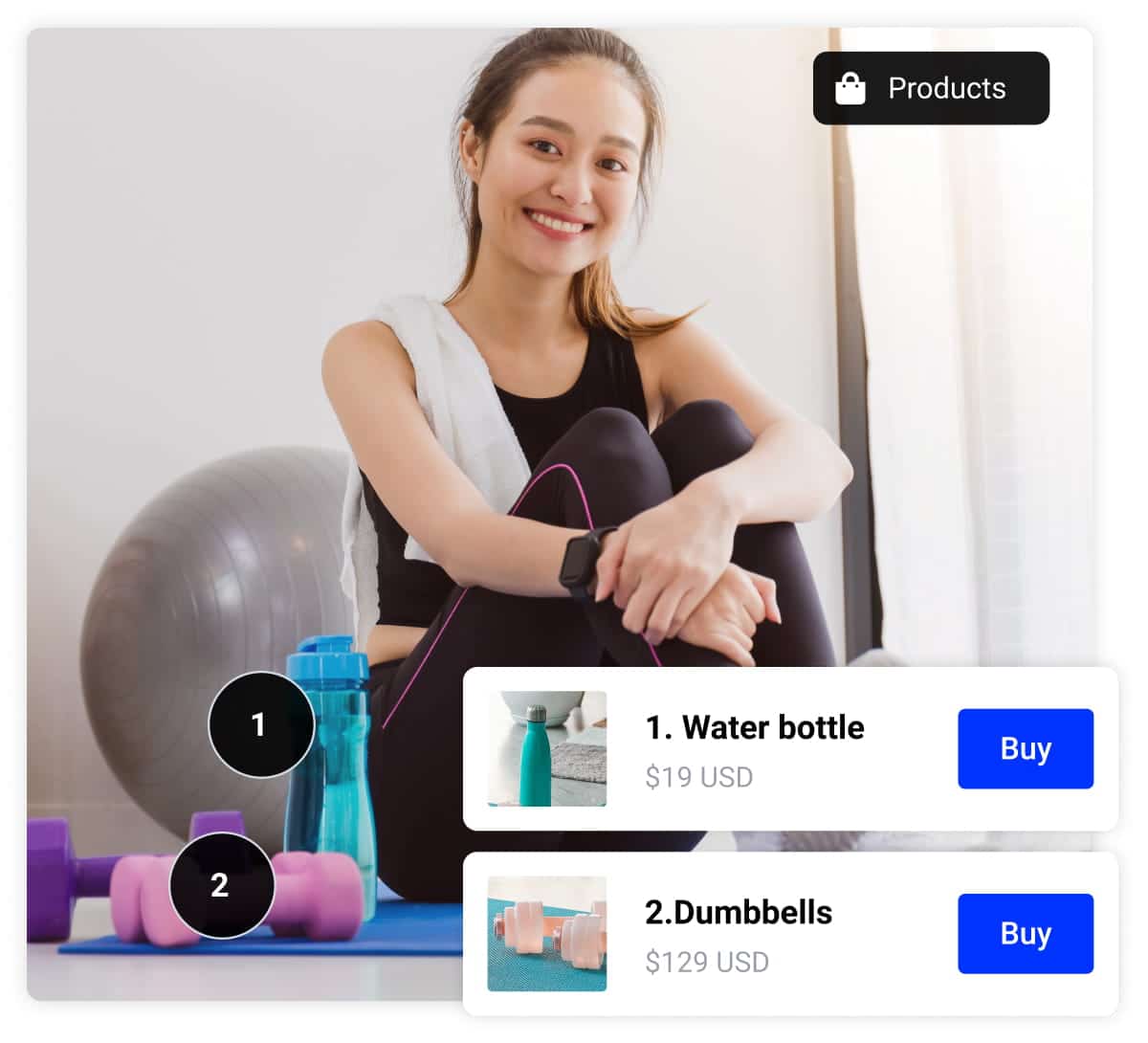 Shoppable feed
Embed social commerce with a Facebook shop for your website
Authentic content drive conversions, and especially if this is user-generated content, usual shares of photos that your happy customers posted on Facebook about your products. EmbedSocial can help you re-use this content and build an entire Facebook shop on your website, with an option to add shoppable links such as Buy buttons that will navigate web visitors directly to the checkout pages of your products. And again you don't need coding skills, you will only need to tag your products in the feed and paste the provided code on your web page.
Templates
10+ Facebook feed templates that match any website design
Widgets that guarantee page speed. Plus variety of customization options
Sliders, grids, slideshows or masonry templates
Modern or classic Facebook feeds, you name it, and we have them all!
Each of the feeds is developed by our design team to make sure you provide an interactive showcase and a visual marketing tool on your website.
Compatibility
Works with any CMS or eCommerce platform
EmbedSocial works for any platform that supports embedding JavaScript code and shortcodes compatibility. To use Instagram feed for Shopify just paste the code in the page editor where you want to display your Instagram feed.
For WordPress websites, we provide a native  EmbedSocial WordPress Instagram feed plugin. Just set the WordPress plugin, customize the widget to match your WordPress theme and you'll get an interactive Instagram feed widget on your WordPress site in seconds. No access token is needed.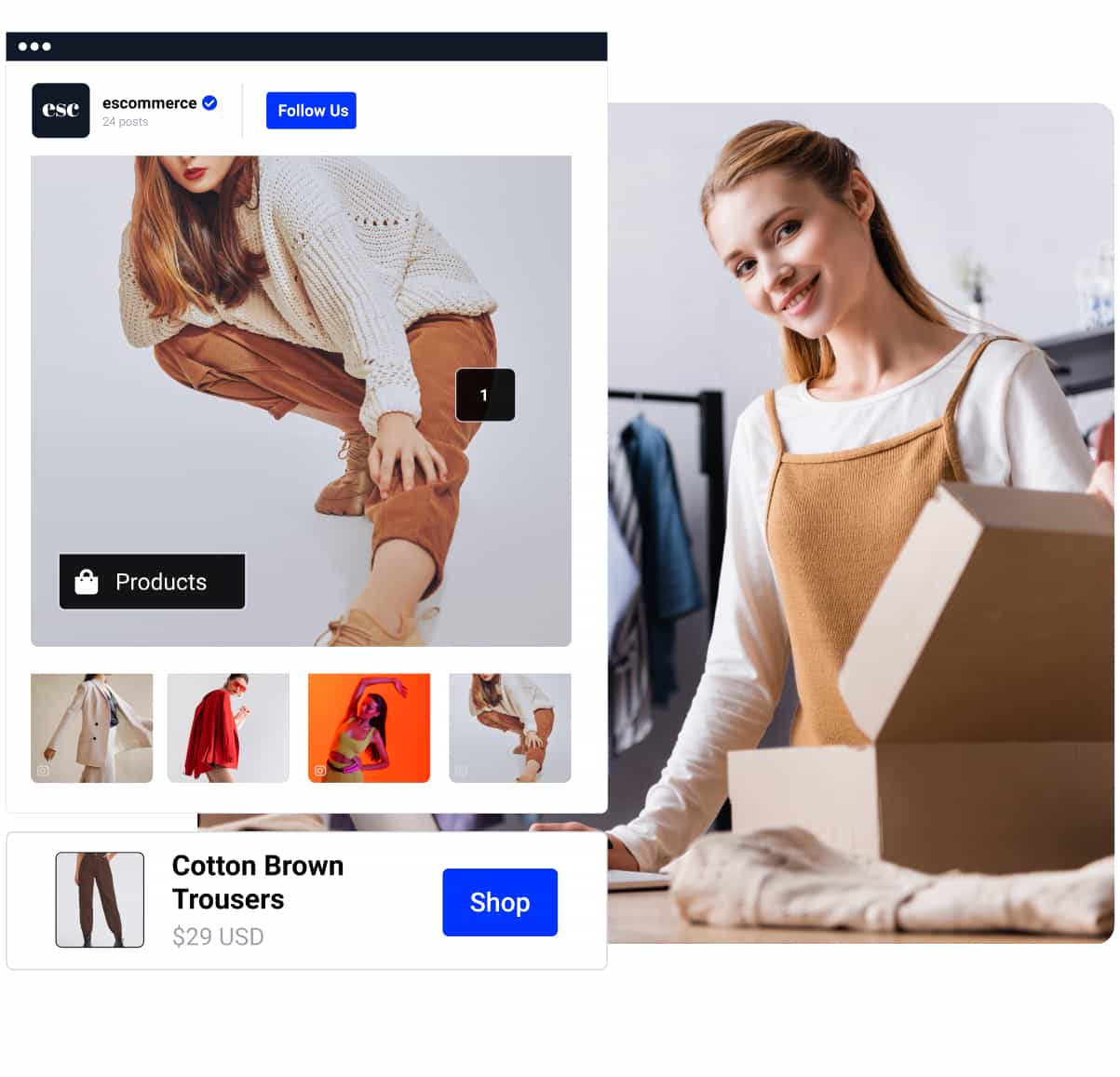 Customization
Make your Facebook widget fit your brand
The EmbedSocial editor gives you a Custom CSS option that will overwrite any default style in the templates. By providing this, we are giving you the entire freedom to make and design your Facebook feed as you wish. Use your brand colors and make it fit your website or campaign design.
Moderation
Control which Facebook posts are published
Our feeds have tons of filtering options. You can set the feed to show only posts that contain certain posts or only show the newest posts. Additionally, you can manage the first page of the fed by adding priority of the posts or pinning posts that you think should always be first and followed by other recently published posts. And the best, you have the entire control to handpick which posts should be live on your website. Our moderation options are advanced and give super flexibility especially for feeds created for a hashtag campaign.
Multiple Facebook feed widgets on multiple websites
With EmbedSocial you can create multiple feeds from multiple Facebook pages or feeds that combine posts from other social networks such as Instagram, Youtube or Twitter. And when you create these entire social media walls you are able to make different widgets that can be embedded in different domains.
Perfect for agencies or mutliple location brands that might have more websites and social media accounts.
How to generate and embed Facebook feed?
Follow these steps to start collecting Facebook posts and embed them on any website with EmbedSocial:
Start a trial and register to EmbedSocial
Sign in with your Facebook account to connect with our platform
Choose mention or your account
Customize the widget layout and moderate the posts if needed
Copy/paste the code to display the Facebook posts on your website
Join 100,000+ websites that use EmbedSocial's products
Need help?
Frequently asked questions about Facebook feed
Have a specific question about Facebook mention or hashtag feeds? Check the FAQ section below or click the bottom right chat icon and talk with us.
Yes, the system is designed to support multiple Facebook pages that you can connect in the same account and start generating feeds. Check our pricing plans and choose which plan suits the number of Facebook pages you have.

We currently provide more than 10 widgets and we regularly increase the widget library. At the moment you can use:

Facebook carousel widget
Facebook slider widget
Facebook slideshow widget
Facebook slideshow widget without thumbnails
Facebook slideshow widget with vertical thumbnails
Facebook Feed (4 different widgets)
Facebook masonry widget
Facebook grid widget

Yes, you can use multiple templates or a custom CSS editor to make your Facebook widgets to fit your brand and website design.

EmbedSocial integrates and works with all major content management platforms and web builders, such as WordPress, Squarespace, PageCloud, Joomla, Wix, Weebly, Shopify, Magento, Open Cart and all platforms that provide an option to embed third-party iframes or javascript codes.
Yes, you can litteraly handpick which photos show in your feed published on your website. The moderation options are various, which means you can filter only posts posted after certain dates or posts that include certain words.

Yes! EmbedSocial provides options to add custom 'Buy' buttons in the Facebook feed posts that when clicked can navigate the web visitors to the checkout page where they can buy the selected product.

Yes. The EmbedSocial platform is integrated with all major social media networks, such as Facebook, Twitter, Instagram and Youtube and provides you with the options to choose more social media sources of the posts for your web feed.

Yes, the widget will stop showing on your website but you can come back and activate your account any time.
Start free trial
Show social media feeds on your website in seconds
All PRO features included Cancel any time