Panta rei, but Facebook is forever.
As one of the biggest social media marketing platforms, marketers have a lot to keep up with Facebook if they want to leverage the options it has to offer fully. We also cover all new Instagram updates and with all these new social media platforms keeping a step is more challenging than ever.
So, how is Facebook changing? What are some new Facebook updates and the latest features that are must-know for marketers?
If you're looking for answers, we have them for you. Keep scrolling and find out what Zuckerberg's team is launching every month.
And we promise we will keep the list updated, so feel free to come to revisit this post next month!
Subscribe to newsletter
Get the latest news, tips and tricks about Instagram, Facebook and all social media marketing.
By entering your email, you subscribe to receive marketing updates from EmbedSocial. You can unsubscribe any time. Read
privacy policy.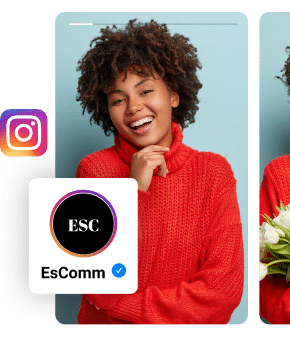 Facebook Updates May 2022
Send Marketing messages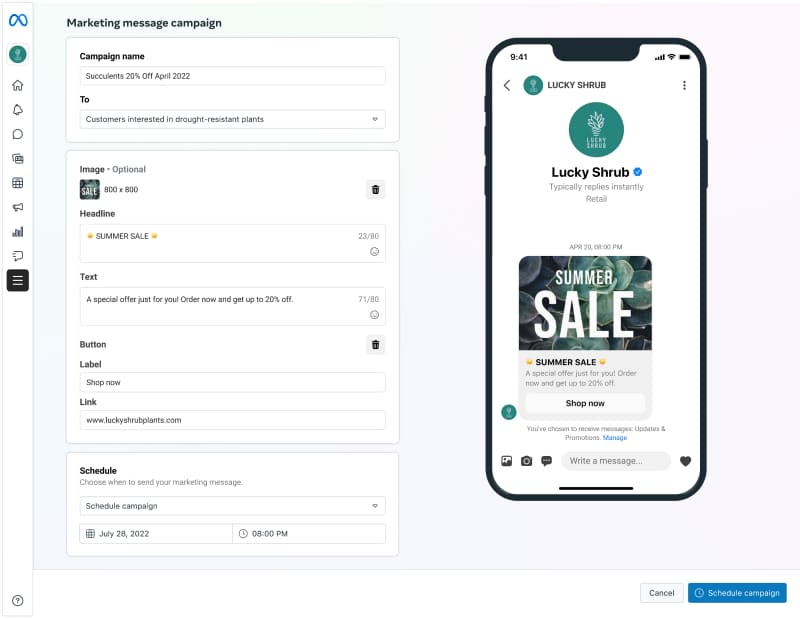 A handy functionality for businesses is the Inbox, where they get all customer messages across Messenger, Instagram Direct, or website chat.
The Suite is constantly being updated with new features, and recently Meta announced a new option that will enable users to send promotional messages to customers who opt-in.
For example, customers can opt-in to get notifications about recent product announcements, discounts, and similar.
With this new feature, small businesses can re-engage their customers and build a loyal base.
Easier ways to create Facebook and Instagram ads that start a WhatsApp chat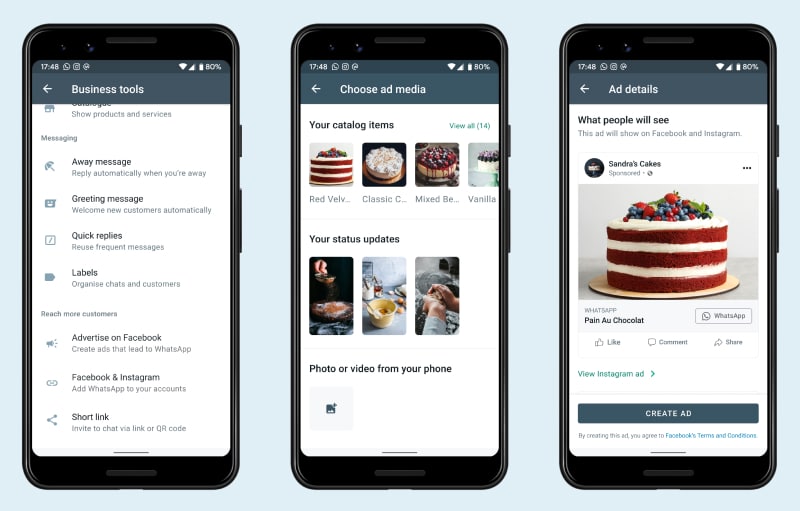 Many small businesses use Facebook and Instagram ads to direct users to start a conversation with them on WhatsApp.
Meta will provide the ad creation functionality inside the WhatsApp Business App to make this process easier.
With this, small businesses will be able to create their ads faster and much more efficiently.
The main benefit of the ads that click on WhatsApp is the ability of the customers to click the 'Send Message button on the ad and start a conversation with the business on WhatsApp. Learn more on how to create an ad that opens a WhatsApp conversation.
Facebook updates October 2021
Facebook and its group of apps in a global outage
Facebook has been having trouble with its social media platforms for over six hours. Many users report that they can't access Facebook, Messenger, or Instagram, while others say WhatsApp is also down, which means people can't use these tools as usual.
In what seems like a global outage, thousands of users have been reporting issues around 8:30 am Pacific time, and many more are posting on Twitter, claiming both personal experiences & frustration due to this disruption.
Facebook didn't wait to speak up for the issue.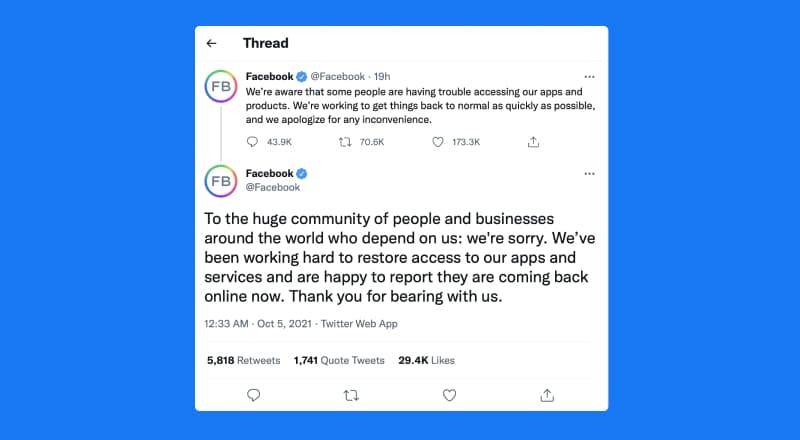 Facebook updates September 2021
Launching Reels in the US with more creator bonuses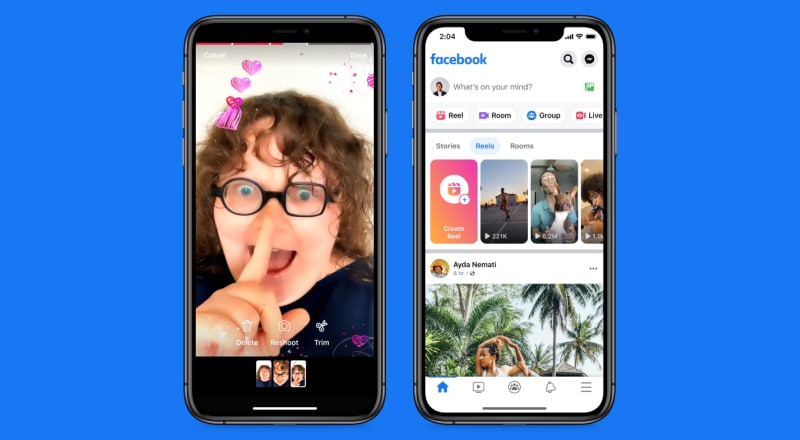 Facebook released the new Facebook Reels for iOs and Android. As on the other apps, the Reels can include music, audio, video, and people can comment and react to them.
The new Facebook Reels will allow creators to build a wider audience on Facebook. Since Reels can reach everyone on the platform, brands and businesses can get discovered in the News Feed. Also, creators and group members can create and share Reels in groups to express themselves, engage more, and have fun.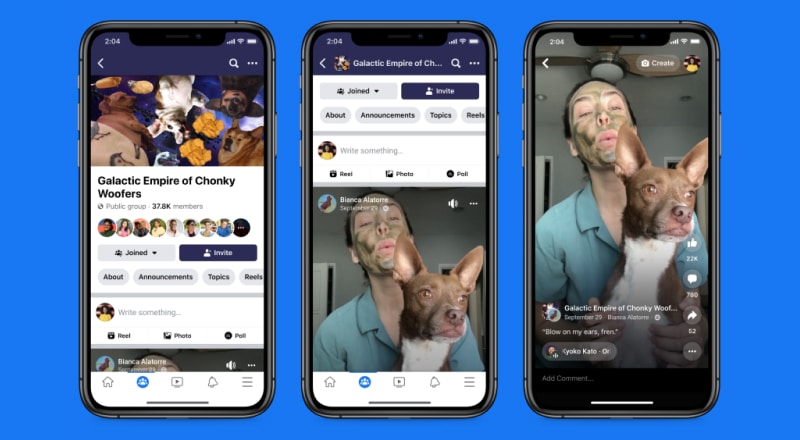 Here's a sneak-peek: The company is testing the option for Instagram creators to have their Reels recommended on Facebook. A small group of creators is participating in the test and this option to get their Reels recommended on Facebook is completely under their control.
Another exciting moment in the Reels launch is the bonus programs.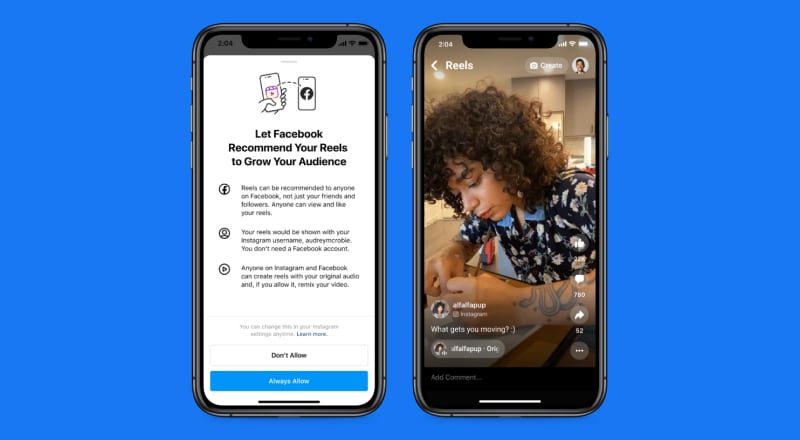 The new Reels Play bonus is another way for creators to earn money when people view their Reel. The Reels Play bonus will initially be invite-only and available in the US, and it's possible that this special feature could expand globally very soon. For the time being, it will only be available on Facebook and Instagram.
New tips for improving Facebook ads performance and measurement
Recently, Facebook shared that some marketers and users find the new ads updates hard to handle.
To prevent the struggle, the company rolled out a list of tips about how to improve the performance of ads and make better reporting.
Give time to the analysis. – The delay in data is something that should be considered when doing reports for campaigns. As such, waiting 72 hours selected before evaluating performance can help ensure an accurate picture for optimization purposes. Daily assessment still remains as it doesn't take long but could potentially lead you down slightly incorrect paths.
Analyze the campaign and not the creative. – When it comes to assessing the success of a campaign, you have to look at numbers first. Another piece of advice is to analyze reporting at the campaign level rather than focusing on just one factor.
Set up the Conversions API. – The API connects with other data sources to measure user actions across marketing funnels, and it can even provide insights into website conversions.
Consider all available tools. – Consider and take advantage of all tools available to you – on and off Facebook. It's very important (and up to you) to make your life easier.
Keep on testing. – Testing new bidding, format, and audience strategies will help you identify what is working to improve your performance over time.
'Work Accounts' feature is under test
Facebook is testing a new feature called 'Work Accounts'. The new feature is supposed to allow social media managers (or small business owners) to access the Business Manager separately from their personal Facebook account.
The feature is still under test that runs on a group of businesses but it's expected to expand in 2022.
Fantasy Games are rolled out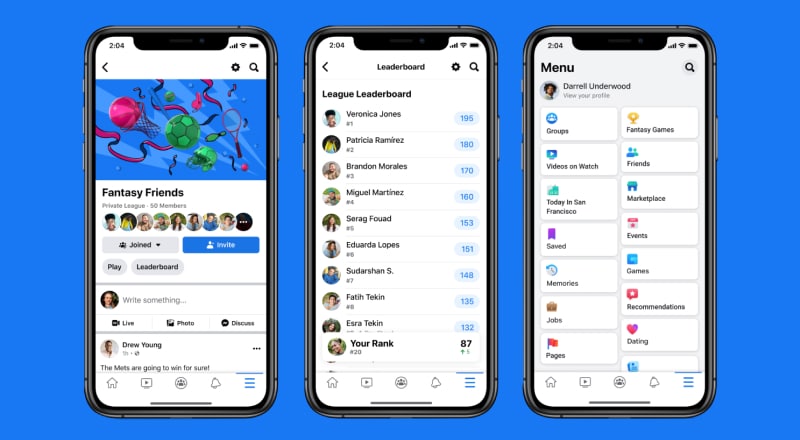 Facebook is taking fantasy sports games to social media. They announced their launch for iOs and Android for users in the US and Canada.
With a simple prediction game, you can compete against other users to predict the outcome of sports events. You'll be able to create private or public leagues and share your picks with others in real time.
The first Facebook Fantasy Game is live on the Pick & Play Sports platform. It's a daily sports prediction game created in partnership with American TV broadcasting company Whistle. Other games are planned to be launched soon and will be created in collaboration with major sports leagues.
Facebook updates August 2021
Facebook can no longer target teens based on interests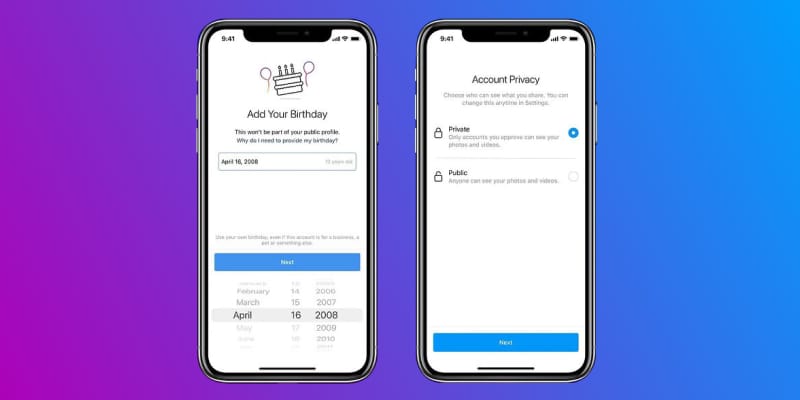 Facebook is taking steps to keep teenagers safe on their platforms. Advertisers will not be able to target teens based on interests and can only advertise to those 18 years or older.
Applying these constraints helps the prevention of brands that couldn't target teens interested in alcohol, gambling, smoking, extreme weight loss, and online dating. Knowing how social media can influence young people, this constraint will help protect them from potential abuses of any kind.
To ensure better protection, this will be applied to Instagram as well.
Facebook reels are rolling out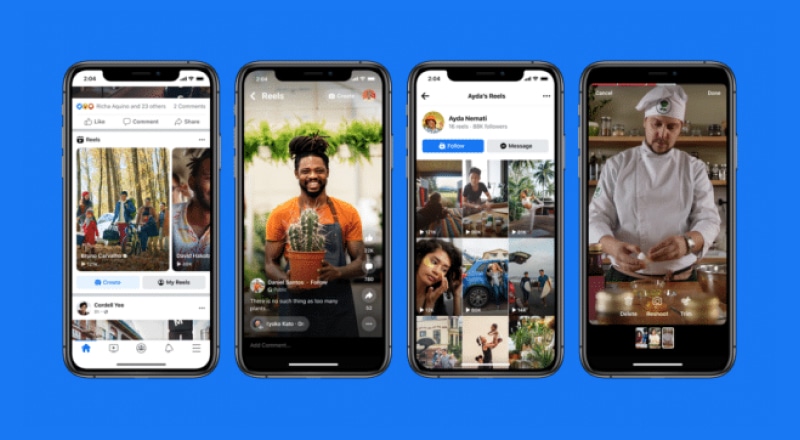 Facebook is launching Reels, a new video-sharing feature that allows users to upload short videos with text annotations in the Facebook app. It's available now for U.S. users and will expand globally over the next few months on iOS and Android devices.
Facebook Reels closely resembles Instagram, and it allows for collaborative features like Remix. It will be rolled out soon, but a timeline has not yet been announced as to when ads can use Facebook Reels.
Horizon Workrooms: New remote collaboration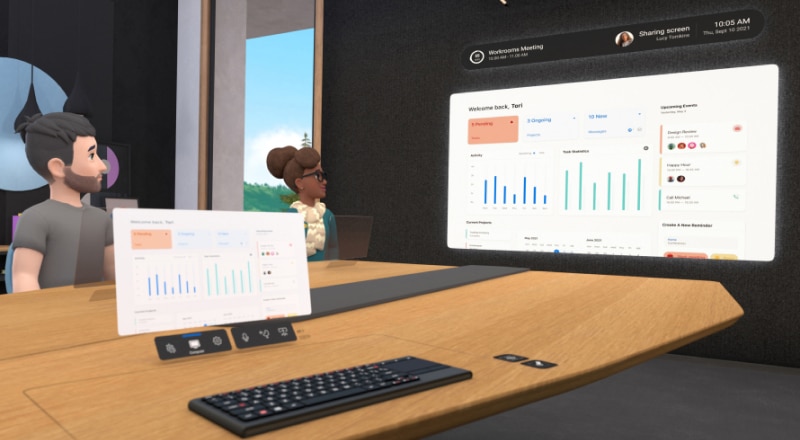 Facebook developed a virtual reality world called the Horizon Workrooms for Oculus users to collaborate with their colleagues. With this new feature, teams can brainstorm through whiteboard meetings and hold additional conversations without leaving the home workstations.
The feature brings together some of the greatest technologies in the unique Quest 2. Some of them include hand tracking, keyboard tracking, mixed-reality desks, and the new Oculus avatars.
Check what you can do with these amazing features:
Bring your desk, computer, and keyboard into VR with you
Feel like you're together with avatars and spatial audio
Use a virtual whiteboard
A room to suit every task
Join in VR or by video call
Meeting notes, file sharing, calendar integration, and chat
Facebook updates July 2021
$1 billion investment in creators
Facebook is investing over $1 billion dollars in new monetization tools for creators, intending to help them earn money off their content on Facebook and Instagram. This investment will be made specifically to incentivize beginner artists to create exciting content that people love.
The bonuses will be for the creators that reached certain milestones while using the app's creative and monetization tools. Bonuses will be seasonal, and they'll evolve over time.
Some of the bonuses are available only by invitation now on both platforms:
1. Facebook
In-stream bonus – Pays earnings for videos that use in-stream ads, and it'll be paid over the next four months.
Stars bonus – This bonus will include not only video but gaming creators too and they'll receive a monthly bonus for reaching specific Stars milestones.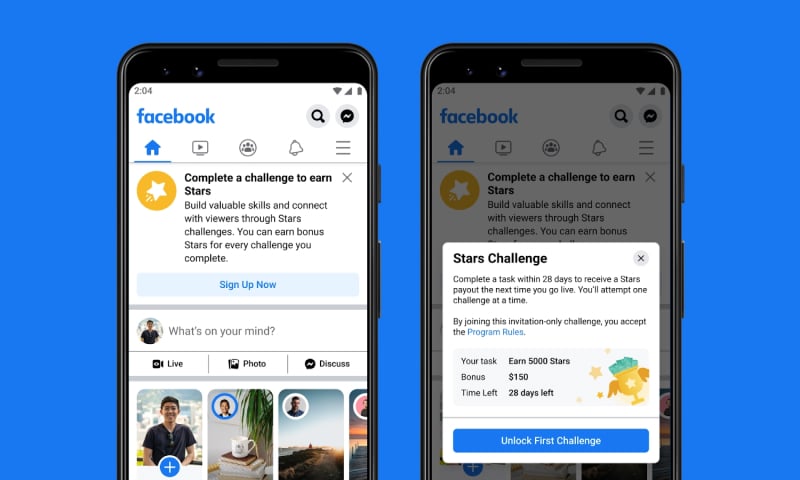 2. Instagram
IGTV ads bonus – It's a one-time bonus for signing up for IGTV ads and earning apart from the revenue of the ad in the video.
Badges Live bonus – It gives a bonus to creators that hit specific milestones with badges. Currently available in 11 countries.
Reel summer bonus – This bonus will be soon developed for the creators in the US for creating great Reels content.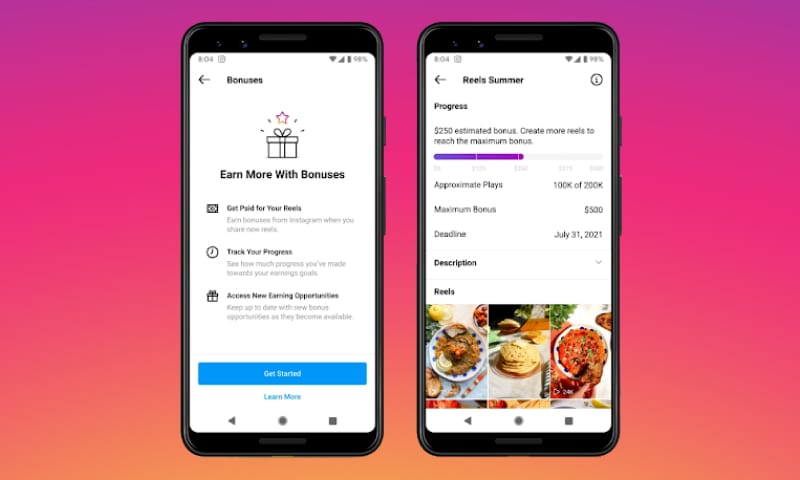 Facebook revealed how the feed's algorithm works
Recently, Facebook shared an explainer video about how the algorithm works.
As they say:
"Our goal is to make sure you see the posts that are most valuable to you at the top of your feed every time you open the Facebook app. And because most people have more content in their News Feed than they could possibly browse in one session, we use an algorithm to determine the order of all of the posts you can see."
The video is about the main ranking signals, which are:
Inventory – Every day, you're shown a sample of posts from all the pages and people you follow. These are based on what they've shared or engaged with in the past – anything from pictures to videos to blog articles. This is also based on the pages you like and the groups you're in.
Signals – This algorithm uses your interaction history with the person and their posts and other factors such as a photo, video, or link to determine what you are most likely interested in. It checks the relevance of each post for you and then filters this information so that only those relevant items show up on your News Feed.
Predictions – After that, the algorithm makes predictions on which type of content you'll be most engaged in and what you would like to see on your feeds. Actually, the algorithm will show you the best content based on your personal interests.
Score – The algorithm will then rank your posts in order of relevance, taking into account all the factors. Each post gets its own score. The higher the score a post gets, the more likely it is that your post will show up at facebook's top feed.
Facebook updates June 2021
F8 has its focus back on the developers
Facebook's F8 conference is going back to its roots. The event started in 2007 as a developer hackathon and is now seen by many as an industry gathering at which Facebook announces new consumer products for the masses.
The COVID-19 pandemic last year got the F8 back to its initial roots – the developers.
The biggest announcement was that Instagram messaging API is available to every developer from now on.
Facebook celebrates Pride month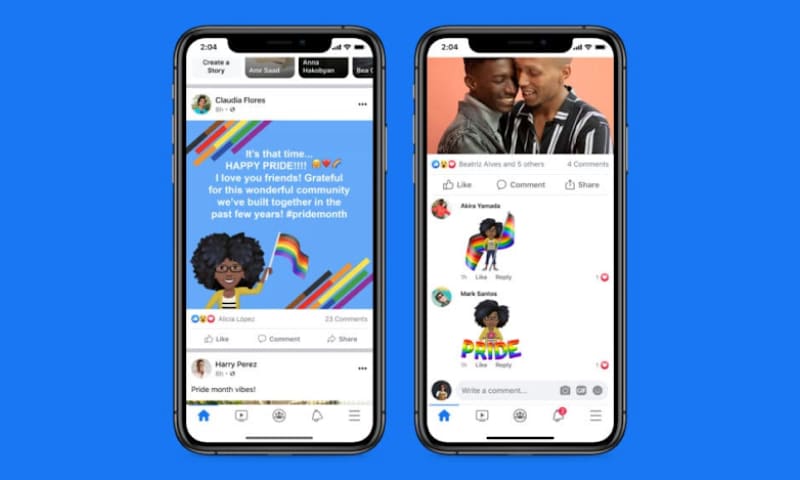 Facebook will provide many features to celebrate the LGBTQ+ community this month with their NGO partners in Europe, Middle East, and Africa. The partnership includes hosting conversations on Facebook about how to create a more inclusive society for all people regardless of sexual orientation or gender identity while providing resources related to mental health care available in that area.
New tools for admins and moderators
For those who are in charge of moderating conversations for a large number of groups or collections on social media sites like Facebook, it can be difficult to keep up with all the posts that are being made each day – let alone make sense of what is happening among content creators themselves.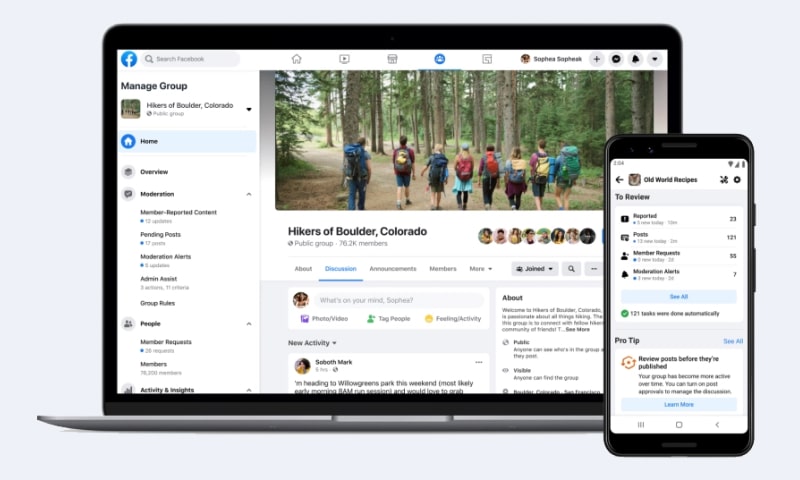 That's why Facebook rolled out new tools:
Admin Home – full dashboard for all tools
Admin Assist – customizable tool for creating rules and moderating spam
Conflict Alerts – an AI system that notifies admins of conflict conversations
Slowing down conversations – a tool that allows them to restrict some conversations and threads permanently
Member summaries – a track record of each member's activity in the group
New Messenger features
Facebook Pay
Facebook is rolling out Facebook Pay in select countries. Soon, you'll be able to send and receive money across Facebook, Messenger, Instagram, and WhatsApp with the new payment system that will streamline payments to Facebook shops as well as fundraisers.
From the middle of June users in the USA can enable Facebook Pay and share links and QR codes.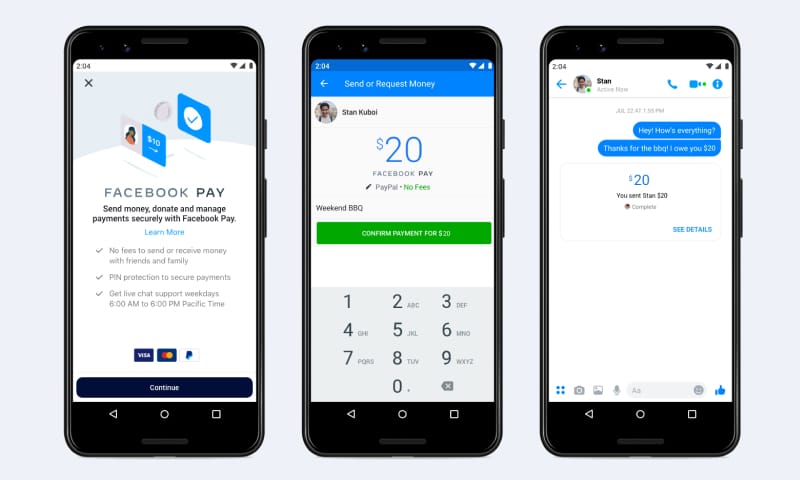 Media quick reply and new themes
Facebook made it easy to reply while you're viewing a media message on Messenger's full screen. It's the easiest thing in the world to reply to a media file while you're viewing it full-screen on Messenger. Just tap and then type your message, or use an emoji.
And of course – for the most creative ones there are new Messenger themes available. Now you can apply your favorite one to your personal chats.
Facebook updates May 2021
Facebook's new ad policy review process
Ads are an important component of Facebook's business. So it might not be surprising that there've been lots of questions about how the review process for ads works on Facebook. The company wants advertisers to understand the policies surrounding advertising here so they are giving the information loud and clear.
In the first place, they pointed out the importance of following their strict advertising policies. Have in mind that your listings must meet the commerce policies, event policies, and even comply with branded content policies. Once they meet these standards, ads are typically approved within the 24-hour range.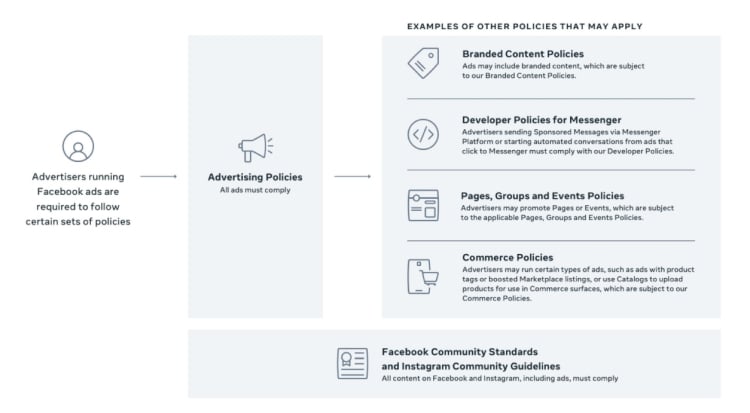 Once the ad is submitted, they use machine learning methods to revise it. Sometimes the ad can be exposed to a human revision. If your ad is rejected you can ask for a human review. But have in mind that Facebook keeps the right to edit and re-submit the rejected ad.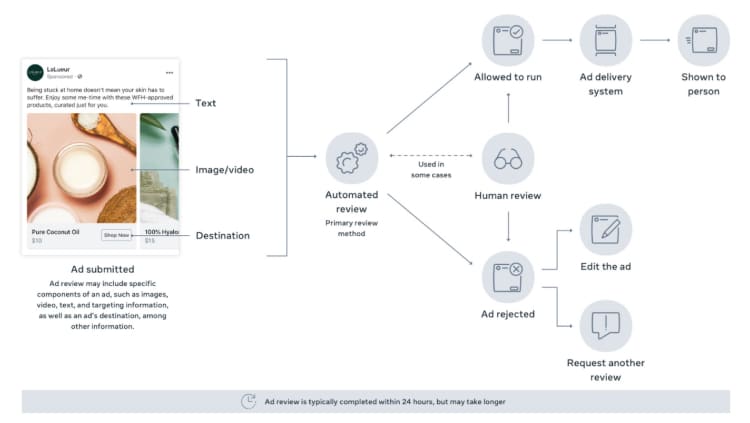 Facebook reminds us that they can take measures against advertisers who are constantly violating their policies. So better double-check when you're running ad campaigns.
Asian & Pacific Islander businesses are getting new tools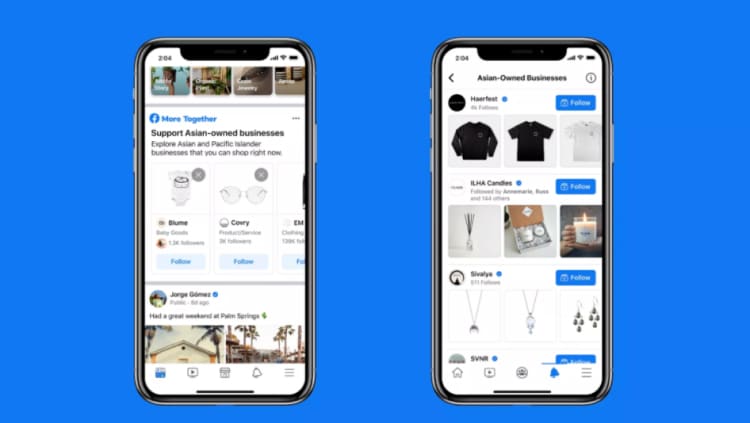 This month Facebook celebrates the Asian Pacific Islander heritage and raising awareness about the problems that the community is facing for years. A recent study showed that API-owned businesses were devastated by the pandemic.
In that honor, starting May 17, Facebook invites API-owned businesses to unite under the program of Amplify API. They will provide resources, tools, and training programs to offer more opportunities to these businesses.
To make businesses more recognizable and shippable, Facebook is implementing a promotion on News Feed, called "Support Asian-owned businesses".
Commitment to online safety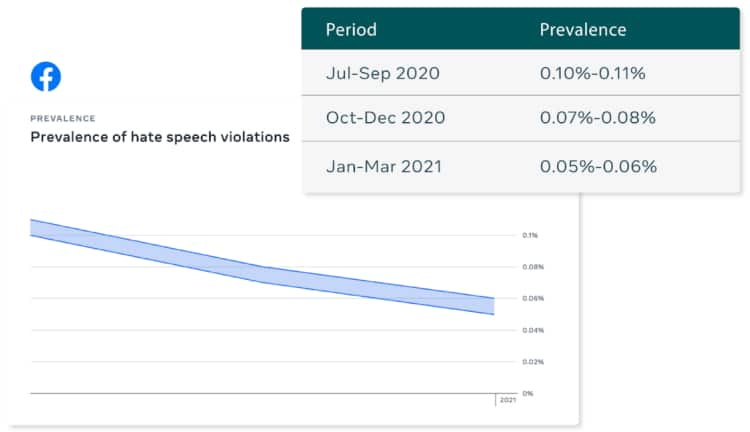 Many times there are concerns about how Facebook is using users' private data. Also, the platform is trying to eliminate racism and hate speech as much as possible.
Recently, they informed the community that they keep taking action to protect the users. The good news is that those measures are getting a positive impact. More said:
The prevalence of violent content went down 0.05% from last quarter
Hate speech decreased to 0.05-0.06%
Actions against reported content increased fro 10 times
We are glad that Facebook is working on being a safe place for both, businesses and users.
Facebook updates April 2021
Facebook Sound Studio is ready to take over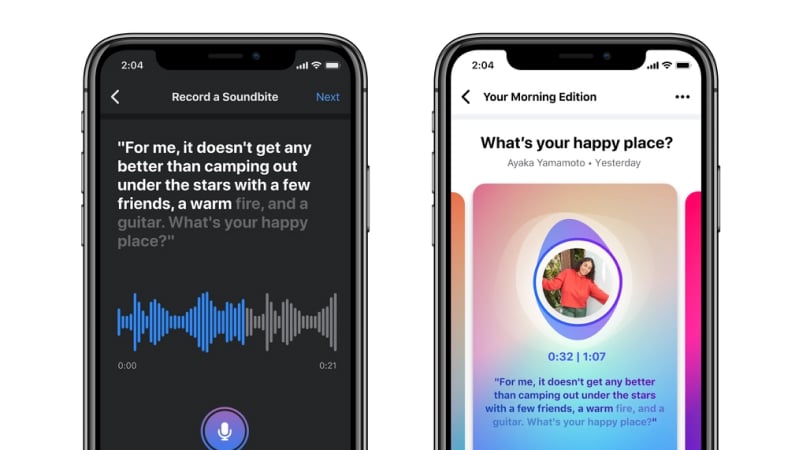 Using advanced AI, Facebook's working on an audio tool that transforms speech-to-text and has voice morphing. The audio creation tool will be available within the Facebook App – and you'll have "a sound studio in your pocket."
This advanced audio creation tool will allow you to record high-quality and crystal clear audio without those noisy background sounds. You can use music from Facebook's Sound Collection to play in the background of your audio recording to set the tone and make it cooler. And the ever-growing collection of filters, voice, and sound effects will help you create such fun recordings.
There will be a new short-video format you can play with – Soundbites. They will capture your fun moments, jokes, thoughts, and many other things you can't imagine yet. You can choose effects and filters from the wide audio creation tool's pallet to make your Soundbites outstanding.
Additionally, there will be captions available for all these video and audio formats – so you can make your posts accessible to everyone.
Listen to podcasts on Facebook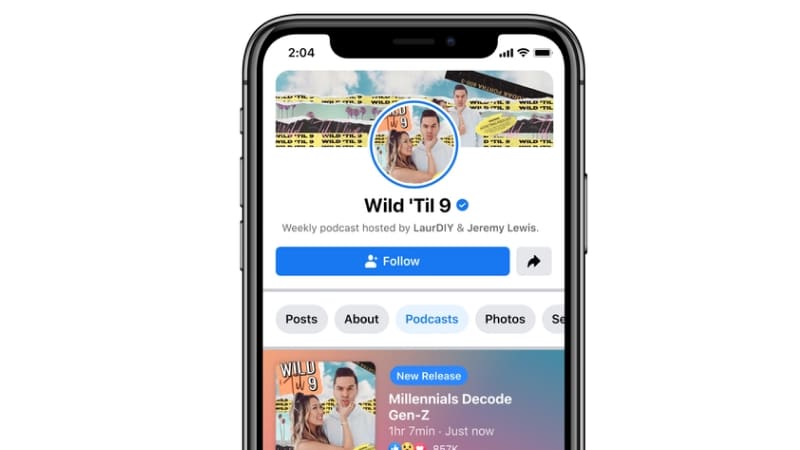 Facebook cherishes all types and formats of content. Even though ephemerals took over the last years, yet millions of users are members in groups that include longer formats, like podcasts.
Until now, you could find a great podcast on Facebook, but you had to leave the app to listen to the episode. That'll be over soon! In the following months, you'll be able to listen to a podcast within the app and still can use it in the background.
Based on your interests, Facebook will help you find and will recommend podcasts you might like. At the same time, it will help podcast creators find and connect to new listeners. So, get your headphones on and be ready – this feature is right behind the corner!
The best thing is that all audio types are built to work together! You will be able to mix video, text, and audio and curate the content you make. For example, you can record a live conversation and turn it into a podcast so people can listen to it later on. But Facebook's algorithm doesn't stop here. So, in the future, all these options will get their own upgrades. Stay tuned.
Facebook and Messenger are getting Live Audio Rooms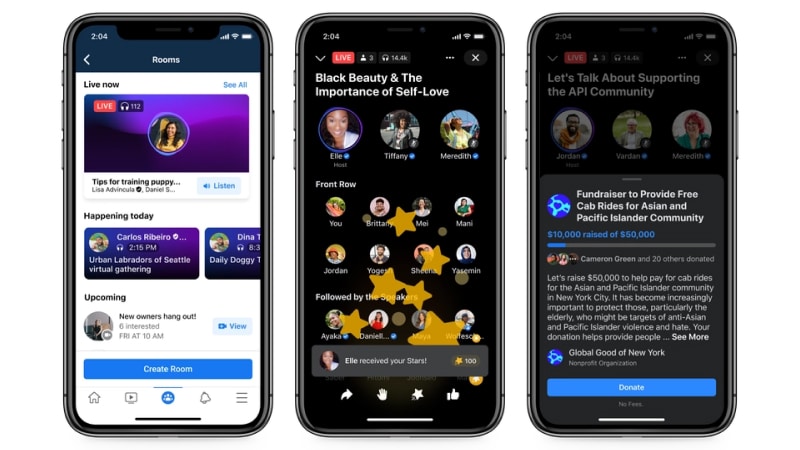 Live Audio Rooms are another feature that the company is currently testing. Audio Rooms are intended to enforce engagement by letting people open discussions, change experiences, or talk about any of their interests. Also, you will be able to hang out in an Audio Room with your friends. That's why Facebook is testing this feature out in both – Groups and Messenger.
Knowing that communities are not built just in private Groups, Facebook will also bring Audio Groups to famous figures. Why? So they can host conversations with their fans or other public figures. Imagine how much fun will everybody on the platform have!
This feature is announced for the upcoming summer.
New Facebook monetization options
What's the purpose for marketers if they can't earn from Facebook's new features? That's why the company announced that there would be monetization options at launch. When Live Audio Rooms are ready to use, your fans will be able to support you and other creators by giving Stars or donating to causes they care about.
When it comes to the Soundbites, an Audio Creator Fund will be available to support new audio creators. This will also help in receiving early feedback about the performance of the new product.
Later on, there will be other monetization models available. So, we'll just have to wait for the magic to happen and make the most out of it.
Facebook updates March 2021
Facebook Helps Get People Vaccinated Against COVID-19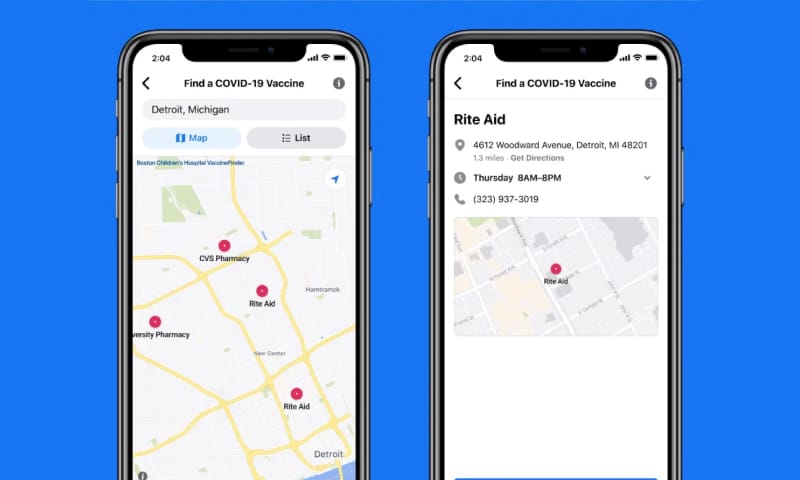 Facebook is starting a massive campaign for helping people all around the globe to get more information about vaccines against COVID-19.
As Zuckerberg says: "We've already connected over 2 billion people to authoritative COVID-19 information, and today as access to COVID-19 vaccines expands, we're going even further and aiming to help bring 50 million people one step closer to getting vaccinated.".
The company has already established measures:
A tool to connect people to information about where and when to get a COVID-19 vaccine
Expanding the COVID-19 Information Center to Instagram
Expanding official WhatsApp chatbots on COVID-19 to get people registered for vaccinations
Adding labels on posts about COVID-19 vaccines to show additional information from the World Health Organization
Making real-time aggregate trends in COVID-19 vaccinations, intent to get vaccinated, and reasons for hesitancy available to public officials to inform equitable vaccine rollout
Keeping Facebook groups safe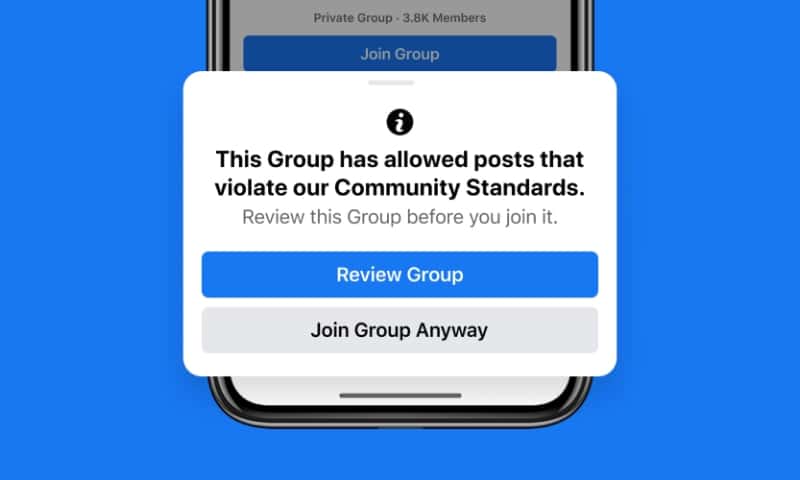 Facebook takes care that people can safely discover and engage with Facebook groups and communities. This month, the company took its policies even further to diminish the spread of harmful content, hate speech, or misinformation.
When a group keeps breaking the rules, Facebook is taking it down permanently.
The new updates are available here and you can check how Facebook will ensure safe recommendations and reducing privileges to those who break the rules.
Earn revenue from all types of videos
What a beginning, right?
Facebook now offers more ways of monetization for creators and their focus is on video monetization. Now, you can earn from short-form videos. Previously this option was available only for videos over three minutes.
Another recent update is the monetization of Facebook stories. This feature is currently in beta version and the algorithm is in a testing phase. But we are confident that it'll see the light of the day soon enough.
Content creators must still publish from a Facebook page (and from a private profile) with at least 10.000 followers and has to be compliant with the Partner Monetization Policies.
Expanding Facebook ads in live streaming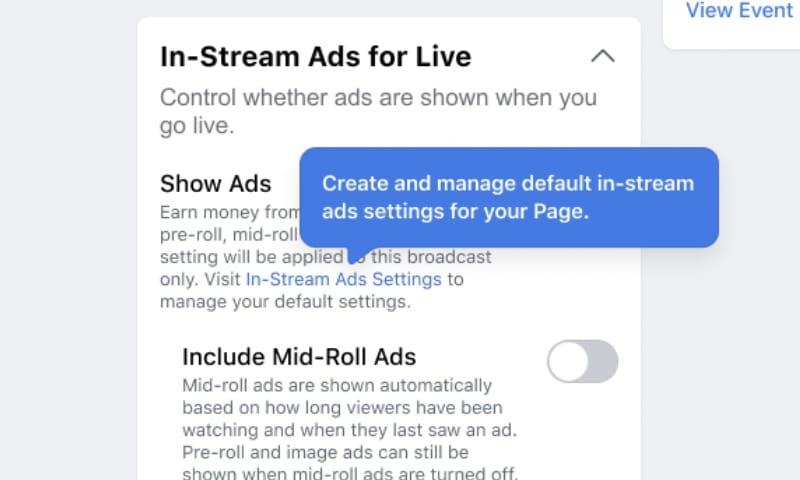 More room for ads!
Facebook is allowing creators to place ads in their live videos on their own. Before March, this option was available for invite-only. Now you have more options for your ad preferences and reaching the very best audience network.
In-stream ads are available for Facebook live video streams through Live Producer. To enable in-stream ads in your Live stream – check the in-stream ads tutorial.
Now, the only constraint is to have more than 60.000 live minutes in the past 60 days. You can check it and set your application through Creator Studio. Facebook admins will revise all the applications and provide an answer.
Getting more earnings with Stars on Live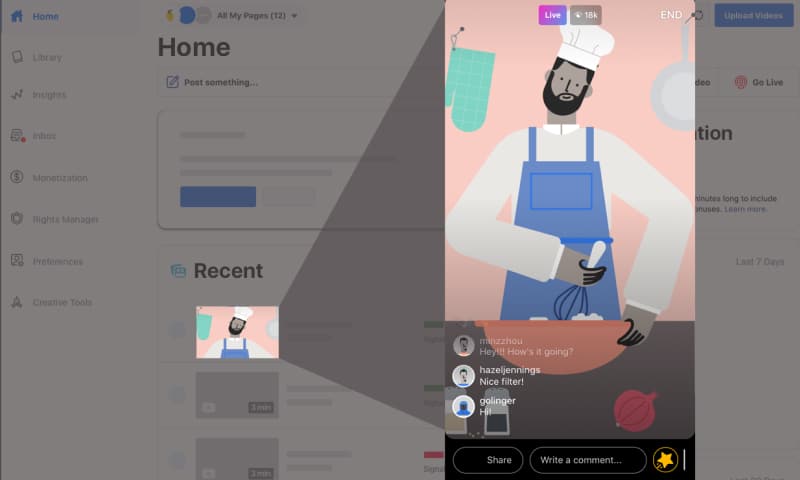 Facebook Live offers another earning program – Facebook Stars. While the focus is on rewarding customer loyalty, Facebook has seen that Stars are helping to bond content creators with their communities. That's why they released a new feature – earning with Stars and they're investing $7M in it.
During Star-enabled live streams, people will see an option to buy Stars and send them to their favorite creators to boost their visibility and add to their earnings.
In addition, when people send Stars, everyone watching the video will see it.
You may wonder what the Stars' experience is like for your audience. Here is a walkthrough:
Live video viewers can tap the star icon next to comments and reactions to buy and send Stars.
You earn 1 cent for every Star you receive. Fans typically buy and send stars in "packs." For example, if someone sends you 100 stars, you'd receive $1.00.
Even though Stars were primarily intended to be live videos, Facebook is testing a version for video-on-demand for both short and long videos. 
Another cool feature is that Facebook announced virtual gifts for viewers to send to content creators.
Prediction: The usage of Facebook live has increased by 26,8% in Q2 2020, and it's expected to rise even more in 20211.
New partnership opportunities for gaming creators
Eligible gaming creators now have access to a full suite of monetization products to help them get great earnings. They have to follow the minimum eligibility criteria and they can monitor the metrics and the progress they're making.
This feature is currently available for game creators from Mexico, Great Britain, Australia, and Philippines.
Facebook updates February 2021
Better photo descriptions for visually impaired users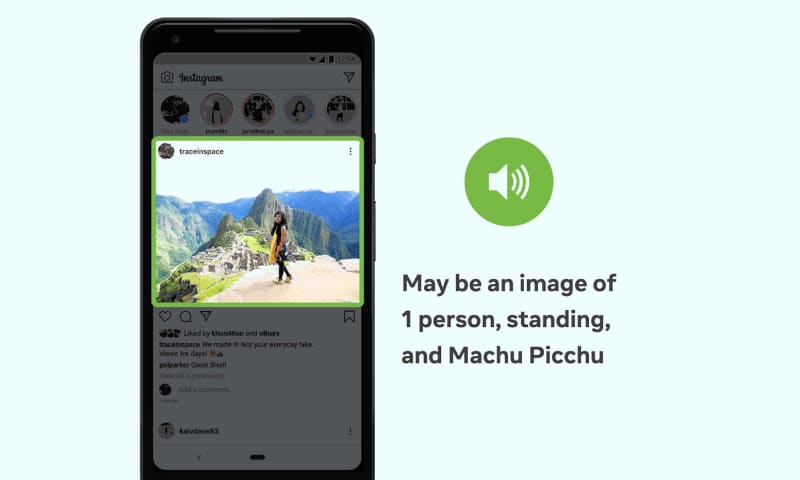 While scrolling through the news feed, users can see different types of Facebook posts: blog posts, gifs, text, carousels, photos, and more. And most people can immediately catch what they find, but with the new AI tool, blind and visually impaired people can also experience these posts.
Creators can now insert "alt text" into the photos, and this redesign will use a synthetic voice to read the description aloud. The AI follows the status update and allows accessibility to "roll out" a brief description of the photo shown.
The AI tool has improved and now gives a more specific photo description than the general one. This offers a better experience for the BVI users, no matter if they're using a desktop or mobile app. Both iOs and Android support this feature. So, you don't have to worry if you're using Apple's iPhone, iPad, Samsung, Huawei, or any other mobile device – you'll have the experience.
Conversions API brings you closer to your customers
Since browser policies are changing, all big and small businesses find it more difficult to track events on websites via pixel. So, Conversions API is stepping on the scene, allowing you to share data directly from your server with Ads Manager.
Conversions API is a data exchanging tool that allows advertisers to target, optimize, and monitor Facebook campaigns. With the pixel losing effectiveness, this tool will establish a more reliable data exchange by sending events from the server directly to Facebook.
It will allow you to receive deeper insights with lower connectivity issues.
Profile Settings menu enriched with Account Status feature
A new feature on the social network is added – Account Status. You can find it in the Profile Settings menu, allowing you to see any restrictions that may be applied to your Facebook account, pages, or Facebook groups.
Just navigate to your Account Settings menu, and you'll see it with a little briefcase icon next to it.
It may be a tiny upgrade, but it will allow users to gather information from one single place. 
Oculus latest integration with Messenger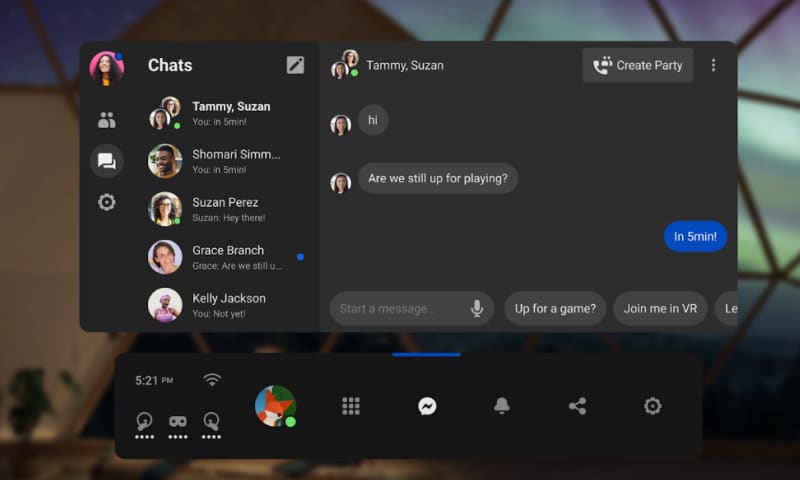 Facebook Messenger keeps amazing me!
Over 3 billion users have downloaded the Facebook mobile version from Google Play or another app store. And they're using it daily. Or better said – hourly.
Wanting to bring people closer to virtual reality, Facebook added a very cool feature to its Oculus VR headset. This means finding your friends easier in VR and meeting them in real time.
You can play games, meet up, watch a performance together, or talk about butterflies – without removing your headset! It even has a voice-to-text feature!
Messaging has never been cooler, has it?
Topic exclusion controls to improve targeting
Facebook is running a project to test out exclusion controls for several topics to improve the targeting.
The project is currently in a testing phase, and it includes several advertisers pointing out the difficulties they are facing with the appearance of their ads on the News Feed.
For instance, if the advertiser is a kids' toy company business owner and wants to avoid violent content, they can choose "Crime" or "Tragedy". That's how they can protect their reputation and avoid shame.
Facebook updates January 2021
Facebook Pages new redesign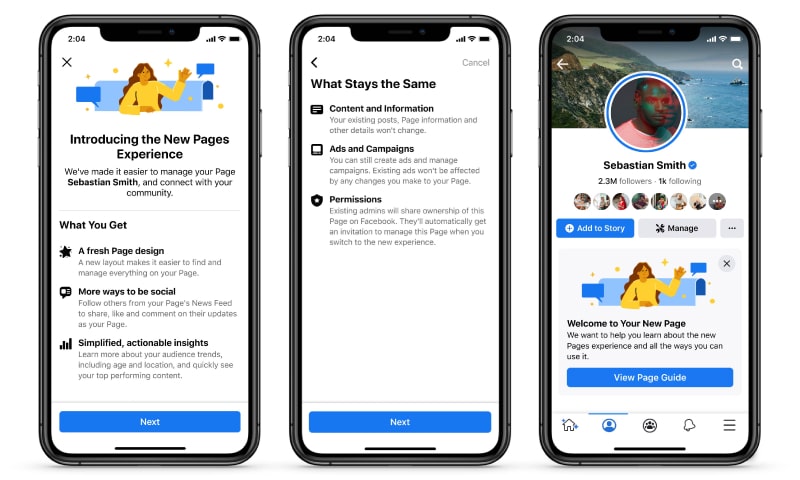 New year, new design.
Facebook started the year with a Pages experience redesign, making it easier to create communities.
The novelties include:
Redesigned layout
Dedicated News Feed
Easier navigation between a personal profile and business pages
Actionable insights
More relevant notifications
Safety and integrity features
Access Your Information in a new shell
Over the last few years the Access Your Information feature has been working just fine. Now that Facebook had some time to learn how people use it, they upgraded it. Now you can easily find and understand your information.
Knowing the importance of (hyper)personalization, Facebook is now adding information on how your data can make your experience even better. Besides this, there is some news worth mentioning.
So, what's new?
Your Activity Across Facebook
Friends and Followers
Preferences
Personal Information
Logged Information
Ads Information
Apps and Websites Off of Facebook
Security and Login Information
Above are listed the eight categories of novelties, and each is broken into sub-categories to ensure easier navigation to the information you want to see.
To make it even easier, a search feature has been added. You can now type in what you want to see, and bam – there it is. 
Bottom line
Facebook is constantly doing updates on its platforms. 2021 is the year where we are seeing great new features around video monetization, creator tools, and marketing options that we haven't seen before.
We hope you are excited as we are to share all the latest Facebook updates for you, so feel free to signup for our weekly newsletter and never miss when Facebook announces a new feature.