Where is the place where you turn to when deciding what will be your next dinner or trip destination? Reviews, of course!
And you are not the only one – 57% of consumers say that social media influences their shopping. And 44% of them said that Facebook was the social network that influenced their decisions the most.
The rule of thumb is: The more positive reviews you have, the higher the chances they will visit or buy from you.
Just having a presence on social media is not enough anymore. It would be best if you started yielding results from it.
And what's a better way to do that than Facebook Reviews?
Along with Google Reviews, Facebook Reviews are one of the most efficient digital versions of word-of-mouth marketing and have the potential to influence your future customers buying decisions that will visit your Facebook business page.
You are probably already familiar with online reviews' power and what they can bring you from a business perspective, so I will skip to the fun part – how to get Facebook reviews for your business.
Here is a list of 5 easy ways on how you can get more Facebook reviews effortlessly:
How to Find Your Facebook Review Link
First things first.
Before we dive into the methods on how to ask customers for Facebook recommendations and reviews, please make sure you actually know where is your Facebook Reviews section and how to get the link so you can drive customers to that page.
To find your Facebook reviews page link, go to your 'Reviews tab' and copy the URL.
For EmbedSocial, it will be this one: https://www.facebook.com/EmbedSocial/reviews/
We encourage you to go with the 2nd option, so below, we are listing some simple ways to collect more Facebook reviews for your business.
Pro tip: To make the reviews link more appealing, you can always use a custom link shortener to provide you with the essential info on the link activity.

For more detailed insights and to track from where users are coming to your review link, check out Google's Campaign URL builder.
Okay, now let's see how we can use this link to navigate customers to write their reviews.
1. Ask your customers via email or chat
What is the easiest way that to ask your current customers you already have a relationship with to leave you a review?
Here are 2 ways how to do this:
Chat communication is growing during the pandemic and has become one of the main channels for direct interaction with customers.
Therefore, a perfect way to collect customer feedback!
Companies need to implement procedures in their Customer support departments where every employee at a certain point of interaction will ask their customers for feedback.
And for companies wanting to increase their Facebook reviews, the best way is to ask customers to post their reviews publicly with a direct link to your Facebook Page's reviews section.
Another option to ask for reviews is to send request emails to your customer list.
Simple as:
"Hey, let us know what you think – Leave us a review here''
and add a direct link to your Facebook reviews option.
Our email review request message looks like this: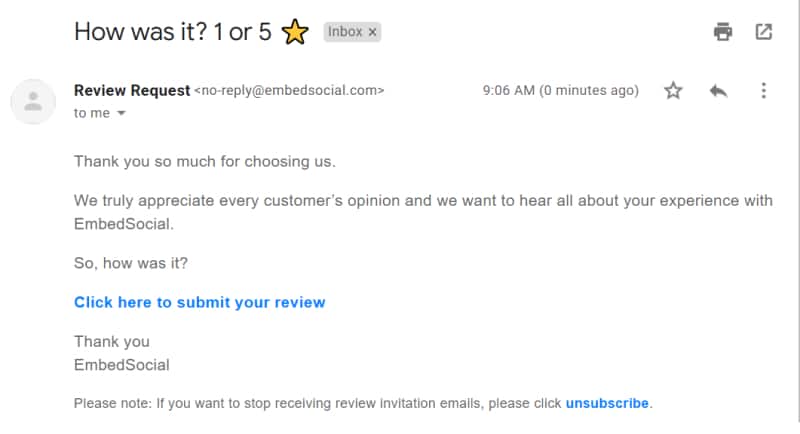 And if a client doesn't leave you a review, don't be shy to do a follow-up.
Send something like:
''Hey, did you ever get a chance to write a review for us?''
Just make sure you are not pushy cause you will never get the desired review.
Pro tip: It's all about timing, and Facebook reviews are no exception. Thus, the optimal time to contact a new customer is 3 to 5 days after purchase. Ensure they are happy with the product or service, thank them for choosing you, and then ask for a review.
2. Add ''Leave us a Review' Buttons and Facebook Badges on Your Website
Another way of 'it never hurts to ask' is by adding CTA buttons like 'Leave us a Review' on your website to direct users to your Facebook reviews page.
The easiest way to start collecting customer feedback on your website is with the EmbedReviews platform.
You have the option to display a Facebook review widget or add a 'Leave a review' button anywhere on your website.
Here is how our 'Leave a Review' button and Facebook widget look in action:
Once your web visitors click on the review button, they will be redirected to your Facebook Reviews tab where they can submit their feedback.
Embed Facebook reviews badge
As for the badges in the EmbedReviews button, you can choose from the available designs and again use an embeddable code to display on your website.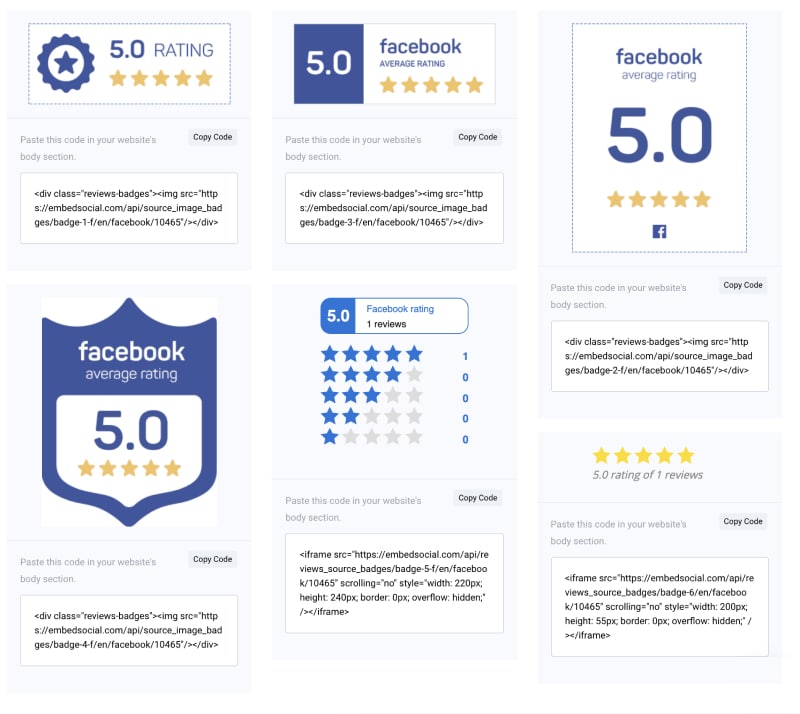 Note that the badge will update every time you have a new Facebook review.
3. Ask for Facebook Reviews Offline
When it comes to offline engagement with your customers, you will also need to think of placements how to make sure you encourage and collect their feedback.
Here are some ways how you can do this:
Print QR codes on receipts, flyers, menus, posters, and similar
QR codes can help you bridge the offline and online worlds and give customers an easy way to submit Facebook reviews.
You will only need to generate a QR code that will include the Facebook link to your Facebook Page's reviews section.
Big posters with your customer reviews is a definitely great idea, showing your social proof offline and also inspiring people to do the same and get their name on your business location walls.
Ask customers to check in on Facebook
Encourage customers to check in on your location with their Facebook profiles.
If you are a local business owner of a place, provide a stable Wi-Fi network and ask people to check in there, and Facebook will send them a reminder to write a review 1-2 days later.
You will be surprised how many of them will land you a hand.
PRO tip: Most of these offline encouragements usually include some incentives, such as discounts or free staff, that can improve the response rate of your offline customers. So, think about how you can incentivize them to give you feedback on Facebook.
4. Respond to Facebook Reviews (even the negative ones)
Take time to respond to every review! Users will surely notice your interaction and how you value customers' feedback and award you with leaving a review. Respond even to star ratings without comments, no matter if it is 5-star reviews or less.
To tackle your review responses more effectively, you try an Autoresponder for Facebook reviews that can automate your reply. This way, you will never forget to reply to a review and show your customers that you value their time and effort.
Responding to all reviews includes responding to the negative ones, too, right?
What to do when you encounter a negative review? How should you deal with it to not hurt the customer's feelings and your business, too?
Don't dare to delete negative reviews (unless they violate Facebook Community standards).
It will hurt your reputation, and it will show that you lack transparency. Instead, use them to your advantage – apologize for the bad experience and offer a solution.
Yes, potential customers will notice the negative review, but they will also see that you have handled the situation and will respect you more.
Guess what – negative customer feedback can do more good than harm. Despite improving your online reputation management, they can help business owners see the bigger picture and improve their digital marketing strategy based on that.
If you ignore negative reviews and they proceed to come up, you will probably run out of business sooner or later.
So, take a deep breath and follow these action steps below:
First, you should try to understand why the customer is leaving a negative review. Why are they not happy with your product or service? What is the trigger?
Reply to the negative feedback ASAP. Thank the customer for leaving a review. Try to understand the reason behind the testimonial (make sure you don't go into defense mode). And if it is your fault, acknowledge it and do something about it – at least suggest replacing the products or refunding the customer.
Please note that whatever your response is, it will be seen by other visitors. This is the perfect way to show how you care about your consumers (and, as a result, get more sales and even more reviews).
We created a detailed guide on the best practices for responding to negative reviews. Suggested responses are included, too.
5. Promote customers' Feedback on Social Media and Facebook Ads
Business reviews are the best user-generated content, so make sure you aggressively promote them across every social media platform you have. This will unconsciously inspire other customers to leave their feedback, too.
With a simple share among your community, your customer reviews will attract new customers who will be encouraged to share the same
Here is our latest social media campaign on Facebook, featuring one of our customer reviews:
Yes, it's possible to turn your customer feedback into Facebook ads! And you can do that in just a few clicks with our review management tool.
Before you craft your perfect Facebook ad, you need to connect EmbedSocial with your Facebook Advertising Account.
Then, you should select a customer testimonial from your Facebook page and customize your review template the way it demonstrates your marketing message loud and clear.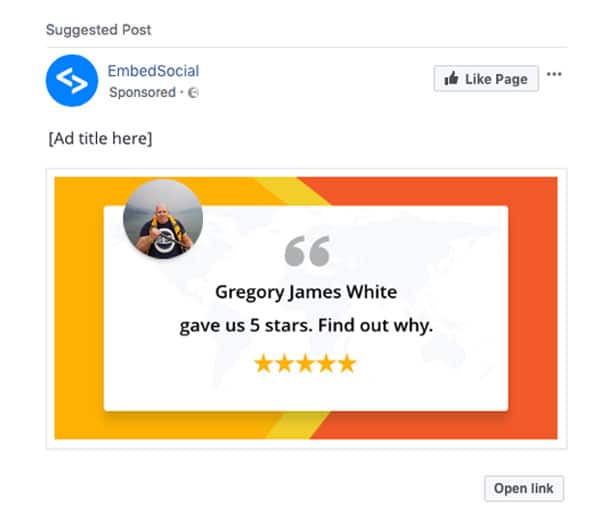 Check out our detailed guide on How to Turn Customer Testimonials Into Facebook Ads.
Other places where you can promote your Facebook reviews include
Your website homepage and product pages
In the walls of your physical store
Social media networks like LinkedIn, Twitter, Instagram, Pinterest, etc.
Company newsletters
Blog articles
Yet, these are just a couple of ideas we have tried (and proved successful). After all, the best place to promote your testimonials and encourage people to leave you a new one is wherever your customer is (online and offline).
Conclusion
We really hope this short guide on how to get Facebook reviews gave you some specific directions on how to maximize your Facebook testimonials' potential, improve their visibility, and as a result – level up your digital marketing strategy in a blink.
After all, getting more reviews on Facebook can take a little effort, but it's an investment that pays off (you'll see).
Thanks for reading, and don't forget to leave us feedback on Facebook. 🙂
It's all about asking, right?
FYI: You can embed Facebook reviews widget automatically with EmbedReviews platform. Start a free trial and display your Facebook Page recommnedations now.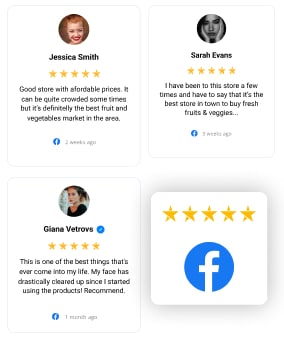 Embed Facebook Recommendations and Reviews on your Website
Try EmbedReviews, generate Facebook and Google reviews, and display a social media reviews widget on your website. Automatically and in seconds.
All PRO features | Cancel any time.