And it finally happened.
Facebook Shops are here and in this post, you can see a glimpse of this long speculated eCommerce feature by Facebook.
Obviously the Covid-19 crisis has sped up the need of small businesses to quickly adapt to selling online.
And now with Shops, every company can provide shopping experience and allow customers to easily buy through Instagram and Facebook, and even connect this shopping flow with their messaging tools such as WhatsUp, Messenger, and Direct.
We will breakthrough what it does, how to set up and start using Shops, and how it will help you to sell more online.
Whats' inside:
What are Shops on Instagram and Facebook?
Shops are the new immerse storefront on Instagram and Facebook. A story like a format that will display product catalogs providing a native shopping experience.
Interestingly, Shops are built for both, Instagram profile and Facebook page,
Businesses will gain instant benefits due to their simple setup and fast loading times on mobile devices.
According to Mark Zuckerberg's announcement, Shops are a response to help small businesses, especially during the coronavirus crisis.
The company just launched a State of Small Business Report which includes data based on a survey of 86,000 people who owned, managed, or worked for a small and medium-sized business.
Here are some findings from this report
According to the survey, 31% of small and medium-sized businesses have shut down in the last three months. The situation is worse for personal business (52% of which report shutting down), hotels, cafes and restaurants (43%) and services like wellness, grooming, fitness or other professional services (41%).

Facebook Small Business Report
To adapt to the ongoing crisis, SMBs are turning to internet tools.
51% of businesses report increasing online interactions with their clients.
36% of personal businesses that use online tools report that they are
conducting all their sales online.
35% of businesses that have changed operations have expanded the
use of digital payments.
In relation to this, Instagram announced redesigning the Instagram Shops feature. Now, it's even easier for users to browse within the Explore tab and shop from their favorite brands and creators.
With the latest changes, the end-user will enjoy more personalized product recommendations (based on their data and insights) and also take a part in previewing new product launches.
This updated Instagram Shops version is supported by Facebook Pay, a feature that will make your shopping experience more secure by adding a unique PIN or device biometrics like Touch or Face ID.
Continue reading to learn how Shops reflect this the normal, and how you can start preparing for building your new Facebook or Instagram shop.
How Instagram and Facebook Shops Work?
Here is a summary of how Shops work on Instagram from a user perspective:
Go to Discover, tap Shops tab >Select product>Tap 'Add to Bag' > Fill Billing information and tap Pay.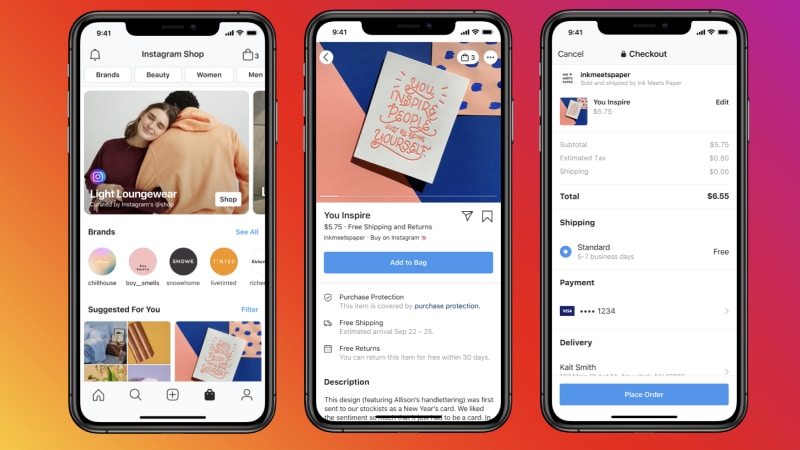 Once eligible and approved, your Instagram Profile Shop and/or Facebook Page Shop will automatically convert to a shop. Each eligible business will receive a notification first to set up their Facebook Shops. To have a shared storefront for both Instagram and Facebook. the businesses need to have linked their Instagram profile with their Facebook page.
Create collections and customize Shop: In the Commerce Manager, you are able to customize the shop and manage product collections. Collections can have 6-30 products. The idea of the Collections is to organize the products in themes so customers can easily discover and purchase.
Shop in your Instagram profile: People will have the chance to visit a Shop through a business's Instagram profile or discover shops through the Feed and Stories. This means that the profiles that have a shop will have a 'View shop' button in their Instagram profile.
Here is how Shops appear on Instagram and Facebook: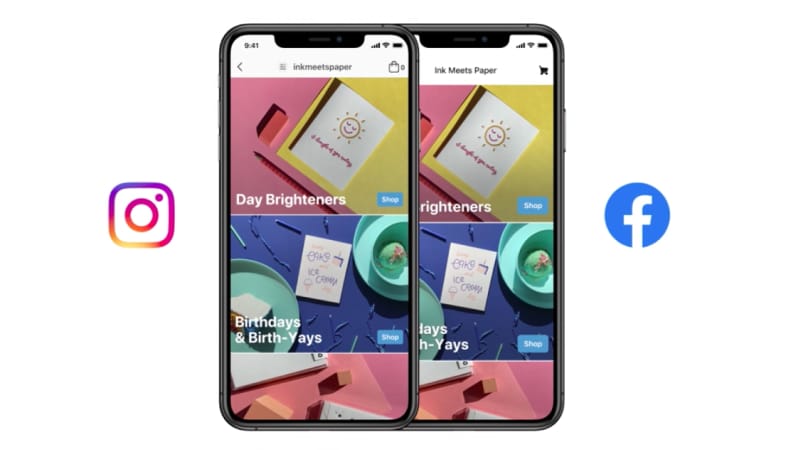 To note, the actual checkout is available through the Instagram Checkout option, or through the eCommerce platform that the business uses to integrate its product catalog.
According to initial reports by Facebook's vice president of ads Dan Levy, there is a possibility for Facebook to charge small fees from these new eCommerce features.
Get started with Facebook or Instagram Shop
Shops for Instagram and Facebook are in a roll-out phase and it is expected to be expanded to all businesses globally in the coming months.
For now, it is available for the eligible businesses who already have access to Instagram Shopping, a Facebook Page Shop, or both.
The eligible businesses will receive an email when their shop is ready to start customizing. Here is a quick glimpse of the Collections feature: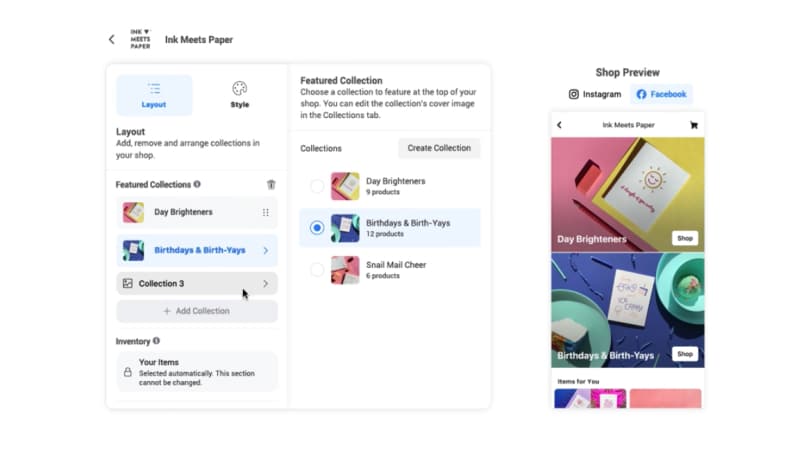 In the meantime, you can start with some of the available options in your market or if you are eligible for Instagram Shopping or converting your Facebook page to a Shop.
Here are the details below:
How to set up a Facebook Page Shop?
The process of setting the new Facebook Shops starts:
Step 1: Activate the shop tab on your Facebook Page
You will need to change the template of your Facebook Page to a Shopping template, by following these steps:
Go to your Page and click 'Settings'
Click on 'Templates and Tabs' menu
Below Templates, click 'Edit'
Click View Details next to the template you want to apply
Review it and click Apply Template.
Click OK.
Once you have your Shop template activated, you will be able to add products (manually or with bulk upload) and create your product collections.
Step 2: Create a collection
Collections are a great way to categorize your products. To do this follow these steps:
Go to the Shop tab on your Facebook Page
Click on 'Add Collection'
In Publishing Tools, click +Add Collection.
Name the collection, choose if you want it to be publicly visible, and decide if you want this collection to be featured first in your Facebook shop
Click Save
You can add as many products to a featured collection as you want, but we'll only show the first 10 on your Page. Your customers will only see your collections after you add products to them.
Step 3: Tag products
Once you have your products catalog you can tag these products in your Facebook posts or videos. Here is how:
Upload a photo or video
Click 'Tag Products' icon.
In a photo, click the product you want to tag and type in the product's name. In a video, you can start typing the name of the product.
Click Publish.
Please note: Facebook, recommends to tag up to 5 photos in a post.
How to set up an Instagram Shop?
In the following section, you can check the steps to open Shop on Instagram which is the same process of activating Instagram Shopping that till this date was available to some eligible business.
Once you finish them you will be able to get access to the feature product tags and start tagging photos with links to your products or select products from the connected product catalog.
Step 1: Confirm eligibility
To be eligible for Shops, your business must comply with all these 3 requirements:
The business needs to be located in a supported market
It must sell primarily physical goods
Complies with the merchant agreement and commerce policies by Facebook
Step 2: Convert to a business account
Your Instagram account needs to be converted to a business account. Here are the steps:
Open the Instagram app and go to profile and tap the top right Settings icon
Tap 'Account' and tap 'Switch to Business Account'
Provide the required Facebook permissions
Choose the Facebook page and tap 'Done'
That's it.
Step 3: Connect Facebook Page
To do this you need to link Instagram with a Facebook page, so do the following:
Go to your Instagram profile and tap 'Edit Profile'
In the 'Public Business Information' section, tap 'Page
Choose your Facebook page you want to connect
Tap 'Done'
Step 4: Upload a product catalog
To start with Instagram shopping the next step is to provide a product catalog. At the moment you have 2 options:
Use the Catalog manager found within the Facebook Business Manager, or
Use eCommerce Platform partners – such as Shopify or BigCommerce
Step 5: Submit your account for review
Once you set your product catalog you will need to submit your account for review.
Step 6: Turn on Shopping in Instagram profile
To do this, here are the steps:
Open your Instagram profile, tap the top-right icon and tap 'Settings'
Tap 'Business' then tap 'Shopping'
Select the 'Product Catalog' you want to connect to your account.
Select 'Done'
Step 7: Tag photos with Shopping product tags
Once Shopping is enabled, you will be able to tag each photo with a particular product. You can do this in Posts and also in Stories.
That's it.
Hopefully, Shops will bring great benefits in the global eCommerce and help lots of small business reach larger audiences and provide them seamless shopping experience.
Upcoming: Instagram and Facebook Live Shopping Features
Shopping experiences on the Facebook family of apps will continue by introducing the concept of Live Shopping.
As initially introduced, this option will especially help creators doing live broadcast which usually includes products that they showcase to their audiences.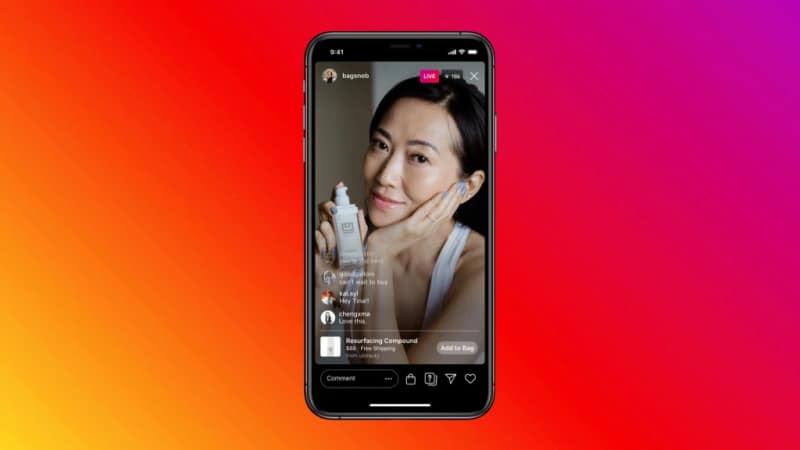 Embed Instagram Shop on Any website
Do more with your Instagram content.
For business owners who want to expand their Instagram presence from social to their website, here is an idea.
Re-use your Instagram content and embed Instagram shop on your website.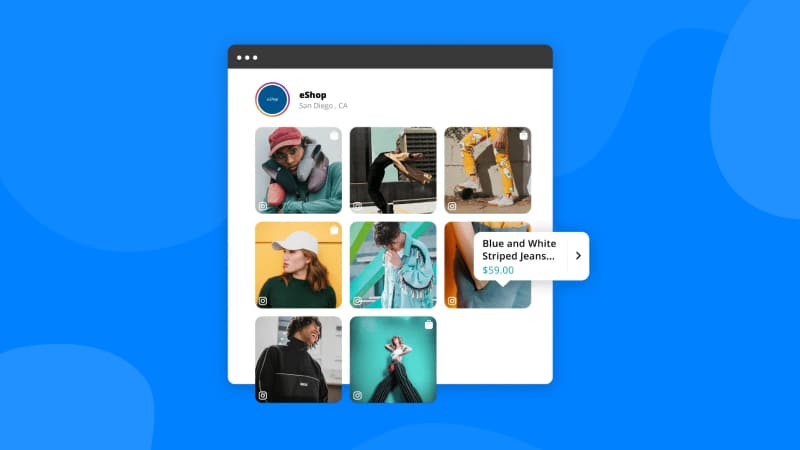 You can do this by using a social media aggregator like EmbedFeed and sync Instagram with your website.
Additionally, EmbedFeed gives you the options to tag each photo with a custom link and actually display 'Buy buttons' over them, mimicking a shopping experience right from the feed.
To get started, just start a free trial and embed your first Instagram shop today.
ЕmbedFeed:Instagram Feed Aggregator 7 Days Trial
Generate and embed Instagram feeds.